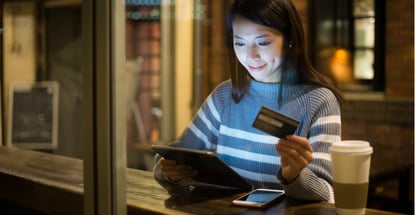 Prepaid cards are among the safest and most convenient payment tools on the market. These products are issued by some of the country's top banks and companies and many other smaller issuers. Not only can you buy things at brick-and-mortar stores with prepaid cards, but you can also use the account numbers to complete online transactions. 
This is an important feature because an increasing number of purchases are made electronically. Ecommerce revenue in the US exceeded $460 billion in 2021, according to Statista.com.
Understanding how to use prepaid cards for online shopping is essential to keeping your costs low and protecting the funds on your card. Here's what you need to know. 
Choose the Correct Prepaid Card
Although prepaid cards resemble credit cards, there is no borrowing or repaying involved. You simply purchase the card from a store or obtain one online for free, load the account with cash (either at the register or online), and then use it as you would a debit card that is attached to a bank account. The available balance declines with each transaction you make. 
You can choose from a large number of great prepaid cards. Most are reloadable, which means you can add more money to the account at any time. Reloadable prepaid cards are ideal if you always want to have a card at your disposal but don't have a credit card or a checking account. 
Here are our top-rated reloadable prepaid cards to use for online purchases:
Cashback – Earn 1% cash back on up to $3,000 in debit card purchases each month
No. Fees. Period. That means you won't be charged an account fee on our Cashback Debit account.
Early Pay – Get your paycheck up to two days early with no charge
No Credit Impact – You can apply without affecting your credit score.
Fraud Protection – You're never responsible for unauthorized debit card purchases. If you suspect someone else has used your debit card without your permission, let us know.
Member FDIC
Fee-free overdraft protection
No minimum opening deposit and no minimum balance
Add cash into your account at Walmart stores nationwide
Cash access at over 60,000 no-fee ATMs nationwide
100% US-based customer service available 24/7
Your Chime Checking Account comes with a Chime Visa® debit card, no monthly fees or maintenance fees.
Avoid out-of-network ATM fees and access to 60,000+ fee-free ATMs¹ — more than the top 3 national banks combined!
Direct deposits arrive up to 2 days early.²
Disclosures: Chime is a financial technology company, not a bank. Banking services and debit card provided by The Bancorp Bank, N.A. or Stride Bank, N.A.; Members FDIC, pursuant to a license from Visa U.S.A. Inc. and may be used everywhere Visa debit cards are accepted.

¹

Out-of-network ATM withdrawal fees may apply except at MoneyPass ATMs in a 7-Eleven, or any Allpoint or Visa Plus Alliance ATM.
²Early access to direct deposit funds depends on the timing of the submission of the payment file from the payer. We generally make these funds available on the day the payment file is received, which may be up to 2 days earlier than the scheduled payment date.
Overdraft protection up to $200 with opt-in and eligible direct deposit*
No monthly fees with eligible direct deposit, otherwise $5 per month
Earn up to 7% cash back when you buy eGift Cards in the app
Get your pay up to 2 days early – Get your government benefits up to 4 days early.*
High-yield savings account, 4.50% APY paid quarterly on savings up to $5,000.*
| | | | | |
| --- | --- | --- | --- | --- |
| | | | | All Credit Types Considered |
But a few prepaid cards — namely the gift card variety — are not reloadable and are most useful if you only need the card for a limited time, a certain purpose, or to use at a specific place. 
Aside from being reloadable, the card may be open- or closed-loop:
Open-loop: The most flexible prepaid cards are open-loop, which means they are connected to a universal payment network, such as Visa, Mastercard, or American Express. You'll know if it's an open-loop card if the payment network's logo is on it. With an open-loop card, you have the freedom to spend anywhere that network is accepted, which is pretty much everywhere, from brick-and-mortar locations to ecommerce websites. Some even come with rewards, like the Serve® American Express® Prepaid Debit Account that offers unlimited 1% Cash Back when you spend money in stores or online.
Closed-loop: Gift cards fall into the prepaid card category and are typically closed-loop. They are not attached to a payment network but are instead connected to a retailer, such as Macy's or Starbucks. With a closed-loop card, you can only make transactions at that store or on its website. These cards may be attractive if you're sure that is the place where you want to shop. 
Review the Fees 
Depending on the prepaid card you get, there could be many fees associated with the account that are not charged by traditional credit and debit cards. The terms will be listed on the packaging and website, so take the time to read what they are. 
Typical prepaid card fees include: 
Activation (to start the card) – $4.95
Monthly maintenance  – $10
Transaction/purchase – .50 to $1.00 to $2.00
Cash reloads – $1.50 to $4.95
Teller-assisted cash withdrawal – 1.95 to $25.00
ATM cash withdrawal  – $1.00 to $3.00
ATM balance inquiry – $.33 to $2.50
ATM insufficient funds decline – $1.00 to $20.00
Additional card – $2.00 to $10.00
Paper statement – $.99 to $5.95
Monthly inactivity – $1.95 to $8.00
Card replacement – $2.00 to $10.00
Expedited shipping for a new card – $30
Foreign transaction – 1% to 4.95%
Foreign ATM – $1.45 to $5.00
Be sure to read the card's terms before deciding on a card and then making a purchase. Each card has a different fee structure, and some are definitely less expensive than others. 
The Brink's Armored™ Account has no monthly maintenance fees, while the NetSpend® Visa® Prepaid Card offers free reload options.
Load With Enough Cash For Your Online Shopping Needs
You'll need to add money to your card account so you have sufficient funds to make your online purchases. But you don't want reloading fees to erode your available balance.  
Track your purchases to know how much is left on the balance before you attempt to make another purchase so you can avoid the card being declined. This will not only inconvenience you as you are trying to buy what you want, but the decline fee can lower your card's balance even further. 
Make Sure the Ecommerce Site is Secure
You can use your prepaid card on almost all ecommerce websites, particularly if your card is open-loop. 
But before you make the transaction, take a moment to make sure that the site is secure. Never shop directly from an email or text link. Instead, go straight to the official website associated with the company. 
Major department stores, Amazon, Shopify, and other well-known retailers with a strong online presence take measures to secure their sites with the most current protections. Smaller, independent ecommerce websites, however, may not have the same level of security. 
In all cases, look for the lock symbol in the browser's URL field. The address should start with "HTTPS"  (meaning the transaction will be encrypted) and not "HTTP.

This can help ensure you don't fault victim to phishing scams, where fraudsters may try to steal your card or personal information.
Register and Fund Your Card to Make Online Purchases
Registering your prepaid card with the issuer is important, particularly if you plan on having it for a while. 
Your card will come with its own instructions, but the general process to activate it online is fairly consistent: log in to the company's website, enter the card's account number, expiration date, and your personal information. After clicking the "submit" button, the card will be registered, and you will be associated with it. 
Alternatively, you may activate your card over the phone by providing the same information. 
Sign the back of the card, and you're ready to go online and start shopping! Have your card on hand to make the purchase. As with a credit or debit card, you will enter the account number, expiration date, and the CVV code on the back of the card if it has one. 
You have a couple of options if you want to make an online purchase but there isn't enough money on the card: 
Split the transaction. If you have a gift card, you can usually apply the balance to the online payment form and then use another card for the remaining balance.  
Add money to the card. You may not be able to split the transaction with a prepaid card, but you can load it up with the amount you need. If you reload in a store, the money is available almost immediately, but it can take a few hours when done electronically, so you will experience a slight delay. 
The easiest way to shop online with a prepaid card is to have it listed as one of your payment options with the retailer. This way, all you have to do is select that account at checkout instead of having to input the numbers each time you want to buy something.  
What to Do If Things Go Wrong
As with any tool, problems can occur. Here are the most common issues associated with prepaid cards and online shopping — and what you can do about it: 
Expired card: Depending on your prepaid card, you may have to pay a fee so you do not lose the funds before the card expires. Contact the company and either request a replacement card so you can access the funds or close the account and ask for the balance to be mailed. Federal law requires that gift cards remain valid for at least five years, either from the date you bought them or from when you last added funds. In the event the card has an earlier expiration date, you can have the funds transferred to a replacement card for free. 
Lost card: Imagine you're just about to make a purchase and fish around for your card, but it's not there! Go to the issuer's website, log in to your account, and file a report. Not only will you be protected against unauthorized charges after reporting the card as lost or stolen, but most issuers will automatically issue you a new card with the funds transferred to the new card (Check the replacement card fee so you know the real balance when you get it). It can take a few days for the replacement card to arrive, so you'll have to save the item for later in your online cart.
Unauthorized transactions: If someone has already gone shopping with your lost or stolen prepaid card, log in to your account. As long as you registered the card, federal law protects you against unauthorized transactions, so you should be reimbursed. But do it quickly because if you wait too long to report it, you may not be reimbursed. 
The card was declined: If you punched in all the numbers correctly and have enough of a balance to make the purchase but are still declined, the merchant probably flagged the card. You may have mistakenly registered the card with the wrong information, and it is not matching up. Rectify it on the website or by calling the customer service number.
Keep in mind that these problems can happen with any type of card, including a credit or debit card, not just prepaid cards.
Prepaid Cards Prevent Debt, Let You Shop Online, and Are Easy to Get
Using prepaid cards for online shopping can make sense for many reasons. They help prevent the kind of debt you can get into with a credit card because you're spending your own money. 
After all, browsing compelling ecommerce sites where there is so much to buy and all you need to do is hit the purchase button can be overly tempting when a credit line is available. Nor do you have to concern yourself with a monthly payment or interest. 
You don't need to have good credit or even have a bank account to qualify. So whether the prepaid card is an additional tool in your wallet or your solitary payment method, you can use the card advantageously when shopping from your mobile device or computer with the right strategy. 
Advertiser Disclosure
CardRates.com is a free online resource that offers valuable content and comparison services to users. To keep this resource 100% free, we receive compensation for referrals for many of the offers listed on the site. Along with key review factors, this compensation may impact how and where products appear across CardRates.com (including, for example, the order in which they appear). CardRates.com does not include the entire universe of available offers. Editorial opinions expressed on the site are strictly our own and are not provided, endorsed, or approved by advertisers.