Mid-tier credit cards allow cardholders to earn travel points, statement credits, cash back, and enjoy promotional APRs, among other valuable perks. For the privilege, all you need is an established credit history with a good credit score and a willingness to pay an annual fee, typically starting at $95.
As for the target demographic, mid-tier credit cards work well for anyone who would prefer to straddle the fine line between entry-level, $0 annual fee cards and $400 per year premium cards. Some of the best mid-tier credit cards offer airport lounge access, heavily discounted hotels and airfare, monthly subscriptions, and other perks worth hundreds of dollars more than basic credit cards. 
Continue reading to learn more about the best mid-tier credit cards, including our preferred ones, requirements for obtaining a mid-tier credit card, and answers to the most frequently asked questions.
Best Mid-Tier Rewards Cards
Finding the right mid-tier rewards card depends on several factors, such as the annual fee, the number and type of travel perks, purchase protections, and other standout benefits that make signing up worthwhile.
Let's go over all of our favorite mid-tier rewards cards:
Arguably the best credit card on our list, the Chase Sapphire Preferred® Card offers a robust rewards program with points earned per dollar spent on eligible purchases. Other perks include a welcome bonus and an extensive Transfer Partner Network with a 1:1 ratio, allowing cardholders to transfer points across several airline and hotel loyalty programs.
Point for point, Chase Sapphire's system allows you to enjoy benefits outside its ecosystem. Other perks include no foreign transaction fees and a sleek metal card design, which feels good in a wallet or purse. You need a credit score of 670 or higher to qualify for this card.
All in all, this card's versatile rewards program, transfer options, and affordable annual fee make it one of the best choices for mid-tier credit cards.
Like the Chase Sapphire Preferred® Card, the Capital One Venture Rewards Credit Card is one of the best travel credit cards in the business. It allows you to earn and redeem miles for travel-related expenses like flights, hotels, and cruises.
Card membership offers a lucrative miles signup bonus to new cardholders, once they meet a minimum spending requirement within a certain number of months after opening the account. Other perks include a $95 annual fee and no foreign transaction fee. A good to excellent credit score improves your chance for approval.
In short, we highly recommend this rewards credit card for frequent travelers looking for a solid intro APR and flexible redemption options when earning and redeeming miles for travel-related expenses.
Offered by Citibank, the Citi Premier® Card is a travel rewards card that allows cardholders to earn and redeem points for all kinds of perks. The card is well-known for its strong intro APR and point multiplier for select purchases.
Cardholders enjoy bonuses, the ability to transfer points to select loyalty programs, and several redemption options, including cash back and gift cards, among others. But the biggest value comes from redeeming points for travel-related expenses through the Citi ThankYou Rewards program.
All you need for this rewards credit card is to pay a small annual fee and have a credit score of 670 or higher. There are no foreign transaction fees.
The American Express® Green Card offers a tiered points program with multipliers applied when you purchase airline tickets or pay for hotel rooms, rideshare services, takeout, and other eligible services.
Other benefits include a Global Entry or Clear Plus membership credit for breezing through airport security lines. Cardholders also enjoy no foreign transaction fees, trip delay insurance, car rental loss/damage insurance, baggage insurance, and a dedicated Global Assist hotline. 
The Bank of America® Premium Rewards® credit card is a well-rounded rewards credit card offering several perks, including rewards points based on every dollar spent on eligible purchases (e.g., travel and dining).
Cardholders also enjoy annual airline statement credits, fee reimbursement for TSA PreCheck, trip interruption insurance, $0 liability for unauthorized transactions, and no foreign transaction fees.
As with most mid-tier credit cards, you must pay an annual fee and have a credit score of 670 or higher to qualify.
The Luxury Card™ Mastercard® Titanium Card™ occupies the upper echelon of mid-tier credit cards with a higher annual fee of $195 ($95 for each Authorized User added to the account) plus an additional fee for every authorized user. Its main claim to fame is a 24/7 concierge service accessible by chat, phone, SMS, and email that can make your life easier.
Concierge requests include but are not limited to flower delivery, event ticket access, arranging dinner reservations, and even recommending salon services. 
Another benefit to using this card is its cash back and tiered redemption rate system. For example, purchasing qualifying airfare can give you a higher percentage redemption rate than receiving cash back. If you have 28,000 points, that can mean roughly $600 in airfare points versus $300 cash back as a statement credit. Note: Point redemption rules are subject to change.
Best Mid-Tier Business Cards
Mid-tier business cards allow small and medium-sized enterprises (SMEs) to enjoy rewards that can be redeemed for business expenses, among other options. You must meet the issuer's minimum credit score requirements and provide business information, including your name, address, and business tax ID number, to qualify.
Here are our favorite mid-tier business cards:
The Capital One Spark Miles for Business allows you to earn miles on every purchase with a generous one-time welcome bonus, provided you spend the specified minimum within the first three months of opening your account.
Benefits of this card include but are not limited to an annual statement credit for Global Entry or TSA PreCheck, transfer opportunities across more than a dozen travel partners, and virtual card numbers.
The Ink Business Premier℠ Credit Card offers a high cash back bonus (after hitting the minimum spending requirement within the first three months) as well as higher cash back percentages on travel purchases through Chase Ultimate Rewards.
Apart from more cash back opportunities and higher credit limits, this card also offers employee cards and travel/emergency service. For a small deductible, the card also offers cellphone protection or reimbursement in case of theft or damage to your or an employee's cellphone.
The Ink Business Preferred® Credit Card is one of the best-known mid-tier credit cards in the industry, offering a generous signup bonus (after meeting a minimum spend requirement after account opening), along with extra points for redeeming flights and hotels through the Rewards portal.
Another benefit to using this card is its 1:1 point transfer program, where rewards points equal one point at participating partners, including the Virgin Atlantic Flying Club and the World of Hyatt hotel rewards programs. With this card, you no longer need to sign up for different loyalty programs to reap the benefits.
The United℠ Business Card is one of the best all-around mid-tier co-branded cards. Cardholders earn bonus miles from United Airlines purchases in select categories and discounts on checked bags, up to a maximum amount per round trip. We also appreciate free passes to the United Club, where you can visit select airport lounge locations with free food, high-speed internet, and a good place to rest.
When paired with another United credit card, United℠ Business Card cardholders get additional anniversary bonus miles just for having both cards. Overall, we appreciate this card's perks and its extensive array of extras for a moderate annual fee.
The CitiBusiness® / AAdvantage® Platinum Select® World Elite Mastercard® is a solid workhorse that offers plenty of travel benefits, including your first checked bag free, discounts on in-flight food and beverages, and preferred boarding. 
One of this card's biggest perks is that it offers an American Airlines Companion Certificate for a free round-trip domestic ticket for a family member or friend after achieving a minimum amount spent every year. Very few business cards on the market offer this.
What is a Mid-Tier Credit Card?
A mid-tier credit card sits between cards with basic perks and no annual fees and premium cards with high annual fees. They offer lucrative rewards programs and statement credits, with point multipliers kicking in when you make purchases in preferred categories such as travel and entertainment, depending on the card.
Most mid-tier cards come with plenty of features and perks to reward cardholders, including travel-related perks, cash back opportunities, and statement credits for participating retailers. To take advantage of mid-tier credit cards, you only need to pay a small annual fee and have a good credit score.
Any score below 670 on the FICO scale and 660 on the VantageScore scale is considered bad credit, fair credit, or poor credit, so you are likely to receive a rejection.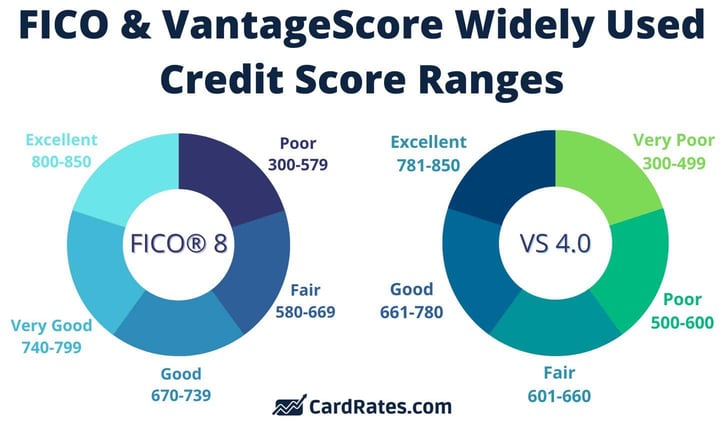 Let's explore mid-tier credit cards further, with a word on eligibility requirements, benefits, and annual fees.
What Are the Requirements to Get a Mid-Tier Credit Card?
Requirements for getting mid-tier credit cards depend on the issuer and the type of card (e.g., personal versus business). To be eligible, you typically need a good to excellent credit score (FICO 670 to 850). 
On top of that, you must have a minimum income set by the issuer, a positive credit history, and an acceptable debt-to-income ratio. Another criterion is a healthy credit utilization ratio, which is the percentage of your available credit relative to your total outstanding balances. 
Try to aim for a credit utilization ratio below 30%. So, if you have a total credit limit of $10,000 across all of your cards, that means you should carry no more than $3,000 in outstanding balances at any time. 
Some of the harder-to-get rewards cards may also require a consistent job history and an acceptable housing situation. To learn more about eligibility requirements for your preferred credit card, call the credit card issuer or visit the website. 
What Credit Score Do I Need to Qualify for a Mid-Tier Credit Card?
To qualify for a mid-tier credit card, you generally need to have a 670 or higher credit score, which is the demarcation of good credit, according to FICO. A good credit score shows lenders that you know how to responsibly manage the repayment of loans and credit cards.
Tips for managing your credit responsibly include:
Always pay your bills on time.
Keep your credit utilization below 30%, but below 10% is even better.
Don't let your accounts go dormant lest you risk them being closed.
Regularly review your credit score and reports.
How Much Do Mid-Tier Credit Cards Typically Cost?
Mid-tier credit cards come with annual fees as low as $75 and up to $150 or more per year. It's a nice alternative to premium cards like the Chase Sapphire Reserve® and The Platinum Card® from American Express that come with much higher annual fees.
Outside of annual fees, mid-tier credit cards also assess other types of fees, including fees for foreign transactions, balance transfers, cash advances, late payments, and returned payments. 
Foreign transaction fees can typically charge up to 3% for every transaction made in a foreign currency, whereas balance transfer fees charge a percentage of the transfer amount when you transfer a balance from one credit card to another.
As for cash advance fees, cardmembers should expect to pay a flat fee or a percentage of the transaction amount. Interest also begins accruing the day the transaction is made, as cash advances aren't subject to interest-free grace periods the way purchases are.
Be sure to carefully review a credit card's terms and conditions to understand all the fees associated with the account.
Is it Better to Pay an Annual Fee for a Credit Card?
The decision to pay an annual fee for a credit card depends on many factors, such as your financial situation, spending behavior, and the card's perks. Taking advantage of the card's rewards and benefits makes the annual fee worthwhile.
You always want to ensure the benefits and rewards you receive from the card will outweigh the cost of the annual fee. And, of course, you must avoid interest charges that will eat away at your earnings.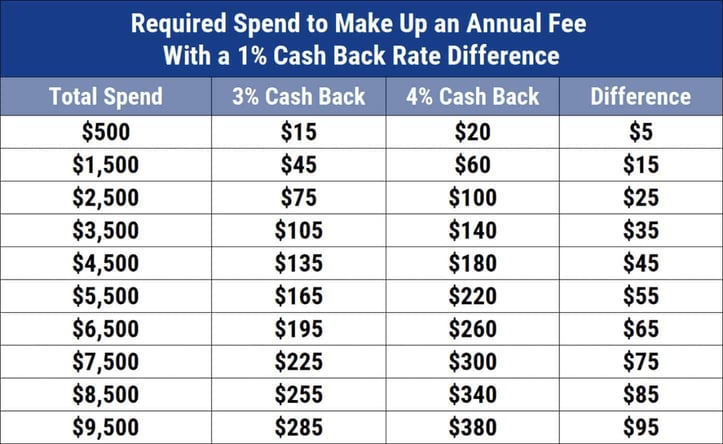 Additionally, you should consider your spending habits. For example, if you are a frequent traveler, the Chase Sapphire Preferred® Card card offers extra points simply for booking through the Chase Ultimate Rewards platform, giving you more bang for your buck. It also awards points for spending across different categories like dining and entertainment.
Do not forget perks like statement credits or airport lounge access. The United℠ Business Card, for example, offers free access to select airport United Club locations, where you can relax with better food and accommodations than what is offered at your typical departing gate. 
If this type of convenience appeals to you, paying an annual fee for a mid-tier personal or business credit card may make a lot of sense.
What Benefits Do Mid-Tier Credit Cards Offer?
Mid-tier credit cards offer many benefits, including but not limited to rewards programs, travel benefits, purchase protection (e.g., covering an eligible purchase against theft, damage, or related instances), no foreign transaction fees, annual statement credits, and concierge services.
Rewards programs allow cardholders to earn cash back and bonus points, which can be redeemed for everything from everyday purchases to airline tickets. Plus, percentage multipliers may allow for higher reward rates when spending on bonus categories like travel and dining, depending on the mid-tier card.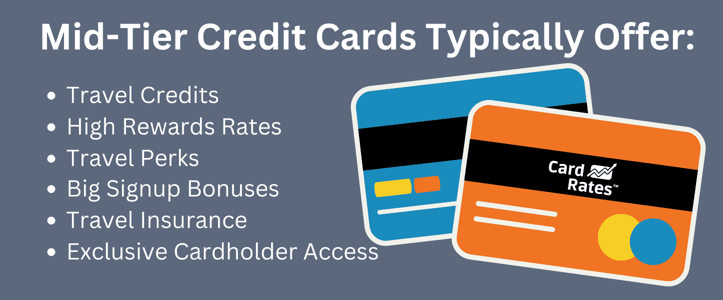 If you're an international traveler, you'll also be pleased to know that many mid-tier cards charge no foreign transaction fees. If you're paying for a restaurant meal in a foreign currency, expect to save roughly 3%.
Lastly, we are big fans of any mid-tier credit card offering annual statement credits. Statement credits are awarded for specific purchases like travel insurance, airline incidentals, checked bags, and other types of fees you would otherwise have to pay without the card.
Can I Upgrade from a Basic Credit Card to a Mid-Tier Credit Card?
Whether you can upgrade from a basic card to a mid-tier credit card depends on the issuer and its eligibility criteria, which may include maintaining a healthy payment record. But switching from a basic card to a mid-tier card can be worth it, even with an annual fee. 
Reasons for upgrading from a basic credit card to a mid-tier credit card include but are not limited to better rewards and benefits and access to exclusive offers. 
To check your upgrade eligibility, contact your credit card company, inform them of your interest, and ask whether you qualify. Before doing so, read the card's terms and conditions to learn whether the benefits and increased costs are worthwhile incentives for upgrading your account. 
Mid-Tier Cards Offer Lots of Benefits
In short, mid-tier credit cards are an excellent choice for people looking to maximize their spending through rewards programs and other perks. In addition to travel perks like Global Entry reimbursement and travel insurance, mid-tier credit cards also come with lower annual fees than the fees charged by premium cards, making them a great choice for value-oriented consumers. 
Consider exploring all of our recommended mid-tier credit cards where you're bound to find the card that best matches your spending habits.
Advertiser Disclosure
CardRates.com is a free online resource that offers valuable content and comparison services to users. To keep this resource 100% free, we receive compensation for referrals for many of the offers listed on the site. Along with key review factors, this compensation may impact how and where products appear across CardRates.com (including, for example, the order in which they appear). CardRates.com does not include the entire universe of available offers. Editorial opinions expressed on the site are strictly our own and are not provided, endorsed, or approved by advertisers.