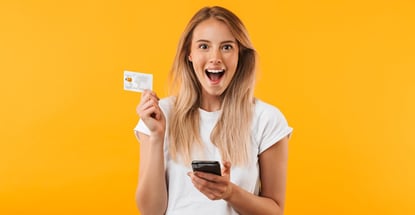 The FDIC reports that, as of 2017, 8.4 million U.S. households are unbanked, meaning they have no checking or savings accounts within the banking system. Of these, 30.2% say they don't trust banks, and 29.9% say bank fees are too high.
If you count yourself among the ranks of the unbanked, read on to learn about the 10 best credit cards with no bank account needed. You'll see that you've got options, whether you have bad or no credit, are a student, or want a secured or prepaid card.
No/Limited Credit | Bad Credit | Students | Secured | Prepaid
FAQs & Methodology
Best Cards for No Credit with No Bank Account Needed
Many unbanked consumers, including a large number of millennials, have little or no experience using credit. About two-thirds of millennials do not own credit cards, preferring to pay with cash or a prepaid card.
The following two cards are aimed at persuading unbanked individuals that credit is available, even if you have no or bad credit.
Pay no annual fee
Be automatically considered for a higher credit line in as little as 6 months
Fraud coverage if your card is lost or stolen
Use online banking to access your account, even from your smartphone, with our mobile app
Check out quickly and securely with a contactless card, without touching a terminal or handing your card to a cashier. Just hover your card over a contactless reader, wait for the confirmation, and you're all set.
Pay by check, online or at a local branch, all with no fee - and pick the monthly due date that works best for you
The Capital One® Platinum Credit Card is specifically geared toward consumers who need to build credit. Although the initial credit line is modest, you can qualify for a higher limit by making your first five monthly payments on time.
There is no annual fee, and you can prequalify for this card with no impact to your credit score.
Earn unlimited 1.5% cash back on every purchase, every day
Earn cash rewards without signing up for rotating categories
Be automatically considered for a higher credit line in as little as 6 months
Monitor your credit profile with the CreditWise® app, free for everyone
$0 fraud liability if your card is ever lost or stolen
No limit to how much cash back you can earn, and cash back doesn't expire for the life of the account
The Capital One® QuicksilverOne® Cash Rewards Credit Card offers unlimited 1.5% cash back on purchases, and you can get one without a bank account, even with a limited credit history. In addition, this no-annual-fee card provides an introductory cash bonus when new cardmembers spend the required amount in the first three months after opening the account.
Best Cards for Bad Credit with No Bank Account Needed
You may think that the combination of bad credit and no bank account would doom you to a life without credit. Wrong! The following two options show it can be done. Moreover, they can help you rebuild your credit by reporting your payments to one or more of the three credit bureaus.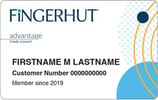 at Fingerhut'ssecure website
Easy application! Get a credit decision in seconds.
Build your credit history – Fingerhut reports to all 3 major credit bureaus
Use your line of credit to shop thousands of items from great brands like Samsung, KitchenAid, and DeWalt
Not an access card
The Fingerhut Credit Account is easy to obtain, even with bad credit and no bank account. The account allows you to purchase products from this online retailer and its partners. The card charges no annual fees.
If you don't qualify for the account, you'll be automatically evaluated for a Fingerhut Fresh Start Installment Loan.

at the issuer'ssecure website
Prequalify for a card today and it will not impact your credit score
Less than perfect credit is okay
Mobile account access at any time
Protection from fraud if your card is stolen
Account history is reported to the three major credit bureaus in the U.S.
*Dependent on credit worthiness
The Milestone® Mastercard® is aimed at consumers with less than perfect credit. The application process is easy, and you receive an instant decision.
The card charges an annual fee, but unlike other cards in this class, there are no application or maintenance fees. Cash advance fees are waived for the first year.
Best Student Cards with No Bank Account Needed
It's hardly unusual for today's students, who are mostly millennials and post-millennials, to attend college without feeling the need to open a bank account. The next two cards give students the opportunity to make purchases on credit without stepping foot in a bank.
Both cards offer many benefits, including cash back rewards. They also provide incentives in the form of statement credit to students with exceptional GPA.
5. Discover it® Student Cash Back
This card is currently not available.
The Discover it® Student Cash Back card offers cash back rewards and an introductory APR for new cardmembers. Students will appreciate the many security features, including free fraud and activity alerts and instant card freeze and unfreeze.
Late payments won't raise your APR, and your first late payment won't trigger a late fee.
6. Discover it® Student chrome
This card is currently not available.
The Discover it® Student chrome card offers cash back rewards – see card terms above for additional details. You can redeem your rewards at any time or use them instantly when you check out on Amazon.com.
The card's many benefits include free FICO scores, introductory APR on purchases by new cardmembers, and free overnight replacement of lost or stolen cards.
Best Secured Cards with No Bank Account Needed
A secured credit card is a sure opportunity to establish or rebuild your credit, banked or unbanked. You deposit with the issuer an amount equal to the card's credit line. The deposit serves as collateral if you miss a payment. If you practice creditworthy behavior, the issuer may eventually upgrade you to a secured card and refund your deposit.
This card is currently not available.
The Discover it® Secured card is aimed at consumers with no credit and scores of 669 or less. It offers cash back reward along with many other benefits.
Your required minimum deposit secures your credit line. You receive automatic monthly reviews to see whether you qualify for an unsecured card.

at Capital Bank'ssecure website
No credit check necessary to apply. OpenSky believes in giving an opportunity to everyone.
The refundable* deposit you provide becomes your credit line limit on your Visa card. Choose it yourself, from as low as $200.
Build credit quickly. OpenSky reports to all 3 major credit bureaus.
99% of our customers who started without a credit score earned a credit score record with the credit bureaus in as little as 6 months.
We have a Facebook community of people just like you; there is a forum for shared experiences, and insights from others on our Facebook Fan page. (Search "OpenSky Card" in Facebook.)
OpenSky provides credit tips and a dedicated credit education page on our website to support you along the way.
You can obtain an OpenSky® Secured Visa® Credit Card without a credit check or bank account. The card accepts a refundable deposit between $200 and $3,000 that is deposited in an FDIC-insured account.
The issuer claims that 99% of new cardholders without a credit score were able to establish a score in as little as six months. The card has a low annual fee and a monthly fee that kicks in when the card is inactive for 12 months.
Best Prepaid Cards with No Bank Account Needed
Prepaid cards are a handy tool for unbanked consumers. You load cash onto the card and then use it to make purchases just as you would a regular credit card.
Both cards can cover overdrafts of up to $10, and your credit score is irrelevant. These cards allow you to receive your direct deposit checks up to two days early.

at Netspend'ssecure website
With Netspend Direct Deposit, you can get paid faster than a paper check.
No late fees or interest charges because this is not a credit card.
No Overdraft Fees on purchases using your card.
Use the NetSpend Mobile App to manage your account on the go and get text message or email alerts (Message & data rates may apply).
Card issued by MetaBank®, Member FDIC. Card may be used everywhere Visa Debit cards are accepted. Click "Get My Card " for full details.
See additional NetSpend® Prepaid Visa® details.
The NetSpend Visa® Prepaid Card can be loaded with cash, checks, and direct deposits (such as your paycheck or Social Security check). You can deposit checks quickly using the Mobile Check Load feature on the Netspend smartphone app.
In addition, there are more than 130,000 reload locations across the country. You can withdraw cash from the card at ATMs or at the cash register.
10. Brinks Prepaid Mastercard
This card is currently not available.
The Brink's Prepaid Mastercard accepts cash, checks, transfers from other cardholders, and direct deposits. You can load cash at more than 130,000 reload locations on the NetSpend network.
You can expect to get up to two days faster when the card receives a direct deposit. The money in the card is kept in an FDIC insured account at Axos Bank.
Can I Get a Credit Card without a Bank Account?
Credit card issuers know that millions of individuals are unbanked in the United States. So, it's not surprising that many issuers welcome unbanked applicants and provide payment methods that don't require bank accounts.
For consumers with no or limited credit, we recommend two cards from the same issuer. The Capital One® Platinum Credit Card and the Capital One® QuicksilverOne® Cash Rewards Credit Card charge no annual fee and allow you to build a credit score. If you want cash back rewards, the QuicksilverOne® card lets you earn unlimited 1.5% cash back on purchases.
On the other hand, if your credit is poor, you need to rebuild your score. The Fingerhut Credit Account is easily obtained but limited mostly to shopping at the Fingerhut online store.
If you want a general-purpose credit card despite having bad credit and no bank account, you may like the Milestone® Mastercard®. It is fee-friendly and promises applicants a quick decision.
The two student cards from Discover differ only in their cash back schemes. The Discover it® Student Cash Back card realizes reward amounts based on rotating categories, whereas the Discover it® Student chrome card offers rewards on fixed categories.
The OpenSky® Secured Visa® Credit Card and Discover it® Secured let anyone obtain a credit card by depositing a refundable deposit that acts as collateral for your payments. These cards are an easy way to establish or rebuild credit and their issuers can promote you to an unsecured card if you make your payments on time for a set period.
Finally, the NetSpend Visa® Prepaid Card and Brink's Prepaid Mastercard are more like debit cards, in that you must fund them before use. These are perfect for those who don't want to own a bank account nor pay overdraft fees.
How Do I Pay My Card's Bill without a Bank Account?
You have several ways to pay your credit card bill without having a bank account. The most obvious way is with cash. You can go into any bank that supports the credit card network (Visa, Mastercard, American Express, and Discover) and make a credit card payment with cash or money order.
In addition, your card issuer may take payments at retail stores. For example, Capital One lets you pay your credit card at certain stores, as well as MoneyGram, Money Services, and Western Union locations. You can use the PayNearMe app to make a Capital One credit card payment at 7-Eleven stores.
Money orders are also handy if you wish to mail in your payment. All credit cards have an address where you can mail payments.
Make sure you put your credit card account number on the money order. You may want to use certified mail to ensure proper delivery.
If you use prepaid cards, you can purchase a reload pack with cash or a money order at a participating retailer. Each reload pack has a unique serial number. You can then go online or call the card's customer service number to use the reload pack number to transfer the cash to your prepaid card.
Another advantage of prepaid cards is that they accept direct deposits, in which the payer routes the payment directly to the card account. This can come in handy for paychecks, tax refunds, Social Security payments, and other sources. These have the advantage of speeding up your receipt of the payment by up to two days.
Alternatively, you can use smartphone apps like the Netspend Mobile App that have a mobile check capture feature to deposit the check to a prepaid account. You can endorse and photograph a check you've received and then transmit the image to your prepaid card account.
How Can I Boost My Credit with a Credit Card?
Most credit cards report your payments to at least one of the three national credit bureaus. This reporting is what determines your credit score. Here are some tips for boosting your score with a credit card:
Use your card responsibly. That means paying your monthly bill on time, not exceeding the card's spending limit, and paying more than the minimum amount each month (preferably the full balance).
Pay off balances and maintain a credit utilization ratio (i.e., total credit balances divided by total credit limits) below 30%.
Ask to become an authorized user on another person's credit card. With responsible use, this will start building your credit right away.
Consider a secured credit card. Usually, you can obtain one despite having no or poor credit. By using the card responsibly, you may eventually be upgraded to an unsecured card.
Dispute errors on your credit reports. You can get free copies of your reports from AnnualCreditReport.com. Check them carefully and dispute any mistakes. Your credit score will immediately improve when a credit bureau removes derogatory information.
Do not close old credit card accounts, even if you no longer use the card. A long credit history helps your score.
Ultimately, your credit score should improve when you exhibit creditworthy behavior. Even if you've gone through negative events such as collections and bankruptcies, their impact starts to wane over time. By obtaining a credit card and using it responsibly, you can put yourself on the road to better credit.
Ranking Methodology
Our list of the best credit cards with no bank account needed evaluates offers that approve applicants with no, limited, or bad credit histories. To determine our rankings, we assessed the following factors:
rates, terms, and rewards offered
the ability to build credit with reported payments
deposits and/or fees required
overall customer satisfaction
CardRates' reviews undergo a thorough editorial integrity process to ensure that content is not compromised by advertiser influence.
Advertiser Disclosure
CardRates.com is a free online resource that offers valuable content and comparison services to users. To keep this resource 100% free, we receive compensation from many of the offers listed on the site. Along with key review factors, this compensation may impact how and where products appear across the site (including, for example, the order in which they appear). CardRates.com does not include the entire universe of available offers. Editorial opinions expressed on the site are strictly our own and are not provided, endorsed, or approved by advertisers.