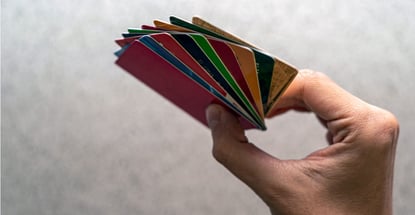 According to recent data, 5% of American adults do not have a bank account. Five percent may not seem significant, but considering the US population was 329.5 million as of 2020, that's still more than 16 million Americans who need access to alternative financial services, such as prepaid debit cards.
You can use a prepaid card to perform basic financial functions, including cashless purchases, money transfers, and withdrawing cash at an ATM. Prepaid cards work perfectly well without a bank account, and for many, provide a satisfactory substitute for credit cards. Moreover, prepaid cards will never hit you with a late fee or interest charges.
Best Prepaid Cards That Don't Require a Bank Account
These prepaid cards provide convenient functionality, regardless of whether you have a bank account. Some even offer FDIC-insured savings accounts, direct deposit, and other bank-like features. If you have no use for banks or credit cards, one of these debit cards may ideally fit your lifestyle.
The Brink's Armored™ Account lets you choose between a regular monthly plan or pay-as-you-go. You can halve the monthly cost by setting up a minimum amount in direct deposits each month.
This prepaid debit Mastercard offers customers cash back rewards and a negative-balance purchase cushion. Cardholders can open a savings account that pays an annual percentage yield.
The PayPal Prepaid Mastercard® lets you transfer funds between the card and your PayPal account. As with several prepaid cards, this card accelerates access to direct deposits by up to two days.
Cardholders can obtain up to six virtual account numbers for enhanced security. The optional cash back rewards program provides statement credits for select purchases. 
This version of the NetSpend® Visa® Prepaid Card charges a flat monthly fee. But cardholders can qualify for a reduced monthly plan with qualifying direct deposits.
The card features mobile check load, Netspend Payback Rewards, and support for authorized users. You can load money onto this Visa debit card at nationwide Netspend Reload centers. 
This alternate version of the NetSpend® Visa® Prepaid Card charges a small fee per transaction rather than a flat monthly fee. Otherwise, the two Netspend cards are identical, right down to the inactivity fee.
Card benefits include Netspend Payback Rewards, virtual accounts, and purchase cushion protection. You can choose among several basic designs for this Visa debit card or opt for your own custom graphics. 
The Bluebird® American Express® Prepaid Debit Account stands alone in waiving a monthly fee. You can load funds at Walmart stores or via mobile check capture, direct deposit, or debit card transfer.
This card enhances low costs by offering free bill payment, no foreign transaction fee, and withdrawals with no ATM fee. You can send money to other cardholders for free or to anyone via Bluebird2Walmart Money Transfer.
You can load money onto The Mango Prepaid Mastercard® via direct deposits, bank and PayPal transfers, and at participating Green Dot retailers. Its accompanying mobile app simplifies card management.
Cardholders who meet the card's direct deposit requirement can earn a high APY on account balances via the optional Mango Savings Account. Any use of the card triggers automatic text alerts, a handy security feature.
This version of the Serve® American Express® Prepaid Debit Account optimizes savings by waiving monthly fees for cardholders who meet direct deposit requirements. 
You can pay U.S. individuals and merchants with the activated card once you've verified your email address. American Express Serve cardholders can schedule bill reminders and authorize recurring payments. 
The Greenlight – Debit Card For Kids helps children learn how to handle money. This family-friendly card allows parents to set limits on their children's spending. Parents can exercise ATM withdrawal control (for instance, cash withdrawals on MoneyPass® ATMs).
The card offers kids cash back rewards and a high yield on savings balances. You can choose from three monthly plans based on the features you want, including the card's core tools, access to investing (under parental supervision), and various protections. 
The Walmart MoneyCard® is sure to grab the attention of the store's loyal shoppers, thanks to its high cash back rewards for Walmart purchases. You can also withdraw cash from the card for free at Walmart MoneyCenters and customer service desks.
The card keeps fees low. For example, reloads cost nothing when you cash a check at a Walmart store. 
This version of the Serve® American Express® Prepaid Debit Account offers unlimited cash back rewards. You can spend your cash back as soon as the merchant settles the purchase transaction with Amex.
The card provides the standard American Express card membership benefits, including purchase protection, fraud protection, and emergency assistance. Registered accounts receive FDIC insurance from the American Express Serve card.
The BusyKid Visa® Prepaid Spend Debit Card helps kids learn to save, spend, and invest their money. Cardowners can also donate a percentage of their income to charity.
The card works with the American Public Education Foundation (APEF) to advocate financial education in grades K through 12. Kids can invest in real stocks commission-free with as little as $10.
The ACE Elite™ Visa® Prepaid Debit Card offers three plans — pay as you go, monthly, and reduced monthly. The card participates in the Netspend Reload Network, with fees that approximate those for the Netspend twins. 
Pathward issues this Visa card as well as the Netspend offerings. Residents of Vermont are ineligible to open this card account.
What Is a Prepaid Debit Card?
A prepaid debit card is a plastic rectangle closely resembling a credit card or bank debit card. However, the card is funded through cash deposits and online money transfers rather than a checking account or credit line.
In some ways, a prepaid debit card resembles a gift card in that you load both with cash. However, prepaid cards are reloadable; gift cards generally are not. 
Prepaid cards are less similar to credit cards. While you can use both for cashless purchasing, prepaid cards do not use credit to pay for the things you buy. They are pay-now, spend-later devices that will never put you into debt. 
The logo for Visa, Mastercard, or American Express adorns the front of prepaid debit cards. These are the payment networks (and, in the case of Amex, the issuer) associated with the card. Those logos also tell you which merchants accept the card.
Discover does not offer a prepaid card at this time. 
Prepaid cards radically depart from credit cards in another way: Your credit score is of no importance when applying for a prepaid card. It doesn't matter if you have lousy credit, limited credit, or no credit at all – prepaid cards welcome everyone.
Company owners can purchase prepaid business credit cards to help them manage their finances. You can distribute the cards to employees to cover their work and travel expenses without risking overdraft fees.
Business prepaid cards also help companies and their employees by providing fraud liability protection against unauthorized use. Additionally, these cards deliver real-time purchase alerts and other valuable benefits to business owners.
Prepaid cards offer an attractive marketing angle for financial organizations. For example, the Brink's Armored™ Account draws cardowners with its rewards program while simultaneously promoting the Brinks brand. 
Do I Need a Bank Account For a Prepaid Debit Card?
The funding source is the defining difference between prepaid and bank debit cards, and many prepaid card owners do not have a bank account. 
All debit cards use money already put aside, not credit that you must repay. Bank debit cards use the money in your checking account to pay for your purchases. Prepaid debit cards rely on the cash you load and maintain in the card account. 
True, the money in a prepaid card account probably resides in an FDIC-insured bank, but it's the issuer's bank, not yours. 
Prepaid cards put space between cardholders and banks, something that many folks find desirable for various reasons, including:
Overdrafts can be expensive: Even so-called free checking accounts come with all sorts of costs, the worst being the dreaded overdraft fee. If you attempt to spend more money with a check or a bank debit card than you have in your bank account, you'll likely face an overdraft fee averaging around $30 for each occurrence. You'll also tick off the payee. Prepaid cards can face overdrafts, but unless you have overdraft protection, the issuer will decline the transaction without necessarily charging the cardowner a fee. A few prepaid cards offer purchase cushions to cover small overdrafts. While you must repay the cushion, the feature is a fee-free courtesy to cardowners.

Free checking accounts aren't so free: A so-called free checking account doesn't charge a monthly fee. However, a free account may come with many strings that can make it costly. The free account concept is incompatible with minimum deposit requirements, fees for select services, transaction limits, and other costs. Of course, prepaid cards charge fees too. But certain prepaid cards, such as the Bluebird® American Express® Prepaid Debit Account, minimize expenses, which makes it a popular choice.

Banks discriminate against consumers with poor credit: If you have ever tried to get a bank loan with bad credit, you probably discovered first-hand the bank's lack of interest. Similarly, the unsecured credit cards from big banks (e.g., Chase, Citi, etc.) do not accommodate consumers with subprime credit. Chase does not offer a secured card at all.

Ideological objections: Some folks don't like banks. It may be partially a rejection of big institutions or disgust at the bailouts available to banks but not to the common guy. To be sure, banks fulfill an essential role in the economy through their deposit and lending operations. By lending out their deposits, banks help finance business growth. Many banks offer high-yield savings, low-cost life insurance, and other desirable financial products. 
Another reason why some folks use prepaid cards is that they object to credit. One study found that two in three millennials hate credit cards.
The reasoning for this credit card boycott includes:
The mountains of debt students carry after graduating college.
Bitter memories of the turmoil their parents experienced during the Great Recession, mainly due to the irresponsible loans made by the banks.
The Credit CARD Act of 2009 made it difficult for folks under 21 to get a credit card without a cosigner or substantial income. 
It's OK for people to reject credit, but the consequence is that they may never receive a credit score. Without a score, a person will likely have trouble accessing a loan or qualifying for low-rate insurance. And the lack of a credit report can hamper a person's ability to rent an apartment or land a job. 
Because prepaid cards don't use credit, they do not report your payment activity to the major credit bureaus. Therefore, prepaid cards can do nothing to help you establish or build your credit.
For at least some prepaid card owners, that's just jim-dandy.
How Do I Get a Prepaid Debit Card?
Prepaid cards are for sale at select retail locations and online. The purchase transaction is brief and straightforward. All you do is provide some essential identification data, pay an initial fee (if the purchase isn't online), and load money onto the card account.
You can get help selecting which prepaid card to get through independent reviews like this one. By clicking on an APPLY HERE link, you can access more information about a card's costs and benefits. If everything looks good, you can fill out the short application form and buy your card. 
The purchase of a prepaid card does not require you to submit to a credit check or have a bank account. 
You must activate or register the card before you can use it. Failure to register your card may render some of its functions inoperative, and you won't receive protection against loss or theft.
How Does a Prepaid Debit Card Work?
A prepaid card is easy to buy and use. The card's account is not attached to a bank account but instead functions as an independent reservoir for the funds you deposit. 
Adding Money
You initially load your card at the time of purchase. After that, you can add money whenever you want, subject to the card's maximum allowed balance. 
You can load money onto your card in several ways:
In person: You can deposit cash at any retail location that sells the card. For example, the Netspend Reload Network has more than 130,000 locations across the country that allow you to add funds to several different prepaid card brands. The typical reload fee is around $4. 
Direct deposit: Almost all prepaid cards accept direct deposits for free. A card may limit the eligible sources to employers and government agencies.
Mobile check deposits: This method allows you to scan checks with your cellphone and upload them to your card account. The service is usually free, but you will have to pay extra if you need expedited processing. 
Western Union Money Transfer: Most prepaid cards accept wire transfers from Western Union. There is a small fee for this service.
Account to account transfer: You can load your card via a funds transfer from another account. Details and costs vary by card.
Each prepaid card has rules governing how much money you can load. For example, Netspend allows you to add up to $2,500 per day. Its maximum card balance is $15,000, but at least one card brand has a higher limit.
Making Purchases
To purchase an item at a retail location, you insert, swipe, or tap your card at the checkout terminal, just as you would with a credit card. You'll then face a somewhat confusing question: Debit or credit? 
Let's be clear; the transaction is always a debit to your card account. A prepaid card is not a prepaid credit card. In fact, "prepaid credit card" best describes secured credit cards. 
The use of debit and credit have special meanings in this situation:
Debit: This is a PIN transaction in which you type in your secret three- or four-digit PIN. The system immediately verifies your entry, helping to secure the card against unauthorized use. 
Credit: In this type of transaction, you sign your name on the checkout terminal or paper receipt. Either the system or the clerk is supposed to verify your signature. Signature transactions are a much less secure payment method and the type preferred by card thieves. 
Unless the system rejects the card, the purchase amount immediately reduces the card's balance. Your card can be rejected if it fails verification or if the account balance is insufficient. 
Some cards provide a purchase cushion in case your balance is less than your transaction total. At least one card offers up to $200 overdraft protection.

You can also use your prepaid debit card to make card-not-present (CNP) purchases (i.e., online, over the phone, and in-app). CNP transactions usually require you to provide the card's security code, just as you would with a credit card.
Withdrawing Money
You can choose from several options when you want to withdraw money from your prepaid card:
ATM: Some cards offer free in-network ATM withdrawal (for example, on MoneyPass® ATMs), but in most cases, you'll pay a small ATM fee.
Over the counter (OTC): You can withdraw funds at an authorized cash reload location or financial institution. The transaction fee is usually less than 3%.
Cash back at a retail store: Many stores, especially supermarkets, allow you to request cash back when you make a purchase using a PIN. This is an excellent way to withdraw money because it's free.
Each card sets rules for how much you can withdraw from the card account. For example, Netspend permits a maximum ATM withdrawal of $325 per transaction and $940 per day. Otherwise, the maximum is $4,999.99 every 24 hours. The card allows up to six ATM withdrawals per day. 
How Does a Prepaid Card Affect My Credit?
Prepaid cards don't extend credit, so they don't report your payments to the major credit bureaus. That's why prepaid cards cannot help you establish, build, or rebuild credit. On the other hand, prepaid cards won't hurt your credit, either.
You may face some problems if you don't have a credit history. For example, you will likely have trouble getting a low-interest loan or qualifying for low-rate insurance. And the lack of a credit history can interfere with your ability to land a job or rent an apartment.
What Fees Do Prepaid Cards Charge?
The following fee list illustrates the range of charges you're likely to face with a prepaid debit card:
A fee for reloading a card at specified locations or via a mobile banking app
Account inactivity fee
Cash withdrawals from ATMs. The ATM fee may not apply to in-network machines.
Custom-design cards
Declined transaction fee
Low balance fee
Money transfers
Plan charges as a flat monthly fee (about $5 to $10 per month) or a pay-as-you-go fee of around $1.50 per transaction
Purchasing or activating a card at a retail location. Typically, this is a one-time fee of about $3.
Replacement cards
To review a complete list of charges, read the cardholder agreement and fee schedule available on the card's website or through customer service.
Compare Prepaid Debit Cards Without Bank Account Requirements
Prepaid debit cards without bank account requirements extend the convenience of cashless purchasing to unbanked and underbanked consumers. These cards also allow folks with bank accounts to maintain separate cash accounts. For example, they may load a prepaid card with money for a vacation.
When selecting a prepaid card, pay close attention to its fee schedule. Some cards are more expensive than others for no apparent reason. You'll also want to consider convenience factors, such as your proximity to a cash reload location and the availability of mobile check deposits.
Advertiser Disclosure
CardRates.com is a free online resource that offers valuable content and comparison services to users. To keep this resource 100% free, we receive compensation for referrals for many of the offers listed on the site. Along with key review factors, this compensation may impact how and where products appear across CardRates.com (including, for example, the order in which they appear). CardRates.com does not include the entire universe of available offers. Editorial opinions expressed on the site are strictly our own and are not provided, endorsed, or approved by advertisers.