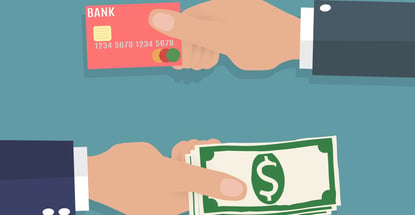 If you think only a handful of good credit cards for bad credit with deposit exist, think again. We've assembled the best secured credit cards that just about anyone can quickly obtain. 
The collection is big enough to warrant grouping the cards into different categories based on deposit requirements, rewards, and APR. You just may find one of these to be the best credit card for your needs. 
Secured Cards With Low Deposit Requirements
Most secured cards require your deposit to match your initial credit line. These two cards break that rule in your favor.
No annual or hidden fees. See if you're approved in seconds
Building your credit? Using the Capital One Platinum Secured card responsibly could help
Put down a refundable security deposit starting at $49 to get a $200 initial credit line
You could earn back your security deposit as a statement credit when you use your card responsibly, like making payments on time
Be automatically considered for a higher credit line in as little as 6 months with no additional deposit needed
Enjoy peace of mind with $0 Fraud Liability so that you won't be responsible for unauthorized charges
The Capital One Platinum Secured Credit Card may allow you to deposit less than your initial credit line. The exact amount depends on the issuer's assessment of your creditworthiness. This Platinum Mastercard requires you to have access to an authorized bank account to fund your security deposit.
Secured Cards With Rewards
You may be surprised at the variety of subprime secured credit cards in this group, considering that so few unsecured cards for bad credit offer rewards. Moreover, these cards do not burden you with many of the nuisance fees that accompany their unsecured cousins.
No annual or hidden fees, and you can earn unlimited 1.5% cash back on every purchase, every day. See if you're approved in seconds
Put down a refundable $200 security deposit to get a $200 initial credit line
Building your credit? Using a card like this responsibly could help
Enjoy peace of mind with $0 Fraud Liability so that you won't be responsible for unauthorized charges
You could earn back your security deposit as a statement credit when you use your card responsibly, like making payments on time
Be automatically considered for a higher credit line in as little as 6 months with no additional deposit needed
Unlimited cash back is just one of many reasons to get the Capital One Quicksilver Secured Cash Rewards Credit Card. You can raise your initial credit line by depositing more than the minimum required before activating your card. The maximum permitted deposit depends on your creditworthiness. 
at Discover Card'ssecure website
No credit score required to apply.
No Annual Fee.
Use your tax refund to fund your security deposit and start building your credit history. Your credit line will equal your deposit amount, starting at $200. Bank information must be provided when submitting your deposit.
Automatic reviews starting at 7 months to see if we can transition you to an unsecured line of credit and return your deposit.
Earn 2% cash back at Gas Stations and Restaurants on up to $1,000 in combined purchases each quarter. Plus, earn unlimited 1% cash back on all other purchases – automatically.
Discover could help you reduce exposure of your personal information online by helping you remove it from select people-search sites that could sell your data. It's free, activate with the mobile app.
| | | | | |
| --- | --- | --- | --- | --- |
| | 10.99% Intro APR for 6 months | | | |
Fans of Discover will love the Discover it® Secured Credit Card, with its cash rewards and, for new cardmembers, unlimited Cashback Match for the first year after opening the account. You can freeze and reactivate the card at any time to control purchases, cash advances, and balance transfers. Its 100% US-based customer service is second to none.
4. Surge® Platinum Secured Mastercard®
This card is currently not available.
The Surge® Platinum Secured Mastercard® offers a moderate cash back rate on all purchases. The card comes with Mastercard Zero Liability Protection and a mobile app. You can opt for credit protection to pay your credit card bill under specific circumstances.
Earn 1X points per dollar spent with no limit on the amount of rewards you can earn; rewards expire after 4 years.
Deposit at least $200 into your membership savings account (before submitting your application) to back your spending. If approved, we'll hold your deposit in your account as your card's credit limit. As you use your card, you'll earn rewards just like any other credit card, while also earning dividends on your deposit—just like any other savings account.
No annual fees, no balance transfer fees, no foreign transaction fees, and no cash advance fees.
After just 3 months, you could be eligible for an upgrade. If you qualify, we'll provide you with additional credit to allow for spending beyond your deposit. Then, at 6 months, we'll review your account monthly to see if you're eligible to have your hold removed and be upgraded to a cashRewards unsecured card.
Rental car coverage
Must be a member of Navy Federal Credit Union to qualify
If you are a credit union fan, check out the nRewards® Secured Credit Card. Its flexible rewards program lets you redeem your points for cash back, new purchases, merchandise, and gift cards. In addition, the card provides cellphone protection and rental car coverage at no extra cost.
Secured Cards With Low Interest Rates
Many secured credit cards distinguish themselves from similar unsecured cards by offering lower interest rates. We've identified the best secured cards with APRs below 20% to compile this list.
at Capital Bank N.A.'ssecure website
No credit check to apply and find out instantly if you are approved
OpenSky gives everyone an opportunity to improve their credit with an 85% average approval rate for the past 5 years
Get considered for a credit line increase after 6 months, with no additional deposit required
You could be eligible for the OpenSky Gold Unsecured Card after as few as 6 months
Reports to all 3 major credit bureaus monthly, unlike a prepaid or debit card
View your FICO® Score through your OpenSky account, an easy way to stay on top of your credit
The OpenSky® Secured Visa® Credit Card keeps its interest rates and fees low. Features include email alerts and fraud protection. You can quickly apply for the card in four short steps and set the credit limit, all without a credit check.
Better than Prepaid…Go with a Secured Card! Load One Time – Keep On Using
Absolutely No Credit Check or Minimum Credit Score Required
Automatic Reporting to All Three National Credit Bureaus
9.99% Low Fixed APR – Your Rate Won't Go Up Even if You Are Late
Activate Today with a $200 Minimum Deposit – Maximum $1,000.
Increase Your Credit Limit up to $5,000 by Adding Additional Deposits Anytime
| | | | | |
| --- | --- | --- | --- | --- |
| | | | | Poor/Fair/Limited/Damaged |
The rock-bottom fixed APR on the Applied Bank® Secured Visa® Gold Preferred® Credit Card is welcome since the card doesn't offer an interest-free grace period on new purchases. You should receive an instant decision when you apply for this card. The card doesn't charge an application fee or impose a penalty APR for late payments.
at Merrick Bank'ssecure website
Choose your own credit line based on how much money you want to put down as a security deposit.
Initial deposits can be from $200 to $3,000. You can increase your credit line at any time by adding additional money to your security deposit, up to $3,000.
After 9 months, we review your account for a credit line increase. No additional deposit required!
Secured Credit Cards are great for people looking to build or rebuild credit and are available to people with all kinds of credit backgrounds.
Unlike a debit card or a pre-paid card, it helps build your credit history. We report your payment history to all three major credit-reporting agencies.
Get your FICO® Credit Score for free each month.
| | | | | |
| --- | --- | --- | --- | --- |
| | | | $36 for first year. Billed $3 per month thereafter | |
The Merrick Bank Secured Credit Card does not charge setup or maintenance fees. Its annual fee is relatively low and converts from yearly to monthly billing after the first year. You can choose any of the card's multiple color schemes at no additional cost.
Earn 1% Cash Back Rewards on payments!
No minimum credit history or credit score required.
Past credit issues shouldn't prevent you from getting a credit card with great benefits & rewards!
Accepted wherever Mastercard® is accepted, online and worldwide!
Reports to all 3 major credit bureaus.
Manage your statements, transactions & rewards on-the-go with the First Progress Card Mobile App!
The First Progress Platinum Prestige Mastercard® Secured Credit Card offers the lowest APR among this issuer's Platinum Mastercard trio. It also has the highest annual fee of the three and the widest gap between its eligible purchase and cash advance APRs.
Receive Your Card More Quickly with New Expedited Processing Option
No Credit History or Minimum Credit Score Required for Approval
Quick and Complete Online Application; No credit inquiry required!
Includes Free Real-Time Access to Your Credit Score and Ongoing Credit Monitoring powered by Experian
Full-Feature Platinum Mastercard® Secured Credit Card; Try our new Mobile App for Android users!
Good for Car Rental, Hotels; Anywhere Credit Cards Are Accepted!
First Progress Platinum Elite Mastercard® Secured Credit Card welcomes applicants with poor credit. It offers the lowest annual fee among its siblings and the highest APRs for purchases and cash advances. In addition, the credit card company provides you with a grace period on all its secured cards.
Earn 1% Cash Back Rewards on payments made to your First Progress Secured credit card account.
No minimum credit history or credit score required!
Imagine being rewarded for simply paying your bill each month.  
Accepted wherever Mastercard® is accepted, online and worldwide!
Reports to all 3 major credit bureaus
Manage your statements, transactions & rewards on-the-go with the First Progress Card Mobile App!
The First Progress Platinum Select Mastercard® Secured Credit Card offers an annual fee and an APR that fall in the middle range of those of its siblings. All three cards impose relatively few other fees on cardmembers. 
What Is a Secured Credit Card?
Secured credit cards allow consumers with poor, limited, or no credit to participate in the credit market. It is the best credit card type to establish or build credit no matter your past financial problems.
Secured cards work like any other credit card, except that you must submit a refundable security deposit to qualify for one. You can use them to pay your bills, make purchases, and borrow money.
Your less-than-perfect credit won't prevent you from obtaining a secured credit card because your posted collateral protects issuers if you default on your payments. Many of these cards do not even perform hard credit checks on applicants. 
It would be an overstatement to say your credit score has no impact on your ability to get a secured card. My research indicates that you cannot prequalify for these cards if you have a good or excellent credit score. It may sound perverse, but the biggest obstacle to procuring a secured credit card may be a clean credit history.
Credit card companies typically attempt to graduate their secured-card customers to one of their unsecured cards. You must pay your bills on time for a set period before receiving this upgrade.
The move to an unsecured credit card helps you by refunding your security deposit. But it also helps the credit card company because your new unsecured credit card may carry higher fees and interest rates, meaning more revenue.
So carefully consider whether you want the issuer to transfer you to an unsecured account. You should first make sure that the move doesn't end up costing you more money.
Typically, secured cards report your payments to all three credit bureaus. Triple reporting helps confirm your creditworthy behavior by allowing all three credit scores to climb in relative unison. 
This article looks at three essential characteristics of these cards (i.e., deposit requirements, rewards, and interest rates) to help you narrow your search for the secured card that best fits your needs.
Low Deposit Secured Cards
A secured card does not usually use your security deposit to pay your outstanding balance. But if you miss the payment due date, the issuer will tap your deposit for the missing amount and reduce your credit limit accordingly. 
If you miss more than one payment, the issuer will likely cancel your account and refund whatever remains of your deposit.
In almost all cases, secured cards require an initial deposit equal to the starting credit limit. For example, if your credit limit starts at $200, you must first deposit $200 to receive the card. 
However, the Capital One Platinum Secured Credit Card may allow you to deposit less than your approved credit limit.
Rewards Secured Cards
There was a time when it was rare for a secured credit card to offer rewards. But times have changed, and we've identified five secured cards with rewards — one points card and four cash back cards.
Cash back is the most popular reward for this class of credit cards. The nRewards® Secured Credit Card is the sole card to offer points instead of cash back. You have a few options, including cash back and gift cards, when you want to redeem your points.

Unsurprisingly, these rewards cards do not offer signup bonuses. It would be slightly inappropriate to demand a deposit and then pay you an introductory bonus for spending a set amount in the first three months. 
Some types of secured reward cards are difficult to find. Few secured business credit card examples offer rewards, and many issuers do not even offer unsecured versions for bad credit. 
For example, Credit One Bank serves the subprime market but doesn't offer a secured business credit card, even though you can get a secured Credit One Bank Visa card. 
Low APR Secured Cards
It is fitting and proper for secured credit cards to offer lower APRs because the issuers face little risk of loss due to cardmember default. But we must emphasize that the interest rates for low APR secured credit cards are lower than those for similar unsecured cards for bad credit, but not necessarily lower than APRs for cards for good to excellent credit.
Some otherwise good credit cards, such as the Citi® Secured Mastercard®, just missed inclusion in this category. The APR for the Citi® Secured Mastercard® is just a couple of percentage points above our 20% cutoff.
Nonetheless, the secured cards in this category will cost you less than similar unsecured cards when carrying a balance over multiple billing cycles. Only one card charges interest on purchases immediately. The remainder offer grace periods of at least 21 days in which you can avoid interest charges by paying the entire balance due.
All the cards immediately charge interest on cash advances. The cash advance APR is several percentage points higher than the purchase APR in most cases. The gap between the two APRs in the three First Progress Platinum cards varies from 5 to 11 percentage points.
What Does "Bad Credit" Mean in Terms Of Credit Cards?
Your credit score determines the type of credit you have. The FICO scoring system predominates the consumer credit score market and is the score that holds the most significant sway over card issuers. 
FICO uses a scoring range from 300 (worst credit) to 850 (perfect credit). Each card issuer has its own ideas about how to classify FICO scores and the corresponding interest rates it charges.

The chart indicates that credit scores below 580 are bad, but that value isn't carved in stone. Some card issuers may choose a higher or lower cutoff for poor credit. The fact that you have three different FICO scores (one each from the major credit bureaus) only muddies the picture further. 
Rather than concentrate on a particular score to characterize bad credit, it makes more sense to describe the ways a low credit score affects credit card consumers:
High interest rates: Bad credit usually consigns you to a relatively high credit card APR. The chart's less than 25% estimated APR for bad credit is an average of both unsecured and secured credit cards, but you can expect a somewhat lower APR for secured cards alone. 
Many fees: All credit cards have fees, but the fees for bad credit consumers include fees for account setup, maintenance, and credit limit increases. But most secured cards omit these extra charges.
Low credit limits: If you have bad credit, you present enhanced default risk to card issuers. Most subprime credit cards, secured and unsecured, offer modest starting credit limits, typically less than $500. A few of the reviewed cards allow you a higher initial limit if you deposit large sums, but it's unusual for secured cards to allow credit lines above $5,000.
Limited perks: Secured credit cards offer better rewards and benefits than unsecured cards for bad credit. Even so, neither type of card comes close to matching the goodies from cards for good or excellent credit. You are doing well if you can get a cash back or points card despite having bad credit. A few secured cards offer valuable benefits, such as insurance for car rentals or cellphones. All cards provide fraud protection, and many also give you free access to one of your credit scores. 
If you can boost your credit score into the fair range, you'll qualify for better quality cards with lower interest rates, fewer fees, higher credit lines, and more generous benefits. It's no exaggeration to say that good credit can help improve your lifestyle. 
How Does a Secured Credit Card Work?
The fact that your credit card is secured remains your little secret because cards don't broadcast it. Secured cards carry the same payment network logos (mainly Visa and Mastercard) and merchant acceptance as unsecured cards. 
The requirement for a security deposit sets secured cards apart, allowing consumers with abysmal credit to pay with plastic and then finance their purchases over time.
Issuers of secured cards will refund your deposit for a few reasons:
You close the account.
The issuer cancels your card.
You graduate to an unsecured credit card from the same issuer.
If the account is terminated, the issuer will deduct any remaining balance before refunding your deposit.
The security deposit solves the problem many subprime consumers face — how to qualify for a credit card — by allowing issuers to bypass the normal credit checking process that unsecured cards follow. 
When applying for a secured card, you still have to provide information about your earnings and expenses, but you will probably avoid a hard credit check from the issuer. Card issuers will conduct hard credit checks for credit and loan applications, and you must authorize a hard check before an issuer can request copies of your credit reports.
Bypassing credit checks have two main upsides for secured credit card applicants:
It increases your approval chances since your previous credit problems will not color the issuer's decision.
You avoid a hard credit check that can lower your credit score by five to eight points for up to a year. Hard pulls remain on your credit reports for two years. According to FICO, these checks hurt your score due to the correlation between frequent new credit requests and defaults. 
Another feature of secured credit cards is credit reporting. Virtually all of these cards report your payments to all three credit bureaus. Reporting to all three bureaus helps ensure that your credit reports show the progress you're making by paying your bills on time and controlling your debt levels. 
But beware, it will also disclose the opposite if you fail to exhibit creditworthy behavior. 
Secured cards are second only to student credit cards as practical tools for establishing credit. Both card types are generally easier to obtain, but if you aren't a student, then a secured card is your best method to start compiling a credit history.
How Fast Can You Build Credit With a Secured Card?
Patience is a necessary virtue when building credit. It usually takes several months to begin seeing results, assuming you consistently pay your credit card bills on time.
There are a few quick ways to improve your credit score. The first is to reduce your credit utilization ratio (CUR), which is the amount of credit you use versus the amount available.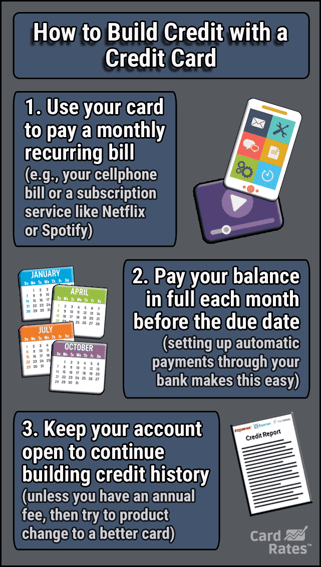 FICO penalizes you when your CUR exceeds 30%, but you can rapidly fix the problem by paying down your outstanding credit card balances. You may see your score improve in as little as one month.
Another way to get a quick score increase is to remove derogatory items from your credit reports. You do this by disputing the incorrect, unfair, or expired items on your reports. The major credit bureaus have online facilities to help you file disputes, which the bureaus must investigate and resolve within 30 days.
If you don't want to fix your credit report on your own, you can hire a credit repair service to do the work for you.
Choose a reputable service that spells out the level of support you'll receive, including the number and types of disputes it will file each month. Subscriptions typically run for four to six months and cost between $50 and $150 per month.
You may earn a slight score increase by signing up for Experian Boost or similar services that provide enhanced payment reporting. For example, these services may report your utility, mobile phone, and rent payments. Experian includes the additional data when refiguring your Experian FICO Score each month.
Unfortunately, serious credit problems remain on your credit reports for up to 10 years. Building credit is difficult when your credit report is filled with derogatory items.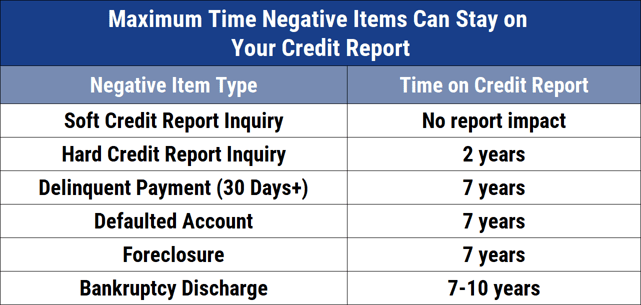 A negative item's impact on your score will begin to fade before it falls off the report. Depending on your credit history, you may see your score uptick in two to three years following a major credit problem.
Can You Be Denied a Secured Credit Card?
No credit card accepts 100% of applicants, including secured cards. The following factors can trip up your application:
A recent bankruptcy filing.
An inability to repay debt.
Recent repossessions, foreclosures, or collection accounts.
Mistakes on your application that prevent processing.
Not having a verifiable income.
Not being able to verify your identity.
If the credit card issuer rejects your application, it must send you an Adverse Action Letter that explains why you didn't qualify for the card or loan. This letter explains the reasons for the rejection and some tips for improving your credit score.
If you're not able to get a secured card, you may want to consider a prepaid card instead. A prepaid card lets you make cashless payments without the need for credit or a bank account. 
How Long Before a Secured Card Becomes Unsecured?
Do not assume that you will automatically graduate from a secured card to an unsecured card. You must earn the upgrade by paying your bills on time, every time. 
It also helps to maintain a low credit balance and avoid overstepping your credit limit. If you follow the rules, you may receive an upgrade in as little as six months, although it could take a year or longer.
Capital One offers its Credit Steps Program to help cardholders get better cards and higher credit limits. The program uses several factors to gauge the creditworthiness of participants, including:
The average monthly payment amount
Credit bureau reports
On-time payments
Regular card use
Whether you use a significant portion of your existing credit line
Your credit score
The issuer automatically enrolls you in the program when you obtain one of its cards for bad or fair credit, including the Capital One Platinum Secured Credit Card. 
Clearly, Capital One is serious about giving subprime consumers a second chance to prove they can handle credit responsibly.
On the other hand, some issuers of secured cards do not automatically evaluate cardholders for promotion to an unsecured card. For example, the OpenSky® Secured Visa® Credit Card states that "Your secured card will stay a secured Visa credit card."
However, nothing is stopping you from applying for an unsecured credit card if your current issuer doesn't offer to refund your security deposit. You will want to wait at least six months after opening a secured account to apply for an unsecured card.
What Kind of Fees Are Associated With Secured Cards?
Good news: Most secured cards do not charge the nuisance fees that unsecured cards for poor credit extract from cardholders, such as fees for account setup, maintenance, and credit limit increases.
Instead, you will likely encounter the following costs:
Interest rate charges: Cards charge daily interest if you finance an unpaid balance over multiple billing cycles. Secured card APRs below 20% are typical, with cards charging as little as 9.99%. You can lock in a 0% interest rate by paying your bill in full every month (except if the card does not offer a grace period on purchases). 
Annual fee: Many secured credit cards waive annual fees, and those that don't usually impose an annual fee no greater than $50. We think it's inappropriate for a secured card to collect a yearly fee and a security deposit, but not all issuers agree.
Foreign transaction fee: This charge usually amounts to 3% of the dollar value for each foreign purchase. You can ignore this fee if you don't plan to travel abroad.
Cash advance fee: All credit cards charge this fee, although a few subprime unsecured cards waive it for the first year. The cost is usually 3% to 6% of the advance with a $10 minimum. Typically, the APR on cash advances exceeds that for purchases. Interest on cash advances begins to accrue immediately — there are no grace periods for cash advances.
Balance transfer fee: Most secured credit cards do not allow balance transfers. This omission isn't usually a problem since a secured card is likely the cardholder's only card, and tight credit limits wouldn't allow for sizable transfers. Unsecured cards are a better fit for transferring balances. 
Late fees: A late payment will trigger a charge in the $28 to $41 range. Usually, a similar fee applies to returned payments. The Discover it® Secured Credit Card uniquely waives this fee the first time you pay late. 
Miscellaneous fees: Some secured cards may charge for various services, such as adding an authorized user, ordering additional cards, or requesting an expedited card shipment.
Always check the mandatory Schumer Box for the complete fee rundown when evaluating a credit card.
Compare Credit Cards For Bad Credit With Deposit
Our review of credit cards for bad credit with deposit requirements clarifies why we like secured credit cards so much. When compared with unsecured cards for subprime consumers, secured cards offer better perks, lower costs, and easier access. 
You can research or apply for any of the reviewed cards by clicking on the APPLY NOW links in the summary boxes. Read the fine print before accepting a credit card so you can make an informed decision on the best one for you.
Advertiser Disclosure
CardRates.com is a free online resource that offers valuable content and comparison services to users. To keep this resource 100% free, we receive compensation for referrals for many of the offers listed on the site. Along with key review factors, this compensation may impact how and where products appear across CardRates.com (including, for example, the order in which they appear). CardRates.com does not include the entire universe of available offers. Editorial opinions expressed on the site are strictly our own and are not provided, endorsed, or approved by advertisers.