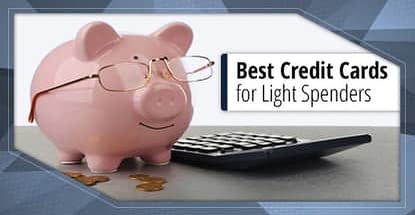 Credit card blogs are always full of churners and high rollers who put thousands of dollars of spend on their cards each month to earn free trips around the world. But while these stories can be inspiring, they're not often manageable for the typical cardholder.
On the bright side, you don't actually need to spend like a Rockefeller to take advantage of credit card rewards. Even modest spenders can earn great cash back, points, and miles — without breaking the bank. Tons of great cards are out there that are perfect for light spenders. With that in mind, we have compiled the list below which includes 18 of our experts' picks for the best credit cards for light spenders.
With these cards, you won't need to pay huge annual fees, reach absurd spending requirements, or charge a bundle each month to see real rewards. Of course, while these are the top picks, they're hardly the only options for light spenders to make the most of their credit card.
Overall | Cash Back | Travel | Signup Bonus | Student | Business
Best Overall Credit Cards for Light Spenders
Although ever consumer's spending habits are unique, there are a few things most light spenders likely want out of their credit card — the first being not a lot of excess fees. If you're not putting enough spend on a card to make up for an annual fee, why pay it?
Another key component of a great overall card for light spenders is flexibility in how you earn rewards. These cards can be used for everyday purchases and one-off expenses alike, offering the same solid rewards rate no matter where you spend.
Having trouble deciding between our top three overall cards? If you're under the Chase 5/24 limit, then the Chase Freedom Unlimited® is an easy choice, with the Capital One Quicksilver Cash Rewards Credit Card as an alternative. If you'd rather have more rewards than an intro-APR offer, the Citi® Double Cash Card could be your winner.
Best Cards for Maximizing Cash Back on a Small Budget
While having a good unlimited rewards card in your wallet is definitely useful, you don't have to forfeit the chance to maximize your rewards simply because of a small budget. You can still find quality category rewards cards without costly annual fees or huge spending requirements.
If you're going for max rewards, be sure to pick the cards that best fit your spending habits. If you know you spend heavily at grocery stores and restaurants year-round, pick a card with set bonus rewards in those categories. For consumers with revolving needs, a rotating category card can offer a lot of opportunity to earn big.
While category cards can be great for big rewards, be sure you know the restrictions and limitations of your card. For example, most cards with rotating categories require you to activate your new category each quarter to unlock bonus rewards on those purchases. Check the card's rewards calendar — Chase and Discover each have separate calendars — ahead of time to see when you can activate your new category.
Additionally, many credit cards with bonus rewards categories have earning limits for those categories. This means you'll only earn bonus rewards on category purchases up to the limit, with additional category purchases earning rewards at the default rate (typically 1% cash back).
Best Cards for Earning Travel Rewards with Low Fees
Some of the most frequent perpetrators when it comes to expensive cards with big price tags are the travel rewards credit cards. Many of the top-tier travel cards have annual fees in excess of $400, and spending requirements well past the attainable for small-budget consumers.
Happily, you don't have to take out a second mortgage to earn free flights and hotel stays; a number of travel rewards credit cards offer the ability to earn enough points and miles with your everyday purchases to help make that next vacation an affordable reality.
While these travel rewards credit cards won't give you the outrageous per-point value of the more expensive options, they also won't cost you an arm and a leg in fees each year just to keep them in your wallet.
And you also get access to many of the best travel card perks, including paying no foreign transaction fees on purchases in a foreign currency. Plus, these cards all have good-sized signup bonuses with spending requirements that can fit into nearly any budget.
Best Signup Bonuses with Low Spending Requirements
One of the key components to most credit card rewards strategies is taking advantage of the lucrative signup bonuses most cards now offer. At the same time, the signup bonus spending requirements can reach into the thousands of dollars.
Given that most signup bonuses have 90-day limits, large requirements simply aren't attainable for light spenders. But while not as lucrative as the big-budget bonuses, plenty of good credit cards offer valuable signup bonuses with much more reasonable spending requirements.
Before you start swiping hither and thither to meet your new card's bonus, be sure you read the fine print. Know exactly how much you need to spend to become eligible for the bonus, as well as how long you have to reach the required spending amount.
You should also note any exceptions to eligible spend. For example, balance transfers and cash advances rarely count toward signup bonus spending requirements. Additionally, requirements are typically calculated via net spend, so returned/refunded purchases generally won't count.
Best Student Credit Cards for Limited Budgets
Perhaps the epitome of light spenders, most college students have notoriously slim budgets better spent on food, shelter, and textbooks than high credit card fees and sky-high spending requirements.
Of course, given that the typical college student likely has both a limited budget and limited credit, the best options are often going to be student credit cards. These cards offer good rewards and fair interest rates.
One thing to keep in mind as a student applicant is that the law requires that all credit card applicants be at least 18 years of age. Additionally, credit card applicants under the age of 21 must demonstrate an independent source of income to be approved for a credit card on their own.
The only exception to this rule is for those applicants who have an adult cosigner with good credit. Cosigners agree to take on the responsibility of repaying the debt if the primary cardholder cannot, so use caution when deciding to become a cosigner.
Best Business Credit Cards for Light Expenses
Although many people — and credit card issuers — may associate businesses with huge cash flow and six-digit budgets, the typical small business is often a lot smaller than people think. Unfortunately, many business credit cards have annual fees and high spending requirements designed for companies with lots of expenses.
Many — but not all. Some credit card issuers understand the unique financial needs of small businesses with light expenses, and they've designed several business credit cards better suited to companies that want to avoid high fees while still earning valuable rewards.
Selecting the right credit card for your business may first start with finding the best cards for your bottom line, but don't forget to find the rewards that best fit your business's spending needs, too. For example, if your business spends the bulk of its budget on office supplies, it can be worthwhile to get a card that earns extra on those purchases.
If your expenses don't fit neatly into a single category, however, go with a flat-rate unlimited rewards card that'll give you a solid return on every purchase. For some businesses, pairing a bonus category credit card with a flat-rate rewards card can generate the most value; select two cards without annual fees to ensure you're not cutting into your savings.
You Don't Have to Spend Big to Earn Big
Paging through the credit card blogs can be a great way to find awesome tips and tricks on how to get the most out of your credit cards, as well as great ways to use your rewards for the best value. But don't let the click-worthy stories of free luxury trips lure you down the path of spending more than you can afford to repay.
You don't need to blow your budget to get great value out of your credit cards, nor do you need to put yourself into debt to earn a good signup bonus. Tons of options are out there for light spenders who want a great credit card experience that suits their low-limit lifestyles.
Of course, always remember to only charge what you can afford to repay by the time the bill comes due. Carrying a balance on a credit card is rarely a good idea, as interest charges can quickly turn small purchases into big expenses. If you're already on a limited budget, adding unnecessary interest fees can easily take you off course.
Advertiser Disclosure
CardRates.com is a free online resource that offers valuable content and comparison services to users. To keep this resource 100% free, we receive compensation for referrals for many of the offers listed on the site. Along with key review factors, this compensation may impact how and where products appear across CardRates.com (including, for example, the order in which they appear). CardRates.com does not include the entire universe of available offers. Editorial opinions expressed on the site are strictly our own and are not provided, endorsed, or approved by advertisers.