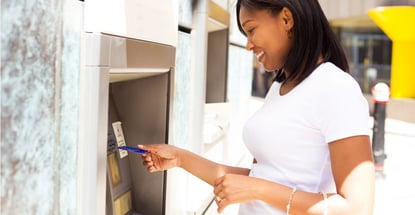 The search for the best prepaid cards with ATM access involves finding cards that won't bleed you dry. While ATMs are undoubtedly efficient, they can also be costly to use.
This review identifies prepaid debit cards that can be used at ATMs, with particular attention to cards that waive ATM fees. You can choose one without too much worry, as it's easy to select another whenever you like, completely free of negative consequences. Ah, if only that were true of all life's decisions. 
Best Prepaid Cards With ATM Access
The fees that prepaid cards charge can help determine which card you should use. Cards in the Netspend universe charge similar amounts, but you can choose among others that may cost less or provide more convenience. 
Customary ATM fees for prepaid cards include:
ATM domestic withdrawals: $2.50 to $3.00
ATM domestic inquiries: $0.50
ATM foreign transactions: $0, but a general fee for foreign transactions applies, typically 4%
Declined ATM transactions: $1
The following prepaid cards deliver the services you expect, including access to ATMs, without demanding a good credit score or a U.S. bank account.
The Brink's Armored™ Account from Netspend offers you a choice between a monthly or pay-as-you-go plan. Both charge a domestic ATM cash withdrawal fee at the low end of the normal range. All other ATM costs are industry-standard.
As is the case with most prepaid cards, you may have to pay an ATM operator fee. This Mastercard prepaid card distinguishes itself by its low card purchase fee when you buy the card at a retail location.
The PayPal Prepaid Mastercard® charges the same ATM fees as the Brinks Prepaid Mastercard. But ATM operator fee surcharges do not apply to withdrawals made at MoneyPass® ATMs throughout the United States.
The card charges a monthly fee that's 50% below that of several competitors, including some other Netspend cards. The card's most significant advantage is free transfers to and from your PayPal account. It also waives inactivity fees.
This version of the NetSpend® Visa® Prepaid Card offers unlimited purchase transactions for a flat monthly fee. The ATM charges on this Visa debit card conform to industry standards, although its domestic ATM withdrawal fee is at the high end of the range, as is its retail card purchase fee.
You can halve the card's monthly fee by meeting specific direct deposit requirements. Like many competitors, this prepaid Visa debit card imposes an inactivity fee after 90 days without any transactions. 
This is the NetSpend® Visa® Prepaid Card version featuring a pay-as-you-go transaction fee plan. Otherwise, this Visa prepaid card is identical to the monthly plan version. 
The pay-as-you-go plan may save you money if you seldom use this prepaid Visa debit card but can become costly with frequent use. Like the Walmart MoneyCard® debit card, you can reload Netspend cards at Walmart stores that service the Walmart MoneyCard®.
The Bluebird® American Express® Prepaid Debit Account sets itself apart from competitors by offering free ATM access at nationwide MoneyPass ATMs. Domestic withdrawal fees at other ATMs are at the low end of the range. 
The card does not charge for declined ATM transactions or ATM balance inquiries. Also, it does not impose a foreign transaction fee or a penalty for inactivity.
The domestic ATM cash withdrawal fee that The Mango Prepaid Mastercard® charges is at the top of the range. Rather than charging an overall foreign transaction fee, the card has separate fees for purchases and ATM withdrawals. 
The fees for balance inquiries and foreign ATM withdrawal are high. The Metropolitan Commercial Bank issues this debit Mastercard and its associated savings account. Note that the high APY on the Mango savings account comes with various strings attached.
The Walmart MoneyCard® is a great option for more than just its ability to be used at ATMs. It also offers generous cash back rewards on Walmart purchases to help cut the cost of grocery purchases just for using the card.
You will be asked to create a 4-digit PIN (personal identification number) when you activate your card. This is the same PIN you'll use to withdraw cash at an ATM. You can withdraw money for free at Walmart MoneyCenters and customer service desks.
What Are Prepaid Cards With ATM Access?
Prepaid cards are debit cards that use funds that are loaded onto the card's account rather than to a bank account. Virtually all prepaid cards provide ATM access, consisting of withdrawal and balance inquiry transactions. 
The amount you can withdraw from an ATM depends on your account balance and the card's across-the-board limits. For example, the Bluebird® American Express® Prepaid Debit Account caps daily withdrawals at $2,500. 
Conversely, The Mango Prepaid Mastercard® limits ATM withdrawals to $500 per day. The NetSpend® Visa® Prepaid Card permits you to withdraw $325 at a time or $940 per day in up to six withdrawals per 24 hours.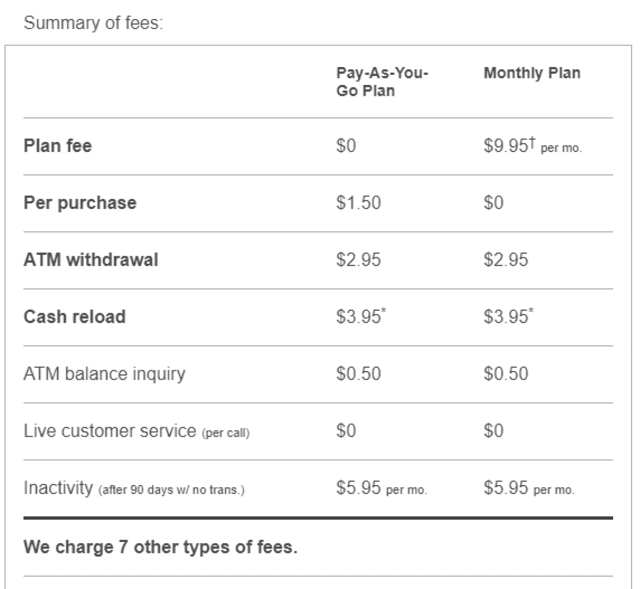 Most prepaid cards charge a flat fee for domestic ATM withdrawals. However, some differentiate in-network ATMs, which do not charge for transactions, from other machines that carry standard charges. 
For example, the PayPal Prepaid Mastercard® doesn't charge a fee when you withdraw money from a MoneyPass ATM.
Another way to access your card account without a fee is to request cash back when you use the card to make a purchase at a supermarket, grocery store, or other participating retailers. With this method, the clerk on the checkout line adds the cash back amount to the bill and provides you the excess in cash. 
With a few exceptions, prepaid cards charge a small amount — $0.50 to $1.00 — each time you check your balance on an ATM. You can avoid the charge by using the card's accompanying mobile app to look up your current balance.
How Do Prepaid Cards Work?
Prepaid cards permit you to purchase items without resorting to cash or checks. The card works like a U.S. bank debit card, except the money comes from your deposits to the card's account, not your bank account. 
When you want to make an in-store purchase, you swipe, insert, or tap your reloadable prepaid card on a terminal and choose a "debit" or "credit" transaction.

Don't be misled by the "credit" choice — it does not refer to a prepaid credit card. There is no such thing as a prepaid credit card, although a secured credit card may sometimes receive this label because you must post collateral to a secured credit card account before you can use it.
In this case, "credit" denotes a transaction in which the clerk or the system supposedly checks your signature. It is less secure than a debit transaction that verifies transactions using a secret PIN that you must enter into the terminal. 
You put an initial amount of cash onto a reloadable prepaid card when you buy it. After that, you can add money to the prepaid debit account in several ways (with or without a reload fee), including in person at reloading locations, through direct deposits, via transfers from other sources, and with mobile check deposits (provided by Ingo Money). The latter requires you to scan a check on your mobile phone and transmit it to your prepaid debit account using an app. 
You don't need credit to get a prepaid card, nor do you need a bank account. If you try to spend more than your available card balance, the card will reject the transaction, although two exceptions exist:
Overdraft protection: Some prepaid cards will sell you overdraft protection that allows you to spend more than your balance. You then must repay the excess amount quickly.
Purchase cushion: A few cards offer a courtesy purchase cushion that allows you to overspend your card balance by up to $10. There are no fees for this feature, but you must repay the excess amount right away.
Prepaid cards charge an initial purchase fee when you buy the card at a retail location. However, cards waive this fee when you purchase the card online. 
You will also pay a plan fee to use the card. A monthly plan charges a flat amount, typically between $5 and $10. Alternatively, you can choose a pay-as-you-go plan that usually charges $1.50 per purchase transaction.
If you examine the cardmember agreement, you'll see a card's complete fee schedule. The information is available online to review before you purchase the card. Most prepaid debit cards have dozens of fees, making a solid case for comparison shopping before purchase. 
How Can I Get a Prepaid Card? 
The simplest and cheapest way to get a prepaid card is online. You fill out a short form with basic information and indicate how you plan to fund the initial amount. The issuer will then ship the card to you. Upon receipt, you must register or activate the card to unlock most of its functions.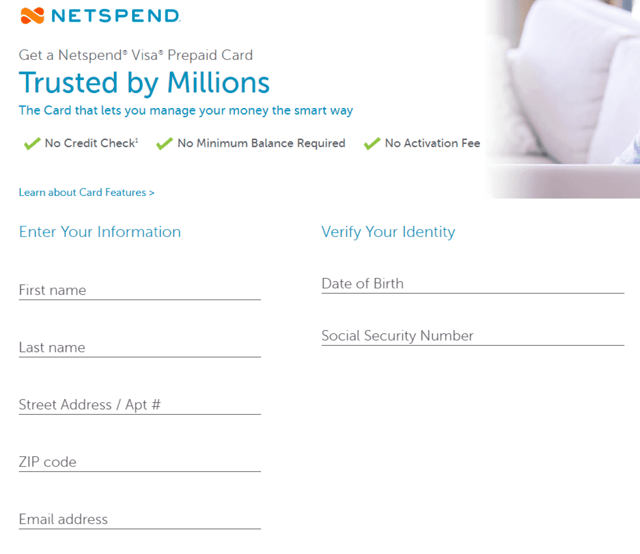 You can also purchase a reloadable card at designated retail locations. These are usually the same places where you can do a cash reload (and pay the reload fee). For example, the Netspend Reload Network consists of more than 130,000 locations, including convenience stores, gas stations, grocery stores, and check cashers throughout the nation.
The typical transaction fee for an in-person cash reload is around $4.00. Direct deposits are free, and you can arrange Ingo Money mobile check loads that cost 0% to 5%, depending on how quickly you want to expedite the transaction.
Can I Build Credit With a Prepaid Card?
Because prepaid cards do not use credit, you can't use them to build credit. The issuer will not perform a credit check when you apply for a prepaid debit card, nor will it collect any information about bank accounts you may own.
This aspect of prepaid cards allows consumers with bad or limited credit to purchase goods and services without cash. While this outwardly resembles the way traditional credit card and bank debit cards work, the difference is in the source of funds:
Credit card: You spend borrowed money from your card's credit line. You must then repay the amount you owe by a specified date or pay interest on the outstanding balance. The major credit bureaus collect information about your credit activity and assign you a credit score to reflect your creditworthiness. Your access to additional credit and loans depends mainly on your credit score.
Bank debit card: You first deposit money into your checking account at a bank or credit union with this card type. You can then use the card to make purchases up to your account balance. 
Prepaid reloadable debit card: The money you prepay resides in an account maintained by the card issuer. A reloadable card does not use funds from a bank account or credit from a credit card issuer. Note that a prepaid Mastercard® or Visa gift card are also debit cards but are not reloadable. For example, you can't go to a bank and add money to a Visa gift card.
All three types of cards let you withdraw money from an ATM. What varies is the money's source. Credit cards offer cash advance loans, whereas debit cards give you access to your own money.
Compare the Best Prepaid Cards With ATM Access
The prepaid cards reviewed in this article work similarly; All allow you to check balances and withdraw cash from an ATM. In addition, all of them place daily limits on the amount you can receive.
Prepaid debit cards vary in the fees they charge. When comparing prepaid cards, take the time to review the cardholder agreement before choosing a card. If you understand how a card assesses charges, you'll know which options will save you the most money.
Advertiser Disclosure
CardRates.com is a free online resource that offers valuable content and comparison services to users. To keep this resource 100% free, we receive compensation for referrals for many of the offers listed on the site. Along with key review factors, this compensation may impact how and where products appear across CardRates.com (including, for example, the order in which they appear). CardRates.com does not include the entire universe of available offers. Editorial opinions expressed on the site are strictly our own and are not provided, endorsed, or approved by advertisers.