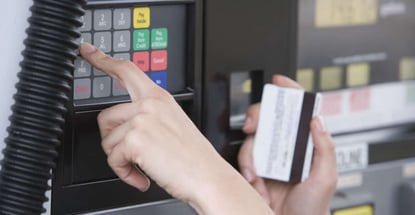 Prepaid gas cards, as well as gas credit cards, have long fascinated me. I love to read the signs above the fuel pumps touting all the free gallons I'll earn by signing up for the latest gas card. And so do millions of others, judging by the popularity of fuel card ownership throughout the United States. 
In this article, we'll clarify the different types of gas cards and help you choose the one that suits you best.
Best Prepaid Cards For Gas Purchases
These prepaid debit cards help reduce the money you spend at the pump. They do so through cash back rewards or immediate discounts that can add up to significant coinage over the course of a year. 
You don't need a bank account or credit score to get these, and you'll never have to worry about a late or overdraft fee. You don't have to provide much personal information to apply for these cards.
The Walmart MoneyCard® offers cash back rewards on fuel purchases at Walmart gas stations. The rewards on this card have an annual cap, and you receive them at the end of 12 monthly periods in which you paid your monthly fee or had it waived. 
The monthly fee is low, and the card allows you to cash checks and make withdrawals at Walmart stores for free. This card carries the Mastercard International Incorporated logo and is accepted everywhere debit Mastercard is welcome.
The Brinks Prepaid Mastercard is a top-rated, general-purpose prepaid card that provides cash back rewards through Payback Points. The card awards one point per dollar spent on signature purchase transactions. 
When paying at the pump, the merchant may preauthorize a purchase of $100 or more (thanks to rising gas prices). If Brinks declines the card, even though you have sufficient funds available, you can pay for your purchase with the cashier inside the station.
The Shell Refillable Card allows you to instantly load a card balance of up to $300 online without supplying much personal information. You can use this debit card to buy goods and services at any Shell location in the United States, excluding territories. That comes in handy during this era of erratic gas prices.
For pay at the pump rewards redemption, insert the card and follow the instructions. Pay at the pump may not be possible if your card balance is less than one dollar. If you are having difficulty, present the card inside the Shell store for payment. 
The Serve® American Express® Prepaid Debit Account pays unlimited cash back rewards when you spend money in stores, online, and at the pump. The funds are available to add to your account as soon as the transaction settles, so you don't have to wait to enjoy the rewards. 
You can log in to the website to redeem your earnings for your next purchase. This prepaid card provides valuable benefits, including purchase and fraud protection, roadside assistance, and a range of Amex shopping and dining offers.
The PayPal Prepaid Mastercard® is another great option to use for gas purchases because you'll earn customized Payback Rewards on some of your everyday purchases. Rewards will be redeemed as cash back to your card account at the end of the following month.
Payback Rewards are customized to your spending. The more you use Payback Rewards, the more personalized offers you'll receive, which means more chances to earn cash back. You can waive the monthly fee by setting up direct deposit to the account.
Best Credit Cards For Gas Purchases
These credit cards reduce your cost at the pump or earn cash back rewards that help take the sting out of gas prices. They're a good alternative to prepaid debit cards for consumers with bank accounts. You can get them in two types: secured and unsecured.
Secured Cards Can Pay Rewards & Build Credit 
These cards prove you don't need good credit to earn valuable credit card rewards. Unlike prepaid debit cards, secured credit cards let you build credit through timely payments. In return for a cash deposit, you get hassle-free access to credit cards that may be superior to the unsecured cards available for your credit rating.
The Capital One Quicksilver Secured Cash Rewards Credit Card provides tiered unlimited cash back on eligible purchases (including fuel purchases at the pump), with a high bonus rate on the hotels and rental cars you book through Capital One Travel. 
Your rewards don't expire for the life of the account, and you can access them through a check, statement credit, gift card, or credits for previous purchases. You can also use your rewards to pay for flights, car rentals, and hotels.
You don't need a credit score to get the Discover it® Secured Credit Card, which provides bonus cash back rewards for purchases at gas stations and restaurants (capped quarterly) and a flat, everyday rate on all others. New cardmembers get a Cashback Match on all rewards posted during the first 12 billing cycles.
Gas station purchases include those made at merchants selling automotive gasoline you buy at the pump or inside the station. Gas stations affiliated with supermarkets, supercenters, and wholesale clubs may not be eligible for the bonus rate.
You can get the U.S. Bank Cash+® Secured Visa® Card with bad credit and still earn cash back rewards on all your gas purchases. There is no limit to the amount of rewards you can earn as long as your account is open and in good standing.
Despite the high rewards, this card doesn't charge an annual fee. But the APR is high for a secured card, so be sure to pay your balance in full each month to avoid hefty interest charges.
Unsecured Credit Cards Pay the Best Gas Rewards 
You can use some unsecured gas credit cards everywhere, not just at the gas pump. Others are closed-loop fuel cards that can only be used at the issuing gas station network. None of these cards require a security deposit, but they will check your credit when you apply.
The Costco Anywhere Visa® Card by Citi is only available to Costco members and pays a high cash back rate on gas purchases made at Costco. You can earn up to $280 cash back per year on gas purchases before your reward rate goes down to 1%, but there is no earnings cap at the 1% rate.
Costco distributes reward certificates annually after February billing statements close. You can redeem the certificate for cash back or merchandise before the year's end at any Costco warehouse. 
The Citi Premier® Card offers bonus rewards on several categories of spending, including purchases at gas stations. The rewards take the form of Thank You Points you can redeem for a direct deposit to your bank account or a credit to your statement balance. 
You can also use your points for shopping, travel, gift cards, and charitable contributions or transfer them to participating loyalty programs.
The closed-loop Exxon Mobil Smart Card+™ saves you money at Exxon and Mobil gas stations. The signup bonus provides extra discounts during the introductory period. 
You also earn cash back on in-store purchases and car washes as a statement credit. The card provides $0 fraud liability on unauthorized charges and online account management to review costs and make or schedule payments.
The Sunoco Rewards Credit Card provides a discount on every gallon of fuel you purchase from a Sunoco gas station. This closed-loop gas credit card may offer a signup bonus that increases the savings for the introductory period.
You increase your discount by using Sunoco's Go Rewards app to purchase fuel. You can add family members to the account for free. This gas credit card provides nationwide ATM access, online account management, and $0 liability for unauthorized purchases.
What Is a Gas Card?
Gas cards provide benefits when you purchase fuel and other gas station products. They can be:
Cards that save money at the pump
Cards that give reward points or cash back for gas purchases
Cards that do both
The open-loop variety may be debit or credit cards that you can use for any type of purchase. Closed-loop cards are good only at the card-branded gas station and usually provide the steepest discounts per gallon.
Closed-loop cards are neither Visa debit cards nor carry the Mastercard International Incorporated logo because they use smaller payment networks.
What Is the Easiest Gas Card to Be Approved For?
Prepaid debit cards are the easiest to obtain, as you don't need a bank account or credit score to get one. Three reviewed debit cards are open-loop and usable for any purchase. But the Shell Refillable Card is a closed-loop gift card that works only at Shell stations. 
Secured gas cards are also easily acquired. These are general-purpose credit cards that offer rewards for all types of purchases, including gas. Your security deposit is usually all you need to qualify for one of these cards.
Can You Gift Someone a Prepaid Gas Card?
Yes, several oil companies sell gift cards that recipients can use to pay for fuel and related purchases. You can get a Visa gift card from some sources and a Mastercard gift card from others. A gas gift card may be refillable, which would enable it to function similarly to a closed-loop prepaid debit card.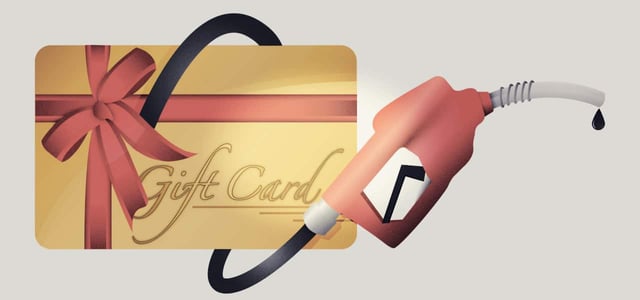 Shell, Exxon Mobil, Sunoco, and other oil companies have developed gas gift card offerings for consumers looking for the perfect gift. Some corporations sponsor gas gift card programs (in addition to ones for transit cards) for employees to manage fuel expenses. 
The popularity of gas gift cards is growing. For example, some Chicago residents can now apply for the city's prepaid gas and public transit card lottery. The program gifts 50,000 prepaid gas cards that are preloaded with $150 each and 100,000 transit cards with $50 each to Chicago residents who win the lottery. 
Fill Your Tank, Save Money, Earn Rewards
If you drive a vehicle with an internal combustion engine, prepaid gas cards and gas credit cards offer you convenience, cost savings, and benefits. We imagine the next-generation fuel card will extend its reach to commercial electric recharging stations. 
You can get more information about any of the reviewed gas cards by clicking on the APPLY NOW links above, where you will be directed to the issuer's official website. Be sure you understand each card's costs and limitations before signing up for a gas card. Happy motoring!
Advertiser Disclosure
CardRates.com is a free online resource that offers valuable content and comparison services to users. To keep this resource 100% free, we receive compensation for referrals for many of the offers listed on the site. Along with key review factors, this compensation may impact how and where products appear across CardRates.com (including, for example, the order in which they appear). CardRates.com does not include the entire universe of available offers. Editorial opinions expressed on the site are strictly our own and are not provided, endorsed, or approved by advertisers.