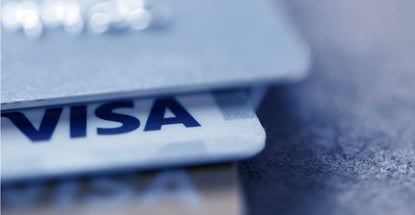 Reloadable Visa cards are handy in several ways. They give consumers access to a card that's capable of making transactions online or at the register. Consumers can also receive a direct deposit of their paychecks or benefits checks and avoid those pesky check-cashing fees.
Reloadable prepaid and secured cards provide an affordable way to set a budget and live within your means. With the cards listed below, you can load a set amount of money into your card account and be certain that you won't spend more than you have available.
Prepaid Reloadable Visa Cards
The following is a list of the best reloadable Visa prepaid card options available. You can use your card everywhere Visa is accepted, including online or to pay bills, and never have to worry about accruing debt.
The Current Visa Debit allows every cardholder to earn points that can be redeemed for cash back. And those who establish direct deposit will get paid up to two days faster than their coworkers.
You can add cash to your account at more than 60,000 stores nationwide. You can also take a picture of a check in the Current app to add funds to your account without having to visit a bank or ATM.
The GO2bank Visa debit card will let you reload cash via direct deposit, mobile check deposit, and at more than 90,000 nationwide retailers. But the in-person retail options charge service fees that vary by location.
If you don't depend on local reloads, this debit card may be a good option.
NetSpend® Visa® Prepaid Card users can access the award-winning NetSpend Mobile App that allows cardholders to track their balance and spending, review previous transactions, and transfer money to their accounts. They will also qualify for text messages or push notification alerts when there's a change or a charge on their account.
NetSpend is a leader in the prepaid card space. Netspend won't evaluate your credit history to qualify you for this card because it is not a credit card.
The BusyKid Visa® Prepaid Spend Debit Card isn't just your average reloadable prepaid debit card. You'll receive a personalized card that connects to a mobile app that teaches kids how to budget, spend, save, and invest money wisely.
You can use a BusyKid card at any location that accepts Visa. You can access the BusyKid mobile app and all of its features as soon as you sign up for an account. 
ACE Elite™ Visa® Prepaid Debit Card users can turn their card account into an interest-earning savings account that earns as much as 5% interest on balances over $1,000. That's well above the average savings account interest rate.
You can also add money to your account at any ACE Credit Express location throughout the U.S. The company currently has more than 900 locations.
Secured Reloadable Visa Cards
A secured credit card is different from the reloadable Visa prepaid card options above. Secured cards give you access to a traditional revolving line of credit that's typically based on the amount of your refundable security deposit.
This means your credit line will allow you to accumulate credit card debt that you'll have to pay interest on each month.
The OpenSky® Secured Visa® Credit Card doesn't require a credit check for approval. Instead, the bank will accept a security deposit to open an account and determine your new card's credit limit.
OpenSky will report your monthly payment and balance history to the major credit bureaus, which will help you build or rebuild your credit score with regular, on-time payments. 
The Applied Bank® Secured Visa® Gold Preferred® Credit Card offers a competitive interest rate for all cardholders. Even better, your rate doesn't change, even if you submit a late payment. But beware that there's no grace period for purchases — read the cardholder agreement for more details.
Another unique feature of this card is your ability to increase your credit line with an additional deposit after you open your account. This gives you greater flexibility and freedom in your spending.
What Is a Reloadable Visa Card?
The term "reloadable Visa card" typically applies to any card that allows you to add money to it (unlike a credit card) and processes transactions on the Visa network.
These cards are not traditional credit cards. Instead, they link to a card account that acts similarly to a bank account. This account holds any money that you deposit via cash or check direct deposit and allows you to spend that money through the use of the card — similar to a Visa debit card that links to a credit union or bank checking account.
These cards don't charge overdraft fees, cash advance fees, or late fees because they are not associated with a line of credit. However, you should always read your cardholder agreement because prepaid cards are not 100% fee-free.
You may encounter a monthly maintenance fee, a cash withdrawal fee (such as through a Moneypass ATM), or a transaction fee using these cards.
Many consumers carry a prepaid Visa card or another reloadable card so they don't have to carry cash with them. A reloadable debit card is also a great tool for creating a budget, as it only allows you to spend the amount of money you've loaded onto your card.
You can also typically use your Visa prepaid card account to accept a direct deposit of your paycheck or government benefits checks. Digital delivery of these funds is fast and often puts money in your hands up to two days faster than if you were to receive a paper check through the mail.
What's the Difference Between a Prepaid Card and a Secured Card?
Several key differences exist between a prepaid or reloadable card and a secured credit card. The main difference is evident in their names.
A reloadable prepaid card is similar to a debit card in that it will only allow you to spend up to the amount of money that you've deposited into your card account. You can't accrue debt with a Visa debit card because there's no credit connected to the account.
A secured credit card gives you access to a revolving line of credit that's typically determined by the amount of your refundable security deposit. For example, a $500 deposit will often net you a spending limit of $500.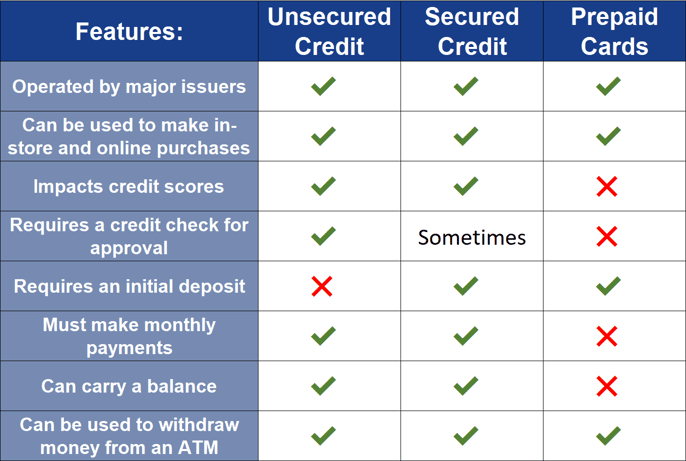 You can use a secured card the same as you would a credit card. These cards accumulate debt and interest rate charges and require a monthly payment to reimburse the bank.
When you cancel your secured card account, you'll receive a complete refund of your deposit amount — as long as your account has no outstanding debt.
Another key difference is that a prepaid Visa card will not help you build credit because the account has no attached credit line. On the other hand, A secured card will report your payment and balance history to at least one credit reporting bureau. A secured card can help you build or rebuild your credit score with responsible behavior.
A reloadable Visa prepaid card will often allow you to withdraw money for free at a Moneypass ATM or other in-network ATM. A secured card may allow a cash advance ATM withdrawal, but it will come with a hefty fee and elevated interest rate.
If you regularly get cash via an ATM withdrawal, a prepaid Visa card is your best bet. This option is usually unavailable for Visa gift card products you can buy over the counter because these cards don't come with a PIN.
How Do You Put Money On a Prepaid Card?
Every reloadable prepaid card will have different rules for adding money to your account. Nearly every card issuer allows cardholders to accept direct deposits of checks into their account as a way of adding money. 
Some prepaid card issuers will waive your monthly maintenance fee if you receive regular direct deposits.

Other card issuers partner with retail convenience stores and gas stations throughout the U.S. that will accept your cash and load it into your card account. You can also initiate a mobile check deposit to add money to your account.
Netspend, for example, has more than 130,000 reload locations throughout the country, which makes it easy to add money to your account from just about any town or city.
Some card issuers, including ACE Credit Express, maintain cash advance loan centers that accept cash reloads for your card account.
Will a Prepaid Card Help Me Build Credit?
A prepaid card will not help you build credit because these cards have no associated line of credit attached to them.
Card issuers only report your data to each credit bureau if you have an account that gives you access to revolving credit. A prepaid account only links to your cash deposit account and won't allow you to spend more than what you've deposited. This is why you do not need to undergo a credit check to qualify for a prepaid card account.
If you wish to use your card to build credit, consider a secured credit card instead.
Do Reloadable Visa Cards Have a Limit?
Most Visa reloadable prepaid cards allow you to load up to $15,000 into your card account before you reach your maximum limit.

Every card issuer has different rules regarding account limits, so be sure to check your cardholder agreement before attempting a large deposit.
Find the Best Reloadable Visa Cards Online
Whether you're signing up for a prepaid Visa or purchasing a reloadable Visa gift card for a friend or loved one, these handy financial tools make it easy to save, spend, and budget your money. 
And if you don't currently have a bank account, you can use your prepaid card account to accept direct deposits or add more money through a bank or retail locations around the U.S.
If you decide to add a secured credit card to your wallet, you can take advantage of a revolving line of credit that adds to your spending power and allows you to build credit with responsible behavior. Both tools are a great way to level up your financial tool belt and build a better life.
Advertiser Disclosure
CardRates.com is a free online resource that offers valuable content and comparison services to users. To keep this resource 100% free, we receive compensation for referrals for many of the offers listed on the site. Along with key review factors, this compensation may impact how and where products appear across CardRates.com (including, for example, the order in which they appear). CardRates.com does not include the entire universe of available offers. Editorial opinions expressed on the site are strictly our own and are not provided, endorsed, or approved by advertisers.