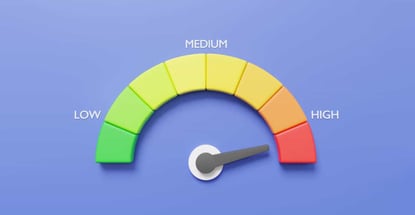 About 16% of Americans have poor credit, while another 14% have no credit. And though it may seem like there's no road map to fixing your credit, the answer is often simpler than you realize: a secured credit card.
Finding a secured card with a high credit limit can feel like searching for a needle in a financial haystack, but plenty of options are available for consumers who know where to look. Read below for some of the best options for high-limit secured credit cards.
Secured Cards With High Credit Limits
These cards all allow you to determine your credit limit with a matching deposit. Each issuer sets the maximum amount you can deposit, with the highest available deposit being $10,000.
The Secured Chime® Credit Builder Visa® Credit Card offers the highest credit limit we've found, which is $10,000. As with any other secured card, this amount is based on how much you transfer into the secured account from the Chime Checking Account.
You must have an existing Chime Checking Account or open one and receive $200 or more in eligible direct deposits to your account before you can qualify to apply for this card.1
The Capital One Quicksilver Secured Cash Rewards Credit Card is one of the best secured credit cards you can get, thanks to its cash back rewards on all eligible purchases and lack of an annual fee.
The minimum credit limit is $200, and the maximum amount you can deposit varies between $1,000 and $3,000, depending on your credit history. Capital One will review your account after six months to determine whether you qualify for a credit line increase without an additional deposit.
The OpenSky® Secured Visa® Credit Card will allow you to deposit as much as $3,000 for a matching credit limit. It charges a lower APR than other cards in this list, but it also charges a $35 annual fee.
Your deposit will be applied toward your balance if you fail to make timely payments, exceed your credit limit, or any other event that breaches the terms of the cardholder agreement. If you close your account, your full deposit will be refunded within eight weeks, minus any amount owed to the bank.
The nRewards® Secured Credit Card offers points for each dollar spent that can be used for cash back, gift cards, or a statement credit. You may qualify to have your credit limit increased without having to make an additional deposit after just three months of on-time payments.
The maximum allowable deposit and credit limit is $5,000. But only consumers who are eligible to join Navy Federal Credit Union can open this card. To become a member, you must be a current or veteran service member, a family member of a veteran service member, or an employee of the Department of Defense.
The U.S. Bank Cash+® Secured Visa® Card has both a high maximum credit limit of $5,000 and the best cash back program among the cards on this list. 
For example, you could put your monthly utilities and cellphone bill on this card, let's say $500 total, and earn $25 back each month. That's $300 a year you could save just by paying your regular bills with this card. But you must pay your balance off each month to avoid high interest fees that quickly outvalue your rewards.
What Is a Secured Credit Card?
A secured credit card is like a credit card with training wheels. Secured cards require the cardholder to put down a deposit that serves as collateral for the card. 
The deposit will be used in case you default or stop making payments to the card. It offers extra protection to the card issuer. Regular unsecured credit cards do not require a security deposit.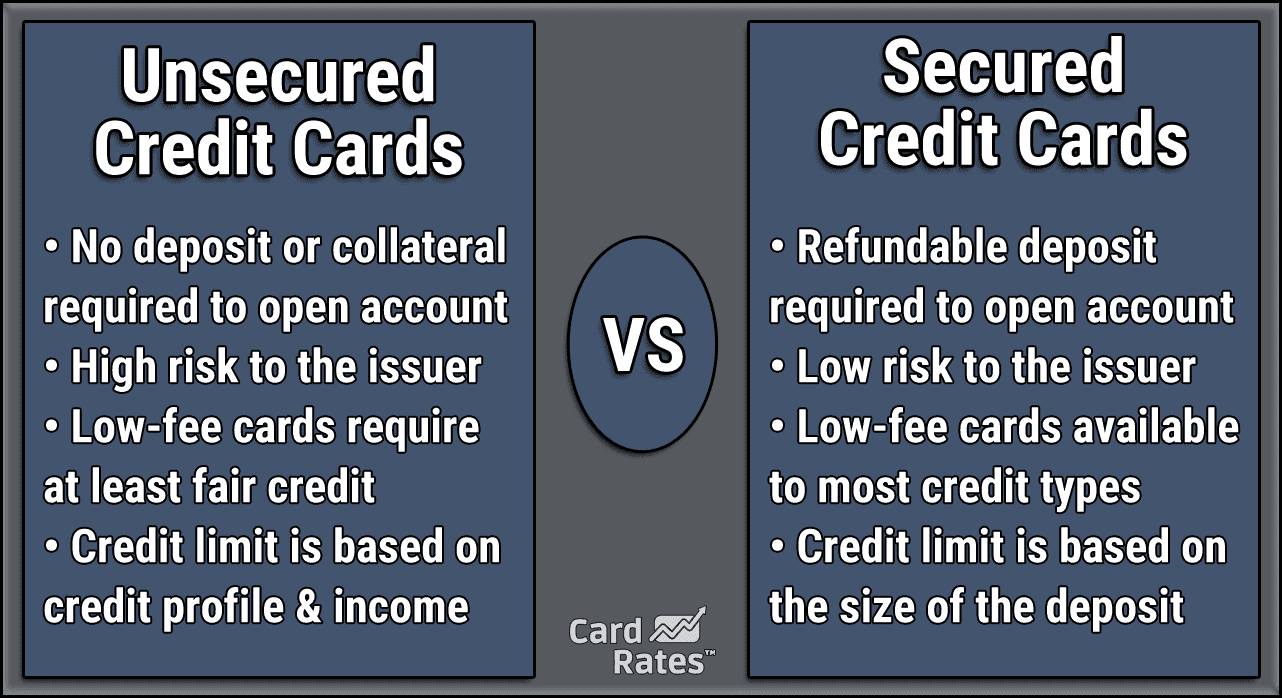 Once you make several months of on-time payments, the card issuer may convert your secured card into an unsecured card and return the deposit. This could take as little as six months or more than a year, depending on your credit habits, the card company's policies, and other factors.
When you make a payment on your secured card, the credit card issuer will report the activity to the credit bureaus. Regularly paying your secured card bill on time can help you establish a good credit score. 
How Do I Get a Secured Credit Card? 
You must complete a basic online application to open a secured credit card. You will generally have to provide your name, date of birth, Social Security Number, employment information, and contact details. The credit card issuers will run a credit check.
Secured credit cards have lower credit score thresholds than unsecured cards and are ideal for cardholders with no credit history or those trying to improve their credit score.
Which Secured Card Has the Highest Credit Limit?
The Secured Chime® Credit Builder Visa® Credit Card offers a maximum $10,000 credit limit, while the U.S. Bank Cash+® Secured Visa® Card and the nRewards® Secured Credit Card both have a maximum credit limit of $5,000.
Remember, your credit limit depends on how much you can afford to put down. If you can only afford to put down $1,000, you don't have to choose one of those cards. You can choose from any of the other cards on this list.
Putting down as much as possible may help boost your credit score. The second most important factor in a credit score is your credit utilization percentage, which shows how much credit you're using compared to the total credit limit. 
To calculate your credit utilization percentage, divide your current balance by your overall credit limit. For example, if you have a $300 balance on a card with a $500 credit limit, your credit utilization percentage is 60%. An ideal credit utilization percentage should be 10% or less.

It can be easy to exceed that 10% recommendation when you have a secured card with a low credit limit. If that happens, your credit score may suffer. 
For example, you can only have a current balance of $50 if you have a card with a $500 credit limit to maintain a 10% utilization when the issuer reports to the bureaus. But it's so easy to rack up a higher balance and not realize it. That's why having a secured credit card with a high credit limit may help you keep a low credit utilization ratio.
How Do I Get My Deposit Back?
The credit card issuer may return your deposit once it decides you qualify for an unsecured credit card account. This may happen after several months of on-time payments and depends on the company's internal policies.
You can also get your deposit back by closing the account. But if you have an outstanding balance, the amount due may be subtracted from your deposit.  
Are Secured Business Cards With High Limits Available?
While a business credit card is typically unsecured, some business credit cards require a deposit. These secured cards may have higher credit limits than consumer secured cards to account for the greater spending that comes with running a business.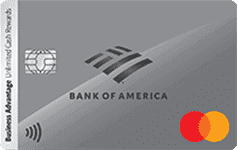 For example, Bank of America's Business Advantage Unlimited Cash Rewards Secured credit card has a $1,000 minimum credit limit and a maximum credit limit of either $10,000 or $50,000.
A secured business card may be your best financing option if you own your own business but have no credit or bad credit. Using a secured business card can help you separate your personal and business expenses while still building credit. 
(The information related to Bank of America's Business Advantage Unlimited Cash Rewards Secured credit card has been collected by CardRates.com and has not been reviewed or provided by the issuer or provider of this product or service.)
Secured Cards Can Help You Build Credit Over Time
A secured card is your chance to prove you're a responsible consumer. After making at least six months' worth of payments by the due date, you will likely be upgraded to a regular unsecured card and get your deposit back. Think of it like a reward for good behavior. If you're trying to rebuild your score or start a credit score from scratch, a secured card is one of the best tools you can use.
Secured cards are designed for consumers with bad credit, so you're less likely to be denied. You may qualify for an excellent credit card once you have built up a positive payment history in your credit reports
Important Disclosures
1 To apply for Credit Builder, you must have received a single qualifying direct deposit of $200 or more to your Chime Checking Account. The qualifying direct deposit must be from your employer, payroll provider, gig economy payer, or benefits payer by Automated Clearing House (ACH) deposit OR Original Credit Transaction (OCT). Bank ACH transfers, Pay Anyone transfers, verification or trial deposits from financial institutions, peer to peer transfers from services such as PayPal, Cash App, or Venmo, mobile check deposits, cash loads or deposits, one-time direct deposits, such as tax refunds and other similar transactions, and any deposit to which Chime deems to not be a qualifying direct deposit are not qualifying direct deposits.
Advertiser Disclosure
CardRates.com is a free online resource that offers valuable content and comparison services to users. To keep this resource 100% free, we receive compensation for referrals for many of the offers listed on the site. Along with key review factors, this compensation may impact how and where products appear across CardRates.com (including, for example, the order in which they appear). CardRates.com does not include the entire universe of available offers. Editorial opinions expressed on the site are strictly our own and are not provided, endorsed, or approved by advertisers.