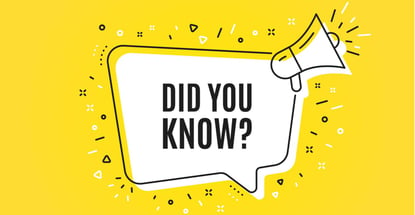 Opinions expressed here are ours alone, and are not provided, endorsed, or approved by any issuer. Our articles follow strict editorial guidelines and are updated regularly.
There's no doubt about it: consumers love credit cards. They're easy to use, convenient, and generally safer than cash. They're also surprisingly fascinating. To give you some insights into why, we've compiled this list of facts and statistics you should know about the cards you love.
1. The US is Home to 4 of the 6 Largest Card Brands 
Four of the world's six biggest credit card brands are located in the United States, according to global card and mobile payment industry analyst Nilson. Visa holds the number two spot with 3.66 billion accounts, including consumer, business, and commercial credit, debit, and prepaid cards. 
Mastercard, American Express, and Diner Club/Discover ranked third, fifth, and sixth with 2.45 billion, 115 million cards, and 65 million cards, respectively. The top-ranked issuer is headquartered in China, and the fourth-ranked is in Japan.
2. Chase Led US Card Purchase Volume in 2021
Chase ranked highest among US card issuers for purchase volume  — $950 billion — for general-purpose cards in 2021, Nilson reported.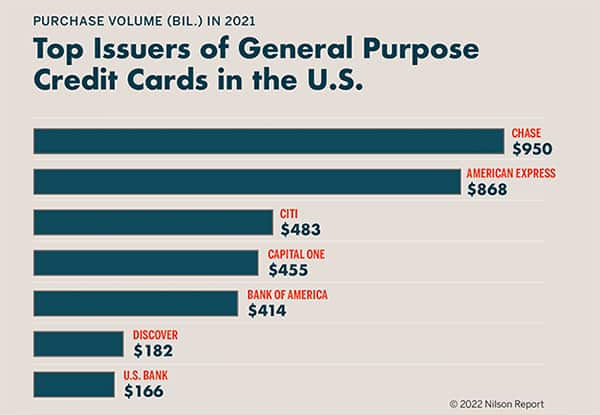 The total purchase volume for the top seven issuers was more than $3.5 trillion and comprised 77% of the total US card sector, up 25.6% from 2020.
3. Card Balances Declined in 2021 But Are Growing Again
Consumers lowered their credit card debt in recent years, according to the credit bureau Experian. Total card balances fell to $784.5 billion at the end of 2021's third quarter, a decline of almost $3.8 billion compared with the end of 2020's third quarter. 
That 0.5% decrease was significantly smaller than the 8.6% drop, equivalent to almost $74 billion, in 2020. 
But balances are trending upward again in 2022. Credit card debt has increased by $46 billion since Q2 2021, according to the Federal Reserve Bank of New York:
"Although seasonal patterns typically include an increase in the second quarter, the 13% cumulative increase in credit card balances since Q2 2021 represents the largest in more than 20 years."
4. New Card Accounts Are On the Rise
As consumer debt increases, so too does the number of new card accounts. Consumers opened 14.7 million new card accounts in 2021, slightly more than the 14.5 million new accounts opened in 2020, Experian reported.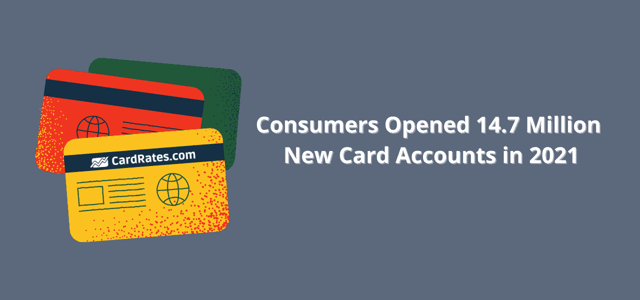 In 2019, consumers opened 21 million new card accounts.
5. There Are Now 500+ Million Card Accounts, a New Record
The total number of US card accounts in mid-2022 was approximately 500 million, up from 465 million in mid-2021, 454 million in mid-2020, and 439 million in mid-2019, TransUnion reported. The credit bureau attributed the spike, in part, to "significant jumps" in cards issued to Gen Z and borrowers with impaired credit.
Eighty-four percent of US adults had a credit card in 2021, according to the Federal Reserve. Approximately half of those cardholders paid off their balances every month. The other half carried a balance at least once in the previous 12 months. Seventy-three percent of those who carried a balance at least once were carrying a balance at the time of the survey.
6. Average Monthly Card Payments Declined Since the Pandemic
In the 27 months from March 2020 to June 2022, the average consumer monthly debt payments for auto loans and mortgages trended upward, while comparable payments for credit cards moved downward. Average monthly card payments dropped $20 from $203 in March 2020 to $183 in June 2022.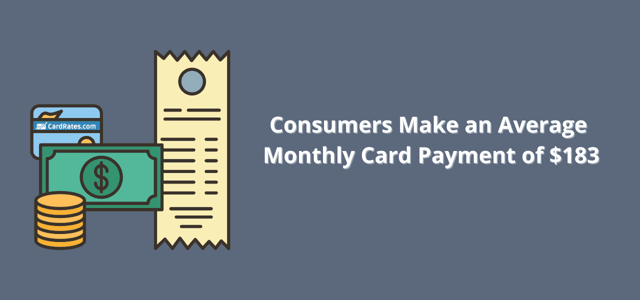 This retrenchment occurred despite inflationary price pressures, especially for gasoline and groceries, Experian reported.
7. Card Delinquency Rates Remain Low Despite Fed Rate Bumps
Despite rising inflation and interest rates, most consumers are able to make their card payments on time or within 30 days past due. While the card delinquency rate ticked up to 1.82% of accounts in 2022, that figure was lower than the 2.51% delinquency rate four years earlier. The card delinquency rate was 1.31% and 1.53% in 2020 and 2021, respectively, Experian reported.
8. Holiday Spending Lights Up Fraud Attempts
While you should check for fraudulent charges year-round, it's especially important to watch out for them at the end of the year. That's because the traditional holiday shopping season has become a popular time for fraudsters. 
In 2021, the TransUnion credit bureau found that 17.46% of global eCommerce transactions and 19.66% of US eCommerce transactions between Thanksgiving and Cyber Monday were potentially fraudulent.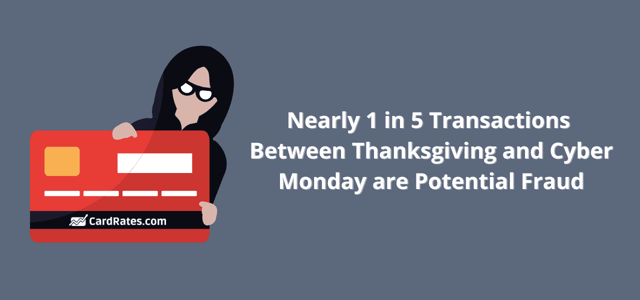 Consumers aren't usually financially responsible for fraudulent transactions on their cards. Still, it's important to report suspicious charges to your card company when they occur.
9. Cards Charged Interest Pay Higher Rates
Credit card interest fees vary from card to card and month to month. In 2022, the average rate for all cards was 15.13%. The average rate for cards that were charged interest (consumers who carried a balance) was 16.65%, according to the Federal Reserve's monthly Consumer Credit Report.
Credit card interest rates tend to be higher than interest rates for other types of debt, such as personal loans and auto financing. The Fed doesn't directly set the rates consumers pay for cards or other loans, but the Fed does adjust certain bank rates which can indirectly affect consumer rates. If the Federal Open Market Committee boosts its benchmark federal funds rate again in 2023, consumer rates may continue to increase.
10. BNPL Attracts 100 Million Adults
More than 100 million US adults, representing one-third of the nation's active credit users, have used a buy now, pay later (BNPL) loan or another type of point-of-sale loan at least once, TransUnion reported. And many consumers have used these loans more than once.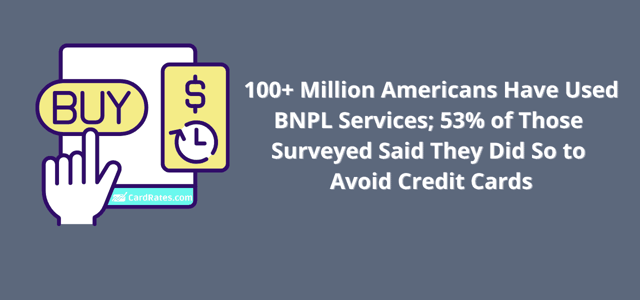 As with credit cards, BNPL loans offer consumers financing at the point of purchase. Rather than add the purchase amount to a card balance, the BNPL option divides the amount into payments known as installments. 
For example, a BNPL service can split a $100 purchase into four $25 payments. The first installment is usually due at the time of purchase. The others are due over a set number of weeks, months, or years.
The Fed reported that 53% of consumers who had used a BNPL loan said they did so because they didn't want to use a credit card. Consumers also said BNPL loans were cheaper, more convenient, the only way they could afford the purchase, or the only payment method they had access to. Many credit card companies have introduced pay over time options to compete with BNPL services. 
11. Average Monthly Card Payments Declined Since the Pandemic
In the 27 months from March 2020 to June 2022, the average consumer monthly debt payments for auto loans and mortgages were on an upward trend while comparable payments for credit cards and debt payments overall moved in a downward direction.
Monthly card payments dropped $20 from $203 in March 2020 to $183 in June 2022. This retrenchment occurred despite inflationary price pressures, especially for gasoline and groceries, Experian reported.
12. Grace Periods Aren't Required
It's pretty common to read the advice, "Pay your credit card balance in full every month to avoid interest charges!" Well, that's not always true.
Most credit cards provide interest-free grace periods that give you a certain time frame to pay your charges without accruing interest. But a few cards out there do not provide grace periods, and that's because they aren't legally required to.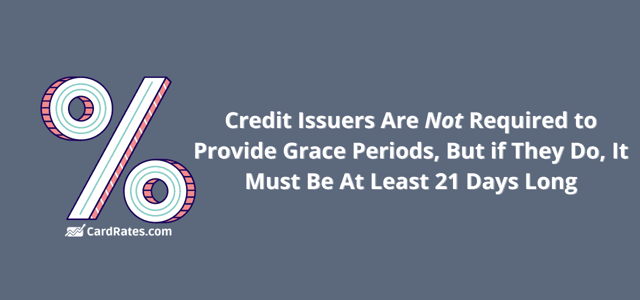 The law states that if a card offers a grace period, it must last a minimum of 21 days, but it does not state that all issuers must offer a grace period. This is one of the many reasons it's imperative to read the card's terms and conditions before signing.
13. Half of Card Users With Good Credit May Benefit From a Personal Loan
An analysis by Experian concluded that as many as 53% of card users who carry a balance may be good candidates to secure a lower fixed rate for their card balance with a personal loan. These individuals made the cut because they have card debt and good credit but don't already have a personal loan.
Personal loans typically involve high rates and fees. Applying may trigger a temporary drop in your credit score. Refinancing card debt with a personal loan can also lead to having more debt overall. 
While 10% of consumers with good credit scores didn't have card debt or a personal loan, 34.4% had card debt and a personal loan. Only 2.3% had a personal loan but no card debt.
14. A Single Late Payment Can Lower Your Credit Score 100 Points
Your credit card company will charge you a late fee the day after your credit card payment is due and you can expect the calls, letters, and emails to commence. But your card issuer won't report your late payment to the credit bureaus until it's 30 or more days past due.
That's because a single late payment can seriously harm your credit score. The better your credit score, the worse the damage. Someone who has excellent credit can lose as many as 100 points from their credit scores, whereas someone who already has bad credit won't see as large of an impact.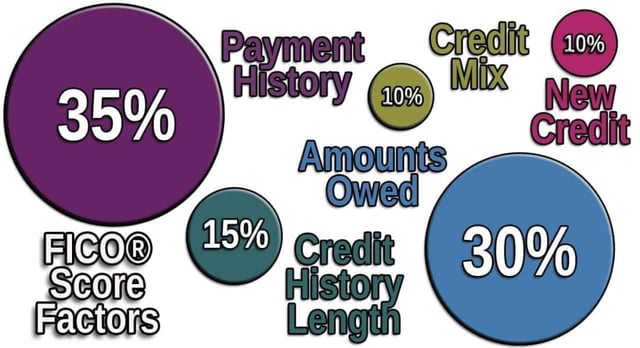 Your payment history is the most important factor used to determine your credit score because your credit score was created to predict the likelihood that you'll repay your debts as agreed. Late and missed payments show creditors that they may not get their money back and make it harder for you to get approved for financing of any kind.
15. No Credit May Be Better Than Bad Credit When It Comes to Card Approval
Higher credit scores make it easier to qualify for credit cards and other types of loans. But no score may be better than a low score, the National Consumer Law Center suggested. In fact, a low score can shut down access to credit that may be available to someone with no score at all. 
Consumers with relatively lower credit scores and no credit score have good card options, including secured, unsecured, business, retail, and prepaid cards for bad credit.
16. Average Retail Card Balances Dropped Again in 2021
Retail cards, also called store cards or private-label cards, are issued primarily for preferred use at a particular store, such as a department store or hardware store.
Consumers backed away from retail card debt in 2020 and 2021 when average balances dropped to $1,046. The decline was slightly smaller than the prior-year drop to $1,068, Experian found.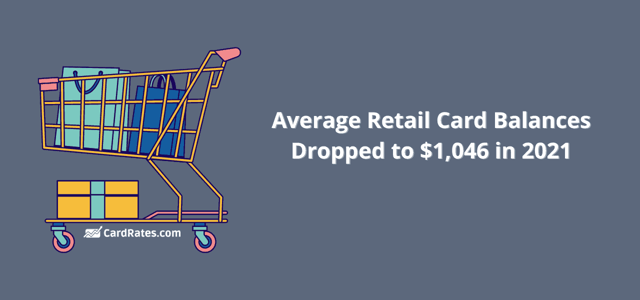 Competition from BNPL loans may account for some of the erosion in retail card balances. Both payment options may be found at in-store registers and through online apps and are commonly used for such goods as appliances, furniture, and clothing.
17. Consumers Worry Less About Card Fraud, More About Identity Theft
A 2021 FICO survey asked consumers: Which type of fraud is of most concern to you? Credit and debit card fraud ranked third, with 22% of respondents rating it as their highest level of concern. 
Fraud involving identity theft to open a new account (28%) and compromised financial accounts (26%) ranked higher. Interestingly, being tricked into sending money to fraudsters (5%) ranked lower, despite real-time payment scams being one of the more prevalent types of fraud in the US.
18. Consumers Prefer Debit Over Credit to Pay Initial BNPL Installments
BNPL loans typically require payment of the first installment at the time of purchase. Some loans of this type further require that that installment be paid with an existing debit or credit card. This allows for immediate verification of sufficient funds and facilitates autopay for subsequent installments. 
Close to 90% of BNPL borrowers used a debit card to make loan repayments in 2021, according to a Consumer Financial Protection Bureau report. But 10% used a credit card, even though that option involves paying for debt with other debt.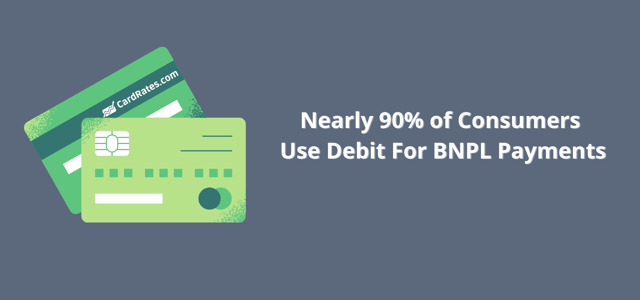 Almost all of the remaining 1% of BNPL borrowers used a bank transfer or prepaid card to pay their initial installment.
Do Your Research Before You Shop For New Cards
Credit cards are an important financial product for consumers. They also are part of a huge marketplace with changing conditions, including interest rate fluctuations or new options like BNPL loans. Fortunately, consumers have lots of great resources to keep up with card trends.
When you're shopping for new cards, take some time to read up on what's going on so you'll understand your options and the terms, conditions, and benefits of the new cards you're interested in.