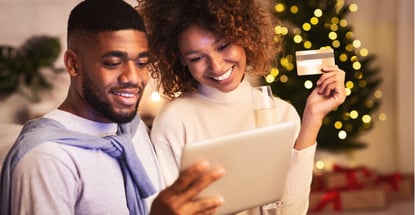 The holidays are a joyous time, but also an expensive one — and it appears consumers aren't pulling back on gifts or other seasonal splurges this year. In fact, consumer spending is expected to hit record levels this coming winter as more than 36% of holiday shoppers surveyed say they plan to spend more this year.
Though a well-thought-out budget and dedicated savings plan can keep financial stress at bay, using a few shopping and savings tools can ease the budgeting burden of buying gifts, booking travel, and managing all those other seasonal expenses that pop up around this time of year.
Although most people associate credit cards with overspending during the holidays, using your plastic wisely will provide plenty of benefits that can boost your bottom line when it comes to seasonal spending.
Here are 11 perks credit card companies offer holiday shoppers.
1. Shopping Rewards
Whether your credit card offers cash back, air miles, or travel points, saving up these rewards to use during the holidays can alleviate a lot of financial pressure the season brings. 
Spend some time ahead of the holidays reviewing your accounts and take note of how many points, miles, or cash back you have already accumulated. Then, consider how you can apply these rewards toward holiday expenses. Even if you don't plan to travel, you can redeem miles for gift cards to give as presents or use them to pay for some of your gift purchases.
Not to mention, with all the extra shopping you're doing during the winter holidays, knowing how to maximize reward earnings can help you get even more back this season. Look for exclusive offers provided by your card issuer in which you can earn more rewards when you shop at a specific retailer or dine at a particular restaurant. 
You can even rack up extra rewards by purchasing gifts through your credit card's online shopping portal. 
For example, the United Airlines MileagePlus Shopping portal offers bonus miles at over 900 stores, and Wells Fargo's Earn More Mall offers deals like one additional point for every $1 spent at Walmart and three points for every $1 spent at Staples. 

You can also link your credit card through some of these portals to earn extra rewards when shopping in stores, such as through United's offer here, where you can earn one additional mile per $1 spent at Sally Beauty Supply stores or two miles per $1 spent at Levi's stores.
Plan ahead this holiday season and review your credit card website to understand how you can maximize rewards when shopping for gifts.
2. No-Interest Purchases
Using your credit card to buy gifts and book travel can provide valuable rewards, including cash back or miles for all the things you're spending on, but not if you're carrying a balance.
According to a report from LendEDU, the average credit card debt balance from the 2020 holiday shopping season was $1,822, and consumers paid around $25 in interest charges each month. 
Though saving up before the holidays is key to affording gifts and other seasonal purchases, another option to avoid interest is to open a new credit card. That's because many credit cards offer 0% APR promotions, so you get more time to pay down your balance without worry about interest piling up. 
For example, the Chase Freedom Unlimited® offers an introductory 0% APR on new purchases and the opportunity to earn a signup bonus.
The regular purchase APR applies after the promotional period ends.
3. Signup Bonuses
Credit card companies offer new cardmembers another promotion that can be helpful during the holidays. It is a signup bonus, such as for cash back, extra miles, or points, you earn by spending a certain amount of money within the first few months of opening your account. 
For example, the Capital One SavorOne Cash Rewards Credit Card offers a one-time cash bonus after you meet the spending requirements within the first few months from account opening, which could cover several gifts or pay for your airfare home to visit loved ones.
Because expenses increase during the holiday season, meeting the purchase minimum is likely easier than it is during other times of the year. This helps ensure you get the extra rewards that can be used toward buying gifts, booking holiday travel, or paying off an account balance.
4. Fraud Alerts
Fraud is more common during the holidays thanks to the endless distractions and increased spending that occurs this time of year. An Experian survey found that 24% of respondents reported being victims of identity theft or fraud during the holidays. 
Since you are extra busy during the holidays, you're likely paying less attention to your credit card charges, but that doesn't mean you will become a victim of fraud. Most credit cards these days offer extensive fraud alerts and multiple layers of protection, a key benefit when shopping and traveling over the holidays.
Keep in mind that some of the most common scams include charging small amounts on your credit card because they're less likely to be detected. Though your card is likely to protect you from fraudulent charges, staying vigilant and checking your account each week can help you stay protected.
5. Extended Warranties
Two out of every three holiday shoppers will purchase consumer electronics this year, and one of the most common questions they will hear while buying these items is, "Do you want to buy an extended warranty?" 
Though adding protection seems like a smart move, especially when it comes to big-ticket gadgets, you can save yourself some money by paying with a credit card that extends the manufacturer's warranty.
Most credit cards come with an extended warranty in which you will get longer warranty coverage if the item becomes defective. In many cases, this protection benefit doubles the time your purchase is under warranty. 
One extended warranty example from the Bank of America® Premium Rewards® credit card offers an additional year of coverage on items that have warranties of three years or less and are eligible for up to $10,000 per claim.
Keep in mind that extended warranty protection policies vary from card to card. When choosing the right card, be sure to pay attention to details like how much longer your item is protected under warranty as well as reimbursement and claim limits, among other things.
6. Purchase Protection
Imagine finishing up all your holiday shopping online to realize that items were stolen off your front porch or they were damaged between the time you brought the gift home and when you gave it to your loved one. That's where your credit card company can step in to help. 
Credit cards that offer purchase protection may provide relief for damaged or stolen goods paid for with that card.
For example, the Chase Sapphire Preferred® Card gives cardmembers up to 120 days from the date of purchase to file a claim for damaged or stolen goods on up to $500 per claim, or $50,000 per calendar year. 
This perk can take some stress out of holiday gifts that go missing or break shortly after purchasing them.
7. Price Protection
Knowing when to buy a gift at the best price has become a bit of a sport, especially as retailers fluctuate prices more frequently during the holiday season. Most people have felt the pain that comes when they realize an item they bought a week ago just went on sale. 
But for many consumers, finding the receipts and driving back to the store to try to get any money back seems more of a hassle than it's worth, so they give up. The good news is that many credit cards guard their cardmembers against dynamic pricing with a perk called price protection. 
If you make a purchase using a credit card that has this benefit and later see the same item advertised for a lower price within a specific time frame, your credit card may refund you the price difference.
Price protection isn't as common a perk as other credit card benefits, but here are a couple of cards that still offer this elusive benefit:
The Capital One Walmart Rewards Mastercard terms state that, if you find a lower price on an eligible new item within 120 days from the date of purchase made with the card, you can request to be reimbursed for the difference.
The Wells Fargo Visa Signature Credit Card's price protection policy states that, if you find a lower price on an eligible item you bought using your card within 60 days of the original purchase date, you can seek reimbursement for the difference of up to $250 per item and up to $1,000 a year. (The information related to the Wells Fargo Visa Signature Credit Card has been collected by CardRates.com and has not been reviewed or provided by the issuer or provider of this product or service.)
Each card has its own rules for filing a claim, and there's a time frame within which a claim must be filed, so make sure to review the terms and conditions in your credit card account to figure out how to process your price protection request.
Even if your current credit card doesn't offer price protection, you aren't totally out of luck. Instead, download a price-tracking app like Paribus. This app monitors prices of purchases linked to your email and will request money back for you if an item you bought went on sale within the retailer's price adjustment window. 
If the app can't recover the price difference for you, it will send you instructions on how to take care of it yourself.
8. Return Protection
The holidays are filled with temptation to buy things you don't need, but if you aren't paying attention to the retailer's return policy, you could suffer from serious buyer's remorse if you can't get your money back. 
The good news is, many credit cards offer something called return protection. This network benefit extends the time shoppers have to return an item they bought using a credit card that offers this perk. 
This even allows cardmembers to return an ineligible item, whether because it was on clearance or because the store doesn't accept returns or refunds.
9. Travel Insurance
There's nothing like celebrating the holidays with your family and closest friends, but flying home to do so will come with a hefty price tag. Holiday travelers will dish out an average of $455 on their trips. 
Considering so many potential snafus can derail your plans, getting some sort of travel protection makes sense to secure the money you've spent. Luckily, many credit cards these days offer travel insurance — including car rental insurance and trip cancellation or trip interruption coverage — for bookings made using the card.
For example, the Chase Sapphire Reserve® and The Platinum Card® from American Express offer coverage for emergency medical and evacuation, which is helpful if you or your loved one become severely ill while traveling. 
With the many new COVID policies that come with traveling these days, this insurance perk can make certain you are covered in the event of illness without having to buy a separate policy.
If you're going to be renting a car for your upcoming holiday trip, booking the reservation with a card that offers rental car insurance means you don't have to pay for the added insurance offered at the rental counter.
10. Free Checked Bags
One pesky fee travelers face when flying home for the holidays is checked bags. Factoring in this cost is important considering holiday travelers are more likely to check multiple bags thanks to bulkier winter apparel and holiday gifts. 
But don't hold your breath in hopes of airlines dropping this charge anytime soon because it's a huge money-maker. Airlines collected over $5.7 billion in baggage fees in 2019, according to data from the Bureau of Transportation Statistics. 
Most airlines charge around $30 for the first checked bag, and that price goes up with each added bag. You're looking at paying $40 for the second bag when flying most airlines and anywhere from $100 to $150 for a third checked bag. 
And, if your suitcase weighs more than 50 pounds, you will have to fork over another $100 to $150, depending on the airline. Though packing light is one way around this fee, it's not always an option if you have a lot of clothing and other personal belongings to travel with. 
That doesn't mean you're out of luck — many co-branded airline credit cards offer one free checked bag for cardmembers and a companion traveling on the same reservation. Just make sure to review the terms and conditions as most credit cards require you to purchase the airline ticket using that card to get the luggage benefit.
If you book your flight with an airline credit card, you may also be privy to a few other perks, such as priority boarding, free seat selection, and use of the airline clubs during long layovers, among other perks. So always factor in these potential fees when comparing prices on different airlines to determine which options offer the lowest fare.
11. Luggage Protection
Paying for checked bags may be a nuisance, but it comes nowhere close to the aggravation and inconvenience you would face if the airline were to lose or misplace your luggage — something that may be more likely to occur during busier travel times such as the winter holidays.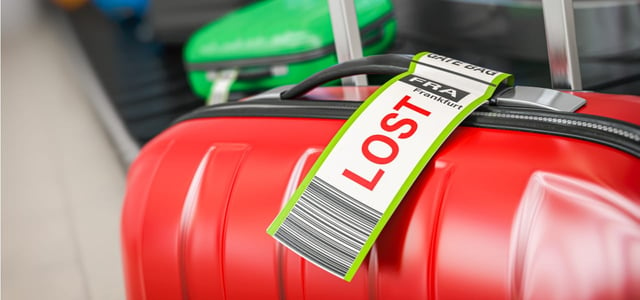 According to the U.S Department of Transportation, airlines are required to compensate passengers for incidental expenses incurred when bags are delayed or when the contents of a bag are lost. These reimbursements may be subject to depreciation and specify a maximum liability limit. 
Dealing with airlines to recover fees can also be a pain, but that's where a credit card can come to the rescue. Some offer luggage protection, a perk many holiday travelers should take note of. For example, the Chase Sapphire Preferred® Card provides $100 a day for up to five days if your baggage is delayed.
Although this credit card perk provides some peace of mind that you will be covered in the event your bags don't make it to your final destination, be considerate of which airline you book with in the first place. Here is a breakdown of which airlines are the least (and most) likely to lose your luggage during the holiday season.
Your Card Can Help Alleviate Holiday Stress
From rewards and 0% interest to exclusive shopping portals and insurance protection, many cards provide a lot more than just a way to make purchases.
Your card can help you save money when used wisely, so be sure to take advantage of the perks your credit card issuer offers. Read the terms and conditions carefully so you know what's available to you.
Advertiser Disclosure
CardRates.com is a free online resource that offers valuable content and comparison services to users. To keep this resource 100% free, we receive compensation for referrals for many of the offers listed on the site. Along with key review factors, this compensation may impact how and where products appear across CardRates.com (including, for example, the order in which they appear). CardRates.com does not include the entire universe of available offers. Editorial opinions expressed on the site are strictly our own and are not provided, endorsed, or approved by advertisers.