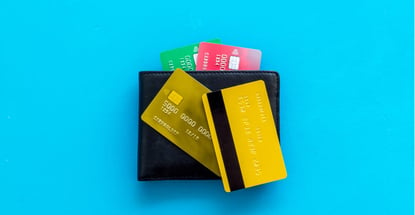 How much do you know about your credit card companies? Maybe not much beyond the type of card you have and the benefits you get with it.
Well, guess what? There's a lot more.
These global financial giants have wide-reaching business interests, partnerships with other corporations, special offers for their customers, numerous types of cards on offer — and one even has its own museum.
And, by the way, if you're job-hunting, most of these companies are hiring and have careers portals on their websites where you can research jobs around the world.
We did some digging and found 90 fun and interesting facts about the 10 largest card companies measured by the number of active U.S. accounts they have.
Visa | Mastercard | Citi | Chase | Amex | Capital One | BoA | Discover | Synchrony | Wells Fargo
Here are the details:
Visa

1. Visa is a global payment processing company.
2. Its cards are accepted in more than 200 countries and territories.
3. Visa was founded in 1958 and went public in 2008.
4. It issues credit, debit, prepaid, business, and government cards.
5. Visa extends special offers to cardholders through Visa Offers + Perks on its website.
6. The card issuer hit a major milestone — 1 billion cards issued — in 2001.
7. Visa is the exclusive card for the Olympic and Paralympic Games through 2023.
8. It introduced its newest card type, Visa Infinite Business, in Oct. 2019.
9. Visa announced a new service in February 2021 that aims to use artificial intelligence to reduce confusion about whether a transaction amount will change before the transaction clears.
Mastercard

1. Mastercard is a global payment processing company.
2. It offers credit, debit, prepaid and digital banking, prepaid travel, and prepaid gift cards.
3. Mastercard was originally called MasterCharge.
4. In March, Mastercard announced the first card to offer rewards for shopping at women-owned businesses in the Seneca Women Marketplace.
5. It offers exclusive discounts and deals with its World and World Elite cards.
6. Mastercard was founded in 1966 and has been publicly traded since 2006.
7. Its Mastercard Nearby app helps people find locations to access cash or make a card purchase.
8. Mastercard became the first payment card issued in the People's Republic of China in 1988.
9. Mastercard sponsors the Mastercard Autograph Zone, which allows cardholders to virtually watch a PGA tour player sign a pin flag to be mailed to their home.
Citibank

1. Citibank — otherwise known as Citi — is a global bank.
2. It has approximately 200 million customer accounts.
3. Citi operates in more than 160 countries and jurisdictions.
4. The bank provides consumer banking and credit, corporate and investment banking, securities brokerage, transaction, and wealth management services.
5. It offers cash back, rewards, balance transfer, travel, 0% introductory APR, secured, and business credit cards.
6. It offers co-branded cards with American Airlines, AT&T, and Costco.
7. Its Credit Knowledge Center provides information about credit and card benefits.
8. Citibank was founded in 1812.
9. Citi has a female CEO, Jane Fraser.
Chase

1. Chase is the U.S. banking business of JPMorgan Chase & Co., a global financial services firm.
2. It offers checking and savings accounts, credit cards, prepaid cards, loans, investment accounts, and other financial services.
3. It issues a wide selection of credit cards, including cash back, rewards, travel, hotel, dining, business, and student cards.
4. Chase bank serves nearly half of America's households.
5. The bank offers cash signup bonuses for some new checking and credit card accounts.
6. Co-branded travel cards that Chase offers include Southwest, United, Marriott, Hyatt, British Airways, Aer Lingus, Iberia, IHG, and Disney.
7. It issues both Visa and Mastercard cards.
8. Chase has more than 4,700 bank branches and 16,000 ATMs.
9. Chase connects customers with music, sports, dining, and other events through Chase Experiences.
American Express

1. American Express is a globally integrated payments company.
2. It offers personal, business, and corporate American Express cards as well as prepaid debit and gift cards.
3. American Express was the first bank to introduce plastic credit cards and money orders.
4. It offers all cardmembers a free credit report and FICO score.
5. American Express was founded in 1850 as a freight forwarding company.
6. American Express is known for its signature Gold® and Platinum® charge cards.
7. American Express is accepted at 99% of places that take credit cards.
8. It offers Delta, Hilton, and Marriott co-branded travel cards.
9. In February 2021, Amex announced its new Digital Receipts feature which gives U.S. cardholders access to purchase details for their transactions online or with a mobile app.
Capital One

1. Capital One was founded in 1988 and went public in November 1994.
2. Its card types include cash back, travel, and dining and entertainment rewards.
3. The bank offers consumer, business, secured, credit building, and student credit cards.
4. Co-branded Capital One cards include Walmart, Bass Pro Shops, and Cabela's.
5. It offers checking and savings accounts, loans, and other consumer and commercial banking services.
6. It also offers a free VantageScore credit score to its customers through CreditWise.
7. Its Capital One Shopping browser add-on helps consumers search for deals at 30,000 online retailers.
8. Capital One is headquartered in Richmond, Va.
9. The bank has corporate offices in New York, N.Y., Plano, Texas, Wilmington, Delaware, Chicago, San Francisco, London, and Toronto.
Bank of America

1. Bank of America offers credit cards, checking and savings accounts, home loans, auto loans, and investment accounts.
2. It offers credit cards with cash rewards, travel rewards, points rewards, lower rates, credit rebuilding, and student credit cards.
3. The bank's services include retail and business banking, investment advice, wealth management, and global corporate and investment banking.
4. Bank of America operates in more than 35 countries.
5. Bank of America introduced the first nationally licensed credit card program, BankAmericard, in 1958.
6. Its Masterpiece Moment video series showcases artworks in 25 U.S. museums.
7. Its virtual financial assistant, Erica, helps customers pay bills, earn rewards, and secure account information, among other things.
8. Its Museums on Us program gives customers free general admission to more than 225 U.S. cultural attractions on certain days.
9. Bank of America introduced the first credit card that let customers choose cash back reward categories.
Discover

1. Discover launched the first Discover card nationally in 1986.
1. It offers cash back, travel, gas and restaurant, secured, student, and business cards.
3. Discover offers credit cards, checking and savings accounts, personal loans, student loans, and home loans.
4. Discover offers free preapproval that won't impact your credit score.
5. Discover automatically matches all the cash back cardholders earn at the end of their first year.
6. It issues official NHL co-branded cards.
7. It offers consumers free credit scorecards with a FICO score.
8. Discover introduced the first key-chain credit card in 2002.
9. Discover offers a refer-a-friend statement credit benefit.
Synchrony Financial

1. Synchrony Financial is a consumer financial services company.
2. It has more than 75.5 million active customer accounts.
3. It is the largest U.S. issuer of private-label credit cards.
4. Synchrony offers savings, money market, and individual retirement accounts through Synchrony Bank.
5. Its patented Dual Cards function for both private label and general purposes.
6. Synchrony issues retail cards for hundreds of thousands of store locations.
7. Its card partners include Amazon, Gap, Lowe's, T.J. Maxx, Paypal, Verizon, and Sam's Club.
8. Synchrony promotes special offers from retailers at MySynchony.com.
9. It announced a new 5% back rewards program with Mastercard and Sam's Club in January 2021.
Wells Fargo

1. Wells Fargo is a financial services company.
2. It was founded in 1852.
3. Wells Fargo issues both Visa and American Express credit cards.
4. It offers cash back, rewards, travel, balance transfer, and student cards.
5. It offers a co-branded Hotels.com credit card.
6. Wells Fargo services 1 in 3 households in the U.S.
7. It has installed custom murals to celebrate the local geography, industry, and cultural diversity in 2,300 towns and cities.
8. Its museum in San Francisco displays an original stagecoach, working telegraphs, western art, gold coins, and old money, among other items.
9. Wells Fargo has more than 65 million customers.
Find a Card Company You Love
Now that you know more, it's time to think about which card companies you want to do business with. Do you love your current cards, or are you ready to add or switch issuers?
If you're shopping for cards online, be sure to do your homework and read the disclosures before you apply. You may find a new card you like — and a card company you love.
Advertiser Disclosure
CardRates.com is a free online resource that offers valuable content and comparison services to users. To keep this resource 100% free, we receive compensation for referrals for many of the offers listed on the site. Along with key review factors, this compensation may impact how and where products appear across CardRates.com (including, for example, the order in which they appear). CardRates.com does not include the entire universe of available offers. Editorial opinions expressed on the site are strictly our own and are not provided, endorsed, or approved by advertisers.