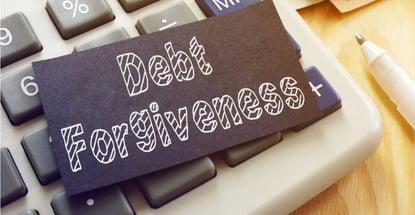 Credit card debt forgiveness sounds like an attractive proposition. Your card debt is wiped out; you don't have to pay any of it, you get to keep your card with a zero balance, and there's no impact on your credit scores.
If only it were that simple. Alas, it's not.
More likely, you'll have to pay at least some of your card debt, you may have to give up your card, and your credit scores will drop, perhaps even plummet.
That doesn't mean you shouldn't do it. In fact, there are sound reasons to pursue card debt forgiveness if you have debt that you're truly not able to pay. In the end, taking action could be a smart move for your finances.
Before you proceed, here are nine important things you should know.
1. Consumers Have 2 Primary Credit Card Debt Forgiveness Strategies
Most card debt forgiveness results from either debt settlement or bankruptcy. Neither gives you a clean start right away, but with time and patience (or a combination of both), either could get you into a healthier financial situation for the long term.
A third strategy — not often recommended — is to ignore your card debt until 1) your card company sells your account to a debt collections agency and 2) the time period during which that agency can sue you to collect the debt expires. Your debt doesn't exactly disappear, but your creditor's options to collect may be limited.
The time period, known as the statute of limitations, varies depending on where you live. Usually, it's three-to-six years, according to the federal Consumer Finance Protection Bureau. While the clock ticks, interest and penalties may be added to your debt. A partial payment may restart the clock.
2. Credit Card Debt Settlement Can Feel Like a Game of Chicken
You probably know how the game of Chicken works: Two players drive very fast cars head-on directly toward each other. The first player to swerve loses. If you're thinking that game doesn't sound like much fun, you're right. It isn't.
With credit card debt settlement, you're in one car and your card company is in the other. Your goal is to pay as little as possible. The company's goal is to collect as much as it can.
When the flag drops, you stop making your payment. Soon, your card company will contact you and try to collect. You may both try to negotiate your way out of the situation.
To end the game, you may have to make reduced payments for a while or pay a lump sum. Your remaining debt will be forgiven. Your account will likely be closed.
Though there are some exceptions, you may owe federal income tax on your forgiven debt.
If there's no settlement, the company will eventually turn your account over to a debt collection firm. The collection firm will step into the car your card company was driving, and the game of Chicken will continue.
3. Credit Card Debt Settlement Requires Patience
Every debt settlement negotiation is different, but usually, the longer you hold out, the less of your debt you'll have to pay, and the harder your credit scores will be hit.
Your ability to negotiate may improve once your account reaches the collection agency. That's because these agencies don't pay the full amount you owe to buy your account from your card company, so there's already a discount built in.
It can take several months or longer before your account status is moved from "delinquent" to "in default" to "in collections." Meanwhile, your credit scores will suffer.
You can hire a debt relief company to try to negotiate for you. These companies aren't allowed to charge you any fees upfront. Your card company or its debt collection agency may refuse to negotiate with your debt settlement company even if you instruct them to do so.
4. Most People Need an Attorney to File For Bankruptcy
Another way to end the game of Chicken is to file for bankruptcy protection. This is a legal process in which the court reviews your finances and sorts out how much of your debt you have to repay.
There are two main types of bankruptcy: Chapter 7 and Chapter 13. The names refer to sections of the bankruptcy code.
In Chapter 7, the court can order the sale of certain assets that you own to repay some of your debt. You'll usually be able to hold onto your home's equity, a family car, tools that you need to earn income, and personal belongings such as clothing and furniture. Other assets, such as a second home, boat, or additional cars may be seized and sold.
In Chapter 13, the court will give you a debt repayment plan that you'll be expected to follow, possibly for several years. When you've completed your payments, your bankruptcy and remaining credit card debt could be discharged.
If you file for bankruptcy, you won't have to negotiate with your card company or the debt collection agency yourself. Instead, that will be done for you by your attorney and the court as part of the bankruptcy process. The outcome may be better for you — or it may be worse.
5. Debt Forgiveness Will Affect Your Credit Scores
Your credit scores aren't random numbers pulled from thin air. They're based on your credit history, which is a record of credit accounts you've had and whether you've paid those accounts on time.
If you have made your payments on time, your scores should be relatively high. If you haven't, your scores likely will be lower than average.
Credit card debt settlement and bankruptcy affect your credit scores because your missed payments and unpaid debt will appear in your credit history. Credit accounts that were closed because they weren't paid as agreed can also hit your scores hard.
Debt settlement will usually stay on your credit history for seven years. Bankruptcy can stick around for up to 10 years.
6. Credit Scores Can Recover After Debt Forgiveness
Seven to 10 years may sound like a prison sentence. It isn't. In fact, your credit scores could start to recover sooner if you're able to improve your credit habits.
That's because credit scores aren't static. They can — and do — fluctuate over time.
Here are six strategies that may help you rebuild your credit:
Set up automatic bill payments to make sure your bills are paid on time. You'll need to monitor your accounts to make sure you have sufficient funds to avoid overdraft fees when auto-payments are made.
Pay down your credit account balances. If you can't pay off all of your debt at once, lowering the total could boost your scores by improving your credit card utilization ratio, which measures how much of your available credit you're using.
Become an authorized user on someone else's credit account. Choose someone whose credit habits will reflect well on your credit history.
Review your credit reports from the three credit bureaus — Experian, Equifax, and TransUnion — and report any errors that you find. You can get free copies at AnnualCreditReport.com.
Improve your credit mix. Using a variety of different types of credit, including installment loans and revolving credit, can raise your scores. You can even apply for some post-bankruptcy credit cards. Don't accrue more debt than you can repay just to help your credit scores.
Be patient. Even if you don't do anything other than pay your bills on time, your credit scores should slowly recover after your debt settlement or bankruptcy.
It may take several years to recover your credit scores, but it will happen.
7. A Secured Card Can Help You Rebuild Your Credit
Another way to rebuild your credit after card debt forgiveness is to get a secured credit card. This type of card requires a deposit. A typical minimum deposit amount is about $200, although you may find some cards with lower minimums.
Your credit limit will usually match your deposit, although some cards do allow a slightly higher limit. These cards may be described as partially secured or semi-secured. One such example is the Capital One Platinum Secured Credit Card, which may allow a smaller deposit based on your creditworthiness.
Over time, you may be considered for a higher limit with your secured card, possibly without an additional deposit. Some secured cards allow a deposit of up to $3,000 or more. When you're rebuilding your credit, that's a pretty nice limit for one card.
Apart from the deposit, a secured card works the same way as an unsecured card. If you make your payments on time, your credit scores should benefit.
If you miss payments, your card company can tap your deposit. Missed payments can be reported to the credit bureaus as late even if your deposit was used, so you shouldn't rely on that feature as an alternative to making on-time payments.
After a number of on-time payments, you may be able to convert your secured card into an unsecured one and free up your deposit. If your secured card doesn't have a conversion feature, you'll have to close your account to recover any unused portion of your deposit.
Shopping around for a secured card can be smart. There aren't a lot of top rewards cards in this category, but you should be able to find good secured cards with low deposits, no annual fee, or no credit check, as well as other options.
Most banks will let you apply for a secured card online with some basic personal information. You may get approved within a few minutes.
8. Two Other Ways to Clear Card Debt Are the Snowball and Avalanche Methods
Debt settlement and bankruptcy aren't the only ways to get rid of credit card debt. Unless your financial situation is truly dire — and for some people, it is — you may be able to reduce your debt over time through a determined effort to put as much cash as you can toward this goal.
Two recommended ways to make debt repayment easier are the snowball and the avalanche methods. Both approaches have the same goals: to help you prioritize your debt so repayment doesn't feel overwhelming and to avoid the negative impacts of debt settlement or bankruptcy.
The snowball method starts with paying off your smallest balance first, then your next smallest, and so on until you tackle the debt with the largest balance last. This approach may cost you more in interest, but some quick wins could boost your confidence and motivation to repay more.
The avalanche method starts with paying off your highest-rate debt first, then the next highest, and so on until you tackle your lowest-rate debt last. This approach lowers your interest expense so you can save money and pay off debt faster, but it may take more patience before you get your first win or subsequent wins.
A third way is to alternate between the snowball and avalanche methods, so you get some of the benefits of both approaches.
Be sure to pay the minimum balances due on all your cards on time so you won't have to pay late fees or sacrifice your credit scores.
9. A Balance Transfer Card Can Help You Pay Off Credit Card Debt
A balance transfer card allows you to move an existing balance from one card to another. Many cards of this type offer a low or even 0% introductory rate on your transferred balance.
The introductory rate could help you off all or part of your balance faster and at a lower cost.
Many good balance transfer cards also come with other benefits such as no annual fee, an introductory APR for new purchases, or a rewards program. A balance transfer could also help you avoid the credit score hit of debt settlement or bankruptcy. You won't need to hire an attorney to help you apply for a balance transfer card.
The catch is that you may be charged a fee when you transfer your balance. Shopping around can help you find a good balance transfer card with the right combination of rate offers, benefits, and fees to fit your credit score and personal financial situation.
The bottom line is that card debt forgiveness isn't a free lunch. It can hurt your credit, and it can be costly in time and money. The sooner you choose a strategy and get started on it, the faster the pain can end, and the quicker you can be on your way to healthier credit in the future.
Advertiser Disclosure
CardRates.com is a free online resource that offers valuable content and comparison services to users. To keep this resource 100% free, we receive compensation for referrals for many of the offers listed on the site. Along with key review factors, this compensation may impact how and where products appear across CardRates.com (including, for example, the order in which they appear). CardRates.com does not include the entire universe of available offers. Editorial opinions expressed on the site are strictly our own and are not provided, endorsed, or approved by advertisers.