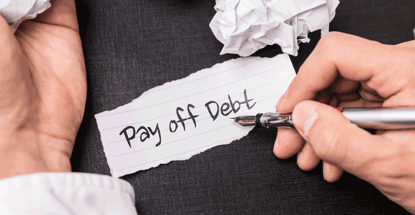 If there were a true national pastime in America, acquiring debt might be it. From car loans to credit cards to student loans and even medical debt, Americans now owe more than at any point in history. In fact, according to the 2018 Planning and Progress Study by Northwestern Mutual, the average American has around $38,000 in personal debt, not including mortgage debt.
If you're feeling anxious lately about the amount of debt you are carrying, you're not alone. Short of a huge boost in your income, a life-changing inheritance, or winning the lottery, your financial circumstances will likely be the same tomorrow as they are today. Faced with these bleak facts of life, many indebted consumers are turning to their credit cards as a solution.
But wait, isn't that the source of all the anxiety to begin with? Actually, when used as part of a comprehensive debt-reduction strategy, credit cards can be an effective way to pay off debt. Read on to learn more about which credit cards are best for helping reduce debt.
Credit Card Debt | Other Types of Debt | FAQs
Best Cards to Pay Off Credit Card Debt
If the idea of using a credit card to pay off credit card debt seems counterintuitive, consider this: A credit card with a long 0% introductory interest rate period lets you direct more of your money toward paying down the principal balance instead of interest. That means you may be able to pay off your debt sooner than you otherwise would.
Here are some of the cards we found that offer long intro-rate periods:
When researching balance transfer cards to pay off credit card debt, it's important to consider more than just how long the intro period will last. You'll also want to look at the regular APR that will kick in once the period is over as well as any balance transfer fees that will apply to the transferred balance.
Best Cards to Pay Off Bills and Other Debts
If you're looking for a way out from under a pile of bills and other debts, a card with an extended 0% APR period may just be the ticket. Whether we're talking about student loans, medical bills, a car loan, home equity loan, or any type of personal loan — a chunk of what you pay each month goes toward interest charges.
By using a card with a 0% interest rate on new purchases, you can direct all of the money you pay toward reducing the actual loan balance. Depending on the amount of debt and the strategy you use, you could be debt-free before you know it.
Here are some of the cards we found that can help you implement a solid debt-payoff plan:
Make sure the card you choose doesn't charge deffered interest on any outstanding balance once the intro period expires.
Do Balance Transfers Affect Your Credit Score?
A number of factors go into whether and how a balance transfer can affect your credit score. Aside from how credit scores are calculated in general, your personal financial and credit situation will play a role. Consider also your debt repayment strategy and how you implement your balance transfer plan.
If you view a balance transfer as a life preserver or temporary fix, it's unlikely to help your credit score, since you haven't addressed the underlying debt problem. On the other hand, if you use the balance transfer as part of a strategy to pay off credit cards and other debt, it can ultimately help improve your score.
Balance transfers actually have two potential effects; the short-term impact on your credit score, and the long-term effect of a well-designed debt repayment plan. Some people experience a short-term hit to their score, followed by an increase as their overall debt amount drops.
Other positive and negative factors that contribute to the impact of a balance transfer on your credit score include:
Getting a new card can add a hard inquiry to your credit file. This inquiry can cause a temporary small hit to your credit score (temporary negative).
Your credit utilization represents 30% of your FICO score. If you add a new card with a new line of credit, it can raise your available credit and lower your overall credit utilization ratio across all accounts (positive). However, if you get a balance transfer card with a credit limit of $15,000 and then transfer $12,000 to it, your credit utilization for that card is now 80% (negative).
As you begin to follow your debt repayment strategy and pay down your balance, this will lower your debt and raise your credit utilization ratio (positive).
Age of credit accounts is another factor in determining your FICO score, accounting for 15%. Getting a new account will lower the average age of your accounts (negative).
There are some things to remember that can help offset the negative impacts listed above, and enhance the positive. First, after transferring a balance to your new credit card, don't cancel the old card. That card has an available credit line that counts toward your overall utilization rate and also contributes to a higher average credit age.
Next, keep the utilization of your new account to around 30% or lower. A balance transfer card with a limit of $30,000 should have no more than $9,000 or so transferred to it.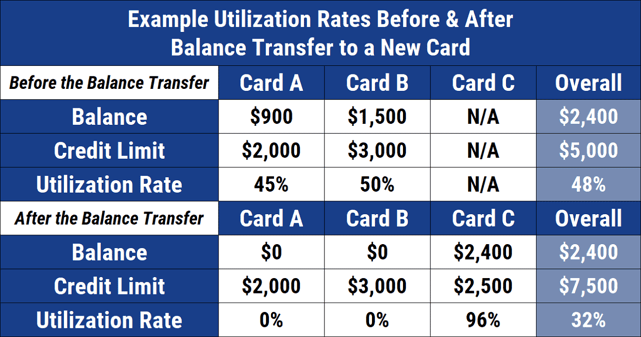 Finally, if your credit score is temporarily impacted to the negative, will a balance transfer put you in a better position down the road? In other words, will a little short-term pain result in a stronger credit score after the effects of a balance transfer (and ultimately lower debt) are realized?
Is Transferring Credit Card Balances a Good Idea?
When used as part of a debt reduction plan, balance transfers to a no-interest credit card can save money, reduce debt, and improve your credit score. If used as a way to buy extra time and extend unhealthy spending habits, a balance transfer can send you into an even deeper debt hole.
The thing to remember is that balance transfers only work if they're part of an overall strategy to pay off debt. Many of these cards have a regular APR that's above the industry average after the introductory rate period ends.
It can end up costing you more in the long run if you transfer a balance to one of these cards and don't pay it off before the 0% period ends.
A good balance transfer strategy involves having a debt repayment plan and sticking to it. Here are some things to remember when devising your plan.
Stop or greatly reduce new purchases on your credit cards.
Choose a balance transfer card with the lowest fees possible — preferably zero.
Transfer balances with the highest interest rates to your 0% balance transfer card first.
Don't close credit card accounts after you've transferred the balance to a new card.
Focus all your financial firepower at paying off this debt before the intro period expires.
Pay close attention to the 0% intro period and the transfer window to qualify for the promotional rate.
"Flipping" to a new 0% card after one intro-rate period is over seldom works. Make every attempt to pay off your balance the first time around.
If you transfer a large balance to your new 0% card from one or more cards, you may exceed the recommended 30% utilization rate of that card. That's okay if it's a temporary situation and you plan to direct all of your payments toward bringing down this balance. Your credit score may take a hit but will recover once you bring the balance down.
What is the Best Debt-Transfer Credit Card?
The best credit card to transfer debt to is the one that works best for your individual debt circumstances. In other words, there's no single card that will fit everyone's financial situation. Here are some things to consider when deciding which balance transfer card to get.
Know your current credit score. Most 0% introductory rate balance transfer cards require a good to excellent credit score — technically, a minimum score of 680, although a score in the low 700s is a more practical minimum. If your score doesn't fall into this range, do what you can to improve your credit score before applying for one of these cards.
If your overall goal is to reduce the amount of debt you have, you probably won't — and shouldn't — be using the card for regular purchases. That means you don't need a card with rewards or bonus points. You also want to avoid fees for balance transfers if possible. Two cards that fit this profile are the Chase Slate® and BankAmericard credit cards with $0 transfer fees.
Chances are you'll need as long as possible to pay off a large amount of credit card or other debt. Look for a card with the longest introductory-rate period, like the Citi Simplicity® Card.
If you have no choice but to continue using your 0% intro-APR card while paying off your debts, then a card that rewards you with cash back may make sense. A few of these cards will even pay you a substantial cash bonus when you spend just a few hundred dollars in the first three months. The Chase Freedom Flex℠ card and the Capital One Quicksilver Cash Rewards Credit Card are two such cards.
Finally, before choosing a balance transfer card, check to see if it allows you to transfer debt from another card issued by the same bank. Many issuers have this restriction, so it could affect which balances you can transfer to your new card.
What is the Best Way to Pay Off Credit Cards Fast?
The fastest way to pay off credit card debt is to focus more of your payment toward the principal and less toward interest. That's where a 0% intro rate balance transfer card comes in. Even if you pay the same amount each month, your debt will be reduced quicker with a 0% card since the entire amount goes toward the principal amount owed.
That said, there are two widely accepted techniques for paying off credit cards that you should consider. One is referred to as the debt avalanche method, which focuses on paying off high interest cards first, and the other is the debt snowball method that prioritizes paying off the smallest debts first.
Using a 0% balance transfer card, you can create a hybrid of the debt avalanche method that transfers the balances on high interest credit cards to the new 0% card. This lets you reduce the overall interest you pay and direct more of your money toward principal repayment. Here's an example of how that might work.
Let's say you have three credit cards with balances of $3,500, $4,000, and $2,200, respectively. We'll call them Card 1, Card 2, and Card 3.
The interest rates on the cards are 23% on Card 1, 16% on Card 2, and 21% on Card 3.
If you get a 0% balance transfer card with a credit limit of $8,000, it would make the most sense to transfer the balances of Card 1 and Card 3, since they carry the highest interest rates. In this scenario, you would continue to pay on Card 2, but focus most of your repayment efforts on the new card.
This has the effect of paying down debt at the fastest rate since more of your payment efforts are going toward principal and less toward paying interest.
Pay Off Your Credit Balances to Avoid a Debt Cycle
You may wonder how people can get stuck in a cycle of debt, but it's actually more common than you think. Borrowing is almost unavoidable in our society, between loans for education, loans for home repairs, loans for a new vehicle… you get the point.
Borrowing money is an advance on our future earnings. Borrow too much, and you won't earn enough to pay it back in a reasonable period. Soon, the interest becomes overwhelming and consumes the majority of your payment efforts.
The way to avoid this, other than simply being conscientious, is to pay off the credit balances you're carrying now. And as you've seen, one way to do that is to use a balance transfer card with a 0% rate.
Of course, as you've also read by now, this needs to be part of a clearly defined debt repayment strategy. Create a budget that prioritizes paying off debt. Put as much as you can toward your credit card debt and make your payments more effective by directing more toward principal and less to interest.
When used wisely, a balance transfer card with a 0% introductory rate can be an effective way to pay off high-interest credit cards or loans and break the debt cycle. Just be sure to also address the habits that caused you to amass too much debt in the first place.
Advertiser Disclosure
CardRates.com is a free online resource that offers valuable content and comparison services to users. To keep this resource 100% free, we receive compensation for referrals for many of the offers listed on the site. Along with key review factors, this compensation may impact how and where products appear across CardRates.com (including, for example, the order in which they appear). CardRates.com does not include the entire universe of available offers. Editorial opinions expressed on the site are strictly our own and are not provided, endorsed, or approved by advertisers.