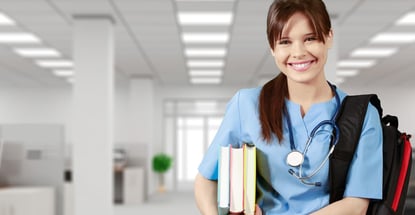 Medical students often have to contend with high student loan debt, little or no income, and a thin credit history. The best credit cards for medical students support their unique needs by offering acceptance despite scant credit history.
These cards come with relatively moderate interest rates, no annual fees, and even some rewards. Read on to learn about the five best cards for busy medical students.
Best Overall Card for Medical Students
The Discover it® Student Cash Back card offers several security features that medical students will appreciate, especially if they have little experience with credit cards. For instance, the card monitors the dark web to provide free Social Security number alerts.
1. Discover it® Student Cash Back
This card is currently not available.
In addition, the card has a feature lets you switch your account on or off in seconds to prevent misuse. The card monitors every purchase for suspicious activity, offers U.S.-based customer service, and provides contactless tap-to-pay convenience.
Other Top Cards for Medical Students
These cards help students build a credit history by reporting their payments to at least one of the three major credit bureaus. They also charge no annual fee and provide cashback rewards on purchases.
In addition, each card provides account alerts and other valuable credit protection tools.
2. Discover it® Student chrome
This card is currently not available.
The Discover it® Student chrome card offers the same security features as the Discover it® Student Cash Back card. It differs by offering a higher cash back rate for restaurant and gas station purchases each quarter instead of rotating bonus categories.
Earn 1% cash back on all your purchases. Pay on time to boost your cash back to a total of 1.25% for that month
Earn $5 per month for 12 months on Select Streaming Subscriptions when you pay on time. *Exclusions Apply
Enjoy no annual fee and no foreign transaction fees
You can help build your credit with responsible use of a card like this
Pick the monthly due date that works best for you
Be automatically considered for a higher credit line in as little as 6 months
The Journey Student Rewards from Capital One helps busy medical students protect their credit by providing security alerts, $0 fraud liability, virtual card numbers for online purchases, immediate card lock via the mobile app, and account alerts from Eno® and CreditWise®.
You get 1% cash back on all purchases, and 1.25% cash back when you pay on time (which should be all the time).
4. Wells Fargo Cash Back CollegeSM Card
The Wells Fargo Cash Back CollegeSM Card helps students build their credit history, offers cash back rewards on purchases, provides free access to credit scores, and offers free credit education.

3% cash back on up to $2,500 spent in the first 6 months on gas, grocery, and drugstore purchases, 1% cash back on everything thereafter
0% promotional APR for 6 months
Pay no annual fee
You can set up automatic payments from your checking account, access budgeting and tracking tools, receive $0 liability protection, and opt for overdraft protection. Applicants must have an existing relationship with Wells Fargo to apply.
5. Deserve Edu Mastercard® for Students
The Deserve Edu Mastercard® for Students is a great choice for foreign students because you don't need a Social Security number, a credit history, or a cosigner to acquire this card. You get one free year of Amazon Prime Student, cash back rewards on purchases, cellphone protection, and no international transaction fees.


1% cash back on all purchases
No Social Security number required to apply
Mastercard Platinum benefits, including collision damage waiver
Pay no annual fee
This card comes with perks valuable to many young adults, including $100 off Feather subscriptions, a competitive APR, and even scholarship opportunities.
What is the Best Credit Card for a Student?
Our top choice is the Discover it® Student Cash Back card, thanks to its many student-friendly features. But it really stands out by offering the highest cash back rewards in the student-card space.
Discover it® Student Cash Back
This card is currently not available.
As a reward for good grades, you earn a statement credit each academic year for a set number of years when a high GPA is maintained. Combine these benefits with the card's many security and convenience features, and it's good enough to earn our top recommendation.
You may prefer the Discover it® Student chrome card for its limited cash back rewards on restaurant and gas station purchases, two key expenses for students. In all other respects, the two Discover cards are the same.
Students who worry about credit security should consider the Journey Student Rewards from Capital One. It offers an extensive suite of credit tools via CreditWise from Capital One, which allows you to monitor your credit score, and the Eno® feature that provides services such as credit alerts and virtual card numbers.
If you misplace this card, just reach for the Capital One mobile app to lock the account. If you later find the card, you can instantly unlock it via the app. Should the card be lost or stolen, you will not have to pay for the fraudulent use of the card by others.
The Wells Fargo Cash Back CollegeSM Card is a good choice for students who want to set up automatic monthly payments from their checking accounts. And the Deserve Edu Mastercard® for Students will appeal to foreign students by making it easier for them to acquire and use the card.
Can You Get a Student Credit Card with No Income?
The 2009 CARD Act sets the minimum age for acquiring a credit card to 21 unless you meet certain requirements. If you are between age 18 and 21, you can't get a credit card unless you have a verifiable income or a qualified cosigner.
In this context, money your parents send you doesn't count as income. That's why obtaining a cosigner is so important — you can get a credit card with a cosigner even if you have no earned income.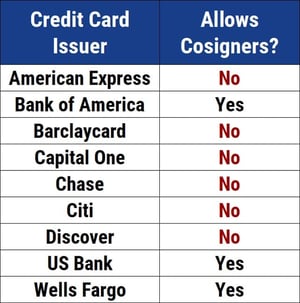 If you are a medical student, you've probably reached age 21 (unless you are a Doogie Howser type), which means you may be able to get a credit card without an earned income or a cosigner. But you must be able to demonstrate how you could afford your monthly credit card payments.
Therefore, cosigners are the best solution for students of any age who lack earned income. However, before you recruit a friend or family member to cosign your application, be sure you understand the implications.
Cosigners guarantee credit card payments if you are unable to pay. That puts the cosigner's credit in jeopardy, and they will almost certainly not appreciate having to step in and pay your bills. That can have negative consequences on your relationship with your cosigner.
If you miss payments, derogatory items will appear on both your credit report and your cosigner's report. That will hurt your cosigner's credit score and surely land you in the doghouse.
So, make sure your cosigner understands his or her obligations before signing the credit card application. Your credit score can recover from negative events given enough time — can you say the same about your relationship with your cosigner?
How Long Does it Take to Build Credit?
The way you build credit is to use credit and have that use reported on one or more of your credit histories at the three major credit bureaus Experian, TransUnion, and Equifax. You can obtain a FICO score within six months of obtaining your first credit account.
Don't expect a high initial score, but you should start to see improvement after a few months of using your credit card responsibly. That means paying your bills on time and not overusing your credit.
There are a few steps you can take to build your credit faster:
Secured credit card: It's much easier to get a secured credit card than an unsecured one. That's because you deposit an amount equal to your credit limit in a bank account that acts as collateral for your card balance. The issuer will use the account if you are late making a payment. Often, if you make all your payments on time for six to 12 months, the issuer will offer to upgrade you to an unsecured card and refund your deposit.
Credit builder account: These are secured loan accounts offered by banks and credit unions. You deposit an amount into a special account and then take a loan against the account. You then repay the loan in monthly installments. Once repaid, your deposited money is released. The institution reports your payments to the credit bureaus, which allows you to build your credit via timely payments.
Authorized user: A person with good credit can make you an authorized user on his or her credit card. You can use the card as if you owned it, and your payment activity will appear on both your credit reports. By making timely payments, your credit score should improve without hurting the account owner's credit.
Remember, it takes a while to build credit, but only an instant to ruin it. Don't be delinquent paying your bills and avoid bounced checks, defaults, collections, and bankruptcy. If you take your credit seriously, so will the credit bureaus.
Attractive Offers Students will Appreciate
We've explored the five best credit cards for medical students and gave top honors to the Discover it® Student Cash Back card. However, all five cards are attractive options and offer special features that students will appreciate.
In most cases, you must demonstrate a steady income to qualify for a credit card but can overcome this restriction by recruiting a cosigner when you apply for a card. Once you have a credit card, you can use it to build your credit by paying your bills on time and always paying at least the minimum due.
Advertiser Disclosure
CardRates.com is a free online resource that offers valuable content and comparison services to users. To keep this resource 100% free, we receive compensation from many of the offers listed on the site. Along with key review factors, this compensation may impact how and where products appear across the site (including, for example, the order in which they appear). CardRates.com does not include the entire universe of available offers. Editorial opinions expressed on the site are strictly our own and are not provided, endorsed, or approved by advertisers.