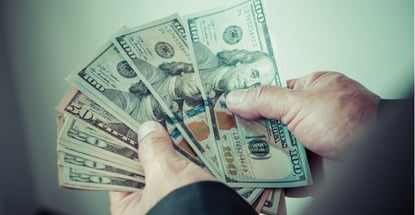 Needing cash advance loans for bad credit is a double whammy. First, you may be experiencing a cash crunch and need an emergency loan. Second, your credit is bad, and banks won't talk to you.
Thankfully, several types of short-term loans cater to, or at least do not discriminate against, consumers with poor credit. You can prequalify for any of these loans without harming your credit. One of these just may be the right answer to your money needs. 
Best Cash Advance Loans For Bad Credit
All seven of these lending services partner with networks of direct lenders to help you quickly get a cash advance in the form of either a payday advance or a short-term installment loan.
Each network can quickly prequalify your loan request before matching you to a lender that specializes in issuing online loans to consumers with bad credit.
Short-term loans up to $5,000
Online marketplace of lenders
Funds available in as few as 24 hours
Simple online form takes less than 5 minutes
Trusted by more than 2 million customers
Not available in NY or CT
Headquartered in Las Vegas, MoneyMutual has been arranging loans for more than a decade. It can prequalify you in minutes for a bad credit payday loan or, if you prefer, a short-term installment loan. You must be a U.S. citizen or resident, at least 18 years old, and have a dependable income of at least $800 per month.
Loans from $500 to $10,000
All credit types accepted
Receive a loan decision in minutes
Get funds directly to your bank account
Use the loan for any purpose
CashUSA, also operating out of Las Vegas, can instantly prequalify you for cash advance even though your credit is far less than perfect. To prequalify, U.S. citizens or permanent residents must be at least 18 years old with an after-tax monthly income of $1,000 or more. You will also need an active checking account in your name, a valid phone number, and a working email address.
Quick loans of up to $5,000
Submit one form to receive multiple options without harming your credit score
All credit ratings welcome to apply
Requires a driver's license, bank account, and SSN
Get your funds as soon as tomorrow
Florida-based online lender BillsHappen® can immediately prequalify you for a short-term personal loan that you repay in three or more equal monthly installments. The direct lenders on its network can provide loans of various amounts to consumers with bad or thin credit. BillsHappen helps ensure your security and privacy by employing sophisticated encryption techniques on its website.
Loans from $250 to $5,000 available
Cash deposited directly into your account
Get money as soon as tomorrow
Bad Credit OK
More than 750,000 customers since 1998
Based in sunny Tampa, CreditLoan.com guarantees an instant prequalification decision for short-term personal loans at lower interest rates than those charged for an online payday loan. The information-packed website offers many resources, including a bad credit loan calculator that has attracted more than 33 million web visits since its founding. The display of the TRUSTe® seal demonstrates the commitment of CreditLoan® to your privacy and security,
Loan amounts range from $500 to $10,000
Compare quotes from a network of lenders
Flexible credit requirements
Easy online application & 5-minute approval
Funding in as few as 24 hours
Tacoma-based Bad Credit Loans is dedicated to helping consumers with troubled credit histories who need cash in a hurry. To prequalify instantly, you must be a U.S. citizen or resident, age 18 or older, and have a reliable monthly income, a checking account in your name, a valid email address, and a phone number. Bad Credit Loans imposes no minimum credit score requirements to prequalify for a short-term personal cash advance.
Loans for new, used, and refinancing
Queries a national network of lenders
Bad credit OK
Get up to 4 offers in minutes
Receive an online loan certificate or check within 24 hours
Headquartered in Utah, PersonalLoans.com can quickly prequalify you for a short-term installment loan. You can receive pre-approval if you are a U.S. citizen or permanent resident, 18 or older, with a monthly income of $500 or more and an active checking or savings account in your name. PersonalLoans can also hook you up with additional financial services, including credit repair, debt settlement, and credit monitoring.
Loan amounts range from $100 to $1,000
Short-term loans with flexible credit requirements
Compare quotes from a network of lenders
5-minute approvals and 24-hour funding
Minimum monthly income of $1,000 required
Current employment with 90 days on the job required
CashAdvance.com, also based in Utah, has been arranging payday cash advances since 1997. Prequalification for this type of emergency loan is simple and fast, assuming you are a U.S. resident, at least 18 years old, and have verifiable pre-tax monthly wages of $1,000 or more. The company's payday lender network can put money into your bank account as soon as the next business day.
What Is a Cash Advance Loan?
We generally understand the term cash advance to encompass short-term, unsecured loans of modest size. We will focus on two of the most important types: payday cash advances and personal installment loans. 
Payday Cash Advances
A payday cash advance requires repayment on the date you next get paid. You must have a job or other verifiable source of income, such as government benefits, to get an instant approval payday cash advance. Interest rates on these loans are generally very high, in the triple digits.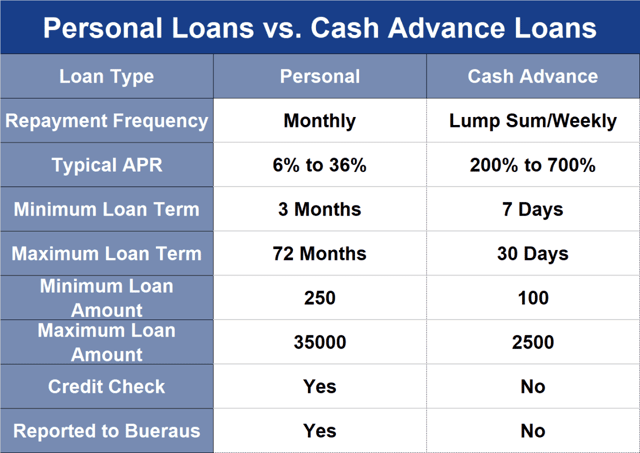 Because this type of emergency loan does not depend on your credit history, you can get one without a hard credit check. You have a choice between two venues to borrow from payday lenders: online or at brick-and-mortar payday lending stores. 
Online payday loans are very convenient and safe, and can provide you funding in as little as one day. Payday lending stores can put money in your hands faster — often within half an hour — but requires you to visit a location that may reside in an unfamiliar neighborhood. 
If you prefer privacy and security, you may want to deal with an online payday lender. You can apply from the comfort of your own home and receive a direct deposit the next business day. 
Short-Term Personal Installment Loans
Personal cash advances do not require collateral. They instead depend on your commitment to repay as evidenced by your signature on the loan agreement. These are loans that you repay in monthly installments. 
By varying the number of installments, you can arrange a bad credit loan with affordable payments.
Most importantly, personal loans charge a far lower interest rate than do payday loans. Keep in mind that as the loan term increases, so do the total interest charges on an installment loan. An online loan calculator can help you compare the total costs of payday cash advances versus those of personal loans.
Can I Get a Cash Advance Loan With Bad Credit?
Several sources of cash advances provide quick cash without reference to your credit profile. An online payday loan is a classic example, and its continued popularity speaks to the borrowing needs of consumers for a no credit loan. 
You can also get an instant cash advance with no questions asked through a pawn shop or a credit card. Pawnshop loans are collateralized, very expensive, and you risk losing the pawned item if you can't repay your secured loan on time.
A credit card cash advance is easy and no credit check is involved, assuming you own a credit card that allows cash advances and your current balance is less than your cash advance credit limit. Typical APRs for credit card cash advances range from 26% to 36%, with the interest accruing daily until you repay the loan on your instant cash advance.

Prequalifying for a personal loan usually doesn't involve a credit check. However, lenders may check your credit when you apply for the loan and shape their loan offers accordingly. The lender-matching services reviewed in this article specialize in helping bad credit consumers line up personal and/or payday cash advances.
How Do I Apply For a Cash Advance Loan?
The reviewed lending services operate similarly, enabling you to prequalify for a cash advance loan and connect with a direct lender. You begin by filling out a short online loan request form. Once submitted, you should receive an immediate prequalification decision.
To prequalify for a loan from the online lending services, you must:
Be a U.S. citizen or permanent resident
Be at least 18 years old
Have a Social Security number
Have a dependable source of income — the minimum amount varies by lending service.
Have an active bank or credit union account in your name
Have a valid phone number
Have a valid email address
If you prequalify, you will be transferred to the website of a direct online lender that may ask for additional information before deciding whether to make you an offer. 
There are a few reasons why a preapproved loan may not receive final loan approval:
You supplied inaccurate or incomplete information.
You do not meet the lender's credit requirements.
You chose not to sign the loan agreement.
The value of the collateral was overstated for a secured loan. 
You have current or past convictions for serious financial crimes.
Your circumstances change after preapproval. For example, you may lose your job or receive an IRS tax levy.
The borrower dies or becomes disabled. 
The lender rescinds the loan approval or is otherwise unable to complete the loan transaction.
External events make the transaction impossible.
To accept the offer, read and e-sign the loan agreement. The lender will wire your money to your bank account as soon as the next business day.
What Is the Easiest Cash Advance Loan to Get?
The ease of getting a loan from any of the reviewed lending services is about the same. It is easier to get a payday cash advance than a personal loan because payday loans don't depend on your credit profile. 
Both types of unsecured loans require you to have a job or another source of income, and the income must be sufficient to repay the loan.
Credit card cash advances (assuming you already own the card) and pawnshop loans are among the easiest loans to get for bad credit. If you own a home, it's easy to get a home equity loan or line of credit for loan amounts up to the equity you've built up in your home.
Similarly, you can use the equity in your car as collateral for a loan. If you are still paying off the car, you can apply for automobile cash-out refinancing. If the car is paid off, you can get a title loan. Generally, collateralized loans are easier to obtain than unsecured loans.
We do not cover the business loan market in this article. If you are looking for a small business loan despite a bad credit score, check out a merchant cash advance as one possible option.
How Much Does a Cash Advance Loan Cost?
If you decide to take a payday cash advance, be aware of the high APR you'll be charged, typically in the range of 300% to 800% or more. The saving grace is that the high interest only accrues until you get paid and repay the loan.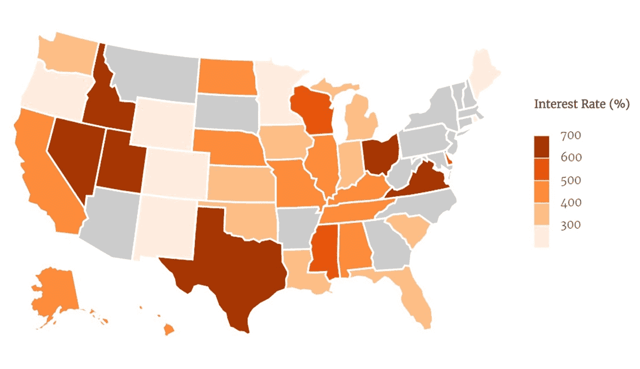 However, many bad credit payday loan borrowers don't repay the cash loan on the first due date but rather roll it over one or more times. Doing so will cause their borrowing costs to snowball, and they risk getting trapped in a debt spiral.
Payday loans cannot help you build your credit because payday lenders rarely report your payments to the credit bureaus. However, these loan amounts can harm your credit because loan defaults and collections are reported.
Pawn loans are also quite expensive, but one of your loan options is not to repay them if you don't mind losing the pawned item. 
Personal cash advances have far smaller APRs than do payday loans and some other loan options, but the interest accrues over a longer period (usually three or more months, subject to early payoff). The typical personal loan for bad credit charges an APR of up to 36%, on par with credit card cash advances. 
This kind of cash loan may carry an origination fee, or the origination fee may be buried within the APR. Personal loans are ideal for debt consolidation — you can reduce your overall interest charges when you use debt consolidation to pay off high interest loans.
The risk of using an installment loan is that you may choose to stretch it out over many months or years. Using a long repayment term loan to pay for short-term loan needs is a mismatch that can become quite costly. Even though your monthly payments decrease as you extend the loan term, your overall costs will increase because you'll be paying interest for a longer repayment term.
At least personal loans allow you to improve your credit because they usually report your payments to one or more major credit bureaus.
Equity-based loans usually have low APRs, often well under 10%. However, you risk the loss of the underlying asset if you miss payments. 
The reviewed loan facilitators charge you nothing for their services, and you are under no obligation to apply for or accept a loan.
Compare Cash Advance Loans For Bad Credit Online
Our review of cash advance loans for bad credit shows that you have options you may not have previously considered. To get additional information about the lenders or to apply for a loan, click on the VISIT SITE links for the official terms and details.
You can make borrowing easier and cheaper by repairing your credit profile. By paying your bills on time and keeping your debt levels relatively low, you have the chance to boost your bad credit score and improve your lifestyle.
Advertiser Disclosure
CardRates.com is a free online resource that offers valuable content and comparison services to users. To keep this resource 100% free, we receive compensation for referrals for many of the offers listed on the site. Along with key review factors, this compensation may impact how and where products appear across CardRates.com (including, for example, the order in which they appear). CardRates.com does not include the entire universe of available offers. Editorial opinions expressed on the site are strictly our own and are not provided, endorsed, or approved by advertisers.