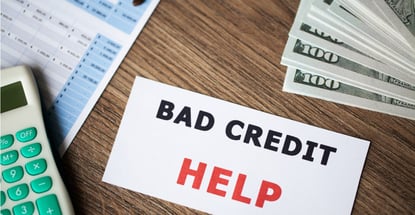 For people with a less than perfect credit score, securing short-term loans for bad credit may seem like a daunting task. It's likely these folks have had negative experiences in the past while dealing with a particular lender when they needed an emergency loan or quick payday loan. And they certainly know firsthand the stress and uncertainty that can come from not having the money they need when they need it.
But getting a short-term loan isn't nearly as difficult as you may think. Finding and choosing the right personal loan often comes down to simply establishing the time frame you'll need to successfully pay back the loan. Intimately understanding your budget and income is also critical.
If you're confident you can pay the lender back promptly, a credit card or payday loan may be the right option, but these come with warnings that we'll address later. We explore some excellent short-term loan lender networks below that are perfect for getting you out of the red and back in the black.
Best Overall Short-Term Loan For Bad Credit
MoneyMutual is one of the best lender networks we've researched and offers a great alternative to dealing with a brick-and-mortar credit union or other such options. And with its impressive track record of successfully connecting people to the loan amounts they seek, it's easy to see why so many turn to MoneyMutual for their personal loan needs.
Short-term loans up to $5,000
Online marketplace of lenders
Funds available in as few as 24 hours
Simple online form takes less than 5 minutes
Trusted by more than 2 million customers
Not available in NY or CT
The process is simple — once you've provided your info within the secure form, potential lenders run a routine credit check and determine whether or not they can work with you. If MoneyMutual successfully connects you with a lender, your funds can be made available quickly after loan fees and the repayment terms are agreed on between you and the online lender.
More Short Term Loan Options to Consider
Sure, having bad credit can make things inconvenient and your goals a little harder to reach. But your credit score doesn't have to keep you from living your life and getting things done. A personal loan may be just the thing you need to get back on track.
The benefits of the loan networks we'll cover here vary, but they all come with one perk — these loans are relatively easy to get. This factor alone can mean everything for those seeking a short-term business loan, for example, when time is of the essence to keep and maintain the livelihood they've worked so hard to establish.
Let's take a look at some other fantastic options for anyone seeking a bad credit loan.
Loans from $500 to $10,000
All credit types accepted
Receive a loan decision in minutes
Get funds directly to your bank account
Use the loan for any purpose
CashUSA.com is a great option for anyone seeking a short-term personal loan. The company works with many lenders across the U.S. and can connect you with a potential online lender very quickly. Requirements are simple and include conditions most people will easily meet, including earning at least $1,000 per month after taxes, having a checking account in their name, and having a valid email address and phone number.
The company doesn't just connect you with a lender — it provides expert educational resources directly on the site to help you make more informed decisions and better understand potentially complicated processes like debt consolidation and invoice financing.
Quick loans of up to $5,000
Submit one form to receive multiple options without harming your credit score
All credit ratings welcome to apply
Requires a driver's license, bank account, and SSN
Get your funds as soon as tomorrow
For those looking for a fast turnaround, BillsHappen boasts one of the speediest services available. Once the company runs a routine credit check and connects you with a lender, and you accept its terms, funds can be available as early as the next business day.
The lender will determine the interest rate you'll pay, and you'll rest assured knowing your credit score won't affect your eligibility when BillsHappen connects you with a lender. Whether you rent or own doesn't come into play, but you must be employed or receiving benefits to be connected with an online lender.
Loans from $250 to $5,000 available
Cash deposited directly into your account
Get money as soon as tomorrow
Bad Credit OK
More than 750,000 customers since 1998
If you're a borrower looking to crunch some numbers and do a little homework, CreditLoan.com has plenty to offer. According to its site, CreditLoan.com has helped educate more than 33 million people with easy-to-use resources like interest rate calculators and mortgage information.
CreditLoan.com is also a great resource for those seeking an auto loan, student loan, or basic personal loan. Its processes work much the same way as the other lender networks we feature here, and CreditLoan.com's staff is composed of people who are well versed in the many facets of personal finance.
Loan amounts range from $500 to $10,000
Compare quotes from a network of lenders
Flexible credit requirements
Easy online application & 5-minute approval
Funding in as few as 24 hours
Bad Credit Loans offers free, 24/7 service. And as the company's name states, those with bad credit in need of an emergency loan are welcome. In fact, the Bad Credit Loans site claims that the company specializes in connecting those with a less-than-perfect credit score with network lenders that are prepared to help.
There is no minimum credit score required to apply, and you are under no obligation to accept a loan offer. The lender will present you with a repayment schedule and other terms if you qualify for an unsecured personal loan.
Loan amounts range from $1,000 to $35,000
All credit types welcome to apply
Lending partners in all 50 states
Loans can be used for any purpose
Fast online approval
Funding in as few as 24 hours
When navigating the wide world of lender networks, it's common for people to experience uncertainty and outright fear of stumbling into unforeseen costs and obligations. PersoalLoans.com eliminates this concern by clearly stating that its service is completely free and has zero upfront costs or obligations.
Though the company's services are free, you may be required to pay an origination fee or other fees associated with the loan offer. By now, you should be seeing a pattern in how the lenders within these networks operate. Whether it's debt consolidation you're looking to achieve, or you simply need a cash advance on a rainy day, PersonlLoans.com is an excellent choice for the prudent borrower.
Loan amounts range from $100 to $1,000
Short-term loans with flexible credit requirements
Compare quotes from a network of lenders
5-minute approvals and 24-hour funding
Minimum monthly income of $1,000 required
Current employment with 90 days on the job required
Having been in the business of connecting people with the money they need since 1997, CashAdvance.com is a veritable veteran of the trade. It functions in the same ways as the other companies we've featured here, and its website is clear about never pushing a borrower into a loan agreement they don't want. Rather, CashAdvance.com prides itself on its storied track record of helping people connect with a reputable lender of their choosing.
In fact, customer service is one of this company's top priorities. Its website touts a dedicated, in-house customer service team coupled with educational tools and resources to help you make the most informed decisions. Its secure network is ready to take your bad credit loan request today.
What Is a Short-Term Loan?
Though the phrase "short-term loan" is relatively self-explanatory, borrowers should be aware of a few nuances.
To put it simply, a short-term loan is a cash loan that involves repayment with an annual percentage rate (and other associated costs, like an origination fee) by a given date — usually within a year. Unsecured loans are typically the most common arrangement when borrowing money.
Student loans, credit cards, and most personal loans are examples of unsecured loans where a direct lender doesn't require any collateral. The lender's approval is based on the borrower's likelihood of repaying the amount borrowed.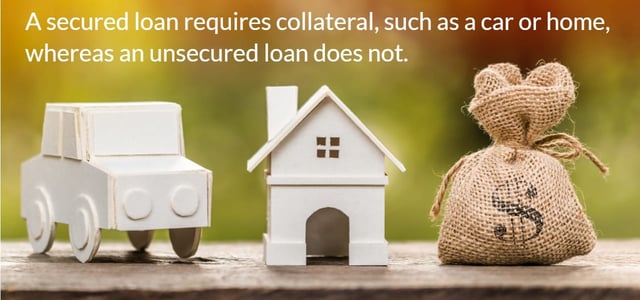 People have myriad reasons for needing a quick personal loan — wedding expenses, moving costs, home repairs, medical issues, or as an alternative to a quick cash advance from a payday lender (more on that later). The list goes on.
The simple fact is that short-term loans allow you to get the funds you need without lengthy commitments that allow interest to pile up. The opposite of a short loan term is an installment loan, which gives borrowers several months or years to pay the loan off.
How Can I Get a Short-Term Loan With Bad Credit?
For some, just the mere mention of a credit check has them ready to throw in the towel and forget trying to secure a personal loan altogether. Just because you have a bad credit score is no reason to be excluded from the things you need.
And as we've covered here, a reputable lender network can help you get where you need to be financially.
The most important thing to keep in mind is that a bad credit score isn't a dead end, and with some research, you can find a direct lender with terms that align with your goals. The research component here is key. The internet has revolutionized the ways we shop for everything.
From everyday purchases like earbuds and running shoes to more important things like vehicles and homes, smart shoppers go online to weigh options and compare prices before reaching for their wallets.
Looking for a short-term loan is no different. Explore the resources we've laid out here and do your own research — the right lender with the right terms is out there waiting to help get you back on track.
How Long Does It Take to Receive Money After Being Approved?
Most of the companies within the lender networks we've covered here tout speed as one of their most noteworthy selling points. In fact, many of them can connect you with lenders that can have funds available in your checking account as early as the next business day.
Some loan providers can expedite your loan deposit for an additional fee, sending money to your bank account on the same day you apply.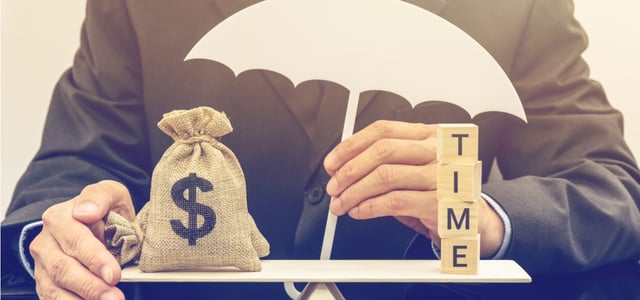 Though not all lenders can process your request as quickly as 24 hours, the companies that don't still typically fall within a maximum of three to seven days. Applying for a loan on a weekend or holiday can slow the process.
The benefit of online lenders is that the loan application process is relatively quick and typically moves much faster than getting a credit union or bank loan. This means the time from submitting the loan application to withdrawing your money is shortened significantly.
What's the Easiest Loan to Get With Bad Credit?
We've all been there. Out of nowhere, some unforeseen, complicated circumstance swoops into our lives that generally mucks everything up — and costs us money. These occurrences can take many forms and can rarely be planned for.
Sometimes a payday loan, though not entirely ideal for everyone, is the quickest loan option to financial relief. But what exactly is a payday loan?
Simply put, a payday loan is a short-term, unsecured loan that is usually due in one lump sum by the time you get your next paycheck. Most states limit (or prohibit altogether) loan amounts to discourage and cut back on predatory lending.
Around $500 is the typical limit, but payday loan amounts can range above and below this, depending on your state's laws.
A quick Google search of your area will generally produce many options for payday loan providers. But take heed — although these loans are easy to access, it's wise to borrow only as much as you can easily afford to pay back the next time you get paid.
Payday loans have very high interest rates, and it's easy to find yourself in a worse situation than you were in before you sought out the cash advance. The following map shows the average payday loan interest rate in each state: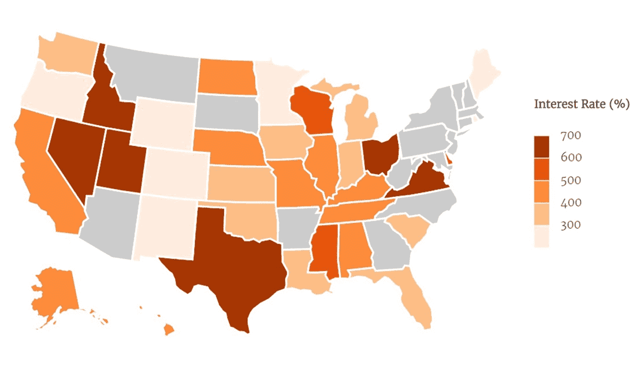 What's more, all loans from a payday lender are considered predatory. That is to say, the loan terms are typically unfair, misleading, or just outright unaffordable for the person requesting the loan.
Do whatever you can to avoid payday loans, but if you still find yourself in a position where a small loan is needed fast, your local pawnshop may be another option to explore.
Pawnshops are ubiquitous across America. Regardless of size, seemingly every town in the U.S. has at least one pawnshop. These popular stores specialize in buying just about anything of value and selling it for a profit — but they're also in the money-lending business.
The way it works is this: You put up a valuable piece of property as collateral, and the shop issues you a secured loan in the form of a cash advance. The shop holds onto your property until the loan is repaid, and if you can't repay the loan amount, the shop simply puts the item up for sale.
If you're seeking an emergency loan, pawnshops offer a relatively safe option, especially when compared to payday loans. Your personal credit score or credit history has no bearing on this transaction, and you can literally walk out the door with cash in hand the same day you put up the collateral. But there are some drawbacks to pawnshop loans.
Because these are ultimately short-term loans, there is always a possibility you won't be able to pay back the loan on time. Shops will usually let you extend the due date, but this comes with added fees, plus interest. Not to mention you risk losing your property, and this may mean not just losing something of monetary value but something quite sentimental as well.
In short, both payday and pawnshop loans offer fast access to cash, but the dangers are many, and the benefits are few. If you're even considering one of these options, see what kinds of credit card offers are out there that better fit your needs and budget.
But be careful, it's quite easy to get yourself in trouble with a credit card too! Spending restraint is critical.
Can I Get a Short-Term Business Loan With Bad Credit?
It's no secret that running your own business isn't for the faint at heart. Because it's your business, everything (and we mean everything) falls on your shoulders.
Not having the necessary capital to either launch or maintain your business is one of the greatest stressors for business owners, and many with bad credit wonder whether they even have a fair shot at all. The good news is, they do.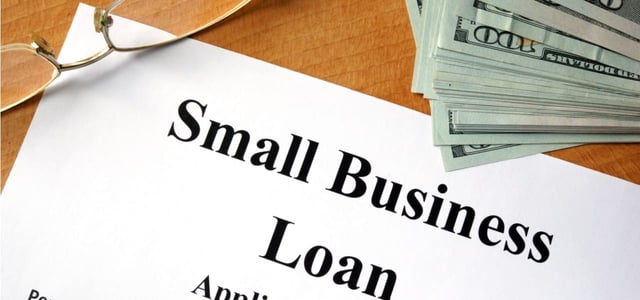 Getting a short-term business loan is a very attainable goal, and with the right amount of research and planning, you can get back to work in no time. Even without a stellar credit history, you still may be able to acquire a bad credit business loan from a lender that looks to the potential of your future business accomplishments rather than past financial hiccups.
It should come as no surprise that our first recommendation when seeking a short-term business loan is … wait for it … research! Before running off to a credit union or scrambling to fill out business credit card applications, take a long hard look at your situation and how alternatives to these options can help.
Understanding what your business needs are upfront is key. Knowing what each type of financing you'll encounter has to offer and considering what the eligibility requirements and repayment terms are will help ensure you're making the right call.
Reading borrower reviews and talking to representatives from the lenders themselves are also highly recommended to make sure your small business loan will do the most good.
How Can a Personal Loan Help Build My Credit Score?
If you go about securing a personal loan the right way, it's very possible to both improve and maintain your credit score. As we've discussed throughout, doing your homework and weighing all your options before committing is always the best course of action.
If you're responsible and diligently repay your loan, you can kill two birds with one stone — get the funds you need and improve your credit score at the same time.
If you borrow from a lender that reports your monthly payment to a national credit bureau (most lenders besides payday lenders and pawnshops do), that positive payment history helps build your credit. This also adds variety to your credit report, in addition to lengthening your credit history — both of which go a long way in getting your credit score back in good standing.
We want to emphasize the importance of making payments on time. This one factor has the biggest effect on your overall credit score — 35% to be exact — and even making one late payment can be damaging.

If you suspect you may be late, reach out to the lender and let them know, as most lenders will be willing to work with you.
Carefully Compare Short-Term Loans For Bad Credit
Remember, when it comes to short-term loans for bad credit, a little planning and a lot of research go a long way to ensure you're making the right choice. As we've covered here, there are good and bad options when it comes to getting a personal loan, and the most important thing is to make a decision that best suits your overall situation — both financially and personally.
Remember, having bad credit doesn't mean you have to be excluded from getting the money you need, nor does it mean your credit has to stay that way forever. Approach getting a personal loan the same way you would making any other important financial decision, and before long, you'll gradually begin to see your credit improve.
So, start doing the research, get the money you need to get on with life and improve your credit at the same time!
---
Advertiser Disclosure
CardRates.com is a free online resource that offers valuable content and comparison services to users. To keep this resource 100% free, we receive compensation for referrals for many of the offers listed on the site. Along with key review factors, this compensation may impact how and where products appear across CardRates.com (including, for example, the order in which they appear). CardRates.com does not include the entire universe of available offers. Editorial opinions expressed on the site are strictly our own and are not provided, endorsed, or approved by advertisers.