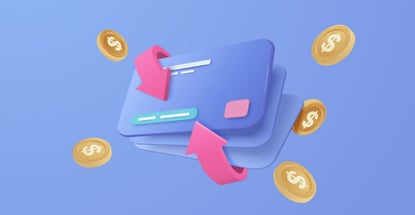 I remember when I got my very first credit card. It was the Chase Freedom® card, a now-discontinued card that the Chase Freedom Flex℠ has replaced. I was ecstatic to have my first credit card, but what I didn't fully appreciate at the time was its 5% rotating categories.
Although I opened that card years ago, the 5% bonus can still compete with the best credit cards available today. In fact, the Freedom Flex is one of the cards on this list. But the Freedom Flex is just one to consider if you want the best credit card with rotating categories.
Best Cards with Rotating Rewards Categories
Credit cards with rotating categories typically offer high cash back rates on common, everyday purchases. This allows you to maximize how much cash back you can claim, even if you don't change your spending habits.
However, not every rotating category card is the same. There is usually at least some difference in their categories at any given time, and their other benefits and perks may vary. These are some of the best credit cards with rotating categories on the market today.
The Discover it® Cash Back is Discover's top pick for spending on everyday purchases. With a 99% acceptance rate, you'll be able to use this card almost anywhere in the United States. Rewards never expire, so you won't have to worry about losing them.
Discover also helps keep you safe with $0 fraud liability, so you won't be responsible for unauthorized charges on your account. If you ever see a charge you don't recognize or you misplace your card, Discover lets you freeze your account with the Freeze it® on/off switch on its mobile app and website.
U.S. Bank customers can get cash back in rotating categories with the U.S. Bank Cash+® Visa Signature® Card. Several redemption options are available, including statement credits, rewards cards, or direct deposits into a U.S. Bank checking or savings account. 
Because this is a Visa Signature card, you'll get additional benefits, including ID Navigator Powered by Norton LifeLock, zero liability protection, and Roadside Dispatch®. 
The Discover it® Student Cash Back card has many of the same benefits as the Discover it® Cash Back card. But this card allows students to build credit with responsible use and earn cash back in the meantime. Keep in mind that the regular APR on this card may be higher than the APR on the Discover it® Cash Back.
The student cash back card will convert to a non-student account after you graduate. In addition, you may qualify for a credit line increase at that point. Discover recommends calling them to update your housing and income information after you graduate, which may qualify you for an increase.
4. Chase Freedom FlexSM Credit Card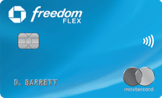 The Chase Freedom FlexSM Credit Card is a great choice for Chase customers who want to earn cash back on rotating categories. This card also includes numerous other benefits, including zero liability protection, purchase protection, and auto rental collision damage waiver. For a no-annual-fee card, the included perks are excellent.
When you want to redeem your rewards, Chase gives you the option of a statement credit or direct deposit, and rewards don't expire. You can also redeem for gift cards, purchases on Amazon.com, or travel in the Chase Ultimate Rewards® portal.
(Non-monetized. The information related to the Chase Freedom FlexSM Credit Card was collected by CardRates.com and has not been reviewed or provided by the issuer of this product. Product details may vary. Please see issuer website for current information. CardRates.com does not receive a commission for this product.)
Cards with Customizable Rewards Categories
Although a bonus category credit card can help you earn some of the best cash back rates available, it can be difficult to keep track of the ever-changing slate of categories. Plus, you are often required to manually opt-in every quarter, making it even tougher to keep up.
One alternative is customizable credit cards, which typically reward you with a high cash back rate on your top one or two spending categories. There are usually spending caps on the highest rate, but they usually reset every quarter or, in some cases, every billing cycle.
These are the best customizable credit cards to consider.
With the Bank of America® Customized Cash Rewards credit card, you earn its highest cash back rate in the category of your choice. Bank of America has also expanded the eligible categories for higher cash back rates, further increasing this card's usefulness.
Cash rewards don't expire for this card. If you decide you want to change your preferred cash back category, you may do so once every calendar month. The card includes various protections and features, such as fraud monitoring, $0 liability for unauthorized transactions, and account alerts.
The Citi Custom Cash® Card gives you an opportunity to earn cash back wherever you normally spend the most, so there's no need to track categories every quarter. You can redeem ThankYou® Points as a statement credit, direct deposit, or check. Additional redemption methods include gift cards, travel, and Shop with Points at Amazon.com.
This card comes with a few additional benefits as a part of World Elite Mastercard. These include $0 liability on unauthorized charges, Mastercard ID Theft Protection, and Citi's Fraud Early Warning. If your card is ever lost or stolen, Citi® Quick Lock lets you easily block new charges while allowing recurring charges to continue without interruption.
If you're a shop-a-holic, you may be missing out if you don't have the U.S. Bank Shopper Cash Rewards® Visa Signature® Card. That's especially true if you frequent certain stores, as this card lets you earn a high cash back rate at retailers of your choice. You can also earn elevated flat-rate cash back on all your purchases.
This Visa credit card does have an annual fee, but the fee is waived for the first year. And given the cash back rates it offers, the annual fee could be well worth it for the right customer.
How to Choose a Credit Card with Rotating Categories
To decide whether these cards are worth it, you must consider your ability to keep up with the categories and how well these cards align with your spending habits.
These cards often work well when paired with a flat-rate cash back card. Pay attention to fees, as the best credit cards of this type often have no annual fee.
Here are some additional considerations when choosing a credit card with rotating categories:
Reward rates: Check the reward rate available on rotating category purchases. A common rate is 5%, but this rate can be higher or lower.
Activation: You often have to manually activate your bonus categories every quarter. You should be willing to activate your categories for the best rate.
Regular reward rate: Check the reward rate you'll earn for non-bonus category spending. This is often 1%, but it can be higher in some cases.
Annual fee: See if the card has an annual fee. If it does, consider whether the rewards you can earn will offset the annual fee.
Intro APR: Some rotating category cards have a low balance transfer and/or purchase APR. In many cases, the intro APR is 0% for a certain period.
Credit score requirements: Credit card issuers don't often provide specific credit score requirements. However, if you have bad credit, you may be limited to a student credit card or a secured credit card.
Welcome offers: Some rotating category cards have welcome offers that give you cash back after spending a certain amount in a given time. These offers can give your rewards a nice boost.
Redemption flexibility: Each credit card has different options for redeeming cash back. While statement credits are common, some have options for direct deposit, online shopping with select merchants, or even reimbursement for past purchases.
Interest rates and other fees: Check the card's regular APR, as well as fees like late fees and returned payment fees. These can make some cards much costlier to use.
Alternatives to Rotating Category Credit Cards
These credit cards can be a great way to maximize your cash back, but they aren't the only credit cards in town. If you aren't a fan of keeping track of credit card categories and manually enrolling, there are some alternatives to consider.
For example, the Blue Cash Preferred® Card from American Express earns a bonus on groceries that can compete with rotating category cards. There is a yearly spending cap on grocery cash back, but you can earn the bonus all year long. However, there is an annual fee.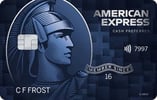 Another great pick is the Capital One SavorOne Cash Rewards Credit Card, which has high cash back rates in several categories, such as dining, groceries, and streaming services. Like the Blue Cash Preferred, this card has an annual fee.
If you're a frequent traveler, you may consider the Chase Sapphire Preferred® Card. It earns high cash back rates in a variety of categories and is packed with travel benefits.
What Are Rotating Categories on a Credit Card?
Rotating categories on a credit card are spending categories that earn elevated cash back rates for a limited time. Rotating categories usually include common expenses, such as gas, groceries, and utilities.
However, there are often exclusions to these categories. For example, one rotating category may be grocery stores but exclude stores like Walmart and Target, even though these stores both have many locations that have groceries.

While rotating category cards can earn high rates in their bonus categories, their regular cash back rates are often unimpressive. As a result, the best strategy may be to pair a credit card with rotating categories with a credit card that has high flat-rate cash back.
How Do Credit Cards with Rotating Categories Work?
If you want to earn as much cash back as possible, chances are, you will pick up a credit card with rotating categories somewhere along the line. This may be a cash back card or other rewards card. The credit card company will usually announce new categories once every three months where you can earn bonus rewards.
These categories usually change throughout the year (hence the name "rotating"). In addition, manual activation is often required. If you don't opt-in to the rotating categories, you'll instead earn the card's regular cash back rate, which is typically 1%.
In addition, there are often spending caps on the higher cash back rate. For example, you may be limited to $500 in purchases per billing cycle or $2,500 per quarter. Going beyond the spending cap will usually revert you to the card's regular cash back rate.
When the quarter ends, the category will usually change, and cardholders must again enroll or activate to get the higher cash back rate. While these cards can give you the highest cash back rates, you must pay closer attention and keep up with constantly changing categories.
How Do I Get 5% Back on Everything?
Chances are, you won't be able to get 5% back on every single purchase. For one, rotating categories usually change every quarter. Even if you are earning 5% cash back on every purchase one quarter, that may change the next quarter.
Also, as mentioned, 5% rotating categories usually have spending caps. Once you reach the spending cap, you will revert to a much lower rate — usually 1%. Another important thing to remember is that 5% categories usually only include the most common spending categories. 
That makes it easy to earn a significant amount of cash back, but it also means you're less likely to earn on some less-common purchases.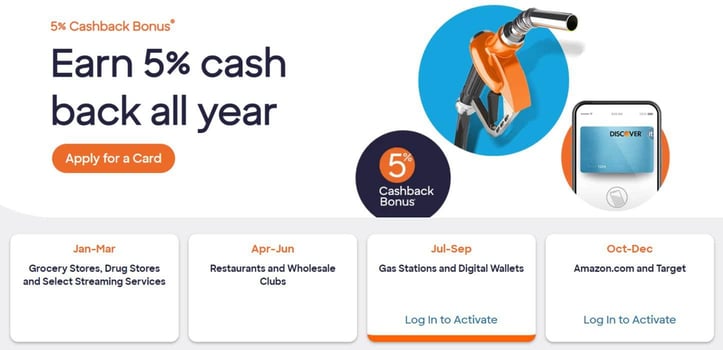 Finally, keep in mind that you'll only earn 5% cash back if the merchant is properly categorized. For example, if the current quarter includes groceries and you buy some items at a small bodega, it's possible that it won't count as a grocery store purchase.
Rotating cash back credit cards aren't the only cards that offer 5% cash back. Some credit cards offer unlimited cash back at this rate (or higher) on certain purchases. If you own a small business, a business card may have high cash back rates or rewards.
For example, a travel credit card may offer 5% cash back on hotels and rental car purchases. You may have to use the card issuer's portal to get the highest rate, but this is one way to potentially earn 5% cash back without rotating categories. However, a travel rewards credit card is usually best for those who travel frequently.
Lastly, some retailers offer 5% on their store credit cards. Popular examples include Target, Lowes, and Walmart's credit cards that provide 5% on eligible purchases made in-store or online.
What is Bonus Cash Back?
Bonus cash back is what you earn when you spend money in a bonus category that you have activated for the quarter. Rotating cash back credit cards typically have a standard cash back rate you earn on every purchase, such as 1%. When you spend in a bonus category, you'll earn a much higher bonus rate, often 5%.
Keep in mind that purchases aren't guaranteed to earn bonus cash back. If the merchant doesn't code as the expected category, you may earn the standard, lower cash back rate.
You can find out whether each purchase qualifies for the bonus by checking your online statement. You typically see some indication that the purchase earned the bonus rate under the itemized line for each purchase.
What is the 2/3/4 Rule for Credit Cards?
The 2/3/4 rule is specific to Bank of America Credit cards, like the Bank of America® Customized Cash Rewards credit card. Similar to Chase's 5/24 rule, this dictates how often you can be approved for a Bank of America credit card.
The rule is as follows:
Two new cards every 30 days
Three new cards every 12 months
Four new cards every 24 months
This makes Bank of America slightly more limiting than Chase, which may approve you for five cards every 24 months. However, this is just a rule of thumb. Actual approval odds will vary depending on your creditworthiness.
If you are having trouble getting approved, try raising your credit score with a prepaid card to build credit.
How Many Credit Cards Should I Have?
There is no definite answer to the question of how many credit cards you should have. Factors like your spending habits, budget, and desired card benefits will likely play a role. 
Having more than one credit card can help you maximize rewards and take advantage of different perks. These may include benefits for spending on everyday items or earning cash back. A travel credit card will often have travel-focused perks, like trip cancellation insurance and free checked bags.
Therefore, it's easy to imagine having and using two, three, or four cards regularly. However, the more credit cards you have, the more difficult it can be to keep track of balances and due dates.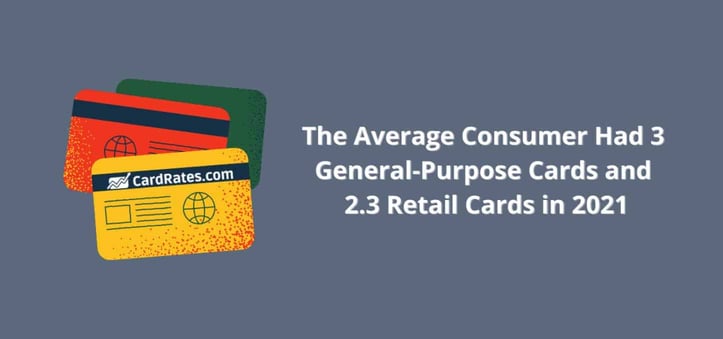 Applying for multiple credit cards in a short time can also lower your credit score, at least temporarily. Before applying for another credit card, ensure you can comfortably handle the card(s) you already have.
Also, consider that some credit cards have annual fees. If you have multiple credit cards, you could end up with more than one annual fee at a time.
Ultimately, there is no right or wrong answer to this question. The answer is the number of cards necessary to maximize their benefits while carefully managing payments and potential fees. This number will be different for everyone, which is why there is no definite number.
Are Rotating Category Cards Worth It?
Whether rotating category cards are worth it largely depends on the pricing and terms of the card, in addition to factors like your spending habits and budget. In many cases, these cards can be worth considering because they let you earn elevated cash back rates, often with no annual fee.
Another possible benefit of these cards is their varied rewards. Because they change throughout the year, you may be able to capitalize on spending in a variety of categories. This may allow you to save a significant amount of money throughout the year.
On the other hand, rotating category cards require you to keep track of categories that are always changing. You often have to activate every quarter to take advantage of the higher cash back rate.
Also, consider that rotating category cards can be unpredictable, and there is a possibility that one quarter's categories may not align well with your spending.
Your New Card Should Align with Your Spending
When choosing a credit card, there is always much to consider. That is no different when choosing a credit card with rotating categories. The best rewards credit card should align with your spending habits and provide the maximum value for its benefits.
In addition, remember to pay your bill in full every month if possible to avoid excessive interest charges.
Advertiser Disclosure
CardRates.com is a free online resource that offers valuable content and comparison services to users. To keep this resource 100% free, we receive compensation for referrals for many of the offers listed on the site. Along with key review factors, this compensation may impact how and where products appear across CardRates.com (including, for example, the order in which they appear). CardRates.com does not include the entire universe of available offers. Editorial opinions expressed on the site are strictly our own and are not provided, endorsed, or approved by advertisers.