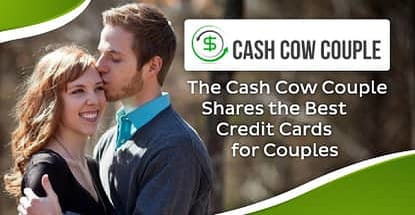 In a Nutshell: Not many 20-somethings can say they financed their entire honeymoon on credit card rewards. Jacob and Vanessa did just that, and created their Cash Cow Couple blog as a way to track their financial progress shortly before they were married. Today, they teach 70,000 readers how using credit cards wisely can result in rewards such as free hotel stays and high cash back returns, in addition to a wide range of financial tips, tricks, and reviews. When it comes to credit as a couple, Jacob suggests selecting the right type of account for your relationship and using multiple cards to earn greater returns. Keep reading as Cash Cow Couple shares the best credit cards for couples.
Credit card rewards can take many forms, from cash back to gift cards to plane tickets. Savvy and responsible credit card use can even land you an entire vacation financed by rewards.

While many couples have to save for months or years before they're able to get away together, the Cash Cow Couple has been able to take several vacations on credit card rewards alone. The couple's credit card points even covered their honeymoon in Aruba and a two-week excursion in Thailand.
Jacob and Vanessa started their blog, Cash Cow Couple, right before they got married to track their financial progress and inspire other couples to take control of their financial future using the credit card and other finance hacks detailed on the blog. We recently spoke with Jacob about how he and his wife make the most of their credit card rewards, and how other couples can do the same.
Communication & Trust Come First When Sharing Finances
First and foremost, Jacob believes couples have to be on the same page financially before they can work toward financial goals together, such as maximizing credit card rewards.
"We made the decision when we got married that we were going to handle all our finances, including credit cards, together," says Jacob. "And it has actually been a great part of our marriage."
When committing to share your finances, or just your credit card accounts, with your partner, he cautions that you need to have a certain level of transparency to ensure you share a similar mindset and intent. If one side of the relationship spends more than the other, then your finances can veer off track.
Jacob and Vanessa stay on track by maintaining a list in Google Docs, a free cloud service for Gmail users, to remind themselves which of their cards to use for certain purchases. "You can access it on any device, so you can check it while you're out," Jacob explains.
Even if you only use one card between you and your significant other, you still have to agree on what and how to use it and who's responsible for paying the bill. Since Jacob and Vanessa's finances are joint, they prefer to use the auto-pay feature most issuers offer that drafts payments automatically from a bank account. This convenient feature helps to ensure payments are always made on time and for the right amount.
Jacob's Top 5 Credit Cards for Couples
"The credit card industry is so competitive right now, I think that it's usually wise to seek out those cards that are going to offer you a benefit for the hard inquiry on your credit," says Jacob, adding that he typically looks for a large signing bonus.
It's also important to consider the kind of spending you'll be doing. For example, Jacob and Vanessa run their blog together, so they qualified for a business card that provides 5% rewards when they use it at office supply stores and on utilities, among other benefits. They also use several cards with different rotating 5% categories as well as a credit card that earns them a consistent 5% cash back on groceries.
Jacob suggests couples strategize using multiple cards at a time to make the most of the rewards each card offers. The five cards listed below, he says, work well together to earn rewards on different categories of spending throughout the year:
As for business cards for couples, the fifth option Jacob suggests is the American Express SimplyCash Plus Business card.
"It's important to find complementary cards that each have their place in your wallet," says Jacob.
Determine the Right Type of Account for Your Relationship
There are three ways you can approach your finances as a couple:
Using a joint account
Adding your partner as an authorized user
Single account holder credit card
Each of these options comes with advantages and disadvantages, so you'll need to determine what matters most to you.
Using Joint Accounts to Share Responsibility
These types of accounts are rarer among credit card companies today, although some banks still allow you to apply with your significant other for a joint account. In fact, that is one of the ways to know if you truly have a joint credit card account — if you both had to apply together.
With a joint account, both parties are held responsible for activity on the card and receive equal reporting to the bureaus, which can be positive and negative. On the plus side, you and your partner have equal access to request account details and share the boost in credit score from responsible card use. However, if either of you forgets to pay the bill, you'll both be penalized.
Adding an Authorized User to Your Card
You can add anyone as an authorized user to your credit card, including a spouse, roommate, business partner, or child. Unlike a joint account, however, only the primary cardholder is responsible for repayment of the charges.
If the primary user has a higher credit score, an authorized user may see a positive change in his or her credit score. Additionally, credit bureaus are less likely to report negative activity, such as the primary cardholder overcharging the card or missing a payment.
Making your husband or wife an authorized user on your credit card provides the same reward as joint card ownership with less risk, albeit with less access to account details. However, Jacob points out that this approach can help you earn more rewards because each person in the relationship can sign up for separate cards and add the other as an authorized user.
Applying Individually for a Single-User Card
Jacob says that sometimes he and Vanessa sign up individually for a credit card without ever adding the other as an authorized user. Depending on what the card has to offer, and whether or not you'll use it long-term, it might not be worth the hassle of adding your significant other and waiting for a card to come in the mail for him or her.
Learn Finance Hacks on the Cash Cow Couple Blog
In the few years since they've been married, the Cash Cow Couple has documented their financial journey and the lessons they've learned by merging their finances and setting goals.
The two often write about lifehacks for saving more money, such as cutting your phone bill with WiFi-based cell service and how to best shop for car insurance. Jacob and Vanessa's Cash Cow Couple blog now inspires more than 70,000 readers.
Their blog offers an in-depth travel rewards guide for racking up enough points to travel internationally, stay at top-rated resorts, and enjoy the luxury of flying first class. They also started another blog, Tightwad Travelers, solely dedicated to earning vacation rewards. "I didn't get to travel much growing up," Jacob tells us. "And credit card rewards have been a great way for us to travel together."
Grow Your Credit, Your Relationship, & Your Rewards
Instead of dropping spare change into a travel fund jar, you can strategically plan around credit card offerings to make the most of today's competitive rewards market. The Cash Cow Couple uses multiple cards to earn more rewards, and the two actively work to stay on the same page about spending.
"It pays off," Jacob says about striving toward financial goals with his wife. They have already taken two trips completely on credit card rewards, and he tells us they're planning another.
With a little research and active communication with your partner, you may find that rewards can translate into a free vacation, or several.
Advertiser Disclosure
CardRates.com is a free online resource that offers valuable content and comparison services to users. To keep this resource 100% free, we receive compensation for referrals for many of the offers listed on the site. Along with key review factors, this compensation may impact how and where products appear across CardRates.com (including, for example, the order in which they appear). CardRates.com does not include the entire universe of available offers. Editorial opinions expressed on the site are strictly our own and are not provided, endorsed, or approved by advertisers.