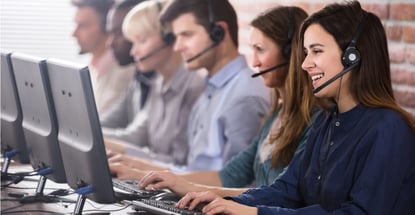 As a society, many of us have become more accustomed to texting, direct messaging, and emailing, and less comfortable calling someone on the phone. Yet while electronic communication is often fine and fast, talking to a live person is the preferred option when dealing with many common credit card issues.
Here are 17 times you would be wise to dial the credit card issuer's toll-free customer service number, punch through the series of recorded prompts, and have a chat with a representative.
1. Report Fraud
When you suspect or know that your credit card has been compromised, immediately get on the phone to warn the credit card issuer. Most issuers have a specific number cardholders can use to report fraud, which may be found on the back of your credit card, but it's also on the company website.
If you're working with a smaller bank or credit union and it doesn't have a dedicated number to report fraudulent activity, call the customer service number and explain what has happened. As soon as you do, the representative will likely suspend your account and send you a replacement card in the mail.
With early intervention, you can stop a thief from getting away with a crime, but if it's too late for that, your call will trigger a fraud investigation, and the unauthorized charges will be removed.
2. Request a Chargeback
If you used your credit card to make a purchase but something went very wrong, either with the item or service, you may want your money back. You can usually gain resolution with the seller, but sometimes you may hit a brick wall.
If you've made every effort and the merchant refuses to work with you to solve a legitimate problem, call your credit card company to request a chargeback. You typically have 60 days from the date of the transaction for the charge to be reversed.
3.  Have a Fee Waived
Not all credit cards come with annual fees, but many do. Of those that charge them, some delay adding it to your account until a year has passed, and after that, it will be added to your account every 12 months.
If the fee is low (typically under $100) and your account is in good standing, the issuer may agree to give you another year's reprieve. They certainly don't have to say yes to your request, but there's no harm in trying.
The same goes for the rare late or over-limit fee. You don't have to come up with a dramatic or compelling reason. Just ask.
4. See If a Lower Interest Rate Is Available
You may have started the account with a high interest rate because your credit rating wasn't so hot at the time. But you have now proven yourself to be a responsible cardholder. In that case, you may be eligible for a lower interest rate.

If the issuer hasn't received the memo yet, get on the phone and state your case. All credit card issuers offer a range of APRs on their products, and you may qualify for a better rate. Securing the lowest possible APR will be especially important if you plan on financing something expensive and pay in monthly installments.
5. Discuss a Statement Discrepancy
You reviewed your credit card statement, but something doesn't look right. For example, you see a charge from a store you don't remember being in or the new balance doesn't reflect the most current payment you're certain you sent.
The easiest way to resolve such discrepancies is to discuss the matter with a representative who can pull up the activity and explain what's going on.
6. Arrange a Hardship Plan
Most people experience financial difficulties at some point in their lives. It may be the result of a sudden job loss or a big expense that couldn't be avoided, such as for an illness that resulted in an enormous medical bill.
If you're carrying a credit card balance but can't meet the minimum payments because of extraordinary circumstances, call your credit issuer and explain that you would like to arrange a hardship plan. You may be able to suspend payment or pay less than the minimum for a fixed number of months.
The issuer may even forgive interest fees and not mark your account as delinquent on your credit report during that time.
7. Convert a Secured Card into an Unsecured Card
If you opened a secured credit card because you were new to credit and had no credit history or your scores were low, you may be eligible for an unsecured card now.
Some credit card issuers automatically convert secured cards into unsecured cards, but others require a request from the cardholder. Contact your credit card issuer after six months to a year of consistent and positive payment history and account management.
If the issuer agrees to change it, you'll get your security deposit back and can keep using your card as usual, or you may be sent a new unsecured card in the mail.
8. Your Credit Card is Lost
If you've looked everywhere and your card is not in any of the normal places, don't delay calling your issuer. You don't want your card to fall into nefarious hands.
This isn't exactly a call to report fraud, but to have the account suspended until it turns up in a more thorough search. If it isn't found, you'll want the missing card deactivated and a new card reissued.
9. Request a Higher Credit Limit
You may want a higher credit limit than you currently have for several reasons. It could help in an emergency where you need to purchase something crucial but don't have the cash, or simply because you want more flexibility in paying for things and can handle the resulting payments.
Whatever the case, call your credit card issuer and speak with a representative. If you qualify for a larger limit, odds are you can have it increased within minutes.
10. Add or Remove an Authorized User
Although you may add an authorized user via the issuer's website, you can also do it over the phone. Calling is the preferred method because it gives you the chance to ask the representative about available features, such as setting a lower spending limit for the authorized user, which can protect your account from excessive use.
And if you want to remove the user from your account — for any reason — almost all credit card issuers require that you do it over the phone.
11. You Have Questions About Your Rewards or Perks
Some rewards cards have programs that are easy to understand, such as flat-rate rewards. For example, every dollar you spend with the card may earn you 1.5% cash back.
Other programs are more complicated because they're tiered, meaning you'll accumulate more cash, points, or miles for certain purchases. Reviewing the program with a representative can help you understand how to maximize your rewards.
It's also a way to learn more about the benefits that are associated with the account, such as extended warranties and insurance products.
12. Your Transaction Was Declined
Having your credit card declined while at the register is not just embarrassing, it's scary. Something is amiss, but what? You won't know until you call, so step away and punch in those numbers.
Maybe you have an authorized user who has spent too much that month and didn't inform you, and now you don't have the available credit to cover your own transactions. Whatever the case, you'll find out soon enough by having a conversation with a representative.
13. Warn of an Upcoming Late Payment
Uh-oh, something went wrong, and you are unable to pay on time this month! Call the issuer and let the representative know what's happening.
By informing your card issuers in advance that your payment will be delinquent, you have greater leverage in requesting that they do not charge you a late fee. It's always a good idea to keep those you owe in the know when you cannot meet the terms of the agreement.
14. You're Leaving the Country
If you're heading out of the country, take a few minutes away from packing and call your credit card issuers. You'll want to give them a rundown of your travel plans to avoid your account being flagged for fraud because charges are being made in a foreign country.
You can also set a travel notice online, but there's no harm in contacting your credit card issuers over the phone and letting them know where you will be and for how long in each destination.
Other card issuers, like Chase, don't require cardholders to set travel notifications.
15. You Plan to Make Higher-than-Normal Charges
If you're about to spend a lot more than usual, you may want to notify your credit card issuer that you'll be using the card in a way that you haven't in the past.
For example, perhaps you typically only use a particular credit card for a small utility bill, which you pay off in full every month. If you've been doing that for years and were to suddenly start charging up to the limit and at different places, it could trigger a fraud alert. So, before that happens, give them a call, and let them know that all is well.
16. You're Ready to Close Your Account
You may eventually be ready to close your credit card account. There are various reasons for doing this, including eliminating an annual fee, wanting to reduce the amount of time you spend on credit card management, or maybe you simply no longer want to do business with them.
As long as the balance is paid off, it is your prerogative to cancel the card. Call the customer service number and inform them that you'd like to close your account. If you need to make a final payment to zero it out, you can do so at that time.
17. Verify a Potential Scam
You received a warning from your credit card issuer — something is amiss, and your account is about to be suspended. Or maybe they need to update your personal and financial information. Perhaps you're being offered a great new deal that's time-sensitive, and you need to get back to them as soon as possible.
There's a possibility that you're being phished. The person communicating with you is trying to scam you out of money or expose your personal data, opening you up to identity theft.
Don't just ignore and delete the warning. Call your credit card issuer to explain exactly what happened. Not only do they track scams, but the representative will let you know whether the message was legitimate. Maybe you really did win a new iPad (probably not, though).
Don't Be Afraid to Pick Up the Phone
As you can see, there are a whole host of reasons to pick up your phone and call your credit card issuer. Don't be reticent! They want to make sure that everything is as it should be as much as you do.
Advertiser Disclosure
CardRates.com is a free online resource that offers valuable content and comparison services to users. To keep this resource 100% free, we receive compensation for referrals for many of the offers listed on the site. Along with key review factors, this compensation may impact how and where products appear across CardRates.com (including, for example, the order in which they appear). CardRates.com does not include the entire universe of available offers. Editorial opinions expressed on the site are strictly our own and are not provided, endorsed, or approved by advertisers.