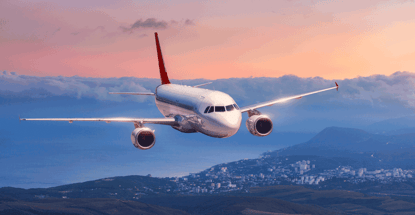 How can there be so many best airline credit cards? It reminds me of Oprah  — "You get a card, and you get a card… ." 
This embarrassment of riches is due, in part, to America's love of travel, especially post-COVID. The credit card companies tap into our wanderlust by issuing terrific products that make travel easier, more comfortable, and cheaper.
Airline credit cards are the kings of the travel segment. They may reward you with free flights, free insurance, free baggage check, free lounge access, and other freebies that soothe the soul and the wallet.
Annual fees are the price for all this freedom. You can pay well over $500 a year for some travel cards. But you can also find airline cards with no annual fees. Generally, the more you pay, the more you get, but even cards with no annual fees let you earn points or miles to pay for your next airline ticket.
Best Overall Airline Credit Card
The overall winner in the airline card sweepstakes isn't, strictly speaking, an airline card. The Chase Sapphire Preferred® Card is the best airline credit card and so much more, a great travel and shopping rewards card available for less than $100 a year. You earn Chase Ultimate Reward points on your travel purchases that go 25% further when you redeem them through Chase Travel.
If you prefer, you can transfer your points to participating travel programs at a 1:1 value. You have the flexibility to redeem your points for flights on any carrier or to transfer them. 
The reasons for the popularity of the Chase Sapphire Preferred® Card are apparent when you add in its free insurance, anniversary credits, generous signup bonus, and moderate annual fee.
Best Airline Cards With Flexible Redemptions
These cards give you multiple ways to redeem your airline miles. They're a great choice if you want flexibility when deciding how to apply your card membership rewards.
The Capital One Venture Rewards Credit Card is the best airline credit card for flexible redemptions. It lets you book a trip with reward miles through Capital One Travel. Alternatively, you can use miles to get reimbursed for past travel purchases made elsewhere.
In addition, you can transfer your miles to your choice of 15+ travel loyalty programs for more flexibility. You can also pay for Amazon.com purchases with your Capital One rewards or redeem them through PayPal for eligible purchases at millions of online stores.
You can redeem your Discover it® Miles rewards to reimburse travel purchases you already made with the card. Eligible purchases include airline tickets, hotel rooms, car rentals, travel agents, online travel sites, commuter transportation, restaurants, and gas stations.
If you prefer, you can convert your miles to an electronic cash deposit to your bank account, and your miles never expire.
The mileage redemption options for the Capital One VentureOne Rewards for Good Credit match those of the issuer's Venture card. But you must redeem your miles for a statement credit within 90 days, not 180, from the date your travel purchase posts to your account.
You can use your rewards to get tickets to thousands of events through Capital One Entertainment. Other ways to redeem miles include converting them to cash (as a check or account credit) and gift cards. 
Best Airline Cards With No Annual Fee
There's a special place in heaven for airline credit cards that don't charge an annual fee. You won't face interest charges if you pay your entire bill each month, making the rewards card completely free. You can milk these cards for free airline tickets and other travel perks without making the slightest dent in your monthly budget.
As with all the credit cards from this issuer, you never pay an annual or foreign transaction fee with the Discover it® Miles card. You earn unlimited miles on all eligible purchases and a Miles-for-Miles Match at the end of the first year. 
It's easy to redeem your miles for cash, and your miles never expire. You can also use your miles to pay for travel, Amazon.com, and PayPal purchases.
The Chase Freedom Flex℠ welcomes new cardmembers with compelling introductory offers and freedom from annual fees. The card pays high bonus points on travel purchased through Chase Ultimate Rewards. Perks include free travel and emergency assistance services, trip cancellation and interruption insurance, and secondary collision damage waiver on auto rentals.
You also can redeem your points for airline tickets, hotel stays, and rental cars, among other travel expenses. Alternatively, you can transform points into cash, buy gift cards (including some at a discount), or pay for purchases at Amazon.com and the Apple Ultimate Rewards Store.
Cardmembers can use the Bank of America® Travel Rewards credit card to accumulate points to pay for airline flights and other travel expenses from the previous 12 months. You're not limited to specific websites with blackout dates or restrictions.
In addition, you can redeem your points for cash and gift cards. The card doesn't charge annual or foreign transaction fees. 
Best Premium Airline Cards With Lounge Access
Lounge access is a premium perk found on premium travel cards. You'll pay an annual fee for these cards, but the value of the perks offered far outweigh the costs if you take advantage of them.
Our favorite luxury card, Chase Sapphire Reserve®, is your passport to the bank's new lounge network, Chase Sapphire Lounge by The Club. The first five locations are New York, Boston, San Diego, Phoenix, and Hong Kong, with more in the works. The card also provides complimentary access to more than 1,300 Priority Pass lounge locations worldwide. Each Sapphire Reserve cardholder can bring two guests for free.
Chase Sapphire Reserve® offers a high bonus point rate when you purchase travel through Chase Ultimate Rewards. Your points are worth 50% more through Chase Travel. The card provides extensive travel protections and credits, including primary rental car coverage.
Capital One is so committed to airport lounges that it is constructing several of its own. The Capital One Venture X Rewards Credit Card gives you and two guests complimentary access to any Capital One Lounge (currently in Denver, Dallas-Fort Worth, and Washington D.C.). Additional guests pay per visit. Capital One Lounges provide relaxation rooms, chef-inspired food, and high-speed internet. 
As a Visa Infinite card, it also gives you a Priority Pass card membership and unlimited access to more than 1,300 lounge locations. Drinks and snacks are free at most Priority Pass lounges. 
The Platinum Card® from American Express provides complimentary access to more than 1,400 members of the Amex Global Lounge Collection, located in 140 countries. Members include Delta Sky Club, Lufthansa, and American Express Centurion lounges. 
Centurion Lounges allow you to bring two complimentary guests, but other lounges may charge a fee for guests who aren't Platinum Card holders. The card pays generous rewards when you book flights with Amex Travel or directly with the airlines. It provides several annual credits, including one for airline fees. 
Best Airline Cards For American Airlines Flights
American Airlines is one of the top US carriers, along with Delta and United, and it has the most extensive fleet of aircraft. Headquartered in Dallas-Fort Worth, it operates out of 10 hubs around the country. 
The following two cards will enhance your American Airlines experience.
The no-annual-fee American Airlines AAdvantage MileUp℠ Card offers a modest signup promotion and ongoing rewards for eligible purchases. You earn loyalty points and miles for flying on American Airlines or any of its several global partner airlines. In addition, the card saves you money on inflight purchases.
There is no mileage cap on your rewards, and you can add authorized users to help you accumulate miles faster. These are the same AAdvantage miles that American Airlines issues – you can't use them on Delta or United.
If you'd like free access to the Admirals Club, the Citi® / AAdvantage® Executive World Elite Mastercard® is your ticket. The card offers you and two traveling guests complimentary access to more than 50 lounges worldwide. This premium credit card packs a steep annual fee but gives you many money-saving perks, such as free checked bags for you and up to eight others.
This Citi card pays a handsome signup bonus, priority check-in, airport screening (where available), and early boarding when you fly on American Airlines. You receive reimbursement for Global Entry or TSA PreCheck charges and never have to pay a foreign transaction fee.
Best Airline Cards For JetBlue Flights
JetBlue has become America's highest-rated airline thanks to its extensive features, including onboard snacks, generous coach seating, and in-flight entertainment. Consumers and business people can own a JetBlue credit card to more quickly accumulate TrueBlue points and miles.
The JetBlue Card starts you off with bonus miles when you spend the required amount on purchases within the first three months. It also offers a special balance transfer rate for new cardmembers. There are no annual fees, foreign transaction fees, or blackout dates.
The card pays a moderately high reward rate on eligible JetBlue purchases and saves money on inflight food and drink. You can redeem your miles for any JetBlue seat anytime, and the miles pile up faster through the card's Point Pooling program.
The JetBlue Business Card offers a high reward rate on eligible JetBlue purchases and a generous signup bonus that pays the first year's annual fee. You save money on inflight purchases through annual credit and bonus point awards. You also get your first bag checked for free.
The card, from Barclays Bank, offers TrueBlue points good for any seat, any time, on JetBlue-operated flights. You can pool your points, which never expire, and add employee cards at no extra cost. The card doesn't charge a foreign transaction fee. It is different from the similarly named JetBlue Plus Card.
Best Airline Cards For Delta Flights
Delta Airlines is the nation's third-ranked airline (after Southwest and JetBlue) for passenger satisfaction. This venerable airline (founded in 1925) has headquarters in Atlanta, GA, and serves more than 300 destinations in 52 countries. It has nine domestic hubs that help keep it competitive.
The following three Delta credit cards from American Express differ by annual fee and offer SkyMiles rewards on eligible purchases.
The Delta SkyMiles® Reserve American Express Card is the best credit card in this trio and charges the highest annual fee. That fee buys you a large signup bonus, a ton of Medallion Qualification Miles, an annual companion certificate, and a high rewards rate.
You can check your first bag for free and receive reimbursement for your TSA PreCheck or Global Entry fees. The card comes in your choice of metal or 70% reclaimed plastic. You receive two Delta Sky Club one-time guest passes each year so you can share the experience with family and friends when you're traveling together. You also get complimentary access to the Centurion Lounge network.
The Delta SkyMiles® Platinum American Express Card has an intermediate annual fee and reward structure. It offers many of the same perks as its Reserve sibling for less money, including a signup bonus, a moderately high rewards rate on Delta purchases, a free checked bag, a companion trip certificate, and a statement credit.
You get priority boarding on Delta flights and discounted access to SkyClub locations for you and two companions. You also receive reimbursement for TSA PreCheck and Global Entry fees.
If you love Delta but hate annual fees, the Delta SkyMiles® Blue American Express Card may be perfect for you. It offers a modest signup bonus and rewards rate on Delta purchases. The card saves you money with flight credits and waives foreign transaction fees. 
The Blue Delta Card gives you complimentary car rental loss and damage insurance. You can access the Global Assist Hotline when you need to coordinate services or receive emergency assistance. The card also provides purchase protection and extended warranty coverage.
Best Business Airline Cards
Businesspeople are often frequent flyers. To soothe travel pains, these three credit cards offer perks that save their company money while adding to a traveler's satisfaction and convenience.
The Southwest® Rapid Rewards® Performance Business Credit Card has impressive travel perks and a moderately high annual fee, making it the best credit card for business travelers. You get a nice signup bonus and a high Rapid Reward rate on eligible Southwest Airlines purchases. You also receive upgraded boarding and reimbursement for TSA PreCheck or Global Entry fees. 
Your points can help qualify you for Southwest Airlines A-list status. You also earn a yearly fee credit for Rapid Reward point transfers and access to inflight wifi. You don't have to pay for employee cards or foreign transactions, and there are no change fees, baggage fees, or limits on reward seats. 
Get the United℠ Business Card if you frequently fly United Airlines for business and your company is about to go on a spending spree. New cardmembers get an excellent signup bonus by hitting the three- and six-month spending targets. This Chase co-branded card charges a moderate annual fee, but the reward rate for United Airlines purchases is mediocre.
With this card, you don't have to pay for your first checked bag or to add employee cardmembers. You also get two United Club one-time passes per year.
The Southwest® Rapid Rewards® Premier Business Credit Card offers a nice signup bonus and rewards rate but charges a moderate annual fee. There's no charge for foreign transactions or returned checks.
Cardmembers earn tier qualifying points toward A-List status for a set amount of spending. You get two EarlyBird check-ins yearly, cash back on inflight purchases, and an annual fee credit for point transfers.
Best Airline Cards For Limited Credit
You don't have to miss out on all the action just because you have limited credit. Here are two cards that will let you establish and build your credit while enjoying valuable perks.
The Capital One QuicksilverOne Cash Rewards Credit Card is a cash back card that pays a flat reward on all eligible purchases. Capital One designed the card for consumers with fair or limited credit.
You can use your cash back rewards for any purpose, including to purchase airline tickets. The card has no foreign transaction fees and allows you to redeem your rewards at Capital One Travel to get the best prices on thousands of trip options.
The Bank of America® Travel Rewards credit card for Students pays unlimited points you can redeem to pay for airline flights and other travel costs. Bank of America issues the cards to students. 
You can apply the card's signup bonus and flat rewards toward travel and dining purchases, including flights, baggage fees, and vacation packages. The card helps you build credit and provides monthly FICO score updates for free.
What Is an Airline Credit Card?
An airline credit card rewards you with points or miles you can use toward travel expenses, including flights. This type of card frequently pays a signup bonus and a high rewards rate on travel-related purchases. 
If the card is co-branded, the rewards only apply to that airline's flights (and those of its travel partners). But if the card is not co-branded, you can use your rewards to buy tickets on any airline.
The reward schemes vary from card to card. For example, one card may give you three miles or points for every dollar you spend. When you accumulate enough rewards, you can redeem them for a free flight — or rental car, hotel accommodations, and other benefits, depending on the card.
For co-branded cards, the airline, rather than the credit card company, determines how many miles you'll need for a free flight. If you're short of the required miles, you can make up the difference with a cash payment. You can also use your miles for a seat upgrade and priority boarding.
Some general travel cards give your points extra value when you redeem them through the issuer's travel agency. For example, the Chase Sapphire cards inflate the value of your Chase Ultimate Rewards when redeemed through Chase Travel. 
What Credit Score Do I Need For an Airline Credit Card?
Almost all airline cards require applicants to have good to excellent credit. In the FICO scoring system, this means a score of 670 or higher.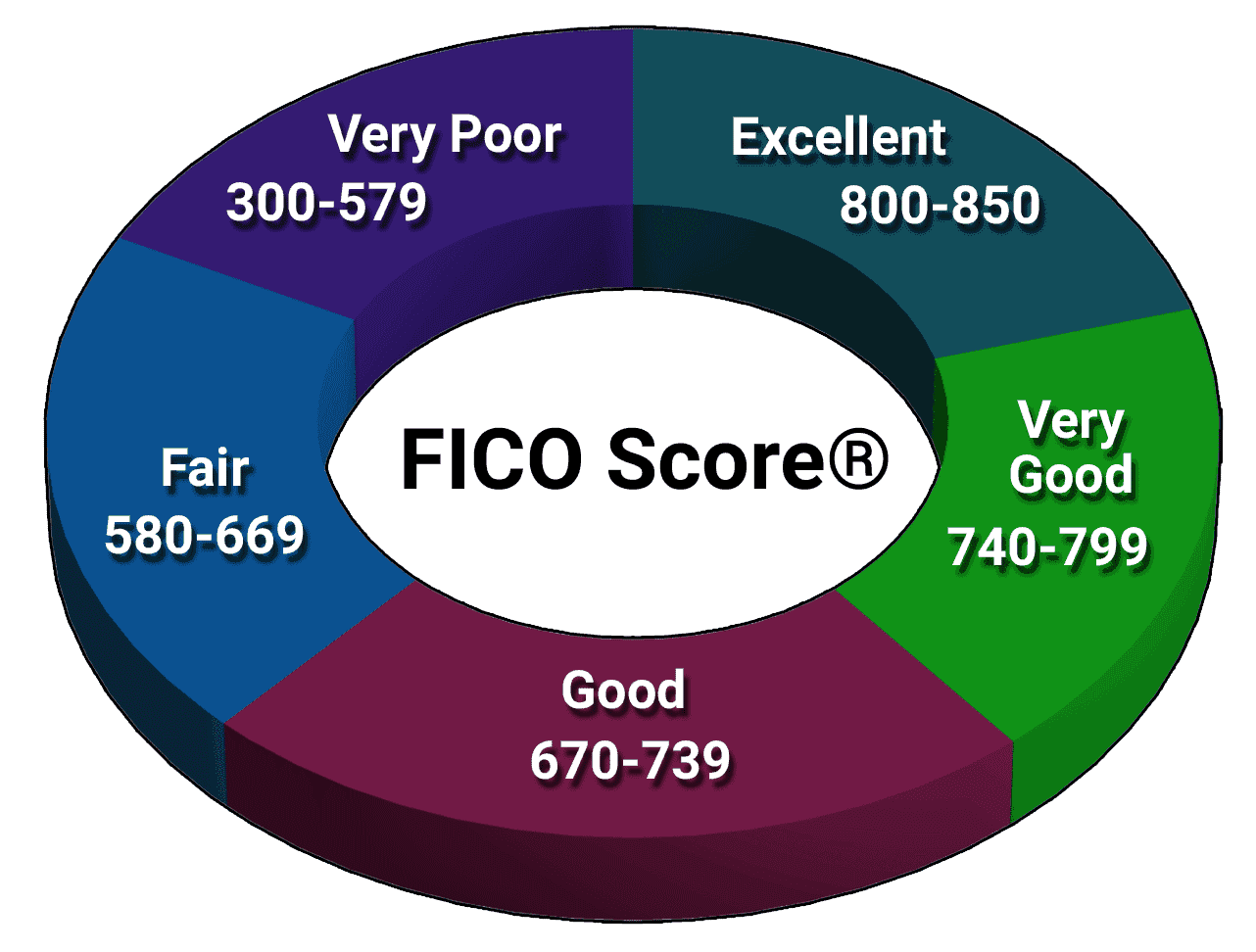 Issuers don't necessarily carve score requirements in stone. Some airline cards may insist on higher scores, while others take a less strict stance. Other factors may affect your approval odds, including your recent credit history, income, and debts. 
You can increase your approval chances by recruiting a cosigner. But many credit card companies no longer accept cosigned applications. Bank of America is one of the few remaining holdouts that welcomes cosigners.
A card issuer must provide you with an Adverse Action Notice (AAN) if it declines your application. The notice explains why your application was rejected and discloses the information sources on which the credit card company relied. 
Typical reasons for rejection include the card issuer's inability to confirm your identity, low credit scores, insufficient income, and a troubling credit report. You can help your prospects by treating an AAN as a valuable resource, indicating what you must fix before reapplying.
You can raise your credit score by practicing creditworthy habits. The two most important habits are to pay your bills on time and reduce your credit card debt. You should also review your three credit reports (from Experian, Equifax, and TransUnion) for any mistakes damaging your score.
You can dispute report errors directly or with the assistance of a credit repair company. You should see scores improve quickly when a credit bureau removes inaccurate negative information.
What Is the Difference Between Miles and Points?
Airline credit cards offer two types of rewards:
Points: General credit cards provide point rewards that you can use on any airline. These cards generally offer more ways to redeem your points besides purchasing airline tickets. While some general airline cards label their rewards as miles, they are really points that you can use for various types of travel.
Miles: Co-branded airline cards issue frequent flyer miles for the carrier's loyalty program. These miles are far less flexible since you can only apply them to the co-branded airline and its partners. 
Credit card issuers set point reward rates and values. For example, the issuer may offer 2X or 5X points per dollar, with each point worth one cent. As mentioned, some issuers increase the value of your points when you redeem them through their travel departments.
The number of points you need for an airline ticket depends on the ticket's cost.
Many general airline cards let you transfer your points to a partner loyalty program, often on a 1:1 basis. These points convert to the recipient's frequent flyer miles, which means their value may change for better or worse.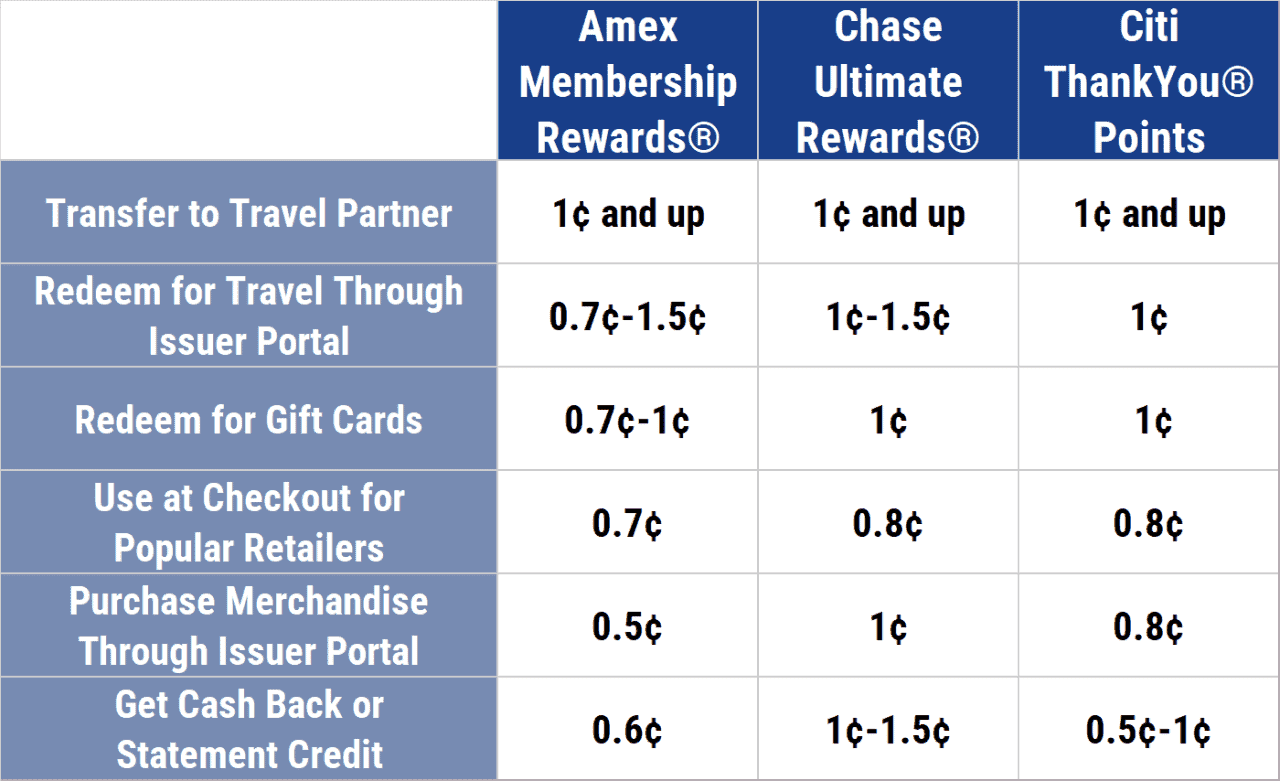 The story for co-branded cards is quite different. The miles you earn are added directly to your frequent flyer account with the co-branded airline. Therefore, their value depends on the terms of the airline's loyalty program.
Is it Better to Apply For an Airline Credit Card On a Flight?
You are a captive audience when flying. It's an excellent opportunity for the airline to hawk a co-branded credit card, sometimes on better terms than you'd get on the ground. You may be more willing to apply for the card if you enjoy your travel experience.
The onboard pitch may emphasize the massive number of bonus miles you'll earn by signing up for the card. The carrier may extend special terms, such as a larger bonus or a waived first-year annual fee. But there's no guarantee you'll get a better deal, and you may be on the losing end of inferior terms.
It's always best to spend some time performing due diligence before applying for any credit card. That's hard to do at 50,000 feet, especially if you haven't paid the wifi fee. Ideally, the airline will allow you to take the application with you for later submission without sacrificing any special terms, but make sure you get an offer code ensuring you don't miss out. 
On the plus side, getting the card inflight assures you'll receive frequent flyer miles for your flight that you may otherwise lose. But you also may hurt your credit due to a hard inquiry and a possible increase in your credit utilization ratio (CUR).

The FICO system may reduce your score by a few points whenever a creditor performs a hard credit inquiry in response to your application for a new account. The pull remains on your credit report for two years but only impacts your score for the first year.
You can also lose credit score points when your CUR (i.e., credit used divided by total credit available) exceeds 30%, though the best credit scores have CURs below 10%. This can occur if you spend a substantial portion of your new card's credit line. 
But a new credit card could reduce your CUR by increasing your available credit, and you don't go on a spending spree.
If you have access to in-flight wifi, you'll benefit by checking CardRates.com for an objective review. You'll quickly see how good the deal is and whether it's worth pursuing. We suggest you apply only for cards you actually want, especially if the card charges a sizeable annual fee. 
Finally, ask yourself whether you want a credit card tied to a specific airline. It may not make sense if you fly multiple airlines — you may do better with a general-purpose airline card that doesn't lock you into one carrier. 
How Many Miles Do You Need For a Free Flight?
The answer depends on whether you use general credit card points or a specific airline's frequent flyer miles.
Points have a dollar value, sometimes enhanced when used for purchases through the issuer's travel department (e.g., Chase Travel, Capital One Travel, etc.). The number of points you need hinges on the price of the ticket. 
For example, a $500 fare may require you to cash in 50,000 points to cover the cost. If a point's average cost is $0.50 (i.e., an average of 2X points per dollar), you'd have to spend $25,000 on eligible purchases to get your free ticket.
Carriers decide the number of frequent flyer miles you'll need for a free flight (or seat upgrade), and those requirements can change anytime. 
For example, Airline X may require 30,000 miles for a $500 coach-class seat on a flight from New York to Los Angeles. At an average 2X miles per dollar reward rate, your spending requirement would be $15,000. Airline Y may require a different number of miles (and a different spending requirement) for a similar flight. 
ValuePenguin put together a chart on how many miles each major airline generally requires: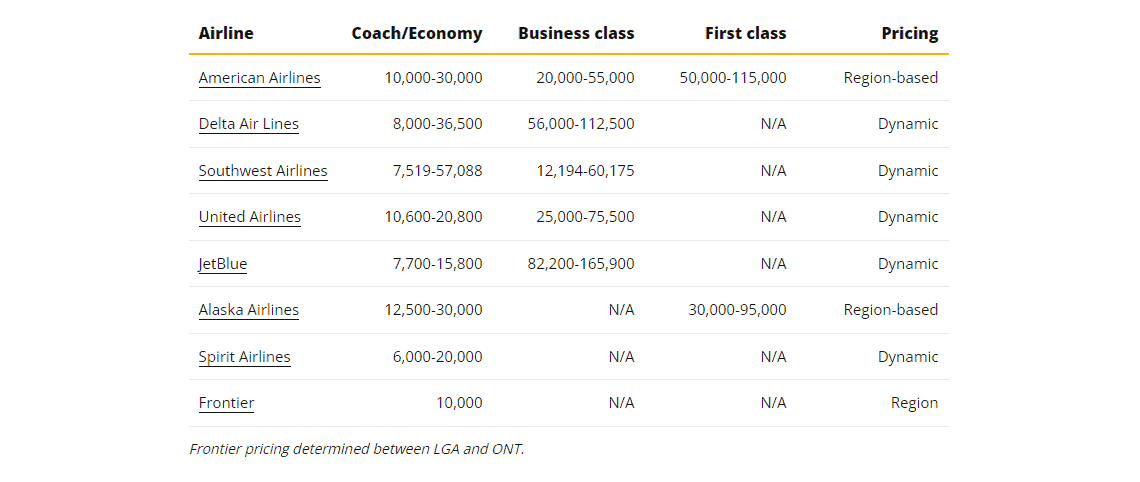 Additional research found that international flights can cost: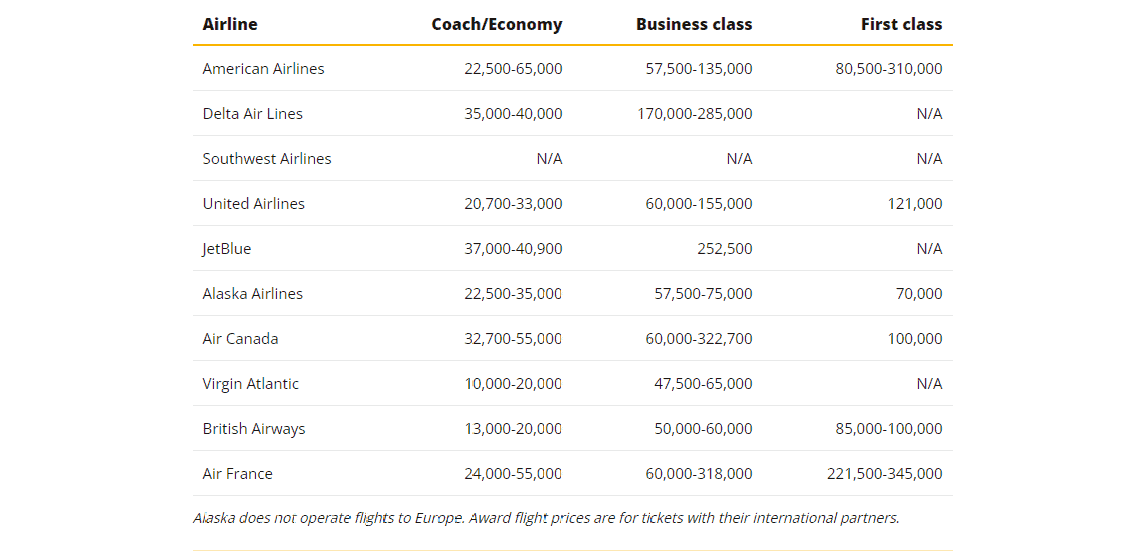 The carriers reserve the right to change their programs at any time, so the value of your points may fluctuate. You usually cannot cash in frequent flyer miles, although some airlines will let you convert them to in-house gift cards. 
If you can't get a better deal using frequent flyer miles, you'll benefit more from a general-purpose airline card that doesn't bind you to a single carrier. 
In the above example, Airline X required less spending than did the general-purpose card for the $500 flight. Airline Y may have a less desirable deal, and any carrier can change its airline mile requirements whenever it wants. 
Even the best travel credit card can change its point reward program, offering different rates for purchases from various merchants or modifying a flat rate. Of course, the airlines may raise or lower their fares, adding another element of uncertainty to the mix.
When they say your mileage may vary, they really mean it.
What Benefits Do Airline Credit Cards Provide?
The question with any credit card is how much you must pay for the perks. Airline credit cards can cost anywhere from $0 to almost $1,000 a year. Benefits may include:
High reward rates on travel purchases. Co-branded cards may limit the best rewards to purchases from the issuing airline.
Bonus miles or points when you sign up for a new card.
Access to airport lounges for free or at a reduced fee.
Travel-related insurance, including coverage for interrupted/delayed flights, lost baggage, accidents and illness while traveling, and auto rental collision damage waiver.
Free baggage check
Travel credits
Reimbursement for TSA PreCheck and Global Entry fees
Special vacation packages and hotel deals
Flexible redemption of points (for general-purpose travel cards)
Enhanced value of points you redeem through the card's travel agency
The better travel cards also offer non-travel perks. These may include extended warranties, roadside assistance, and price protection, among other benefits. You may find these other benefits worth a higher annual fee, but you may decide to get a second, low-cost cash back card that provides shopping perks.
You may have to pay an annual fee exceeding $500 to get many of these travel benefits. On the other hand, some airline cards charge a small fee or no yearly fee at all yet provide several of these perks. 
Are There Any Drawbacks to Airline Credit Cards?
The possibility of a steep annual fee is certainly a drawback that could give you pause. General-purpose airline cards have few other disadvantages. One negative is any extra charge for authorized users — some issuers charge up to $175 or more for an additional cardholder.
Co-branded airline cards are a bit more problematic because they lock you into a specific carrier (and its partners). In addition, co-branded cards seldom allow you to cash in your miles. 
That's a problem when your airline can't provide the flight you want. It's even worse if the airline goes bankrupt, leaving its frequent flyers high and dry.
Credit cards do not guarantee that their reward programs will remain the same over time. That could be a plus or a minus, depending on how the programs change.
Are Airline Credit Cards Worth It?
Airline credit cards make sense if you can take advantage of their benefits. You should consider the usefulness of what you're getting for your money. 
For example, access to airport lounges can add hundreds to a card's annual fee. That may be fine if you like and use airport lounges, but a waste of money otherwise. The logic is similar if your card gives you free baggage check, but you always carry your bags onboard.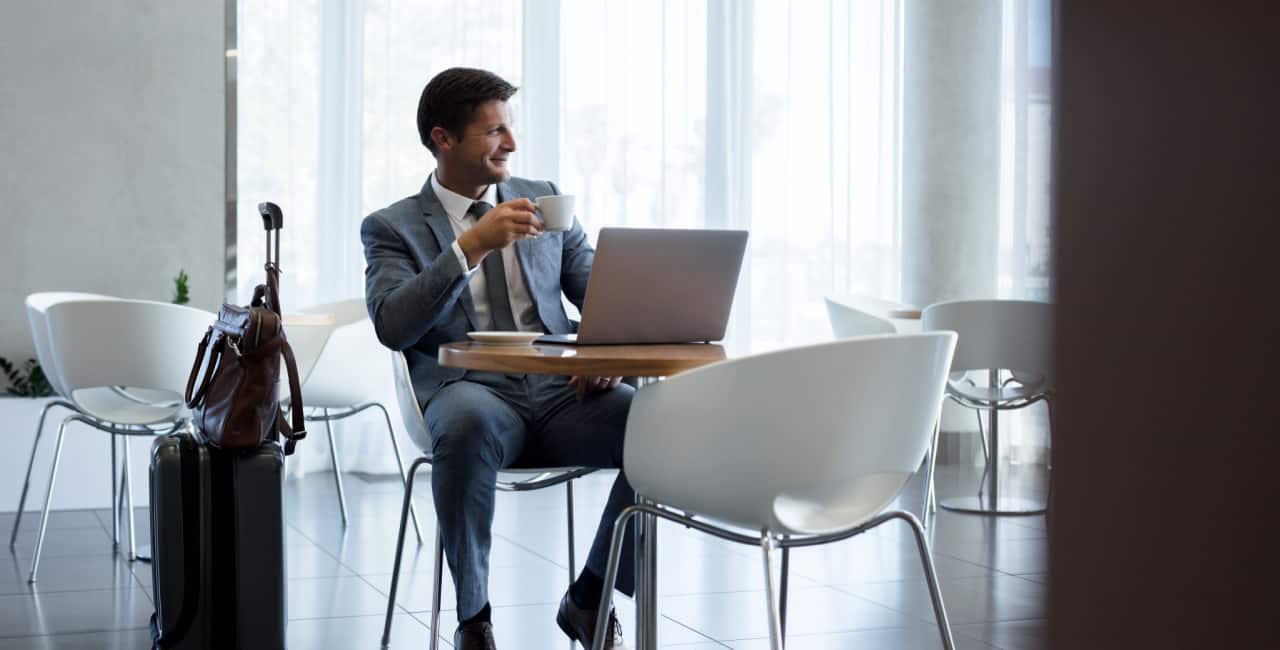 If you are a frequent flyer, airline cards can pay for themselves with benefits and cost savings. A co-branded card can be a good deal if you travel on one airline. Otherwise, stick to a general travel rewards credit card that lets you choose which carriers to use.
Timing is also an issue. If you plan a big future vacation, time your card application to take advantage of the signup bonus, which usually has a three-month window. Some cards offer six-digit airline mile or point bonuses that may significantly reduce your travel costs.
Your spending will ultimately influence your choice of the best travel credit card for your lifestyle. Folks with tight budgets may not be able to travel much, and if they do, they may have to spread their payments over multiple months, incurring a high interest rate. For them, cards with relatively low APRs and annual fees make the most sense.
Affluent travelers may own several expensive airline cards without any regret. They may not care whether they are getting their money's worth and would rather know they're ready for most travel contingencies. 
Get Onboard For Free Flights
Our review of the best airline credit cards leaves little doubt that there's a card candidate out there that fits your lifestyle. Frugal or spendthrift, excellent or limited credit — all are welcome to climb aboard for free flights and seat upgrades. 
Our reviews are a great place to start your search for the ideal airline card. But nothing substitutes for a careful read of a card's fine print. With so many choices, there's little reason to settle for a card that doesn't ideally fit your travel needs.
Advertiser Disclosure
CardRates.com is a free online resource that offers valuable content and comparison services to users. To keep this resource 100% free, we receive compensation for referrals for many of the offers listed on the site. Along with key review factors, this compensation may impact how and where products appear across CardRates.com (including, for example, the order in which they appear). CardRates.com does not include the entire universe of available offers. Editorial opinions expressed on the site are strictly our own and are not provided, endorsed, or approved by advertisers.