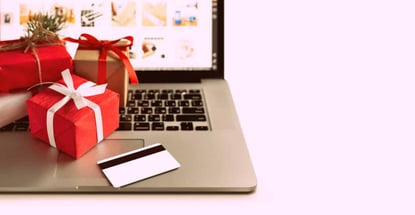 Opinions expressed here are ours alone, and are not provided, endorsed, or approved by any issuer. Our articles follow strict editorial guidelines and are updated regularly.
We're about to enter the busiest shopping season of the year. And while most consumers probably aren't laser-focused on their credit scores during the holiday season, it's never a good idea to entirely turn your back on them while you're enjoying the fall weather, eggnog, and time off from work. 
Keep in mind that your upcoming shopping activities will impact your credit scores, so it's not a bad idea to go over some tips to protect your credit scores from taking an unwanted dip this holiday season. 
Why Would My Credit Scores Drop During the Holidays?
It's not uncommon for people to change how they use their credit card accounts during the holidays. It's well established that the period between Halloween and the end of December includes some of the busiest shopping events of the year.
Black Friday, Cyber Monday, Super Saturday, Christmas, and New Year's Eve all fall between Halloween and the end of the year, and they all involve shopping!
To the extent we choose to shop during any, or all, of these days, it's likely we're going to use a general-use credit card, such as a Visa, Mastercard, Amex, Discover, or a retail store card. And, if our average monthly balances increase relative to the prior months of the year, it's highly likely our credit scores are going to take a dip.
One of the reasons your scores could drop during this holiday season has to do with the infamous revolving utilization ratio. This ratio, also commonly referred to as the debt-to-limit ratio or the credit utilization ratio, is highly influential to your credit scores.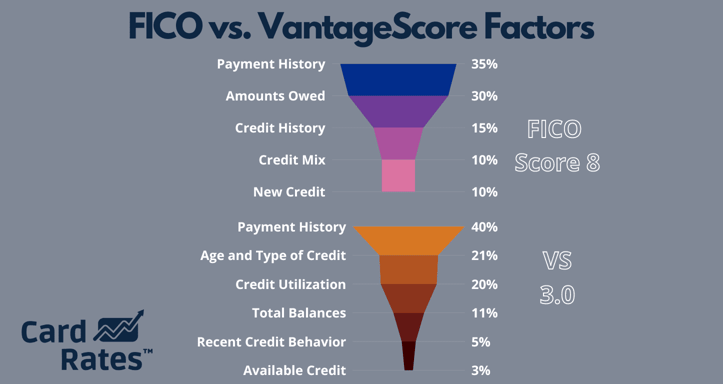 The ratio is calculated by dividing the sum of your credit cards' balances by the sum of your credit cards' credit limits and multiplying that figure by 100. So, for example, if you have $5,000 of credit card debt and $25,000 of credit limits, then your revolving utilization ratio is $5,000 divided by $25,000, which equals 0.2, or 20%.
The higher that ratio, the fewer points you're going to earn and the lower your credit scores are likely to be. The optimal revolving utilization ratio is at or below 30% for VantageScore's credit scores and at or below 10% for FICO's credit scores. 
To be safe, I generally advise people to shoot for less than 10% because then you're good to go across both credit score brands.
Another reason your scores may dip during the holidays is if you open new credit card accounts.  It's not uncommon for retailers to offer discounts on purchases in exchange for shoppers applying for new retail store credit card accounts. 
Those discounts, which are normally in the 15% range, are an incentive to open new accounts, especially if you're spending a large amount at the store.
But your scores may go down as a result of your applying for and opening new credit card accounts.
The byproducts of opening new accounts are: 
a credit card inquiry on at least one of your credit reports and 
the record of the new account and new balance being reported to all three of your credit reports.  
Inquiries can lower your credit scores, and newly opened accounts can lower the average age of your accounts, which can also lower your credit scores. And, increasing the number of accounts with a balance can also lower your credit scores.
Ways to Protect Your Credit Scores
It would be unreasonable to expect someone to sit on the sidelines during the holiday season simply because they are concerned about their credit scores. But, there are some tips and options you can consider that will still allow you to shop for yourself and others while minimizing the impact on your credit scores. They are, in no particular order:
Tip #1 – Use Existing Credit Card Accounts In Lieu of Opening New Cards
If you're going to open new accounts and save a few bucks on your purchases, that's fine. But, you should at least be aware that by doing so, you may lower your scores, and the impact of inquiries and new accounts will likely last for at least the next 12 months.
If you're going to be in the market for a new loan next year, it's probably not a great idea to open new accounts.
Another positive byproduct of using existing cards is you'll also avoid increasing the number of accounts with a balance. This is a relatively unknown aspect of credit scoring systems, but it's an important factor. 
And finally, because the APRs (Annual Percentage Rate) on your existing general-use credit cards are almost always lower than newly opened retail store cards, your purchases are going to be less expensive, to the extent that you don't pay them in full when you get your next statement.
Tip #2 – Use Buy Now, Pay Later Services
BNPL or "Buy Now, Pay Later" is an extremely common method of payment that's offered when you make online purchases. With BNPL you finance your purchase over a short period, generally no more than a few months. 
While BNPL options aren't new, they do not routinely show up on your credit reports from the major credit bureaus, Experian, Equifax, and TransUnion. That means they won't have any impact on your credit scores because credit scores are entirely dependent on the information contained in your credit reports.

Having said that, research performed by FICO in 2022 clearly indicates that BNPL can lead to lower FICO scores if they are eventually reported to your credit reports. 
BNPL can lower the average age of your accounts and result in higher utilization ratios, depending on how they're reported. And, if you choose BNPL options for a lot of your online shopping, you could exaggerate the negative impact.
It seems, at least for the immediate future, that BNPL can be a more discreet method of payment that won't have any impact on your credit scores. But it's not known when and/or whether BNPL loans and lines will eventually be reported to the bureaus. If they are, you're going to have to reconsider them as a payment option if your credit scores are a primary concern.
Tip #3 – Use Debit Cards Instead of Credit Cards
You'll avoid any and all credit reporting issues related to holiday shopping if you use your debit card instead of credit. Debit cards are hardly more than a plastic version of the old-fashioned paper check. 
Because debit cards are not a form of credit, their usage is not reported to the credit reporting agencies. And because debit card activity is not reported to the credit bureaus, their use cannot impact your credit scores.
Just be careful when using debit cards, especially if your holiday shopping coincides with holiday travel. Debit cards are notoriously difficult to use when you're on the road because of the holds placed against your available funds by gas stations, rental car companies, and hotels. When holds are in place, that money is not available to cover other purchases.   
So, What's the Answer?
If you're not sure which of the aforementioned tips is best for you, the most conservative move is to use an existing card to make your holiday purchases. It's likely cheaper than a retail store card, and you still get the iron-clad fraud-related protections that don't exist with debit cards. Furthermore, holds placed on the card are less problematic if you have larger credit limits, and you won't increase the number of accounts with balances.