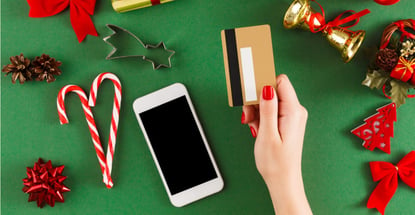 For many families, the annual year-end holiday season is synonymous with the year-end spending season. Whether you're buying groceries for holiday meals, gifts for family or friends, or new clothes for holiday celebrations, the costs can take a big bite out of your budget. And not only in November and December, but also well into the new year.
Using the right credit cards can help cushion the blow to your budget. You'll get more time to pay for your holiday purchases, possibly with 0% interest. And, you may also get signup bonuses, cash back, shopping points, airline miles, hotel stays, and a variety of other valuable card benefits.
Even with all those perks, choosing specific cards to use this time of year may still present a puzzle. To solve it, start by identifying your top priorities: 
Do you need extra cash, shopping points, or travel rewards? 
Is a low or 0% annual percentage rate (APR) important because you plan to carry a balance? 
Do you want certain card benefits, like rental car coverage, cellphone protection, purchase price protection, extended warranties, or free checked bags on your favorite airline?
Once you've identified your priorities, you're ready to shop for cards that will help you get what you're looking for.
Holiday Spending Cards With Big Signup Bonuses
New card signup bonuses can be worth hundreds of dollars in cash back, travel rewards, or other benefits. A large cash back signup bonus can be welcome when you get your card statement with your holiday spending on it. 
If you cannot use a travel signup bonus now, you can save those airline miles or hotel stays for next year's holiday travel. 
To get a signup bonus, you'll have to apply for a card with a signup bonus, be approved, and meet the requirements for the bonus. Typically, these requirements involve using your new card for a minimum amount of spending in the first few months after you receive your card. 
For example, a bonus may require you to spend $3,000 or more in purchases within the first three months after you're approved for a new card. That may be easier to do with holiday spending on the calendar. A higher minimum spending requirement should generally get you a more valuable bonus.
One card with a hefty signup bonus that we regularly recommend is the Chase Sapphire Preferred® Card:
If you're looking for a cash bonus from a card with no annual fee, check out the Capital One Quicksilver Cash Rewards Credit Card:
Cards with big signup bonuses may or may not have attractive APRs or other perks you've prioritized, so it's important to read the card description and disclosures as well as the bonus offer before you apply. If you like the terms and love the bonus, you may be able to get approved and start using your new card almost immediately.
When you shop for signup bonus cards, you may want to think about the types of cards you don't already have.
For example, if you've accumulated multiple travel cards, you may want to add a cash back card. If most of your existing credit cards have cash back rewards, you may want to add a travel card with an airline miles or points signup bonus. There are also great business cards with signup bonuses.
Holiday Spending Cards With Great Rewards Programs
A rewards card can be especially valuable during the holiday spending season. Savvy card users may be familiar with the main categories of rewards cards: cash back for purchases, shopping points for goods and services at discount prices, and travel perks like airline miles and hotel stays. 
For cash back rewards, check out the Chase Freedom Unlimited®:
For point rewards, we again recommend the Chase Sapphire Preferred® Card:
And for air miles, you can't go wrong with the Capital One Venture Rewards Credit Card (or the Capital One VentureOne Rewards Credit Card if you don't want to pay an annual fee):
If you haven't been capturing these rewards all year, you can still take advantage of them during the holiday spending season.
Those types of rewards cards aren't the only options. Rewards cards for other categories, including restaurants and dining or gasoline fill-ups, are also available. And some specialty rewards cards give you point-of-sale discounts at certain retail, big-box, and online stores. 
With these cards, the reward comes immediately when you use the card for the first time rather than later when you receive your statement. These immediate discounts may be especially welcome during the holiday shopping season.
If you own a business or have a side hustle, you may want to get a business card for your business-related holiday purchases, such as cards, gifts, or restaurant meals to thank your clients or customers for their business. You can also use a business card for your holiday advertising expenses to promote your seasonal products or services.
Holiday Spending Cards With Low or 0% APRs
If you're planning to carry a balance before, during, or after the holidays, cards with low or 0% APRs for purchases or balance transfers may be a higher priority for you than signup bonuses or rewards programs. 
Depending on the size of your balance and how long you carry it, a 0% APR could save you more in interest charges than you'd earn from bonuses or rewards.
Cards with 0% APRs for purchases have an initial promotional period during which you don't have to pay interest for new purchases with that card — even if you don't pay your full balance every month. This benefit could help you pay off your balance sooner since your interest cost will be lower or even zero.
One of the longest 0% APRs on purchases comes from the Citi® Diamond Preferred® Card:
Balance transfer cards let you move an existing balance from another card to this type of card and, usually, get a 0% APR for that balance for a promotional period, keeping in mind the regular APR will apply once the promotional period ends. Balance transfers may be capped and charge a fee of between 3% and 5% of the amount transferred. Some balance transfer cards come with high limits.
We recommend the Discover it® Balance Transfer card:
Cards with 0% APRs for purchases and balance transfers can give you welcome relief times two for your holiday spending until the promotional periods expire.
Cards with low or 0% APRs and 0% balance transfers may also come with other perks, so it's smart to shop around and compare offers before you choose this type of card.
Holiday Spending Cards With Special Perks or Benefits
Signup bonuses, rewards, and 0% APRs aren't the only card benefits that can help you during the holidays. In fact, many cards offer some of the best holiday card perks.
Here are some examples:
• Extended warranties. Buying new laptops, cellphones, TVs, and other consumer electronic devices is a time-honored holiday shopping tradition. With an extended warranty benefit from your card, you may get a warranty claim period that's double what the manufacturer offers. That could save you the cost of buying a retailer's extended warranty and still give you extra protection against defective gear.
• Purchase protection. Similar to extended warranties, purchase protection covers damage and theft of newly purchased items, including most holiday gifts.
• Purchase price protection. Maybe your holiday gifts weren't damaged or stolen, but instead, you found out you overpaid. A card with purchase price protection benefits can save the day by refunding the difference, so you get the lower price for your purchase. Not many cards offer this perk, but some do. 
• Return protection. With some retailers' short return periods and the general busyness of the holidays, you may not have time to return items you don't want right away. Card return protection gives you more time to secure a refund for those purchases. This perk may even apply to items on sale or those you bought at last-chance clearance prices.
• Travel benefits. Travel cards aren't only about airline miles or hotel stays. These perks-a-plenty cards may also come with other benefits that can make your holiday travel more affordable and protect you from unexpected holiday travel costs. Travel insurance reimburses you for canceled trips or related fees when you book with your card and can't travel. Luggage protection helps if your airline loses or delays your baggage. Some cards offer free checked bags that waive the fees to check luggage when you board an airplane. Some airline cards also give you priority boarding, free access to airport lounges, or seat selection and upgrades if you use your card to purchase your tickets. 
All of these benefits are subject to limits, rules, and restrictions. If you have questions, read your card agreement or call your card company for details.
The Right Credit Card Can Give You That "Happy Holidays!" Feeling
The holiday shopping season can be the merriest time of year. Using the right credit cards to buy your holiday meals, gifts, travel, and more can add to your merriment by gifting you with extra bonuses, rewards, and other perks you can use today and in the future.
Advertiser Disclosure
CardRates.com is a free online resource that offers valuable content and comparison services to users. To keep this resource 100% free, we receive compensation for referrals for many of the offers listed on the site. Along with key review factors, this compensation may impact how and where products appear across CardRates.com (including, for example, the order in which they appear). CardRates.com does not include the entire universe of available offers. Editorial opinions expressed on the site are strictly our own and are not provided, endorsed, or approved by advertisers.