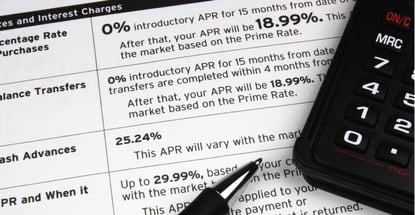 In the United States, some 220 million consumers have a credit report with one or more of the credit reporting agencies. Of those 220 million, around 170 million consumers have one or more credit card accounts, according to the Consumer Financial Protection Bureau.
These common financial tools can make your life easier in many ways: portable capacity, iron-clad fraud protection, rewards programs, credit building capabilities, the list of benefits just seems to go on and on.
When your card is first opened, the issuer will assign what's commonly referred to as terms. These are the attributes of your account, like your credit limits and annual percentage rates, under which you will be allowed to continue to use the card.
The terms of other forms of credit, like car loans and mortgages, don't easily change. Your interest rate doesn't change often, if ever, and the payback period is normally fixed. This is where credit cards differ from loans.
Yes, Your Card Issuer Can Change Your Terms
Your credit card issuer can change the terms of your account even after it has been opened. The interest rate and credit limit assigned by the credit card issuer when you open your account aren't guaranteed to stay the same over time.
In fact, it's almost a guarantee that something about your credit card account will change. This may mean a lower or higher credit limit or a lower or higher interest rate.
That being said, your credit card issuer does have to follow some rules in this respect. When it comes to major credit card account changes, federal law — specifically the Credit Card Accountability, Responsibility, and Disclosure Act of 2009 (the CARD Act) — offers you some protections.
CARD Act Provisions and Annual Percentage Rates
Interest is the fee you pay for carrying or revolving a balance from one month to the next. The rate of interest (or Annual Percentage Rate or APR) you pay on a credit card balance is likely in the teens or higher.
The APR initially assigned to your card can be adjusted, but the CARD Act sets some guidelines your credit card issuer must follow before it alters your rate.
In many cases, a card issuer must give you a 45-day advance notice before it increases your APR for future purchases.
You can choose to opt out of the change to your APR, but if you do, your card issuer can close your account, meaning it can no longer be used for future charges.
A credit card company generally can't increase your APR for the first 12 months your account is open. There are some exceptions, however.
There are certain situations where no advance notice is required prior to an APR increase. For example, if you don't keep up with your scheduled payments, then you aren't abiding by the terms of your credit card agreement, and the issuer can take punitive action, including increasing your APR.
When you fall 60 days (or more) behind on your credit card payment, your card issuer can raise your APR at any time. Not only is no advance notice needed, but you also won't have the option to opt out of the rate adjustment.
The point being, bad things start to happen when you fall behind on your credit card payments.
What is a Retroactive APR Increase?
A retroactive APR increase occurs when your credit card issuer increases your APR on not just future purchases, but on your existing balance as well. The CARD Act was initially believed to have ended retroactive rate increases, but that was not entirely accurate.
The CARD Act did restrict a credit card company's ability to raise your APR on previous purchases if you're making your payments on time. However, if you fall more than 60 days behind on your credit card bill, a retroactive interest rate increase is still on the table.
In fact, if you fall far enough behind on your credit card payments, your card issuer may also increase your APR to the maximum rate allowed under your credit card agreement. This is known as the default rate and is usually in the neighborhood of 30%.
Compare that to the average credit card interest rate of around 15%, according to the Federal Reserve.
Can I Get My Rate Lowered?
Falling behind on your credit card payments and then seeing your interest rate increase to the default rate can be a very discouraging experience. But federal law gives you the opportunity to turn things around. But, as expected, this is going to involve making payments on time.
After an interest rate hike, your card issuer is typically required to review the terms of your credit card account once every six months, although most of them do so more frequently. If the account review shows at least six consecutive on-time payments, your credit card company must lower your interest rate back to its previous level.
Keep in mind that you only need to make the minimum payment each month to qualify for a reinstatement of your former APR, but this can get expensive because you'll incur interest fees every month that your account has a balance.
The best way to manage a credit card is to pay off the balance in full each month if you can. But if you can't afford to make a big payment, you should still pay at least the minimum amount due.
Some Credit Card Terms Can Change Without Notice
Even with the CARD Act, card issuers can still make certain changes to your account terms without giving you advance notice. For example, your card issuer can do any of the following without the 45-day notice:
Lower or raise your credit card limit
Close your credit card account
Alter the rewards or cash back program associated with your account
Change the brand of your credit card (e.g., your Visa can become a Mastercard)
The first two above — credit limit changes and account closure — may affect your credit scores. In the case of a lower credit limit or closed account, your credit scores may drop because your credit limit is generally no longer considered by scoring systems. Meanwhile, changes to your credit card brand or rewards program may be annoying, but they will not affect your credit scores.
It's also worth pointing out that most credit card issuers perform account maintenance credit checks on existing customers and do so frequently. In fact, your card issuer may check your credit score each month.
Changes in your credit score could potentially cause your card issuer to take some of the actions detailed above. That means you can miss payments on an unrelated account, resulting in a lower credit score, and your card issuer can change the terms of your account. This is called universal default.
If a credit report or credit score change prompts your card issuer to take some sort of adverse action against you, it has to inform you. This is done by sending you what's called a notice of adverse action. This is a form letter, which means it provides you with some general information about what led to the card issuer's decision and your rights to see your credit reports.
Should I Close My Credit Card?
It's reasonable to feel upset when a credit card company changes the terms of your account, especially if you have never missed a payment. Your knee-jerk reaction may be to close your credit card. But closing your account could take an unpleasant situation and make it much worse.
Remember, your credit card account can have a big influence on your credit scores. Closing a credit card can be a risky move for your credit scores.
Closing your account can increase your credit utilization ratio by reducing your available credit. If your utilization ratio goes up, your credit scores may go down.
In addition to the potential for a lower credit score, you're going to lose the buying power from a card when you close it. You may not need the buying power today but may need it in the near future.
Accordingly, it can be a good idea to leave the account open and simply adjust how often you use it based on the card's new terms. Remember, most cards do not charge annual fees, so leaving it open may not cost you anything.
Advertiser Disclosure
CardRates.com is a free online resource that offers valuable content and comparison services to users. To keep this resource 100% free, we receive compensation for referrals for many of the offers listed on the site. Along with key review factors, this compensation may impact how and where products appear across CardRates.com (including, for example, the order in which they appear). CardRates.com does not include the entire universe of available offers. Editorial opinions expressed on the site are strictly our own and are not provided, endorsed, or approved by advertisers.