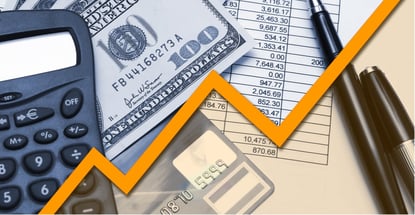 Credit cards tend to carry relatively high interest rates compared with other types of debt, such as car loans or home loans. One reason is that most credit cards are unsecured.
That means there's no asset, such as your home or car, that the card company can seize if you don't pay your credit card balance. Since credit card rates can be high, it's all the more important to be aware of how much interest you're paying and whether it's higher than it needs to be.
One way to figure that out is to compare your rates to the average credit card rates other people have paid over time. Averages may not seem that interesting, but it can be useful to track this data, understand trends that unfold over time, and assess whether you're paying more or less than the going rate.
Average Credit Card Interest Rates from 1995 – 2020
The average credit card rate in the U.S. in the third quarter of 2020 was 14.58%, according to data collected by the Federal Reserve. The third quarter is the three-month period of July, August, and September.
That 14.58% average includes cards that were charged interest and cards that weren't. The average interest rate for credit cards that were assessed interest was even higher: 16.43%.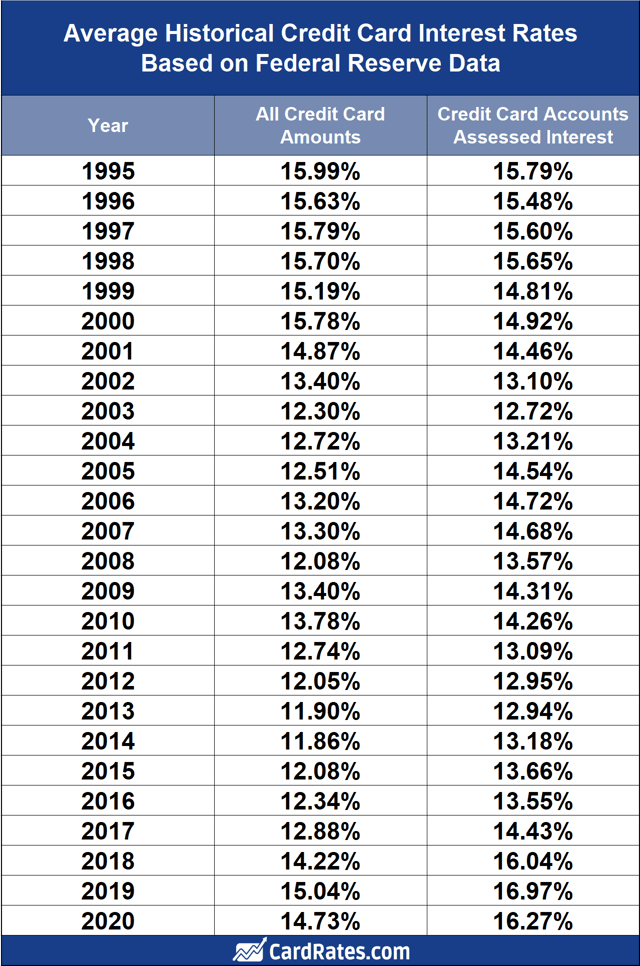 The difference of 1.85% between those two averages matters. To see why, take a look at this chart, which shows how much interest you'd pay to wipe out a $10,000 balance in 12 months at each of those average rates.

With the same balance and payoff period, the higher interest charge adds $9 to the monthly payment and about $86 to the total interest expense. That's $86 you could have used to reduce other debt or pay for other needs and wants. If you were to raise the balance or extend the payoff period in that example, the amount you would pay in interest also increases.
Credit card rates fluctuate from year to year. In 1995, the average quarterly rate for cards that were charged interest peaked in the second quarter (April, May, and June) at 16.26%. Average rates for those cards then trended down to a low of 14.3% in the first quarter (January, February, and March) of 2000.
The next peak, 14.67%, came one year later in the first quarter of 2001. Two years after that in the first quarter to 2003, the average dropped to 11.96%, the lowest level ever in the Fed's historical data set, which dates back to the fourth quarter (October, November, and December) of 1994.
The average quarterly rate for cards that were charged interest peaked again in the third quarter of 2007 when the average hit 15.24%. Rates then trended lower during and after the 2008 recession, dropping into the high-12% range in the fourth quarter of 2011, second and fourth quarters of 2012, and the second quarters of 2013 and 2014.
Rates for cards that were charged interest then climbed to a record-setting high of 17.14% in the second quarter of 2019. Rates eased slightly after that, dropping one year later to 15.78%, a level that would have seemed high 20 years earlier.
How Credit Card Rates Are Set
Credit card companies generally offer their customers a range of annual percentage rates (APRs) that may be higher or lower than average market rates. These ranges can and typically do fluctuate over time as market rates move higher or lower.
It's a common misconception that the Federal Reserve sets the credit card interest rates consumers pay. In fact, the Fed only influences market rates — it doesn't set them directly. The credit card companies do that.
The rates you'll pay for your credit cards will usually be within the range of rates that your card company offers. Whether you're offered rates at the high or low end of that range depends largely on your payment history and your credit scores, which indicate how creditworthy you are.
Improving your scores may help you access lower rates. Three tips to improve your credit scores are:
Use a variety of different types of credit.
Keep your credit utilization ratio low.
Pay your credit accounts on time. Your payment history is the most important factor in your credit scores.
Following these basic guidelines will help you achieve a high credit score and low credit card rates.
How to Get Lower Credit Card Rates
If you're paying higher-than-average credit card rates (or even if you're not), you may wonder if there are other ways, in addition to a lower credit score, to get lower rates from your card companies.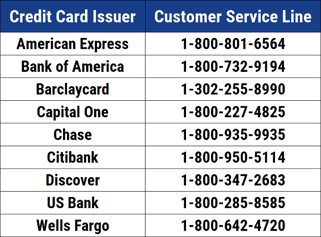 One way to get a lower rate is to contact your card company and ask for one. The phone number should be on your card statement and may also be on the back of your card and on your card company's website. Or you can refer to the chart provided.
When you call, ask for a rate that's lower than the rate you're paying, but still within the range of rates your company currently offers for your card. You can find out an approximation of that range by shopping for a new credit card that's similar to yours.
When you call, be patient and polite. If you're turned down for a rate decrease, ask what you need to do to get it, and find out when you can call and ask again.
Alternatively, you can apply for a new card with a low ongoing interest rate.
How to Pay Off High-Rate Credit Card Debt
Lower interest rates can help you pay down or pay off your existing card debt. Two strategies to get started with debt reduction are the snowball and the avalanche methods.
To use the snowball method, rank order your cards from your lowest balance to your highest balance. Pay off your lowest-balance card first, and then your second lowest, and so on. You may pay more interest with this method, but you should achieve some quick wins to help you stay motivated.
To use the avalanche method, rank order your cards from your highest APR to your lowest APR. Pay off your highest-rate card first, and then your second highest, and so on. This method may not give you a quick win, but you will pay less total interest with this approach.
Whichever method you choose, be sure to make at least the minimum payment due on all of your cards, and always pay on time. Paying late or less than the minimum due will hurt your credit score, making it harder for you to get approved for credit in the future.
How to Avoid Credit Card Interest
Credit card accounts assessed an average interest rate of 16.43% in the third quarter of 2020, according to Federal Reserve data. So it's no surprise that many people would prefer to pay less card interest than they currently do. In fact, many people pay no card interest at all.
Here are three ways you can avoid paying interest:
Pay off your card balance every month. Paying off your balance in full means your card company won't charge you any interest. Paying off an existing balance can be challenging, but once you've done it, the habit of paying in full can save you a lot of money in interest charges.
Apply for a 0% introductory offer card. This type of card lets you avoid interest charges for a specific time period, such as six months or one year, when you first get your card. You will owe interest if you have a balance when the time period expires, but until then, you can make purchases and carry a balance interest-free. Some top-shelf cards come with a 0% introductory offer, no annual fee, and a rewards program.
Apply for a 0% balance transfer card. This type of card lets you transfer an existing balance from another credit card to a new card and pay no interest on the transferred balance for a specific time period, such as one year or 18 months. You will owe interest if you have a balance when the offer ends, but until then, you can carry or pay down your transferred balance with no interest charges. You may have to pay a balance transfer fee of between 3% and 5% of the amount transferred.
Paying less (or no) credit card interest should free up some money in your monthly budget to pay for current needs and wants or to save and invest for your future.
Advertiser Disclosure
CardRates.com is a free online resource that offers valuable content and comparison services to users. To keep this resource 100% free, we receive compensation for referrals for many of the offers listed on the site. Along with key review factors, this compensation may impact how and where products appear across CardRates.com (including, for example, the order in which they appear). CardRates.com does not include the entire universe of available offers. Editorial opinions expressed on the site are strictly our own and are not provided, endorsed, or approved by advertisers.