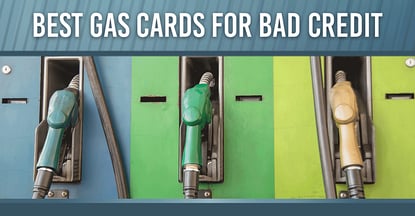 Like it or not, the world is going digital, and it's getting harder to get by without digital tools like email — and credit cards. Yes, those plastic payment cards are the new cash; even at the prosaic fill-up station, digital payment rules the pump.
Unfortunately, having bad credit makes the near-reliance on credit cards an issue. In fact, a low score can make it tough to find a reliable card for everyday spending, let alone finding a good gas card for bad credit.
That doesn't mean you're without options, however. While you won't find the high-dollar rewards of the best gas cards, you can still find options for paying conveniently at the pump — a number of which even offer a few rewards. In the article below, we'll dive into what we consider the best gas cards for bad credit, including secured, unsecured, prepaid, and store brand cards — and we'll even provide some extra tips for how to save even more at the pump.
Secured | Unsecured | Prepaid | Gas Station Cards
Using Cards at the Pump | Other Ways to Save
Top Secured Cards for Buying Gas with Bad Credit
A low credit score is an indication of a high-risk credit profile, which is what makes it hard to get approved for unsecured credit. Secured credit cards are a good solution, as the required deposit reduces the risk for the issuer.
With less on the line, secured credit card issuers can offer lower rates and fees than you'll get from an unsecured card for bad credit. In fact, with the right secured card — like some of those below — you can even earn rewards on your purchases, including earning cash back or miles on every tank of gas.
No annual or hidden fees. See if you're approved in seconds
Building your credit? Using the Capital One Platinum Secured card responsibly could help
Put down a refundable security deposit starting at $49 to get a $200 initial credit line
You could earn back your security deposit as a statement credit when you use your card responsibly, like making payments on time
Be automatically considered for a higher credit line in as little as 6 months with no additional deposit needed
Enjoy peace of mind with $0 Fraud Liability so that you won't be responsible for unauthorized charges
While this card doesn't offer rewards specifically on gas purchases, it also doesn't have an annual fee, penalty fee, or foreign transaction fees. Better yet, the card is designed for those with bad credit, and after building your credit with responsible use, cardholders may qualify for a number of other unsecured Capital One cards that offer substantial cash back and gas rewards.
at Discover Card'ssecure website
No credit score required to apply.
No Annual Fee, earn cash back, and build your credit history.
Your secured credit card requires a refundable security deposit, and your credit line will equal your deposit amount, starting at $200. Bank information must be provided when submitting your deposit.
Automatic reviews starting at 7 months to see if we can transition you to an unsecured line of credit and return your deposit.
Earn 2% cash back at Gas Stations and Restaurants on up to $1,000 in combined purchases each quarter. Plus, earn unlimited 1% cash back on all other purchases – automatically.
Discover could help you reduce exposure of your personal information online by helping you remove it from select people-search sites that could sell your data. It's free, activate with the mobile app.
Get an alert if we find your Social Security number on any of thousands of Dark Web sites. Activate for free.
Terms and conditions apply.
| | | | | |
| --- | --- | --- | --- | --- |
| | 10.99% Intro APR for 6 months | | | |
One of the best secured cards on the market, this card offers a low minimum deposit, has no annual fee, and lets users earn unlimited cash back rewards on every purchase. Plus, earn twice the cash back at the pump with 2% cash back on up to $1,000 in combined gas station and restaurant purchases.
The SunTrust Secured Credit Card with Cash Rewards is a solid pick for building credit, particularly if you want to earn cash back rewards. You'll get 2% back at the pump and the grocery store on up to $6,000 in combined category purchases, as well as unlimited 1% cash back on everything else.

Earn 2% cash back on up to $6,000 in combined gas and grocery purchases each year
Earn unlimited 1% cash back on all other purchases
Pay a $32 annual fee
The downside to this card is its annual fee, but if you spend at least $1,600 on gas and groceries in a year, you'll break even on the fee through rewards. Additionally, your deposit will actually earn interest while your account is open and in good standing.
The Aeromexico Visa® Secured Card is one of only a handful of secured travel cards from U.S. Bank. In addition to unlimited 1X miles on every purchase, you'll earn double miles at gas stations and grocery stores.

Earn 2X Aeromexico miles per dollar on gas and grocery store purchases
Earn 1X mile per dollar on eligible net purchases
Pay $25 annual fee
This card has an annual fee, so be sure it's worth paying just to earn miles. Your credit limit will be equal to the amount of your deposit, with a minimum $300 deposit required. You can deposit up to $5,000 to gain access to a larger credit line.
Top Unsecured Cards for Buying Gas with Bad Credit
Overall, paying a refundable deposit for a secured card is always ideal to paying high, nonrefundable fees for a subprime unsecured credit card. That said, the initial fees to open an unsecured card can be lower than the minimum deposit for a secured card, making unsecured cards the cheaper choice up front.
If you're looking for gas rewards from an unsecured card for bad credit, your options are supremely limited. You can, however, find a number of subprime unsecured cards with flexible credit requirements that will give you the convenience of paying at the pump.
5. Credit One Bank® Platinum Visa® for Rebuilding Credit
This card is currently not available.
One of only a handful of unsecured cards for bad credit that can offer purchase rewards, applicants who meet the requirements can earn 1% cash back on every purchase, including at the pump. The card has variable fees that depend on your credit profile and qualifications.
at Milestone Mastercard®'ssecure website
Greater access to credit than before - $700 credit limit
Get a Mastercard accepted online, in store and in app
Account history is reported to the three major credit bureaus in the U.S.
$0 liability* for unauthorized use
Access your account online or from your mobile device 24/7
*Fraud protection provided by Mastercard Zero Liability Protection. If approved, you'll receive the Mastercard Guide to Benefits that details the complete terms with your card.
This card has fairly competitive rates and fees for a subprime card, though your exact fees will vary based on your qualifications. You won't earn rewards, but you will get a decent grace period and the standard protections offered by credit cards.
7. Indigo® Mastercard® for Less than Perfect Credit
This card is currently not available.
Another competitive subprime card, this option also has a variable annual fee, depending on your credit profile. You won't pay many other fees, however, making this one of the more affordable subprime unsecured cards. The card does have a penalty rate, however, so be sure to pay on time every month.
Top Prepaid Cards for Buying Gas with Bad Credit
Although credit cards are certainly one way to enjoy the convenience of paying for your gas at the pump, they aren't the only option. Debit cards can also be used at the pump, though you may not want to use your regular bank debit card due to concerns over card skimmers and other security issues.
Instead of using your bank debit card, you can use a prepaid debit card. Prepaid cards offer much of the convenience of credit cards while giving you the ability to eliminate the safety concerns of using a debit card tied to your bank account.
at NetSpend'ssecure website
With Direct Deposit, you can get paid faster than a paper check.
No late fees or interest charges because this is not a credit card.
Use the Netspend Mobile App to manage your Card Account on the go and enroll to get text messages or email alerts (Message & data rates may apply).
Card use is subject to activation and ID verification. Terms and Costs apply.
Card issued by Pathward N.A., Member FDIC. Card may be used everywhere Visa debit card is accepted.
See additional NetSpend® Prepaid Visa® details.
This card offers two plan options, with the right plan depending on how many purchases you make each month. The per-transaction plan charges you a fee per each transaction, while the monthly plan charges a flat monthly fee for unlimited transactions.
The Bluebird® by American Express is a solid, low-fee option, charging no monthly fee, no transaction fees, and no direct deposit fees.

Add funds for free through direct deposit, mobile check capture, debit card transfer, or at Walmart
$0 activation fee & $0 card fee when you buy online
$0 Monthly Fee
Reloading is also free through direct deposit, mobile check capture, or by using cash or a debit card at Walmart. Plus, cardholders enjoy fee-free ATM access at thousands of MoneyPass® ATMs around the country.
The Chase Liquid® Prepaid Card allows users to make unlimited fee-free transactions by PIN or by signature, as well as online, though it does charge a small $4.95 monthly fee.

Add funds through direct deposit, cash loads at Chase branch, bank transfer, or check deposits
Pay $0 for PIN or signature transactions
Pay $4.95 monthly fee
The card also offers free withdrawals at thousands of Chase bank branches and bank-owned ATMs around the country. Non-Chase ATM withdrawals will charge a $2.50 fee, plus any applicable ATM-owner fees.
Are Co-Branded Gas Station Cards an Option?
If you've ever pumped gas, you've probably seen the big signs loudly touting the amazing savings capabilities of the gas station's co-branded credit card. Gas station credit cards are rarely the best way to save on gas, but they can be worthwhile if you don't have other rewards cards. Unfortunately, if you have bad credit, your chances of qualifying for any gas station co-branded credit cards are pretty low.
Most gas station cards prefer applicants with at least fair credit, and good credit will give you the best chance of being approved. At the same time, every applicant and issuer is different, and reviewers for some cards have reported being approved despite a low credit score. Consider carefully before you apply, of course, as each application will result in a hard credit pull.
The Shell | Fuel Rewards® Credit Card is the new version of the old Drive for Five card. The old card has reportedly accepted people with scores in the 500 range, with the average score in the mid-600s, but your experience may vary.

Save up to 10¢ per gallon on up to 20 gallons with Fuel Rewards® Gold Status & your card
10% Shell rebates on eligible non-fuel purchases
Pay no annual fee
By itself, this card offers users a 5¢ per gallon discount at the pump, but those savings can be combined with Shell's Fuel Rewards program to boost the savings up to 10¢ per gallon. You'll be limited to savings on the first 20 gallons. Cardholders can also receive a 10% rebate on eligible non-fuel purchases. Rebates only apply to the first $1,200 in qualifying non-fuel purchases each year.
The Valero Consumer Credit Card isn't for people with particularly low scores, but some reports indicate applicants with scores in the upper 500s and low 600s may occasionally be approved.

Earn up to 8¢ per gallon depending on how much gas you pump each billing cycle
Use at more than 5,600 locations
Pay no annual fee
The rewards program of this card is a little different than that of others, as it works on a tiered basis. So, you'll earn 4¢ per gallon if you pump between 50 and 74.9 gallons in a single billing cycle. But you'll earn 8¢ per gallon if you pump more than 75 gallons, up to a maximum of 110 gallons.
The Chevron/Texaco Techron Advantage Card reportedly accepts applicants with scores around 600, with the occasional report of a score in the upper 500s. Of course, your full credit profile will be used to make the decision.
Earn 3¢ per gallon in fuel credits when you use your card at Chevron and Texaco gas stations
Receive exclusive cardholder offers and discounts
Pay no annual fee
If you're approved for the card and use it to fill up at Chevron or Texaco stations, you'll earn 3¢ per gallon in fuel credits. Your credits will add up over a billing period and be automatically applied to your account as a statement credit at the end of the billing period.
How to Use a Credit Card at the Pump
If you've long been a proponent of paying with cash instead of using a card at the pump, it can be intimidating to try and navigate the pump-side payment process for the first time. Never fear, however, as using your credit card to pay for gas right at the pump is not only convenient — it's easy, too!
In general, all you need to do to use your credit card to pay for gas at the pump is to follow the on-screen prompts. You'll insert your card into the card slot — you don't need to leave it in, just insert then remove.
Once the pump's computer reads your card, you'll typically be asked to verify your right to use the card by either providing your billing ZIP code or, if you have a chip-and-PIN card, your four-digit PIN number.
So long as you enter the correct number, the machine should authorize your purchase and instruct you to select your nozzle and start pumping. When you finish pumping gas, the screen should ask if you want a receipt, which will usually print right from a printer next to the screen. Take your receipt and go!
One important thing to note about using a credit card at the gas pump is that some gas stations may require a temporary authorization for $75 to $100, depending on the station. This is a fraud-prevention measure used to make sure the card has the funds to cover however much you decide to pump. However, the final transaction will be for the actual amount you pumped.
Other Ways to Save on Gas Purchases
For most people, using credit cards at the pump has two main benefits: the convenience and the rewards. When you have bad credit, however, it's often easier to get a credit card without gas rewards than one with them.
Thankfully, you may not need credit card rewards to save money at the pump, which means you can use any card you want and still enjoy the benefits of paying less for gas. Here are a few ways to reduce your gas costs:
Join a Gas Rewards Program: Many gas station brands offer their own free loyalty programs that will let you save on each gallon of gas. Additionally, some grocery store chains will offer gas rewards programs or discounted gas cards.
Use a Gas Savings App: You can find a variety of mobile apps that can help you save. Examples include GasBuddy, which shows you local gas prices and offers gas discounts, and TruNow, which provides after-you-pump rebates.
Pump Strategically: Find the cheapest gas on your regular route and try to refill there (hint: stations attached to wholesale clubs often have lower prices). Also, gas prices tend to be higher closer to the weekend, so fill up at the beginning of the week.
Master the Mechanics: How you drive and the condition of your car both impact how much gas you use. Driving less aggressively and ensuring your tires and engine are in good shape can help to reduce your fuel usage.
If you're looking for additional tips, a quick web search will offer literally dozens of ways to save on fuel. And, of course, if you do have a rewards card, pair your credit card rewards with these savings methods for even more savings!
Keep Your Tank Full with the Right Card
Digital payments are the way of the day, making a good credit card a powerful tool everywhere from the restaurant to the gas station. Bad credit can make it more difficult to find a good card, particularly if you want something specific like a gas credit card. But, options exist — if you're willing to compromise a little.
Of course, no matter what kind of card you use for your gas purchases, all of the core credit card rules apply. This includes the golden rule of credit: always, always, always pay on time. You should also keep an eye on your utilization rate (especially with low-limit store cards) and make sure you pay in full every month to avoid interest fees.
Advertiser Disclosure
CardRates.com is a free online resource that offers valuable content and comparison services to users. To keep this resource 100% free, we receive compensation for referrals for many of the offers listed on the site. Along with key review factors, this compensation may impact how and where products appear across CardRates.com (including, for example, the order in which they appear). CardRates.com does not include the entire universe of available offers. Editorial opinions expressed on the site are strictly our own and are not provided, endorsed, or approved by advertisers.