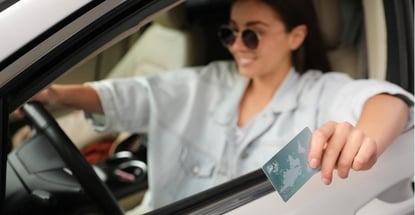 A student's life isn't cheap — but the best gas cards for students can make it far more convenient.
Aside from books, lab fees, tuition, and pizza, students need gas to get to class, work, and the occasional night out on the town. And thanks to recent economic trends, the price of gas is rising almost as quickly as the cost of higher education.
With the student credit cards below, you can get cash back and other perks for your purchases at the pump or inside your local gas station. Most cards will offer rewards for every other purchase you make as well.
Best Overall Gas Card For Students
The Discover it® Student Chrome offers bonus rewards eligible purchases at select merchants, including gas stations, on up to a set limit in combined purchases made each quarter. Discover will also automatically match all the cash back you've earned at the end of your first year, meaning you can really boost your cash reward earnings with this card.
This card charges no annual fee and also helps you build a good credit score by providing FICO score updates over the life of your card account. Another added benefit is that you won't be charged a late fee for your first late payment if you happen to forget during finals week.
Other Great Gas Card For Students
Each student card below features a cash reward bonus for eligible gas purchases. You can redeem your rewards for cash into a linked bank account or as a statement credit to cover all or part of your card balance. 
The amount of rewards you'll earn varies by card type. Each card will have a unique fee structure, including its interest rate, cash advance fee, foreign transaction fee, and other potential charges.
The Discover it® Student Cash Back is a tremendous all-around student credit card that offers a higher rate of cash back rewards, subject to a purchase limit, in rotating quarterly categories that you activate. One quarter always includes gas station purchases in which you'll receive as much as 5% back for your gas station purchases.
And with Discover's CashBack Match program, you'll receive a complete match of all the cash back you've earned at the end of your first year — with no maximum reward amount or other strings attached. That  easily makes this a top gas credit card for students.
The Bank of America® Customized Cash Rewards credit card for Students rewards every gas purchase while minimizing the stress of your online banking. This rewards card allows you to choose a category — including gas stations — in which to earn extra cash back while also enjoying extra cash rewards at grocery stores and wholesale clubs. 
You'll continue to earn cash back on all other eligible purchases over the life of your card. This card also typically offers a generous signup bonus when you meet certain spending thresholds in the months after opening your account. You may also qualify for an introductory period with interest-free financing on new purchases and balance transfers, but watch for the balance transfer fee.
With the Capital One Quicksilver Student Cash Rewards Credit Card, you can earn a flat and unlimited rate of cash back on every purchase you make — including the pesky trips to fill up at the gas station. This student card can help you build your credit history and may automatically approve you for a credit limit increase starting six months after your account opening.
And since Capital One has a plethora of cash rewards credit card offerings, you can use this card to get a foot in the door with the credit card issuer — which may help you upgrade to an even better card after graduation.
The Bank of America® Travel Rewards credit card for Students makes it easier, and more affordable, to plan your summer vacation or spring break getaway. Instead of traditional cash back, this card pays out rewards points that you can redeem as a statement credit to refund all or part of your travel-related expenses.
You won't pay an annual fee for this card and you can still enjoy a 0% APR introductory period in which you'll get interest-free financing on every purchase you make. 
What Is a Gas Credit Card?
A gas credit card is a type of rewards credit card that provides you with cash back or bonus points for every dollar you spend at gas stations. 
You'll earn rewards on fuel purchases and everything you buy inside the gas station. These cards also pay out rewards for other eligible purchases at locations other than gas stations, usually at a 1% rate of return or 1.5% if you have a flat-rate card. That means you'll earn rewards everywhere you go, but a slightly larger rate of rewards at the pump.
This is especially handy if you're always on the move and spend a lot on gas each year.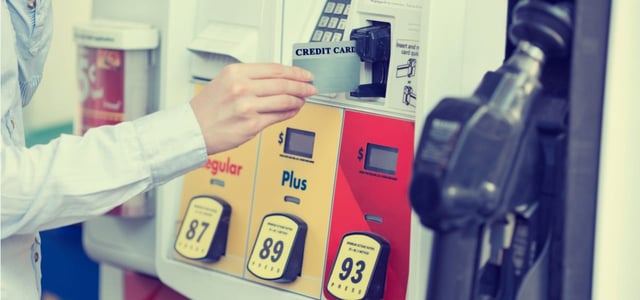 Whatever your preferred rewards card type — cash back or points — you can redeem your earnings for cash in your account, for travel discounts, gift card options, or as a statement credit that covers a portion of your current card balance.
Every major credit card issuer offers gas card options, including Capital One, Discover, Bank of America, American Express, and other top banks. They aren't issued by specific gas companies and you can use your gas card at any merchant or service provider that accepts credit cards. 
Every card on the list above caters to students, meaning you aren't required to have a good credit history to qualify for this card. As a starter credit card, you can have a fair credit score and still likely be approved for the card. 
Some card issuers may even consider applicants who have a bad credit score. And with the cards above, your payment and balance history will report each month to at least one credit bureau, which helps you build your credit history over time.
What Is a Student Credit Card?
A student credit card is a financial tool designed for consumers who are enrolled in an institution of higher education. This isn't limited to four-year universities. Most student card issuers will consider applications from students enrolled in state colleges, community colleges, trade schools, and other specialty programs.
As with a traditional consumer credit card, you can use a student card at any location that accepts credit cards. As a starter card, these cards may begin by offering you a smaller credit limit until you establish a good credit history.
But student credit cards have rewards and other benefits that cater to the student lifestyle. That may include statement credits to cover the costs of certain streaming services, cellphone insurance when you pay your monthly bill using your card, or other added perks.
Credit cards can link directly to your online banking account, which allows you to submit online payments in a matter of seconds. 
And when you qualify for one of the cards listed above, you'll enjoy cash rewards or bonus points every time you use your card, including for gas purchases. 
You can keep your student card throughout your academic career. Some consumers choose to keep the card even after graduation. But once you've established a career and earn a higher income, you can choose to upgrade your wallet to include the best credit card for your needs at that stage in life.
Who Is Eligible For a Student Credit Card?
You may qualify for a student credit if you're enrolled at a university, state college, community college, trade school, or another institute of higher learning or specialty program. The credit card issuer may require you to submit your current class schedule to prove your enrollment when you submit your application.
Aside from your enrollment status, the bank that issues your credit card will also consider your credit history when reviewing your application. Student cards are designed as starter financial tools, so you're not expected to have an excellent credit score to qualify.
Will A Gas Rewards Credit Card Help Me Build Credit?
A gas rewards credit card will help you build your credit history just like any other credit card. 
Every month, your credit card issuer will report your payment and balance history to at least one major credit bureau — Equifax, TransUnion, and Experian. 

These three companies collect this data to create a personalized profile for every consumer, referred to as your credit report. The information on your credit report is what determines your credit score.
Your gas card will report to one or more bureau (but usually all three) and will impact your credit score based on your financial behavior. Positive reports — including on-time payments and a low balance — will improve your credit score. Negative data — including late payments and a high balance — will cause your credit score to drop.
The best gas credit card for building credit is one that will report to all three credit bureaus. You can ensure this by applying to a card that's issued by a major bank, including the cards above from Capital One, Bank of America, or Discover.
You can reap the credit-building benefits with an unsecured or a secured credit card, as both will report to credit bureaus. The major difference is that a secured card requires a refundable security deposit for approval.
A secured card may work in your favor if you require a larger credit line, as your secured card's credit limit often matches the amount of your deposit.
What Credit Score Do I Need To Qualify For a Student Credit Card?
There's no minimum credit score requirement for student credit cards. And since these cards are designed as starter financial tools, banks will consider applicants with just about any credit score.
Some student credit cards may accept consumers who have bad credit and nearly all will consider applicants with fair credit or no credit at all.  Many young adults are credit invisible — meaning they have no credit score at all. Many people's first credit card is a student credit card.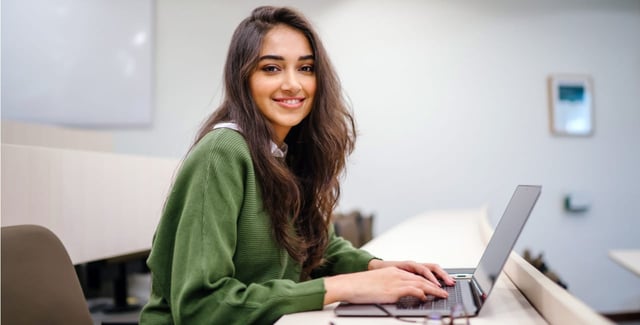 Just keep in mind that your credit score determines more than just your credit eligibility. While a bank may accept your application if you have bad credit or no credit, the card you receive may come with higher fees — including a higher interest rate — to offset any risks the bank takes by extending credit to someone who isn't yet established.
Your credit score may also affect the amount of credit you receive. Student credit cards, in general, often come with lower initial credit limits until the cardholder can prove his or her responsibility with the card.
But some banks, including Capital One, will consider you for an automatic credit limit increase when you show a pattern of responsible spending and on-time payments. 
How Do I Apply For a Student Credit Card?
Banks make it easy to apply online for a credit card. The application typically takes less than five minutes to complete, and you can often receive a credit decision within seconds.
To start, you'll need to provide some basic identifying information so the bank is assured that you are who you say you are. That information includes your: 
Name
Address (physical and email)
Social Security number
Phone number (landline or cell)
Employment information
Current rent or mortgage payment amount
Keep in mind that your income isn't limited only to paychecks from traditional employment. You can include any other recurring income you receive, including child support, alimony, government benefits, an annuity, structured settlement payments, or other income.
When you submit this information, the bank's computers will use automated underwriting to make a near-instant credit decision. In most cases, your screen will refresh in 30 seconds or less to let you know whether you're approved for your new credit card.
If you are, the screen will display your new account information, including your interest rate and credit limit. You should receive your new card in the mail within seven to 10 business days.
In the meantime, you can create an online profile and link your bank account to submit future payments. Once the card arrives, you can activate your account online or over the phone and immediately begin using your card.
If the bank rejects your application, you'll receive an adverse action notice in the mail. This letter will outline the reasons why you weren't approved.
Your credit report won't show that you were rejected for a credit card, but you will have a hard inquiry on your credit report — whether you're accepted or denied — for up to two years. An inquiry is nothing more than a note that shows you gave a lender permission to access your credit report.
Can I Keep My Student Credit Card After I Finish School?
There's no set time limit when it comes to student credit cards. In the past, some issuers required cardholders to confirm their school enrollment every two years. Over time, banks relaxed those rules to the point where it's rarely requested at all after your initial application.
In fact, some consumers keep their student cards well after graduation — whether it's because they've become comfortable with the card or because they prefer the benefits over traditional consumer credit cards.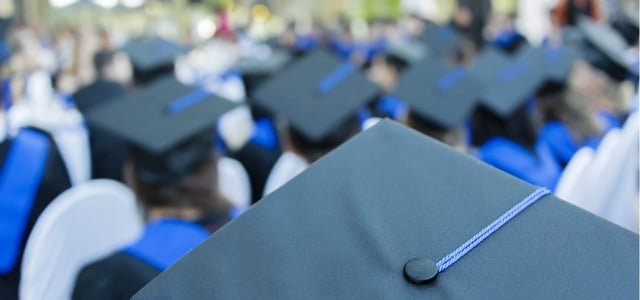 Just keep in mind that student cards typically have lower credit limits compared with consumer credit cards and may not offer perks as robust as those of other cards in the marketplace.
While you may want to keep your student credit card after graduation, you can also consider upgrading to another card within the same bank's portfolio. This is why you should consider student cards from large banks, including Capital One, Discover, Bank of America, or other wide-reaching institutions. 
These banks have large numbers of credit cards under their umbrellas. After graduation, you should have a well-developed credit score and, hopefully,  a higher income. Those two things could qualify you to upgrade to an even more lucrative rewards card with your current card issuer.
That won't be the case if you stick to a smaller bank that only focuses on cards for consumers who have bad credit or no credit. These banks may not offer cards for consumers in your financial position. 
That means you'll have to cancel your current card and find a new card with a different bank. If you instead have your credit card account with a larger financial bank, a simple phone can result in an instant upgrade to a card with benefits you'll enjoy.
The upgrade process takes only seconds to complete over the phone and you'll get your new card in the mail within seven to 10 business days. All of your information, including any balance you have, will carry over to the new card and you shouldn't lose any rewards you've accrued on your current account.
What Other Benefits Do Student Credit Cards Offer?
Student credit cards aren't limited to being a revolving line of credit. Each card has its own rewards and perks, with common benefits including: 
Cash back or bonus point rewards for all eligible purchases
Introductory 0% APR promotions that provide interest-free financing for a limited time for new cardholders
Cellphone insurance that covers any theft or damage to your mobile device when you make your monthly payment using your card 
Good grades bonuses that can provide cash back, points, or interest rate deductions when you maintain a specific grade-point average
Financial education modules and resources that help you learn the ins and outs of the credit card industry
Access to credit score updates so you can track your credit-building journey
Bonus cash back or points in categories that matter to you — including bookstores, grocery stores, streaming services, online shopping, or restaurants
These aren't the only benefits you may encounter with a student credit card. This growing market has the banking industry rethinking the way it approaches young consumers. In the last decade, student credit cards have grown to become a major source of income for banks, which means better and more creative products hit the market all the time.
In fact, a 2020 study by Ohio State University found that:
39% of first-year undergrad students had credit cards in their name
52% of second-year undergrad students had credit cards in their name
63% of third-year undergrad students had credit cards in their name
71% of fourth-year undergrad students had credit cards in their name
The same study found that 18% of students have used their credit cards to pay for college expenses. Banks see this as a quickly growing marketplace and continue to curate credit cards with popular rewards and perks to attract new customers.
What Credit Limit Will I Receive?
Every credit card company has its own lending standards and will offer different credit limits based on those standards. 
A study from WalletHub found that the average student credit card limit is $3,568. That's across all card issuers and isn't limited to just one card type. So the average credit line could be higher if it includes students who have a long history with their cards and may have had multiple credit limit increases.

If you have no credit history on file, a bank may start you with a lower credit limit until you can prove your responsibility. Some banks, including Capital One, will consider you for an automatic credit limit increase after six months of on-time payments.
If you qualify for this increase, the bank will automatically boost your credit limit with nothing needed on your part. The new credit line will take effect immediately and won't impact your interest rate, rewards rate, or current balance.
Can I Get Credit Card Gas Rewards at Any Gas Station?
The credit cards listed above will pay out rewards for purchases at the pump or inside any gas station in America. You aren't required to only shop at a specific chain or brand to earn rewards.
Many gas stations offer their own store-branded credit cards that give you added perks for your loyalty. While those cards may seem valuable, they often come with higher interest rates and only work at that specific gas station — meaning you can't buy gas and earn rewards at 7-Eleven stations if you have a Shell gas card.
These cards will still report your balance and payment history to at least one credit bureau, which can help build your credit history, but they offer very little utility beyond paying for your gas and snacks at a specific gas chain.
Instead of applying for a store-branded card, we recommend considering a student card or a traditional consumer credit card that you can use at any merchant or service provider that accepts credit cards. This way, you can still earn perks and rewards with the added benefit of a backup source of funding in the case of an emergency.
Can I Use a Gas Card Only at Gas Stations?
The credit cards featured above will work at any location that accepts credit cards from the network listed on your card — payment networks include American Express, Discover, Visa, and Mastercard. 

The logo shows which network handles your credit transactions. The four major networks listed above are accepted at nearly all locations in the US that take credit cards as payment. That means you can pay for gas, groceries, tuition, online shopping, bills, or anything else you need without worrying about your card not working. 
But without getting too technical on the backend of credit card transactions, you can rest assured that your card is eligible for use at just about any merchant if it includes the logo of a major payment network on its front or back.
But the gas station-specific cards mentioned previously may only work at the station associated with the card, e.g., the 7-Eleven and Shell examples provided above. These cards also come in two varieties — closed loop, meaning it doesn't operate on a payment network and can only be used at the station, or open loop, which means it operates on the Visa or Mastercard network (Discover and Amex don't partner with any gas stations that we know of) and can be used everywhere Visa or Mastercard is accepted. 
Just remember that your transaction is also subject to you having enough available credit in your account to cover the cost of the purchase. The bank will likely decline your transaction if you attempt to spend more than the amount of credit available to you, though some banks allow you to spend over your limit so they can charge you pesky over-limit fees.
What Fees Do Student Credit Cards Charge?
Credit cards charge different and varying fees for particular services or for card membership. The fees you pay will vary depending on the card you apply for, your credit history, and the perks your card provides. 
Some common fees to look for include:
Interest rate: This is the fee you pay for carrying a balance from month to month. It is calculated as a percentage of the money you owe each billing cycle.
Annual fee: A bank may post this yearly charge to your account to cover the cost of the rewards it offers or to pay for your annual account maintenance fees. This is typically a flat-rate fee, though not all cards charge an annual fee.
Balance transfer fee: This fee kicks in if you transfer a balance from an existing credit card to your new card. It is usually 2% to 5% of the amount you transfer. A balance transfer is still a good idea if your existing card has a much higher interest rate than your new card.
Foreign transaction fee: The bank charges this fee when it has to convert your currency when conducting a transaction in a currency other than your own. It's often a percentage of the transaction amount.
Late payment fee: This fee posts to your account when you submit your payment after its due date. It is usually a flat-rate fee of up to $40. 
Returned payment fee: You'll see this fee if your payment isn't cleared by the bank. It's often a flat-rate fee.
These are some of the fees you may encounter with your student credit card. While some of them may not apply to your card, you may find other fees attached to your account that aren't listed above.
Before you apply for any credit card, be sure to read the cardholder agreement to fully understand your entire cost of credit.
You Can Easily Apply For the Best Gas Cards For Students Online
Student cards are possibly the best credit card option for financial newcomers who are working on their academics and have lofty future goals. Whether you have fair credit or no credit score at all, you can apply for one of these cards and start building your credit history right away.
And with the gas cards for students listed above, you don't have to worry about coming up with your portion of the gas money for each night on the town. With one less concern, you can focus more on that paper that's due next week.
Advertiser Disclosure
CardRates.com is a free online resource that offers valuable content and comparison services to users. To keep this resource 100% free, we receive compensation for referrals for many of the offers listed on the site. Along with key review factors, this compensation may impact how and where products appear across CardRates.com (including, for example, the order in which they appear). CardRates.com does not include the entire universe of available offers. Editorial opinions expressed on the site are strictly our own and are not provided, endorsed, or approved by advertisers.