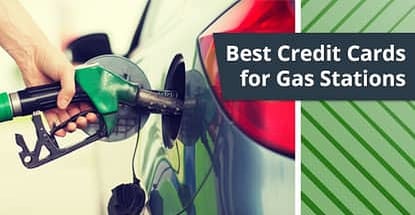 Unless you drive an electric car, reside in a city with efficient public transportation, or live in walking distance of your workplace and other frequent destinations, the odds are high you'll be paying for gas to get you to all the places you need to be.
Springing for fuel can be painful these days with gas prices soaring, but by using a quality gas rebate credit card, you can save a little, and maybe a lot, of money.
As a general rule, people with better credit will have access to cards with higher rewards potential, but there are also several cards available to people with lower credit scores that can earn money back on gas purchases. Some cards are even tailor-made for those looking for specific advantages to cards, like students, businesses, travelers, and people with credit ratings of every type. We've taken the guesswork out of it with this handy list.
Cash Back | Rewards | 0% Intro APR
Air Miles | For Businesses | For Students
Bad Credit | Fair Credit | No Credit
Best "Cash Back" Cards for Gas Purchases
You're going to have to buy gas anyway, so why not get a card that will let you recoup some of that money spent? A cash back card used for necessities such as gas and groceries can be a great way of saving money.
You might even find that some cards offer higher cash back bonuses for gas during different quarters of the year, an incentive to consider owning multiple cards in this category. If you play your cards right, you could save a lot of money. Below are our two best bets for credit cards that can earn you cash back while purchasing gas:
+ See more cards for cash back
Best "Points & Rewards" Cards For Gas Purchases
There was a time when owning proprietary credit cards to the gas station of your choice was the way to go. However, these types of cards have fallen out of favor because they are limited in usage, often confusing, and include fine print about minimum purchases and high APRs.
A better option is going with a general-purpose rewards credit card that offers more simplicity and greater versatility. Here are our two best bets for credit cards that can earn you rewards and points while purchasing gas:
+ See more cards for points & rewards
Best "0% Intro APR" Cards For Gas Purchases
If you're planning on carrying a balance, it's a good idea to find a credit card that won't charge you interest for a long introductory period. This will give you more time to pay off your debt without penalties. Skip the initial APR, and give yourself more time to get that balance to zero with our two favorite choices in this category:
+ See more cards for 0% Intro APR
Best "Air Miles" Cards For Gas Purchases
That trip to Hawaii has been on your mind for years, but the round-trip flights are just so expensive. Why not rack up air miles while you're buying gas and making other everyday purchases and trade them in for a free or heavily discounted flight into Honolulu? Here are our two favorite credit card options for earning air miles:
+ See more cards for air miles
Best "Business" Cards For Gas Purchases
Businesses have unique needs when it comes to buying gas. Some might have a fleet of vehicles for making deliveries or other purposes. Businesses often also have a need for multiple credit cards on the same account and need a much bigger credit line than an individual. Below are our two favorite credit cards for businesses that can help purchase a lot of gas:
+ See more cards for businesses
Best "Student" Cards For Gas Purchases
Students are in a different place in life than a lot of consumers. Most of them won't have much income because they're too busy hitting the books to work much. Many have never owned a credit card, but between those long drives home to see mom and dad, they are going to need to pay for gas. Here are two credit cards that reward students with cash back bonuses for keeping those GPAs high:
Best "Bad Credit" Cards For Gas Purchases
These cards are great options for people with bad credit, featuring small cash back bonuses for gas and grocery purchases. Each card is fully unsecured with no deposit required and includes automatic reviews for credit line increases, and seeing if you're prequalified won't hurt your credit score. Below are our two top picks for the best gas credit cards for people with bad credit:
+ See more cards for bad credit
Best "Fair Credit" Cards For Gas Purchases
Some people don't exactly have good or bad credit. Maybe they've missed a few bills and their credit score has dropped a bit, or maybe they are on their way to rebounding from a history of bad credit. These are our two best bets for gas cards for people with fair credit:
+ See more cards for fair credit
Best "No Credit" Cards For Gas Purchases
Many people have not yet established a credit history and need to start building up their score for future major purchases. Maybe your parents bought you a car for your 18th birthday, but you need a credit card because you're on your own for gas. These are two great choices for a first credit card for those who haven't yet begun their journey on the credit spectrum:
+ See more cards for no credit
Save Money & Earn Rewards With Gas Credit Cards
Though companies like Tesla, Nissan, and Chevrolet, have made huge strides in building electric cars, it's going to be a while before battery-powered vehicles are the norm. In the meantime, you're still going to be paying for gas — why not be rewarded for it?
Among the 18 gas rewards credit card options featured above, there is something ideal for a broad range of needs.
The key is getting organized and deciding how many credit cards you should have and how you plan to use them. If you're considering having multiple credit card accounts, pay attention to the rotating rewards calendars for each card so they don't overlap, and you can earn a lot of rewards and cash back bonuses. Maintaining an updated reminder on your phone of which rewards are active for each of your cards is a great way of staying organized.
And, never forget the importance of paying off your credit card balance in a timely manner and avoid late payments altogether. Late payments are one of the factors that can quickly drag a good credit score down.
Advertiser Disclosure
CardRates.com is a free online resource that offers valuable content and comparison services to users. To keep this resource 100% free, we receive compensation for referrals for many of the offers listed on the site. Along with key review factors, this compensation may impact how and where products appear across CardRates.com (including, for example, the order in which they appear). CardRates.com does not include the entire universe of available offers. Editorial opinions expressed on the site are strictly our own and are not provided, endorsed, or approved by advertisers.