Store Credit Card
Opinions expressed here are ours alone, and are not provided, endorsed, or approved by any issuer. Site may be compensated through the issuer affiliate programs.
With its iconic red-and-yellow seashell logo, the Shell Oil Company is one of the most easily recognizable brands in the US — thanks in no small part to its more than 25,000 gas stations and service centers across the country. Perhaps lesser-known to its millions of US patrons, Shell is the wholly owned subsidiary of the multinational Royal Dutch Shell, one of the largest oil companies in the world.
Given its abundance of locations, its small wonder that Shell is a popular choice for drivers who need to feed hungry fuel tanks. And as more and more motorists choose the pay-at-the-pump convenience of credit cards, the Shell Drive for Five® Card is a frequent pick for its per-gallon gas discount. Unfortunately for cardholders, the Shell card's value is only competitive so long as gas prices stay low (which history deems unlikely).
Better Cards to Use at Shell
At first glance, the Shell Drive for Five card seems to be a great deal but, like the shined-up lemon off the used car lot, first impressions can be deceiving. At an average price of $2.50 a gallon for regular fuel, your 5¢-per-gallon discount only amounts to a savings rate of 2%, and if your car uses the pricier premium gas — averaging over $3 a gallon — that rate drops to 1.6%.
What's more, since the true value of your discount will vary with the price of gas, your gas card perks will become less valuable as gas prices (inevitably) rise. And, on top of it all, your Shell card limits you to only Shell gasoline, which may mean having to drive out of your way just for a fill-up. The better way to save on gas, particularly for those with good to excellent credit, will likely be to use an all-around credit card that will let you fuel up anywhere you drive.
Cash Back
With a typical return between 1.5% and 2%, the Shell Drive for Five card will give you more rewards than a no-frills 1% unlimited card — but that's the only rewards race it's winning. A number of cash back cards will offer flat-rate rewards on every purchase (including gas) equal to those offered on gas by the Shell card, and bonus category cards can offer up to 5% cash back on gas.
at Chase'ssecure website
New Offer! Double Cash Back: Earn 3% cash back on all purchases in your first year up to $20,000 spent. After that earn unlimited 1.5% cash back on all purchases.
0% Intro APR for 15 months from account opening on purchases and balance transfers, then a variable APR of 17.24-25.99%. Balance transfer fee is 3% of the amount transferred, $5 minimum
No minimum to redeem for cash back
Cash Back rewards do not expire as long as your account is open
Free credit score, updated weekly with Credit Journey℠
No annual fee
| | | | | |
| --- | --- | --- | --- | --- |
| 0% Intro APR on Purchases 15 months | 0% Intro APR on Balance Transfers 15 months | | | |
0% APR
If there's one credit card perk that can be more financially beneficial than purchase rewards, it's likely a quality 0% APR offer, especially for anyone prone to carrying a balance from month to month. Whether it's fueling up on your road trip or just keeping a gas-guzzler fed, you can do it all without getting stuck paying double-digit interest — or any interest at all. Some of the best 0% APR deals will have terms as long as 12 months or more.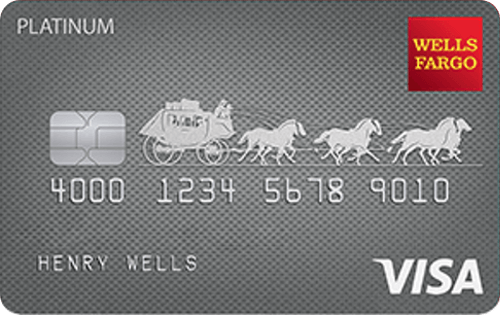 at Wells Fargo'ssecure website
0% Intro APR for 18 months on purchases and balance transfers (fees apply), then a 13.74%-27.24% variable APR; balance transfers made within 120 days qualify for the intro rate and fee
Get up to $600 protection on your cell phone (subject to $25 deductible) against covered damage or theft when you pay your monthly cellular telephone bill with your Wells Fargo Platinum Visa card
Easy access to your FICO® Credit Score with Wells Fargo Online®
Zero Liability protection for promptly reported unauthorized transactions
Convenient tools to help create a budget and manage your spending with My Money Map
$0 Annual Fee
| | | | | |
| --- | --- | --- | --- | --- |
| | 0% for 18 months on qualifying balance transfers | | | |
Travel Rewards
For every gallon you burn on the road during your daily commute, you could be earning points or miles toward the vacation of your dreams, far away from the grind — and the traffic. What's more, a number of the best travel rewards cards will offer bonus points or miles for gas station or other travel-related purchases.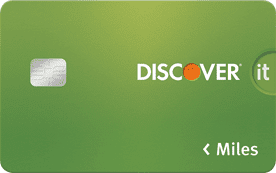 at Discover Card'ssecure website
INTRO OFFER: Discover will match ALL the Miles you've earned at the end of your first year, automatically. For example, if you earn 35,000 Miles, you get 70,000 Miles. That's $700 towards travel!
Earn unlimited 1.5x Miles for every dollar spent on all purchases all with no annual fee.
No Blackout Dates - fly any airline, stay at any hotel.
Redeem your Miles as a statement credit towards travel purchases.
Freeze your account in seconds with an on/off switch either on the mobile app or website to prevent new purchases, cash advances, and balance transfers.
Get your free Credit Scorecard with your FICO® Credit Score, number of recent inquiries and more.
Unless you live in a dense metropolitan city where public transportation is key, the chances are pretty good you have a vehicle — and that it runs on gasoline. For the majority of us, gas is a necessity, and saving on that gas has become even more important as prices seem to rise every year. Unfortunately, while the Shell Drive for Five card is a nice idea, even the biggest petrol-head will likely get more value from a quality rewards card than their Shell card.
What Others Say About the Shell Credit Card
The Shell gas card has fairly consistent feedback from reviewers around the web, and the general consensus is: Meh. While reviewers get revved up about the introductory rewards and agree that the card's discount is nice, most recognize that a large number of other cards offer better rewards on gas purchases — and can be used in far more places.

A review from ValuePenguin.com says:
"
The Shell credit card fails to impress, especially when compared to top-notch gas credit cards. With most credit cards that are partnered with either a store or airline, it's not uncommon to see rewards rates that are 3% or higher. For example, the BankAmericard Cash Rewards™ Credit Card can give its users 3% back on gas for the first $2,500 in combined purchases each quarter. We calculate that the Shell credit card provides a 2.14% rewards rate for the average consumer. This rewards rate will vary slightly, since it is dependent on the the price of a gallon of gas. Put simply, you get $0.05 back on every gallon you buy. The card's most noteworthy benefit is the bonus it provides for the first 2 months of cardmembership. Cardholders get $0.25 back on every gallon, instead of the standard $0.05. That can work out to a rewards rate of over 10%. Though fantastic, this will wear off fairly quickly, and the card will fall back to mediocrity. Finally, it's worth mentioning that the Shell credit card is a so-called store card. It is not affiliated with any of the card networks, like Visa or Mastercard, and therefore cannot be used to pay for things outside of Shell stations. This is in stark contrast to other gas credit cards. For example, the BP credit card provides their customers a Visa credit card as an option, so you could use it at other brands' gas stations. — ValuePenguin.com
"

A review from AskMrCreditCard.com says:
"
If you fill up at Shell and want to earn cash back or discounts, there are better cards to get (since 5 cents works out to just over 1% cash back — unless gas prices fall back to the $2 area!). If you have bad credit and are actually looking for an unsecured credit card, then the Credit One Bank Visa with Gas Rewards is an alternative because you can earn reward points for gas purchases at any station. If you have average credit, the Barclaycard Rewards MasterCard is also a great alternative (you get 2X on gas, utilities, and groceries). — AskMrCreditCard.com
"

A review from WalletHub.com says:
"
The Shell Gas Card is a quality card to be able to buy gas at all Shell gas stations nationwide. The short-term rewards are pretty nice with the 25 cents a gallon savings for two months. However, after that, it becomes very limiting with the savings offered. 5 cents a gallon savings isn't much of a reward when you compare that to the 24.99% interest rate for the card. You also have to purchase a certain amount of gas per month to earn the rewards. Other cards like Chase Freedom are better overall credit cards long term that give you 5% cashback on gas during two quarterly periods a year. — WalletHub.com
"
Is the Shell Card Right for You?
No matter how much time you spend on the road, you can probably benefit from saving a little at the gas pump — but the Shell Drive for Five card may not be the way to do it. In the end, unless your credit prevents you from obtaining a card with better gas rewards (or, at least, comparable rewards from a card that can be used in more places), the Shell gas card simply doesn't have a wheel in the race.