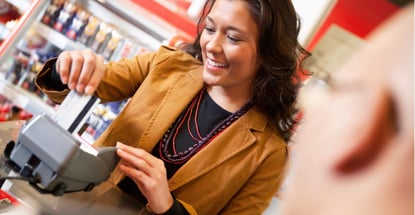 I didn't have a clue about the best credit cards for gas and groceries during my undergraduate days. In fact, I'm sure they didn't exist back then. Too bad because I spent most of my meager funds at the grocery store on delicacies like flaked tuna, semi-stale bread, and Vienna sausages. A little cash back would have helped back then, and for many, it still helps today. 
And even if I didn't drive a car when I was in college, you probably do and can benefit from a gas rewards card. The cards featured below serve up high-octane rewards on gas and grocery purchases, and they offer a nice little dividend to folks who eat and drive. 
Alas, if I had one of these cards when I lived on campus, perhaps I could have upgraded my flaked tuna to chunk-light.
Best Overall: Citi Premier® Card
Best For Groceries: Blue Cash Preferred® Card
Best For Gas: Costco Anywhere Visa® Card by Citi
Best For Subprime Credit: Aspire® Cash Back Reward Card
Best Overall Card For Gas and Grocery Purchases
The Citi Premier® Card offers the same elevated points on purchases at gas stations and supermarkets with no spending caps. You can grocery shop till you drop and earn rewards for every purchase. And you'll earn generous rewards on more than just gas and groceries. 
You can redeem your points for travel, online shopping at select stores, a gift card, or statement credits.
More Cards For Gas and Groceries
Each of these credit cards offers bonus rewards on gas and grocery purchases in the form of cash back, points, or miles. We've included cards for all types of credit, and one may perfectly suit your shopping habits.
The Discover it® Cash Back card is an excellent choice for consumers seeking top gas and grocery rewards. Gas and groceries are two common bonus categories that are regularly offered by Discover. When activated, its quarterly rotating bonus categories give you a high cash back rate on both types of purchases for those three months, subject to a purchase limit. Coupled with the first-year Cashback Match, cardmembers can really rack up the rewards.
The Blue Cash Preferred® Card from American Express is the best everyday card for grocery store purchases, bar none. It also offers bonus cash back on gas purchases, making it a standout among the cards in this article. The annual fee is moderate, and you can stretch payments over several months via the Amex Plan It® option. Do not confuse this card with the Blue Cash Everyday® Card.
You can get bonus cash back for both gas and grocery purchases with the Bank of America® Customized Cash Rewards credit card. All you have to do is choose gas stations as your bonus category while earning elevated rewards on grocery shopping. Additionally, you can earn high-value Preferred Rewards by keeping a large balance in a Bank of America checking account.
The Chase Freedom Flex℠ is similar to the Discover it® Cash Back card. You can activate gas stations and grocery stores as a rotating bonus category to receive the maximum rewards rate. While this card won't match your cash back in the first year of ownership, it does provide a cash signup bonus when you meet the minimum spending requirement. 
The Costco Anywhere Visa® Card by Citi is an open-loop card that pays its top cash back rate on eligible gas purchases (up to the annual limit). And if you shop at Costco, you'll earn additional rewards for those purchases, too. This Citi rewards card offers a relatively low interest rate and doesn't charge annual or foreign transaction fees, although you must pay to be a Costco member.
The More Rewards American Express® Credit Card from Navy Federal Credit Union offers high bonus points on purchases from grocery stores, gas stations, and other merchant types. You or a family member must have been enlisted in the armed forces to qualify for this no-annual-fee card. Besides saving you money on gas purchases, the card offers car rental and roadside assistance perks.
The Amazon Prime Rewards Visa Signature Card is your best bet if you buy your groceries from Whole Foods, which falls within this card's top earning category. You'll also earn a modest rate on fuel purchases. All rewards are unlimited, and you can quickly redeem your points for cash or toward purchases on Amazon.
The Discover it® Student Cash Back card pays you generous cash back on quarterly rotating merchant categories, including grocery stores, supermarkets, and gas stations. Rewarded purchases are subject to a quarterly cap, and you must activate each new merchant type to receive the bonus rate. This solid student credit card is available to most undergraduates who attend a post-secondary school at least half-time. 
Active and former military members will appreciate the Cashback Rewards Plus American Express® Credit Card for its high cash back rate on military base purchases. The card, from the USAA Savings Bank, pays the top bonus rate for gas station purchases and a lower rate for grocery purchase activity. Bonus rates are subject to annual limits. 
The Aspire® Cash Back Reward Card is a solid option for anyone with a lower credit score. It offers generous rewards on gas and grocery purchases among other benefits to help credit builders work their way to the top of the FICO scale.
What Is a Gas and Groceries Credit Card?
First and foremost, a gas and groceries credit card offers bonus rewards for these two types of purchases. The cards reviewed above offer an elevated rate of return on both types of purchases, not just one or the other.
Some of the cards feature quarterly rotating bonuses (e.g., the Discover it® Cash Back card), meaning that you can earn generous rewards on purchases from merchant categories that change every quarter. For example, you may earn bonus rewards for grocery purchases in the first quarter of the year and gas station rewards during the third quarter.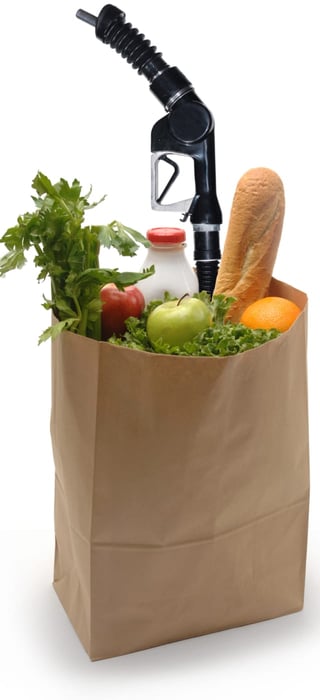 The card determines the rotation order and the merchant categories, so gas stations or supermarkets may be omitted in any given year. You must activate the merchant category each quarter to receive the bonus rewards, which the issuer usually limits with a quarterly cap on eligible purchases.
Some cards offer flat-rate rewards on these purchases (e.g., the Citi Premier® Card) or in combination with quarterly rotating rewards (e.g., the Chase Freedom Flex℠ card). A membership reward tier is a fixed rate for purchases from a defined set of merchant types, and issuers may cap the spending amounts that earn bonus rewards from a given tier. 
A base rewards rate of usually 1% or 1.5% applies to purchases from non-bonus merchant types or after you have exceeded the bonus tier spending cap.
Bonus rates on gas and grocery spending vary among the reviewed cards. The cards may issue rewards as points or cash back with rates as high as 6% (or 6x). Caps on purchases that earn bonus rewards may be fixed for the year or may reset each quarter. In some cases, combined tiers may share the same limits.
All the featured cards are open-loop, meaning you can use them wherever merchants accept the card's payment network (Visa, Mastercard, Discover, or American Express). But many oil companies issue closed-loop cards that operate only at the issuer's gas stations (for example, the Exxon Mobil Smart Card+™). 
Closed-loop gas cards have low credit limits, high interest rates, and usually limit rewards to discounts on future gas purchases. 
What Is the Best Gas Card to Get?
If you drive a lot, own a gas guzzler, or your household has more than one vehicle, consider getting a gas credit card that pays at least 3% cash back or 3x points on your gas purchases throughout the year.
 Although some cards advertise a 5% gas rewards rate, the high rate applies only for one quarter per year and then falls to the base rate – 1% to 1.5% — for the remainder of the year. 
You also should pay attention to caps on the high gasoline rewards rates. For example, the Costco Anywhere Visa® Card by Citi pays a top rate all year, but a cap limits the amount of rewards you can earn at that rate annually. Still, you'd have to spend a pretty significant amount per year to hit the rewards limit. Long-distance truckers, take note.
The More Rewards American Express® Credit Card offers a lower gas reward rate than the Costco card, but the Amex rewards are unlimited. In the unlikely event that your annual spending at the pump exceeds $9,333 ($777/month), you'll earn more from the unlimited Amex rewards than with Costco's limited rewards. 
Keep in mind that although both cards have no annual fee, you must pay for a Costco membership to get its card.
Also, compare the Costco credit card to the excellent Discover it® Cash Back card, which applies a cap that limits your bonus rewards on gas purchases even more, not taking into account the first-year Cashback Match or the standard non-bonus rate. 
What Is the Best Groceries Card to Get?
If you want to earn maximum rewards for your gas purchases, choose a card with a points or cash back rate of 5% or higher at gas stations. Preferably, the card should have a small or no annual fee and a relatively low interest rate.
The Blue Cash Preferred® Card from American Express currently has the highest rewards rate on supermarket purchases. The card caps rewards per year, which you can earn through an average amount spent per month of grocery spending.
The Discover it® Cash Back card has a grocery store purchase rewards rate just below that of the Blue Cash Preferred® Card. However, the high rate applies for only one quarter per year (at most), and Discover caps it at a purchase limit before the standard rate applies.
The Chase Freedom Flex℠ card's cash back rate on grocery store purchases matches that of the Discover it® Cash Back card in that there are rotating quarterly bonus categories offered, and gas and groceries are two common categories offered. 
Which Chase Card Is Best For Groceries? 
We would recommend a combination of two cards to ensure maximum rewards year-round: the Chase Freedom Flex℠ and the Chase Freedom Unlimited®. The combination of the two offers tiered rewards and bonus earnings potential on a quarterly basis with the Chase Freedom Flex℠ plus the flat-rate, unlimited earnings potential of the Chase Freedom Unlimited®. All this paired with no annual fee on either card, you can't go wrong.
Though marketed as cash back cards, your cash back is actually awarded as points that can be redeemed for a penny apiece, respectively. However, if you own a Chase Freedom card and a Chase Sapphire card, you can transfer the points to your Sapphire card and experience a higher rewards rate for travel via the Chase Ultimate Reward site.
It's also worth mentioning that Chase is partnering with Instacart for a new Mastercard offering, which will likely soon become Chase's best credit card for groceries.
According to a recent press release: 
"The new Instacart Mastercard® credit card will be the first Chase co-branded card offering in the on-demand grocery delivery space. The card will allow consumers to earn accelerated points on purchases across the Instacart marketplace, which today includes more than 700 beloved national, regional and local grocers and retailers. The card is expected to launch in 2022 and will also offer a number of other benefits, perks, and savings."
There's no mention yet as to whether it will charge an annual fee or what its exact rewards earnings will be. 
How Do You Shop With Credit Cards?
Contrary to popular opinion, Americans are not born with a credit card gene, and our offspring do not inherit the knowledge of how to shop with a credit card. 
But something happens by adulthood because 61% of U.S. consumers own at least one credit card, and the average American has four. Moreover, the average credit limit per credit card owner is just above $31,000.
We love credit cards, and we love to shop. In 2020, Americans spent $5.6 trillion on retail sales. Most of us know how to plunk down a credit card on the checkout line, but fewer understand all that occurs underneath the covers.
Anatomy of a Credit Card
A credit card's standard dimensions are 3.375 inches by 2.125 inches. A card contains your name, account number, expiration date, a three- or four-digit security code, and the names of the issuer and payment network (i.e., Visa, Mastercard, American Express, or Discover). 
A magnetic stripe on the back contains basic information about you and the card. Most importantly, all modern credit cards have an embedded computer chip using EMV (Europay, MasterCard, and Visa) technology that expands a card's functionality and data storage.
Credit card chips contain all the information on the card plus a lot more, including a four-digit PIN, your credit balance, your credit limit, and the ability to generate a unique transaction code when you use the card with a chip-enabled checkout device. The two types of EMV transactions are:
Chip and PIN: You enter the PIN into the checkout device to confirm your identity and authorize the transaction. 
Chip and signature: You sign your name on the checkout device or printed receipt to authorize the transaction. 
When you make a credit card purchase, the merchant pays fees to cover the relevant costs. These include:
Interchange fees: Typically ranging from 1.15% to 3.15%, plus an authorization fee of up to $0.65 per transaction. This fee is higher when the merchant keys in a card number rather than reading it electronically. The card issuer collects the interchange fee.
Payment network fees: One of the four payment networks collects a small fee (usually less than 0.15%) per transaction to cover the costs of transmission, processing, and record-keeping.
Merchants hate these fees but have no choice – they would lose most of their customers if they didn't accept credit cards. 
Types of Purchases
The four ways you can shop with a credit card are:
In-store purchases: You stand on a checkout line (manned or self-serve) and scan, swipe, or insert your card into a checkout device. The device communicates with the issuing bank via the card network to verify the card number (and PIN, if used), check the available credit, and update the card's balance on its chip. The card generates a once-only transaction number to identify the purchase. The device also records a timestamp, the store identity, items purchased, quantities, and prices. All this information is recorded, and some will appear on your monthly credit card statement.

Online: To make an online purchase, you enter the card's account number, expiration date, and security code onto the checkout web page, along with any other information the merchant requires. The merchant then follows the same basic steps used for in-store purchases, except the card's PIN is not updated.

In-app: Many mobile phone apps give you the ability to purchase items. The steps are similar to those for online purchases. 
Over the phone: Either a human or a robot records the required information and authorizes the sale. You may have to read off your card account number, but robots allow you to enter the number via the phone's keypad.
With a credit card in good working order, you can go shopping without cash or your checkbook. 
Credit Limits
Your shopping spree will crash if you try to exceed your credit limit. The card assigns you a credit limit when you first open the account, and it may change over time. An issuer sets your credit limit in one of two ways:
For unsecured cards: An unsecured credit card does not accept cash collateral, depending only on your promise to make the required payments. The credit card companies rely on your credit scores and credit reports to determine the credit limits for your unsecured cards. 
For secured cards: To get a secured credit card, you must make a cash deposit equal to the initial credit limit. Your credit history is not essential because the deposit collateralizes your charges. Secured cards typically have credit limits ranging from $200 to $4,900. With the issuer's approval, you can increase your limit by depositing more into your security account. If and when you graduate to an unsecured card, the issuer will refund the deposit.
You can ask for a credit limit increase or wait for the issuer to offer you one. Cards for bad credit may keep your credit limit below $500, but folks with excellent credit can expect limits in the 10s or even 100s of thousands.
If you attempt to spend beyond your credit limit, the issuer may decline the transaction and hit you with an over-limit fee. Or it may accept the transaction but still impose a fee.
Charge cards are different from credit cards because they have no preset spending limit (NSPL). You must pay the entire balance each month unless the charge card offers a special feature (for example, Pay Over Time from American Express) allowing you to finance purchases over multiple months.
Paying For Your Purchases
Credit cards operate on billing cycles roughly a month long and assign each of your transactions to a particular cycle. The credit card companies issue billing statements at the end of each cycle, summarizing and detailing your card activity for the period. 
If you have an unpaid balance on the statement date, you must pay at least the minimum required amount by the payment due date. In almost all cases, the card offers a grace period – the interval between the statement and payment due dates. If present, a grace period must be at least 21 days.

You don't accrue interest on your outstanding balance during the grace period. However, once you pay less than the total amount and have an outstanding balance after the due date, the card suspends your grace period and reinstates it only after you retire the balance. 
Some cards do not offer grace periods and immediately charge interest on your purchases. You can avoid interest by paying for transactions on the day you make them.
Interest accrues on purchases at the annual percentage rate (or APR). Credit card APRs typically range from 9.99% to 36%, with the average APR currently around 16%.
If you pay less than the required minimum due, the card will probably slap you with a late payment fee, typically up to $40 per occurrence. A few cards waive the first late fee.
If you're having trouble paying your credit cards, consider undertaking a balance transfer program. You use balance transfer transactions to consolidate your credit card debt, presumably making it easier to schedule timely payments.
Are Co-Branded Gas Station Cards an Option?
Co-branded gas station cards operate just like regular unsecured credit cards, except they offer discounts at the co-issuer's gas stations. You can use these open-loop cards anywhere that accepts the payment network's credit cards, including other gas stations. 
The Shell Fuel Rewards® Mastercard® is a representative example of a co-branded gas station card. It offers discounts at Shell stations, both at the pump and in the station convenience stores. Co-branded gas cards typically carry high interest rates and low credit limits. 
The oil companies also offer non-co-branded, or closed-loop, gas cards that allow you to charge a gas purchase at the pump and other items at the station convenience stores. You can only use the cards at the issuer's stations, so you may need to own several cards. These cards offer gas discounts but little else.
Does Buying Gas With a Credit Card Build Credit?
You can build credit when your credit card reports your payments to one or more credit bureaus. Virtually all credit cards do so, including co-branded gas cards.
To benefit from credit card reporting, you must pay your bills on time, every time, and keep your credit utilization ratio (CUR) below 30%. CUR represents the total amount of credit you've spent versus how much credit you have available.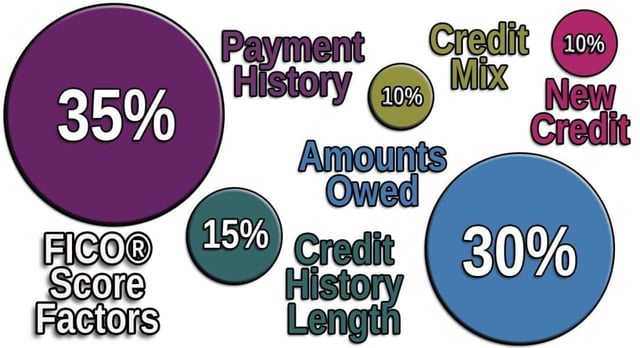 Only some non-co-branded gas cards report your payments so they can't help you boost your credit score. But if you are delinquent in paying one of these cards, your account may go into collection. This will hurt your credit score because collection agencies routinely report to the credit bureaus. 
One benefit of non-reporting cards is that they don't figure into your CUR calculation. If you have a non-co-branded, non-reporting gas card, you can use it to charge your gas purchases without increasing your CUR. 
Is Getting a Gas Card Worth It?
You can use a co-branded gas credit card just like any other open-loop card. The only reason to use a co-branded gas credit card is to receive the maximum discounts available for a gas purchase at the pump. If you and your household spend a lot on gasoline each month, these cards may be worthwhile.
Before you take the plunge, check out the 11 reviewed general-purpose credit cards above, as they offer better deals.
For one thing, they all offer elevated rewards on both gasoline and groceries, and those rewards may be worth more to you than the pump discounts from co-branded gas cards. Co-branded cards generally offer fewer rewards and higher costs than do regular credit cards. 
It's harder to make a case for the non-co-branded gas cards. They may offer the best pump discounts but little else. The other factor in their favor is that they are usually easy to get, even with bad credit. One of these high-APR, non-co-branded gas cards may make sense if you are loyal to a particular brand of gas and you pay your entire balance each month. 
Is It a Good Idea to Buy Groceries With a Credit Card?
Without a doubt, shopping for groceries with a credit card is something you should do. Credit cards are secure, convenient, and most offer rewards. Cards that provide bonus rewards for grocery shopping can save you up to 6% on this essential expense. That's an easy $6 off every $100 you buy, just for using your card.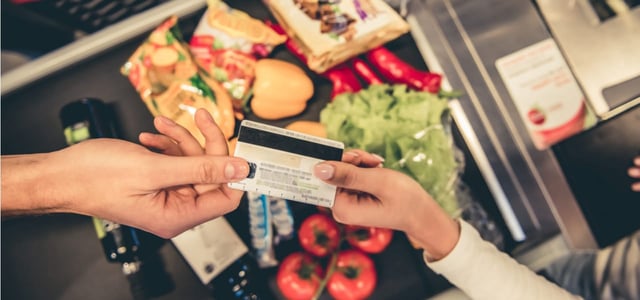 The only downside of using a credit card at the supermarket is if it tempts you to buy items you neither need nor can afford. If you have a weakness for impulse buying, consider shopping with a debit card instead. Using a debit card is equivalent to spending cash, and it's often psychologically harder to part with money than to use credit.
You will generally want to pay your entire card balance each month to avoid interest. 
But even if you have to pay less than the total balance, you should strive to pay the amount you charged for groceries. Since you presumably need groceries every month, failure to pay for them by the due date can cause your debt to spiral. 
Savvy Shopping For Gas and Groceries
Gasoline and groceries can make up a significant portion of your everyday spending. Since this spending borders on non-discretionary, you should endeavor to get the most from the money you shell out each month for these items. 
In our review of the best credit cards for gas and groceries, we've identified candidates that offer handsome rewards to the full range of credit types, from excellent to subprime. Before choosing one, be sure to read all the fine print in the cardmember's agreement. Pay special attention to the fees, limits, and conditions accompanying a card. Happy shopping!
Advertiser Disclosure
CardRates.com is a free online resource that offers valuable content and comparison services to users. To keep this resource 100% free, we receive compensation for referrals for many of the offers listed on the site. Along with key review factors, this compensation may impact how and where products appear across CardRates.com (including, for example, the order in which they appear). CardRates.com does not include the entire universe of available offers. Editorial opinions expressed on the site are strictly our own and are not provided, endorsed, or approved by advertisers.