credit card advice
Opinions expressed here are ours alone, and are not provided, endorsed, or approved by any issuer. Our articles follow strict
editorial guidelines
and are updated regularly.
A typical internal combustion engine operates thanks to a reaction between fuel and oxygen that causes hot gases to expand within the cylinders. Those gases drive the engine's pistons, generating work, which — along with other key components — powers your vehicle.
In other words? Without fuel, the engine doesn't work. And without a working engine, your car isn't going anywhere. So, if you have an internal combustion engine in your car, you need gas.
And gasoline isn't cheap. Happily, there are a number of easy ways to save on every fuel-up — perhaps the easiest of which is simply using the right credit card to pay at the pump.
But your options don't stop there. While these are our top picks, tons of great credit cards with competitive gas rewards are available so you can save while keeping your internal combustion engine, well, combusting.
Overall | Cash Back | Points | Online Banks | Co-Branded | Business
Best Overall Credit Cards for Gas Rewards
With so many great options on the market, selecting the best credit card for gasoline purchases will likely not only require considering which card earns the most rewards on gasoline, but also which card will have uses outside the gas station.
Unitasker cards often aren't worth the wallet space, at least not when you can find a card with a range of other useful bonus categories that can save on gas and the things that go with it — like parking or tolls — or family necessities, like grocery store purchases.
This card rewards the two of things many of us spend the most on: travel and food. In addition to 3X points per dollar on gas purchases, you'll get triple points on things like rideshares, homestays, and flights, as well as 3X points on dining out and ordering in.
You'll earn bonus rewards on gas, groceries, and wholesale clubs with this card when you choose gas as your 3% cash back bonus category. Choose a new bonus category each month to match your spending habits. Bonus rewards are limited to the first $2,500 in combined category purchases each quarter.
The Blue Cash Preferred® Card from American Express makes waves for its generous cash back rewards for groceries, but it also offers an unlimited 3% cash back on purchases made at US gas stations. Plus, earn 3% back on select transit purchases.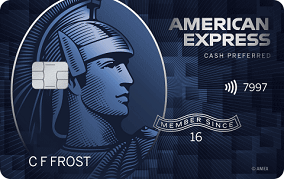 Earn 6% cash back at U.S. supermarkets (on up to $6k a year) & on select U.S. streaming services
Earn 3% cash back on U.S. gas station and transit purchases
Pay a $95 annual fee
Although this card has an annual fee, the signup bonus makes up for it for the first two years. Plus, the high rewards rates make it easy to earn back what you spend on the annual fee — and then some — after the signup bonus runs out.
Best Cards for Earning Cash Back on Gas Purchases
Straightforward and easy to redeem, cash back rewards are the rewards of choice for those cardholders who don't want to bother with points transfers or tricky miles redemptions.
Cash back cards come in all shapes and sizes, with options for year-round gas rewards, as well as rotating bonus category cards that offer high earnings rates during select quarters each year. Just remember, the more you can earn, the more likely there are to be limits on your bonus rewards.
This card gives you the option to choose to earn 3% cash back on gas station purchases, which means you can earn 9¢ of rewards per $3 gallon of gas, a solid rate much better than any old gas station card can offer. Your bonus rewards earnings will be capped at $2,500 in combined category purchases each quarter, but that's still an awful lot of savings.
With at least one quarter of gas station bonus cash back typically offered each year, this card can net you 5% cash back on up to $1,500 in gas station purchases each eligible quarter you activate your bonus. Plus, you'll see other useful bonus categories, like groceries or Amazon.com, the rest of the year.
Another rotating category card, this option also tends to offer at least one quarter — but sometimes two — of bonus cash back for gas station purchases each year. That's 5% cash back on up to $1,500 in gas purchases each eligible quarter when you activate your bonus.
Best Cards for Earning Rewards Points on Gas Purchases
Although cash back rewards are often the easiest to redeem, many cardholders prefer rewards points for their flexibility and the ability to get more value with smart redemptions. Many of the most popular credit card rewards come in point form.
In general, points can be redeemed for everything from cash back and merchandise to free travel or exclusive experiences. So, with a good points card, every fuel purchase can bring you one step closer to the trip of your dreams.
With triple points on nearly every form of travel, including the fuel you need to keep your combustion engine moving, this card can help you rack up points in no time. Moreover, the solid signup bonus can give your points a boost when you meet the spending requirement.
The Citi Premier Card will not only provide 3X ThankYou® points per dollar on your gas purchases, the card's broad travel category means triple points on parking and tolls.

Earn 3X points per $1 spent on eligible travel purchases, including gas stations
Earn 2X points per $1 spent on dining out and entertainment
Pay no annual fee the first year, then $95
In addition to bonus rewards for gas, this card is one of the few credit cards with bonus rewards for entertainment purchases. The entertainment category is as broad as the travel category, including everything from sporting events to movie theaters.
The PenFed Platinum Rewards Visa Signature® Card offers a remarkable 5X points per dollar for gas station purchases with no limit on how many points you can earn.

Earn 5X points per dollar on gas at the pump, 3X points per $1 on groceries
Earn unlimited 1X points per dollar on all other purchases
Pay no annual fee
Although you need to be a member of PenFed Credit Union to qualify for this card, there are several ways to become eligible for membership, including joining the National Military Family Association or Voices for America's Troops for a small one-time fee.
Best Gas Credit Cards from Online Banks
In today's world — where you can even have your groceries delivered to your front door — tedious chores, like going to the bank, are becoming a thing of the past. Online-only banks are not only more convenient, but they are often more affordable thanks to the low overhead associated with the lack of physical branches.
As more and more people recognize the benefits of online banking, we're seeing online banks become real contenders in the consumer finance world, including boasting some truly competitive credit card offerings.
The Ally CashBack Credit Card not only offers unlimited 2% cash back on gas station purchases, but you'll also earn a 10% Ally Deposit Bonus for depositing your rewards into your Ally bank account.

Earn unlimited 2% cash back on purchases at gas stations and grocery stores
Earn unlimited 1% cash back on all other purchases
Pay no annual fee
Another thing that helps this card stand out from its online bank competitors is the signup bonus, which is a competitive amount with an easily attainable spending requirement.
The TIAA Rewards Credit Card gives cardholders a choice of rewards, with the option to earn rewards points or cash back. Either way you go, you'll get competitive rewards for gas station purchases.

Earn 3X points per $1 or 3% cash back on eligible gas and grocery purchases
Earn 2X points per $1 or 2% cash back at wholesale clubs
Pay no annual fee
If you don't already have an account with TIAA Bank, you'll need to open a checking, savings, or investment account to apply for the rewards credit card. You can open a basic checking or savings account with a $25 deposit and avoid the monthly fee by maintaining a balance of at least $25 in your account.
Although Discover is often considered for its role as a credit card network, the online-only Discover Bank is the issuer for its eponymous credit cards. And, among its many offerings, is this card, which provides 2% cash back on up to $1,000 in gas station and restaurant purchases each quarter.
Best Co-Branded Gas Station Credit Cards
The first thing many think of when considering gas station rewards credit cards is the co-branded cards offered by your local petrol station. With tempting signage promising to save you a nickel or more for every gallon, it can be hard to determine the real value of these cards.
For the most part, your local gas station's co-branded credit card won't offer you the best per-gallon rewards. However, if you want a simple way to streamline your finances, track your fuel use, and free cards for each member of the family, then a gas station card may be a good fit.
The ExxonMobil™ Smart Card offers a slightly higher than usual discount by offering 6¢ off per gallon on Exxon or Mobil gas purchases at over 11,000 stations.

Earn 6¢ per gallon on eligible ExxonMobil gasoline purchases made with your card
Use your card at more than 11,000 Exxon and Mobil stations
Pay no annual fee
Although you can use your card to make non-fuel purchases, such as car washes or convenience store items, you won't earn rewards on anything but gas.
The Shell Drive for Five® Card offers the standard 5¢-per-gallon discount on gas purchases made at more than 5,300 eligible stations.

Earn 5¢ per gallon on eligible Sunoco gasoline purchases made with your card
Use your card at more than 5,300 Sunoco stations
Pay no annual fee
Additional cards are available at no cost. As with most credit cards these days, you can manage your account online, making it easy to track your fuel purchases.
The Sunoco Rewards Credit Card rewards your station loyalty with 5¢ off every gallon of Shell gas at more than 14,000 stations.

Earn 5¢ per gallon on eligible Shell gasoline purchases made with your card
Use your card at more than 14,000 US Shell stations
Pay no annual fee
There is no limit on the number of discounted gallons of fuel you can purchase, and additional cards are free so you can share the savings with the entire family.
Best Business Credit Cards for Gas Rewards
While many people envision busy airports and exotic destinations when they picture business travelers, it's likely that far more business owners and employees travel for work by vehicle than they do by air.
On the plus side, business credit cards understand that the company car doesn't run for free, and they offer competitive purchase rewards for every fill up. You'll also receive other useful bonus categories like office supply purchases or shipping costs.
This card has quickly become one of the most popular business cards on the market, offering 5% cash back in several useful business categories, as well as 2% cash back on gas station and restaurant purchases.
The U.S. Bank Business Edge™ Cash Rewards World Elite™ Mastercard® offers an unlimited 3% cash back on gas station purchases. You'll also get an annual 25% rewards bonus based on the previous year's earnings.

Earn 3% cash back on gas station, office supply, and wireless service purchases
Earn unlimited 1% cash back on all other purchases
Pay no annual fee
This card's additional bonus cash back categories are also worth mentioning, as you can earn 3% cash back on cellular purchases and office supplies.
The American Express Business Gold Rewards allows cardholders to pick their 3X points rewards category from five options, one of which is US gas stations. Bonus rewards are limited to the first $100,000 in combined category purchases each year.

Earn 3X points per $1 in a category of your choice and 2X points per $1 in remaining four categories
Earn 1X point per $1 on all other purchases
Pay no annual fee the first year, then $175
Keep in mind that this card isn't a revolving credit card by default, meaning you'll need to pay your balance in full each month unless you enroll in Amex's Pay Over Time feature.
Fill Up on Rewards When You Fill Up Your Tank
Although more and more modern vehicles are being powered by alternative fuels, the gas-powered internal combustion engine still reigns supreme as the most popular way to power a car. Which makes gas an absolute necessity for millions of people every day.
As with any everyday purchase, saving on gasoline can help nearly any family's budget, which is likely why bonus rewards for gas purchases are a common offering among consumer cards, and an increasingly popular one for business credit cards.
But not all gas rewards are created equal. Unless you're spending a veritable fortune on gas purchases, it may be worthwhile to choose a card with more utility than just what you get at the pump; the best way to get the most out of credit card rewards is to tailor your rewards cards to your spending habits — not the other way around.