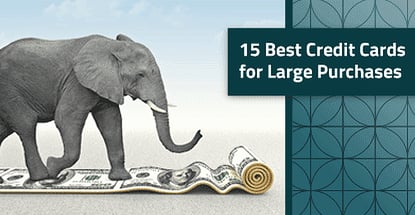 Finding the best credit cards for large purchases may seem like a daunting task, with so many card options available to consumers these days. But we've narrowed the list for you to present our choices for just such cards. As ubiquitous as it's become, many of us likely take the credit card for granted, forgetting how much more difficult it was to make large purchases in the once-upon-a-time. To put it in perspective, consider this: if you were to purchase a new $5,000 furniture set using silver bars, as your ancestors once may have done, you'd have to haul almost 25 pounds of silver to the furniture store.
In addition to having a minuscule fraction of the mass presented by a sack of precious metals, your credit card can also give you additional big-purchase perks, including the ability to pay your purchase off over time and earn rewards while you do it. Yes, with the right credit card, your large purchase can result in sizeable savings — and you won't have to haul them anywhere.
0% APR | Signup Bonus | Cash Back | Miles | Points
Best "Introductory 0% APR" Credit Cards for Large Purchases
While the thin, light, easy-to-swipe credit cards have a lot going for them, those little pieces of plastic have one big drawback: interest fees. With average credit card APR ranging above 14% for even the best credit, carrying a big balance on your card from a large purchase can be costly — and those interest costs will compound over time.
To fight the fees, smart shoppers use introductory 0% APR offers, which let you carry a balance interest-free for 12 months or more. To add extra value, if your intro APR offer comes from a rewards card, you can also earn cash back, points, or miles on your purchase, all interest-free for the length of the intro period. Many of our favorite cards with 0% APR offers also come without annual fees, giving you the ability to stack the savings.
If you're going to use an intro APR card to finance a large purchase that you intend to pay off over time thanks to the interest-free offer, be sure that you can pay off your balance before the end of the introductory period. Once your offer expires, you'll be charged the default APR, which will likely be in the double-digits. Check your cardholder agreement to determine the APR you'll be charged after your intro period ends.
When it comes to choosing a card with an intro-APR offer, be sure to consider the card's potential for purchase rewards on top of its interest savings. While rewards cards often have shorter introductory periods than cards without rewards offer, if you don't need the extra time, you can score some extra savings through cash back or points rewards.
Best "Signup Bonus" Credit Cards for Large Purchases
As awesome as credit card rewards undoubtedly are, their biggest fault can be the time it takes to accrue them — unless you can score a big (metaphorical) bag of signup bonus rewards. Typically offering hundreds of dollars or tens of thousands of points or miles, signup bonuses can be a great way to kick-start your earnings.
So what's the catch? You have to meet the minimum spending requirement, and you'll have to do it within the set time limits. If you're already planning on making a big purchase, however, this can be fairly easy, depending on the requirement. In general, the bigger the bonus, the larger the spending requirement. Our top signup bonus cards include options for nearly every budget, with spending requirements — and bonus sizes — covering the spectrum.
When hunting signup bonuses, be wary of falling into the trap of making purchases simply for the rewards. Only charge what you can afford to pay off right away because, unless you're also enjoying an intro APR offer, your carried balance will be charged interest. Those interest fees can add up faster than you think, quickly canceling out the value of your bonus.
Best "Cash Back" Credit Cards for Large Purchases
Shoppers who like their credit card rewards simple and straightforward tend to gravitate toward cash back rewards, which can usually be redeemed for a statement credit, check, or gift cards. In this respect, cash back rewards are essentially a universal purchase rebate, turning that large purchase into a — well, a somewhat-less-large purchase.
Selecting the right cash back card will come down to your own shopping habits, as there are a variety of different cash back programs from which to choose. If your spending changes with the seasons, you might benefit most from a program with quarterly bonus categories, while those with more diverse habits may prefer a simple flat-rate rewards system. Our expert-rated cards cover the gamut of options, giving you a good place to start the search.
Some things to consider when comparing cash back programs include the details of using the program, such as minimum requirements to redeem cash back or the need to activate your new rewards category each quarter. While these can seem like small inconveniences, it's often the little things that can make or break your rewards experience. Weigh all the pros and cons before making a decision.
Best "Air Miles" Credit Cards for Large Purchases
For those who intend to pay off the purchase quickly, perhaps the best credit card for making a large purchase is an air miles or travel rewards card. These cards allow you to stock up points or miles that can be redeemed toward free flights, hotel stays, and other travel-related expenses, turning your big buy into a big budget-saver for your next vacation.
While many people are familiar with the credit cards that help you earn frequent flyer miles for popular airlines, the best pick for many consumers is actually an all-around travel rewards card without specific brand ties, such as our picks below. With these programs, you can redeem points and miles toward flights on any carrier and hotel stays in any location, instead of limiting yourself to a particular company.
Another key benefit to a good travel rewards card is that you'll actually be able to use your card to while you travel, thanks to the fact that many travel rewards cards won't charge you any foreign transaction fees. Simply avoiding these fees can save you 3% to 5% off every purchase you make in a foreign currency.
Best "Rewards Points" Credit Cards for Large Purchases
The vanilla-chocolate swirl of credit card rewards, programs with rewards points offer flexible redemption options that typically include cash back as well as travel expenses. Similar to other rewards program, the way you earn rewards points will vary by card, with some offering bonus points for purchases made in specific categories, while others simply offer flat-rate rewards on all purchases.
Of course, the best way to score piles of points with your large purchase is to take advantage of a rewards points credit card that offers a hefty signup bonus. With this combination, you'll not only earn points per $1 spent, you'll also net a lump-sum of points that likely stretch into the thousands. The top of our rewards points credit card list also includes a number of options with free or reduced annual fees.
+See More Rewards Points Cards
The main thing to be cognizant of when it comes to rewards points is that the flexible redemption options can be a double-edged sword. As nice as it is to have options, those options will typically have varying per-point values, meaning you may get more pow for your points by redeeming for travel over cash back — or vice versa. Investigate your redemption options before selecting a points program to ensure you wind up with options that will give you the most value.
Don't Let Your Purchase Max Out Your Card's Limit
As you ponder which card to swipe for your next big buy, make sure you've really thought about the consequences. If you can't pay off your purchase right away and don't have an intro APR deal, you could be looking at hundreds of dollars in annual interest fees.
For all that our ancestors had to deal with the literal burden of financing a big purchase, that may have also provided an advantage. By having to carry massive currency to and fro for large purchases, our financial forebears had built-in budget control.
To help keep your spending in perspective, the next time you're thinking about charging your way into thousands of dollars of debt, consider the size of the cost in silver, instead. If you wouldn't haul 25 pounds of metal across town to buy it, should you really be purchasing it at all?
Final Notes on "9 Best Credit Cards for Large Purchases (Sep. 2023)"
We hope this guide "9 Best Credit Cards for Large Purchases (Sep. 2023)" has been a helpful resource for you in learning more about your financial options. In this guide, we've covered:
Best "Introductory 0% APR" Credit Cards for Large Purchases
Best "Signup Bonus" Credit Cards for Large Purchases
Best "Cash Back" Credit Cards for Large Purchases
Best "Air Miles" Credit Cards for Large Purchases
Best "Rewards Points" Credit Cards for Large Purchases
Don't Let Your Purchase Max Out Your Card's Limit
To learn more about options not mentioned here, be sure to check out other popular reviews from our team of experts:
We also encourage you to check back at this URL regularly, as we update the offers listed in "9 Best Credit Cards for Large Purchases (Sep. 2023)" and other guides on a daily basis.
Advertiser Disclosure
CardRates.com is a free online resource that offers valuable content and comparison services to users. To keep this resource 100% free, we receive compensation for referrals for many of the offers listed on the site. Along with key review factors, this compensation may impact how and where products appear across CardRates.com (including, for example, the order in which they appear). CardRates.com does not include the entire universe of available offers. Editorial opinions expressed on the site are strictly our own and are not provided, endorsed, or approved by advertisers.