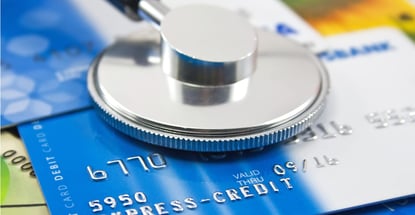 Credit repair credit cards help consumers with bad credit boost their credit scores. That's important because a poor credit score — below 580 on the FICO scale — can relegate you to limited credit access, high interest rates, and unrewarding credit cards. Fair credit scores extend from 580 to 669, and your first goal is to raise your score from the bad to the fair credit range.
The cards in this review allow you to increase your credit score, but you have to use them wisely to take advantage of the opportunity. By paying your bills on time and controlling your card balances, you'll be well on your way to repairing your credit score, no matter how troubled your financial history.
The Best Secured Credit Repair Credit Cards
A bad credit score is irrelevant when applying for a secured credit card. The reason is simple: Your cash deposit acts as collateral to secure these cards against late or missed payments. A credit card company is much more willing to approve these cards because of the collateral it collects and controls. 
We've scoured the ranks of secured credit cards to arrive at these five top picks. They all report your payment activity to each major credit bureau, allowing you to bootstrap your credit and graduate to an unsecured card. 
The Capital One Quicksilver Secured Cash Rewards Credit Card is a newer offering in the Capital One lineup. This card helps cardholders build credit with responsible use and pays cash back on eligible purchases along the way. It charges no annual fee, and Capital One will automatically consider you for a higher credit line in as little as 6 months after you make consecutive on-time payments.
The Capital One Platinum Secured Credit Card is a sound, low-fee credit card that concentrates on getting the basics right. For example, you get an interest-free grace period following the end of a billing cycle. The card may refund your deposit and upgrade you to an unsecured card if you use it responsibly.
The Applied Bank® Secured Visa® Gold Preferred® Credit Card guarantees approval of your fee-free application without a credit check. The card's low APR helps compensate for the lack of a grace period. Moreover, your APR will not increase if your payment is late. The card also offers mobile banking and embedded chip technology.
What makes the Bank of America® Customized Cash Rewards Secured Credit Card "customized" is your ability to change your reward category as often as once a month. The card monitors your card for abnormal patterns that may indicate fraudulent activity. You can use the card with the top digital wallets, including Apple Pay®, Google Pay™, and Samsung Pay.
The Discover it® Secured Credit Card offers cash back rewards that never expire and can be redeemed anytime you want, including to pay for Amazon.com or PayPal purchases. The card comes with additional valuable features, including cash advances, balance transfers, no fee for your first late payment, and free overnight card replacement.
The Best Unsecured Credit Repair Credit Cards
While secured credit cards are ideal vehicles for credit repair, many of their unsecured brethren can also support your goal of building credit. The following six unsecured credit cards market themselves to consumers with bad credit who don't necessarily want to deposit $200 or more for a secured card.
The PREMIER Bankcard® Mastercard® Credit Card is designed for consumers with poor or scant credit. You can manage the card anywhere by using the bank's mobile app or online interface. The card supports cash advances from any Cirrus ATM and provides free FICO scores on each monthly statement.
The PREMIER Bankcard® Grey Credit Card lets you choose from among different card designs at no charge. The card helps you build credit by reporting your payments directly to each major credit bureau. The grace period is lengthier than most, giving you extra time to make your monthly payment without being charged interest.
The Surge Mastercard® protects you with Mastercard Zero Liability Protection against unauthorized charges. The accompanying mobile app lets you view statements, check due dates, and make payments whenever and wherever you like.
The Reflex Mastercard® from Utah's Celtic Bank is a twin of Surge® Mastercard. It takes less than a minute to prequalify for this card and receive a decision without harm to your credit score.
The Total Visa® Card protects you with zero fraud liability against unauthorized use. The card, available in several designs for free, will review your credit limit after one year. 
The Indigo® Mastercard® for Less than Perfect Credit features relatively low fees and a reasonable APR. In particular, it doesn't impose setup or monthly maintenance fees and waives the cash advance fee for the first year. The card allows you to choose an optional card design at no extra charge. 
What Is a Credit Repair Credit Card?
The idea behind a credit repair credit card (or credit builder card) is to give consumers with troubled financial histories access to credit. This type of card reports your card use to all three major credit bureaus, affording you a real opportunity to increase your credit score through creditworthy behavior. 
Virtually all cards in this category report your performance to all three major credit bureaus (Experian, TransUnion, and Equifax). It's then up to you to use your credit responsibly. If you can do so consistently, you can expect your credit score to rise.

The issuers of these credit cards understand how to control the heightened risk that their cardholders may default on their debts. An easy way for card companies to manage risk is to issue secured credit cards that require cash collateral. 
If you miss a payment, the card issuer will take the shortfall from your security deposit and reduce your credit limit accordingly. Repeated infractions may prompt the credit card company to cancel your account.
Issuers of unsecured cards for bad credit consumers must control risk through different means, including: 
Purchases: Unsecured cards for bad credit consumers usually carry a low credit limit, thereby limiting the potential debt that arises from purchases. 
Balance Transfers: Most credit cards of this type don't support balance transfers, a natural consequence of low credit limits. 
Cash Advances: Many of these credit cards limit, delay, or deny access to cash advances. Often, the interest rate for cash advances is substantially higher than that for purchases. 
Costs: If your credit score is below 580, you can expect your APR on carried balances to exceed 25%. Unsecured cards in this class often charge extraneous or high fees, including annual, setup, credit limit increase, and maintenance fees. A couple of cards lack grace periods, immediately charging interest on purchases.
Benefits: Most unsecured cards for bad credit offer only limited benefits beyond liability protection. These cards eschew signup bonuses, purchase rewards, 0% introductory APRs, travel benefits, and many of the attractive features available from better cards. By minimizing costly benefits, issuers have more money available to cover the cost of payment delinquencies and defaults.
We consider owning credit repair credit cards to be a temporary measure. They serve a useful purpose as you work to improve your credit score and gain access to better, more rewarding credit cards. 
How Does a Credit Card Repair My Credit?
Folks can use credit cards as a tool to repair credit. But credit cards can be double-edged swords — they can also destroy credit scores. Unless you suffered identity theft, your actions determine the impact credit cards have on your credit score.
You don't have to guess about the things you should be doing to rebuild your credit because FICO and the other major scoring systems lay it out precisely. The following few paragraphs explain how it works.
Ensure Your Card Reports Your Account to a Credit Bureau
Credit cards can influence your credit score because they report your activity to at least one of the three major credit bureaus. These bureaus, also known as credit reporting agencies, calculate your credit score according to the rules of the scoring system. 
Each system (i.e., FICO, VantageScore, etc.) has well-specified rules and score ranges. For example, FICO scores start at 300 (the worst score) and top out at 850 (the best score). 
The average FICO score can vary over time but currently hovers just above 700. You will initially receive an average credit score somewhere in the middle that will fluctuate due to your credit-related activity. 
You may think that the three credit bureaus should calculate the same precise credit score for each consumer they track. While the scores they generate for a given individual are usually close, they aren't identical for a few reasons:
Non-uniform data: Many credit repair credit cards report your activity to all three credit reporting agencies. However, credit cards for folks with better scores often report to only one credit bureau for a given geographical area. Because the three bureaus don't all share the same inputs, the credit scores they output can vary.
Interpretation: Credit bureaus can and do bring their unique perspectives to the scoring rules. Differences lie in the weight each credit bureau attaches to an individual's credit history details. Accordingly, creditors and lenders like to read credit histories rather than rely solely on a three-digit credit score.
We describe below how to ensure that your credit reports don't contain errors that can hurt your score.
Pay Bills on Time
Failure to pay your credit card bill on time can significantly harm your credit score. In the FICO scoring system, 35% of your score is based on your payment history. Typically, only payments overdue by at least 90 days appear on your credit reports, but they can show up sooner. 
Once posted, delinquencies remain on your credit reports for up to seven years and can immediately cause your score to drop by dozens of points. Other damaging items include collections, repossessions, write-offs, foreclosures, and bankruptcies. These remain for seven to 10 years and can shave hundreds of points off your credit score.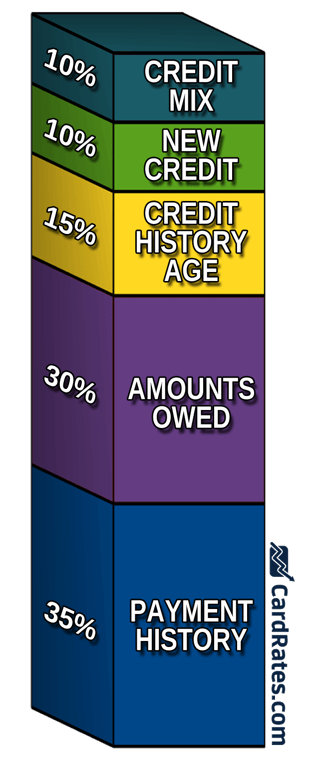 If your credit report lists one or two late payments, you may be able to bargain or plead with the relevant creditor for their removal, although the chances aren't good. Whatever your past mistakes, you'll have little luck improving your credit score unless you can reliably pay your bills on time, every time.
Reduce Your Credit Balances
Thirty percent of your FICO score is based on how much debt you have. FICO calculates your credit utilization ratio, the amount of credit card debt you owe versus your total available credit. CURs above 30% can hurt your credit score.
The credit bureaus recalculate your CUR monthly. That's a good thing because you can quickly reduce your CUR if it's too high. You can also lower your CUR by negotiating higher credit limits on your cards, but this only works if you don't spend the extra credit. 
Do Not Cancel Old Credit Cards
The age of your credit history accounts for 15% of your FICO score. The system rewards you for long-standing accounts, so it's a good idea not to cancel old credit cards even if you no longer plan to use them.
When you cancel an old credit card, the average age of your credit accounts will fall and drive down your credit score. A better strategy is to prevent your old cards from going dormant by using them once a year.
Limit Requests For New Credit
When you apply for new credit, the creditor will likely perform a hard inquiry of your credit report. You must authorize hard inquiries when you apply for a new credit card or loan. All other credit report inquiries are soft.
FICO assigns 10% of your overall score to hard inquiries. Too many hard pulls indicate possible financial distress, or so FICO surmises. 
A hard pull can depress your credit score by five to eight points for up to a year, and it remains on your credit report for two years. If you're trying to improve your credit score, you shouldn't apply for credit more than once every six months or so.
Soft pulls don't impact your credit score, and only you can see them. Potential employers, landlords, and utilities routinely perform soft inquiries.
Seek a Wide Mix of Credit Accounts
The final 10% of your FICO score derives from your mix of credit accounts. FICO likes to see a wide diversity of accounts, such as bank credit cards, retailer credit cards, mortgage loans, and installment loans. 
Your score won't suffer if you don't have a broad credit mix, but having one will marginally help. Generally, you shouldn't open new accounts to satisfy this FICO factor because as just discussed, they can hurt your credit.
How Do I Apply For a Credit Repair Credit Card?
The safest way to apply for one of the reviewed credit cards is first to seek pre-approval, which won't trigger a hard pull of your credit. Most credit cards offer a prequalification process that quickly lets you know whether it's worth burning a hard inquiry by applying.
You'll need only a minute to preapply for a credit card. After entering a few data items (e.g., name, address, Social Security Number, monthly income) on the issuer's website, you'll receive an instant decision. If you prequalify, you can then complete the application process by submitting more detailed information.
Most credit card applications will require similar personal and financial details, such as your income and address.
If you receive approval, you'll be asked to e-sign a credit agreement specifying all the terms and conditions of card ownership. You'll want to review the fine print carefully to avoid being surprised by unwelcome fees and limitations.
Most issuers will ship your new card as standard mail, although a few, such as Discover, expedite shipping. If you are impatient to use the card, your issuer may offer you a virtual account number that you use temporarily until your card arrives.
What Is the Difference Between a Secured and an Unsecured Credit Card?
Secured cards are easy to get — all you have to do is post cash collateral. In most cases, the amount you deposit will determine your credit line. Your credit score is immaterial to your approval, making secured cards suitable for consumers with a bad or thin credit history.
Secured credit cards usually carry lower APRs than those charged by similar unsecured cards because your collateral buffers issuers against losses if you default on your payments. Conversely, unsecured cards potentially offer higher credit limits based on your income and credit profile.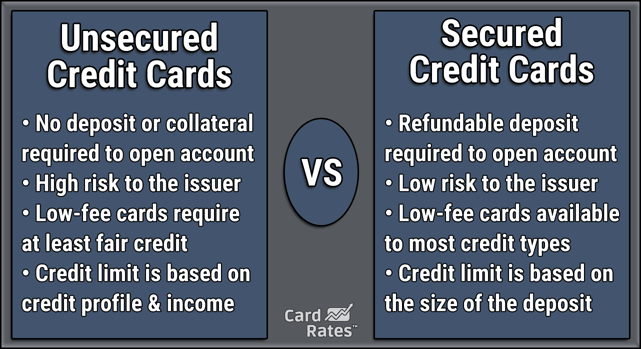 Secured cards are less likely to offer signup bonuses, although the Discover it® Secured Credit Card is a notable exception with its end-of-year Unlimited Cashback Match. In fairness, many unsecured credit cards designed for credit repair also lack rewards. 
Another difference between the two card types is that, like a debit card, a secured card doesn't affect your credit utilization ratio, and therefore doesn't impact the 30% of your FICO score deriving from your credit balances. 
There's no loss of privacy in using a secured credit card. Credit cards don't indicate whether they are secured — you can use them with no one the wiser. 
How Do I Improve My Chances of Getting a Credit Repair Credit Card?
You can ensure the acquisition of a credit repair credit card by choosing one that is secured. However, folks with bad credit who prefer an unsecured credit card may have to take steps to improve their approval chances. Here are four suggestions:
Increase Your Net Income
Issuers of unsecured credit cards want assurance that you'll be able to make your monthly payments on time. This uncertainty is why you must provide information about your annual income, housing costs, and indebtedness when applying for an unsecured card. 
By improving your income or decreasing your debt, your application stands a better chance of approval. These goals are often easier said than done.
Paying down existing debt frees up some of your income, leaving more available to pay your credit card bills. It also indicates a responsible attitude toward debt, an essential factor when applying for credit.
Many folks have found ways to bring in extra income by taking on part-time gigs. Whether driving for Uber, freelancing on the internet, or renting out a spare bedroom, the opportunity to bring in extra income is a real possibility for many. 
In addition to improving your approval prospects, a better balance between income and expenses may also help you get a larger credit limit on an unsecured card. If you'd like help paying down your debt, consider signing up for credit counseling.
Recruit a Cosigner
You can significantly improve your chances of getting an unsecured credit card by recruiting a cosigner. Many creditors encourage applicants with poor credit to enlist creditworthy cosigners who will share equal responsibility for timely payments.
Although cosigners don't necessarily receive a copy of the credit card, the credit bureaus record payment activity in the credit files of both card applicants. Therefore, late payments will hurt both of their credit scores. Issuers reason that creditworthy cosigners want to ensure payment for fear of damaging their good credit standing.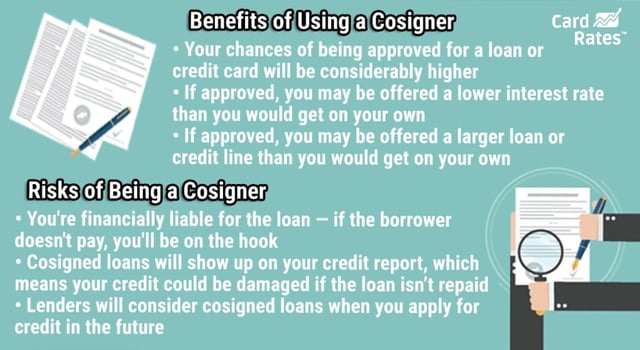 A cosigner may help you obtain a much higher credit limit than you'd get on your own. You may also find it easier to get a business credit card if you use a cosigner.
The paradox for credit repair credit cards is that individuals with bad credit can probably acquire much better credit cards with the help of a creditworthy cosigner. The only downside to this strategy is that better credit cards often report activity to only one credit bureau rather than all three. 
We imagine that many consumers would be willing to forgo reporting to all three bureaus, given the rewards and benefits available from credit cards cosigned by individuals with high credit scores.
Open a Credit Builder Account
You can establish or rebuild your credit score with a credit builder loan account from your credit union, local bank, or commercial providers such as Self Lender. A credit builder loan provides a way to demonstrate your financial responsibility through timely payments. 
The following process is typical:
Apply for a credit builder loan: You can apply online or at your local financial institution for a credit builder loan. Consider joining a credit union if you don't already belong to one, as credit unions are leading providers of credit builder loans. 
Accept the loan: Sign the loan agreement. Loan amounts vary, but $1,500 is typical.
Deposit the loan proceeds: The lender locks the loan proceeds in escrow — a savings account or certificate of deposit. You cannot access this money.
Repay the loan: You'll repay the loan in monthly installments that are reported to all three credit major credit bureaus. For the loan to build credit, you'll have to pay each installment in full before its due date.
Collect your refund: The lender refunds the money in the escrow account to you, including any interest earned. You don't receive a refund of the loan interest you paid.

The procedure produces multiple payment entries in all three of your credit reports. By paying on time, these entries should cause your credit scores to rise, paving the way for getting a credit card.
Fix Your Credit Reports
Inaccurate, unfair, and untimely information may affect some or all three of your credit reports. Derogatory errors on a credit report can lower your credit scores. 
Thankfully, the federal government has mandated procedures for disputing and removing mistakes from your credit reports. You, alone or with the assistance of a credit repair service, can correct errors and restore your credit score to its rightful value. A credit repair service typically charges between $50 and $150 per month.
To ensure your credit card report is accurate, we recommend reviewing your three major credit reports at least once a year. You can get free copies of each at AnnualCreditReport.com, the only source authorized by federal law.
What Are the Fees For a Credit Repair Credit Card?
Credit cards for building credit appeal to consumers considered risky borrowers by the card issuers. Therefore, these cards usually contain numerous fees, including some that don't appear on cards for better credit quality.
Annual Percentage Rate: Credit builder cards usually have high purchase APRs. Rates above 25% typically prevail and can go as high as 36%. Unless the card lacks a grace period, you can entirely avoid interest by paying your balance in full each month.
Annual Fee: Most cards in this category charge an annual fee. Typically, this fee varies from $35 to $99, although some cards, particularly secured cards, don't charge an annual fee.
Maintenance Fees: Only cards for lousy credit collect these nuisance fees, typically around $9.99 per month. Cards usually waive maintenance fees for the first year.
Cash Advance Fee: Expect to pay 3% to 5% of the cash advance amount, assuming the card permits this type of transaction.
Balance Transfer Fee: It's rare for a credit repair credit card to provide balance transfers. Those that do typically charge a fee from 3% to 5% of the amount you transfer.
Foreign Transaction Fee: Many cards of all types charge a foreign transaction fee if you use your card overseas. The cost is usually around 3% of the purchase total. 
Miscellaneous Fees: Some credit cards may offer you a higher credit limit and then assess a fee if you accept it. You may also encounter fees to add an authorized user, replace a lost card, or customize your card's design.
Cards for good to excellent credit usually have lower fees, but some premium travel cards charge an annual fee well above $100.
Compare Credit Cards to Repair Your Credit 
Credit repair credit cards fill an essential niche for consumers with bad credit. By welcoming applicants of all stripes and reporting payments to the three credit bureaus, these cards offer folks a chance to boost their credit scores.
You can find out more about any of the cards in this review by clicking on the APPLY NOW links. Be sure to check a card's fees, interest rate, and limitations before applying, as some of these cards are better bargains than others.
Advertiser Disclosure
CardRates.com is a free online resource that offers valuable content and comparison services to users. To keep this resource 100% free, we receive compensation for referrals for many of the offers listed on the site. Along with key review factors, this compensation may impact how and where products appear across CardRates.com (including, for example, the order in which they appear). CardRates.com does not include the entire universe of available offers. Editorial opinions expressed on the site are strictly our own and are not provided, endorsed, or approved by advertisers.