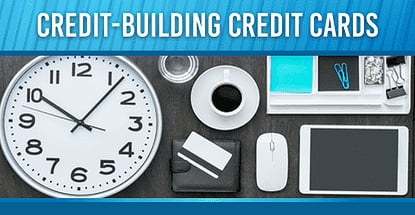 Identifying the best credit-building credit cards can be challenging with so many options available these days. Keep reading for our take on some of the best credit cards that can help you work your way to a healthy credit score.
In today's world, having good credit is a bit like having a decent internet connection: while you can technically get by without it, it definitely makes many things a whole lot easier.
Of course, building good credit takes a bit more work than phoning up the cable company and asking for a bandwidth upgrade. Merely establishing enough credit to get a credit score requires six months, and reaching the top credit tiers can take years.
But — you have to start somewhere. For many consumers, the easiest first step is to open a credit card account; when used responsibly, one or two credit cards can both establish your credit profile and help you build respectable credit scores.
Secured | No/Limited Credit | Fair Credit | Bad Credit | Rewards | Student | Business
Best Secured Credit Cards to Build Credit
An option available to nearly any credit type — including those with bad credit or without any credit at all — secured credit cards require a deposit to open and maintain. That deposit acts as collateral for the account, keeping the issuer's risk low.
In many cases, that lower risk benefits both the issuer and the cardholder, as it allows for lower interest rates and fees. Some of our top-rated secured credit cards even come with purchase rewards that can help you save money while you build credit.
The deposit you make to open a secured credit card is just that: a deposit. It's not a fee, which means you can get your deposit back simply by closing your account (provided it's in good standing — i.e., you don't have an outstanding balance). Of course, some secured cards do have annual fees, which are not refundable.
Your secured credit card may also be eligible to be automatically upgraded to an unsecured credit card when your credit profile improves. If your card is upgraded to an unsecured credit card, your full deposit will be refunded to you.
Best Credit-Building Cards for No/Limited Credit
Contrary to the common saying, "no news is good news," having no credit profile, or a very limited one, is not good news to credit card issuers. Without a way to gauge your credit risk, they tend to assume the (almost) worst.
While finding a credit card without a credit score is likely easier than finding one with a poor credit score, your method will be similar: look for cards designed for your situation. A number of issuers offer entry-level unsecured cards designed for people who need to establish and build credit.
Once you've obtained your first card, be sure you're building your credit the right way. The most important thing to do is to always make at least the minimum required payment before your due date each billing cycle.
Late payments that are made within 30 days of your due date won't be reported to the credit bureaus, but they will usually come with pricey late fees. Payments more than 30-days late are considered delinquent and will be reported to the bureaus. Delinquent payments can knock dozens of points off of your credit scores.
Best Credit-Building Cards for Fair Credit
Although more than 1 in 10 consumers believe that you start out with a perfect credit score, that's simply not the case. Perfect credit scores are certainly possible, but it can take years to build up enough positive payment history and credit profile length to reach that auspicious height.
Most consumers who are just starting out will have fair credit before they have good credit — but that's OK. Fair credit opens up a few more doors than no credit at all, and you can easily use fair-credit card options to boost your score higher up the FICO food chain.
As your credit profile grows, you'll want to pay attention to more than just your payment history (though that's still 35% of your FICO Score). Those with the best credit scores also do well in the other factors that are considered in credit score calculations.
For example, you'll want to keep an eye on your balances, as using a lot of your available credit can lower your credit score. And you should be careful to avoid opening too many new accounts, since hard inquiries and new accounts can impact your new credit and account age factors.
Best Credit-Building Cards for Bad Credit
Whether you made one mistake early in your credit journey, or have made several through the years, it doesn't take much to wind up with a bad credit score.
On the bright side, there are plenty of credit card options available for bad credit — they're just not always ideal. Unsecured credit cards for bad credit will tend to have higher rates and fees, while secured credit cards will require upfront deposits.
The best method for rebuilding a bad credit score will depend mostly on what's dragging down your credit score in the first place. For instance, if high balances and maxed-out credit cards are at fault, then paying down your debts is the best way to boost your score.
At the same time, if late payments or defaulted credit accounts have done the damage, then your best option is likely to work on building a positive payment history and giving the negative items time to season; the older items become, the less impact they tend to have on your scores.
Best Rewards Credit Cards to Build Credit
As a country with more credit cards than people, it's easy to see that Americans love their credit cards. And credit card issuers love cardholders, so much so that the market is positively flooded with options for just about every credit type.
That abundance of options means that competition is fierce, which definitely works in consumers' favor. For instance, even credit-building credit cards are competing for attention, which means you can find a number of options for earning solid purchase rewards while you build credit.
The Discover it® Secured Credit Card offers bonus rewards up to the maximum quarterly spend and unlimited rewards on all other purchases, all with no annual fee.
The SunTrust Secured Credit Card with Cash Rewards has a lot going for it as a credit-building card, not the least of which is that it provides cash back on every purchase, plus bonus cash back on gas and grocery purchases.
Earn 2% cash back on up to $6,000 in combined gas and grocery purchases each year
Earn unlimited 1% cash back on all other purchases
Pay a $32 annual fee
Another great feature of the SunTrust Secured Credit Card is that it's upgradable, which means SunTrust will automatically upgrade the account to an unsecured credit card when the cardholder has shown significant credit improvement.
One important thing to keep in mind when it comes to rewards credit cards is that rewards should never be a reason to spend more than you can afford to repay right away. Interest fees on carried balances will typically outweigh any potential rewards, making it a losing proposition.
You should also determine if paying an annual fee for a rewards card (versus a card with no annual fee but no rewards) is worth the extra cost. If you won't actually earn enough rewards to offset the annual fee, you may want to reconsider your card choice.
Best Student Credit Cards to Build Credit
Given that you need to be at least 18-years-old to get a credit card — or 21-years-old if you don't have a cosigner or independent income — few students will have particularly robust credit histories (or any at all).
Enter: the student credit card. Typically requiring proof of enrollment to qualify, student credit cards generally have flexible credit requirements, low fees, and even student-centered perks all designed to help students build good credit while in college.
Student credit cards can be a great training ground for young adults for a variety of reasons, including the generally low fees. But the secondary benefits typically offered can also help provide a smoother learning experience.
For instance, most student credit cards won't increase your APR if you make a late payment, and some cards will even waive your first late payment fee. Some options may also offer bonus rewards or incentives for positive credit behaviors, like a boost to your rewards rate for on-time payments.
Best Business Credit Cards to Build Credit
If building up a good consumer credit score sounds like a lot of work, it can pale in comparison to building business credit. You'll need at least three business trade lines to even qualify for some business credit scores, let alone to reach a boast-worthy number.
Business credit cards are often a simple way to add to your business credit-building strategy. As with consumer credit cards, however, business cards will have specific credit requirements. Those looking to establish and build business credit should choose business credit cards with flexible credit requirements.
The Capital One® Spark® Classic for Business is an unsecured business credit card typically available to applicants with fair credit or better.
The BBVA Secured Visa® Business Credit Card is available in select states and requires a minimum deposit of $500 to establish a credit line. You can increase your deposit — and, thus, your total credit line — at any time (in $100 increments).

Earn bonus points in categories you select, including office supplies, utilities, and travel
Earn 1X point per $1 on all other purchases
Pay no annual fee the first year, then $40
The card also earns purchase rewards, waives the first year's annual fee, and offers individual employee cards at no additional cost.
21. Wells Fargo Business Secured Credit Card
The Wells Fargo Business Secured Credit Card provides a business credit line of up to $25,000, equal to the amount of your initial deposit, and up to 10 employee cards.

Earn 1.5% cash back on every purchase made with your card, redeemable as a statement credit or check
Access credit lines from $500 to $25,000
Pay $25 annual fee
Once you've grown your business credit profile and demonstrated positive payment behaviors, Wells Fargo may automatically upgrade your secured card to an unsecured credit card and refund your deposit.
Building business credit requires many of the same positive credit behaviors as building consumer credit, including always, always, always paying your debt on time and as agreed. Business credit scoring agencies also look at your outstanding balances, credit utilization, and the number of trade experiences.
More than your financial history is up for grabs in business credit scoring, however. Experian, for instance, also looks at your company's public records and business demographics (age, size, etc.) when calculating your business credit score.
(The information related to Wells Fargo Business Secured Credit Card has been collected by CardRates.com and has not been reviewed or provided by the issuer or provider of this product or service.)
Use Your New Card Responsibly to Build Credit
Over the last few decades, America's economic and social landscapes have shifted dramatically. Analog is out, and we now have digital — well, digital everything. And it's all five times as expensive.
So, while you could once get by without things like high-speed internet and a solid credit score, today's world doesn't make it so easy. Modern Americans usually need loans to get new cars and houses — and WiFi to get everything else.
Final Notes on "11 Best Credit-Building Credit Cards (Sep. 2023)"
We hope this guide "11 Best Credit-Building Credit Cards (Sep. 2023)" has been a helpful resource for you in learning more about your financial options. In this guide, we've covered:
Best Secured Credit Cards to Build Credit
Best Credit-Building Cards for No/Limited Credit
Best Credit-Building Cards for Fair Credit
Best Credit-Building Cards for Bad Credit
Best Rewards Credit Cards to Build Credit
Best Student Credit Cards to Build Credit
Best Business Credit Cards to Build Credit
Use Your New Card Responsibly to Build Credit
To learn more about options not mentioned here, be sure to check out other popular reviews from our team of experts:
We also encourage you to check back at this URL regularly, as we update the offers listed in "11 Best Credit-Building Credit Cards (Sep. 2023)" and other guides on a daily basis.
Advertiser Disclosure
CardRates.com is a free online resource that offers valuable content and comparison services to users. To keep this resource 100% free, we receive compensation for referrals for many of the offers listed on the site. Along with key review factors, this compensation may impact how and where products appear across CardRates.com (including, for example, the order in which they appear). CardRates.com does not include the entire universe of available offers. Editorial opinions expressed on the site are strictly our own and are not provided, endorsed, or approved by advertisers.