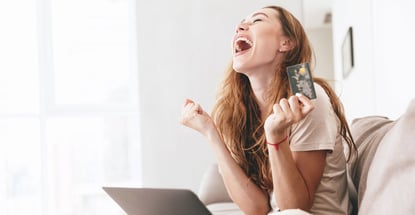 Some say $10,000 isn't what it used to be. Maybe, but it still has a sweet ring to it, especially if it describes your credit card spending limit. Cards don't advertise credit limits, but most applicants need good to excellent credit to snag one of these beauties.
Even if your credit score tops 780, your limit isn't assured, because several factors figure into the equation. For one thing, issuers evaluate factors like your income, current indebtedness, even your job history. You can increase your chances of a higher limit by paying down your debt, transferring balances, or simply asking for an increase.
If you qualify, you'll be privy to a world of luxury, with perks like unlimited airport lounge access, free concierge service, and generous rewards. Our experts have evaluated the best credit cards with $10,000+ limits. If that sounds like your cup of Earl Grey, read on for our top picks, including categories for overall best, miles, cash back, points, and business cards.
Overall | Miles | Cash Back | Points | Business | FAQ
If you belong to the privileged community of consumers with excellent credit, we judge these three high-limit cards to be your best overall choices. And if your score is merely average, consider these cards as a reward for nudging your credit score higher. Annual fees range from moderate to substantial.
What's not to like when it comes to the Chase Freedom Unlimited® card? Not only does it offer a substantial signup bonus to new cardholders and ongoing cash back rewards, it also offers credit limits above $10,000. While many users receive credit limits below the $10,000 mark, the card's attractive cash back bonuses and its $0 annual fee make it one of the top credit cards on the market.
The Chase Sapphire Preferred® Card offers a generous signup bonus and top-tier travel insurance. It is a Visa Signature card, which means it comes with a minimum credit limit of $5,000, though a Chase customer service rep said the highest she's seen is $225,000.
If you like your rewards in the form of miles, these three cards will oblige with generous benefits and potentially high credit limits. All three are designed to make travel more convenient and rewarding for those who qualify.
The Capital One Venture Rewards Credit Card has been known to issue credit limits as high as $50,000. The average accepted credit score is about 725 and the average credit limit is $10,000. The card offers unlimited travel miles, a generous signup bonus, and an annual travel credit for TSA Pre✓® or Global Entry fees.
The Capital One Venture X Rewards Credit Card is the premium version of the card above, which means it should, theoretically, come with an even higher credit limit. It is a Visa Infinite card — Visa's most premium offering — which has a minimum credit limit of $10,000. Though according to Reddit reviews, initial credit reports seem to range from $15K to $35K.
If you prefer to take your rewards as clean hard cash, consider these three high-limit cash back cards. Each one has been reported to offer credit limits of at least $10,000 to accompany their excellent rewards and benefits.
The Chase Freedom Unlimited® card offers cash back rewards on each and every purchase made. Cash back rewards are unlimited and do not expire as long as the account is active. We found one report of an $11,500 credit limit approved for a person with a 725 credit score. However, most users report receiving a lower limit. There is no annual fee with this card.
The Capital One Quicksilver Cash Rewards Credit Card is a flat-rate cash back card with a cash signup bonus and no annual fee. We found one report of a cardholder with a 773 FICO Score approved with an initial $10,000 limit.
The Bank of America® Customized Cash Rewards credit card offers cash back with a twist: You get to choose the category where you receive 3% cash back, while other purchases earn 1% to 2%. One cardmember reports having a $15,000 credit limit for the last three years.
Points are a flexible reward because you can use them for purchases and travel, or convert them into cash back. These three cards may offer well-qualified applicants a credit limit well above $10,000.
An average credit score of 766 will earn Chase Sapphire Reserve® cardmembers an average credit limit of $22,000. While 84% of applicants receive approval, some applicants with scores as high as a perfect 850 have been rejected. On the other hand, Chase reportedly has approved cardmembers with scores as low as 580.
The Chase Sapphire Preferred® card offers premium dining and travel rewards as well as a generous introductory bonus. Research indicates that the average credit score is about 741, coupled to an average credit limit around $10,000. However, one person put the initial limit at $100,000. The minimum credit limit is reportedly $5,000.
at Bank Of America'ssecure website
NEW OFFER! Receive 60,000 online bonus points - a $600 value - after you make at least $4,000 in purchases in the first 90 days of account opening.
Earn unlimited 2 points for every $1 spent on travel and dining purchases and unlimited 1.5 points for every $1 spent on all other purchases. No limit to the points you can earn and your points don't expire.
If you're a Bank of America Preferred Rewards member, you can earn 25%-75% more points on every purchase. That means you could earn 2.5-3.5 points on travel and dining purchases and 1.87-2.62 points on all other purchases, for every $1 you spend.
Redeem for cash back as a statement credit, deposit into eligible Bank of America® accounts, credit to eligible Merrill® accounts, or gift cards or purchases at the Bank of America Travel Center.
Get up to $100 in Airline Incidental Statement Credits annually and TSA PreCheck®/Global Entry Statement Credits of up to $100, every four years.
Travel Insurance protections to assist with trip delays, cancellations and interruptions, baggage delays and lost luggage.
No foreign transaction fees.
Low $95 annual fee.
This online only offer may not be available if you leave this page or if you visit a Bank of America financial center. You can take advantage of this offer when you apply now.
| | | | | |
| --- | --- | --- | --- | --- |
| | | 20.24% - 27.24% Variable APR on purchases and balance transfers | | |
Additional Disclosure: Bank of America is a CardRates advertiser.
The Bank of America® Premium Rewards® credit card is a Visa Signature card with a minimum credit limit of $5,000. But this reviewer was approved with an initial credit limit of $18,000, and several other reports share similar high credit limits.
If anyone needs a high credit limit, it's business owners. The high limits come in handy when purchasing supplies, equipment, flights, and services. Two of the cards come from Chase, which, along with a card from Capital One, are our top picks for high-limit business cards.
All indications point to the availability of a high credit limit from the Ink Business Preferred® Credit Card. One lucky businessowner was approved with an intial $40,000 limit, though it's worth noting he applied in a branch. The reported minimum credit score required for approval is 720.
The Ink Business Unlimited® Credit Card is aimed at businessowners with good to excellent credit ratings. One cardmember reports a $50,000 credit limit upon approval, though I wouldn't expect that to be the norm.
The Ink Business Cash® Credit Card offers an array of rewards and benefits. Reports suggest initial credit limits as high as $10,000 to $15,000. The card offers employee cards at no extra cost, $0 liability protection, fraud alerts, and other built-in protections.
Let's be clear from the start — credit limit reports are not official statements from the card issuers. Rather, they are comments made in forums and other venues relating to personal experiences with various cards.
We evaluate the comments before including them in our reviews, but no one can testify to their veracity. Nonetheless, we have found the information useful when backed by multiple reports and other evidence.
In previous research, we named Chase Sapphire Preferred® as the card with the highest overall credit limit. According to a report attributed to a Chase customer service representative, the maximum credit limit is normally $100,000. Moreover, she states that she has seen credit limits as high as $225,000 and puts the theoretical limit above $500,000.
We have yet to find any other cards with limits as high as these, but that doesn't rule out the possibility. It might simply be that folks who receive these extraordinary credit limits keep the information to themselves.
We note that the card's big brother, the Chase Sapphire Reserve® card, should allow equally high credit limits, if not higher.
If you are looking for a high air miles credit limit, the Capital One Venture Rewards Credit Card has a reported limit of up to $50,000. That kind of limit can come in handy for vacation travel, especially if you're flying abroad. You can use the card's rewards to fly on any airline with no blackout dates, and you can transfer your miles to more than a dozen travel rewards programs.
Evidence suggests that the issuers' credit card limit policies are occasionally applied inconsistently. We commonly receive reports of relatively high limits given to folks with mediocre credit scores, while people with excellent scores have trouble getting the limits they request.
Often, there are extenuating circumstances such as already owning other cards from the same issuer or running up against an overall authorized credit limit per individual.
Nonetheless, your best route to obtain a card with a large limit is to improve your credit score. We have found that credit scores in the 781-850 range receive on average a credit limit of $9,543. The 661-780 range can expect an average credit limit of $5,209, a drop of more than $4,000.
Clearly, the best scores get the highest limits, on average. It's the occasional aberration, in which a low score gets a high limit, on which some consumers hang their hopes. However, that is not a reliable strategy, whereas improving your credit score works.
Part of the issuers' offers depends on factors beyond your credit score. For example, they may offer a lower limit if you have a high credit utilization ratio — that is, the credit you are using divided by the credit you have available.
Anything higher than 30% may count against you. Other factors in the mix may include your income, the age of your oldest accounts and your experience paying balances on time. Of course, higher scores can provide other benefits besides larger credit limits, such as lower APRs and fees.
Naturally, it often helps to request a higher credit limit from your card issuer. The request should go to only one card issuer. The reason is that these requests will show up on your credit report. If multiple issuers see multiple requests, your chances of approval will drop, as will your credit score. If you look desperate for money, don't expect a card issuer to reward you with a higher limit.
As discussed earlier, part of your credit score depends on your credit utilization ratio (CUR). A good CUR means you are using less than 30% of all the credit available to you. Having a high credit limit in itself should not be a negative factor.
However, a high credit utilization ratio, or a sudden increase in the overall amount of credit you use in relation to the total credit available to you can signal financial distress to card issuers. This may, in turn, hurt your credit score. Conversely, having a high credit limit makes it easier to keep your utilization ratio low.
For example, if your total credit limit is $20,000 and you have a $10,000 balance, your 50% CUR is clearly a negative factor that may hurt your score. On the other hand, if your credit limit is $100,000, your CUR is only 10%, which serves to support your credit score.
If you plan a credit card purchase that will use a large part of your high credit limit (say, to finance a wedding or vacation), it may be a good idea to alert the card issuer in advance.
You want to reassure the credit card company that the sudden increase in CUR is well planned for a specific event, not indicative of financial distress. You can include your repayment plans in your conversation. By discussing your plans with the issuer, you may avoid any negative impact on your credit score.
Another way a high limit helps your credit score is that it is evidence of your creditworthiness. This is especially true if you have received limit increases, either unsolicited or by request.
The issuer evaluated your credit before agreeing to a higher limit, and that is powerful evidence supporting your credit score.
Higher credit limits are out there. All you need is an excellent credit score, usually defined as 780+. Our survey of cards with high limits revealed one, Chase Sapphire Preferred® Card, with a reported limit of $100,000 or higher. All the others have limits that exceed $10,000, some substantially higher.
There is no reason to shy away from a high-limit card as long as you keep your credit utilization ratio below 30%.
We hope this guide "11 Credit Cards with $10,000+ Limits (Sep. 2023)" has been a helpful resource for you in learning more about your financial options. In this guide, we've covered:
Best Overall Cards with $10,000+ Credit Limits
Air Miles Cards with $10,000+ Credit Limits
Cash Back Cards with $10,000+ Credit Limits
Points Cards with $10,000+ Credit Limits
Business Cards with $10,000+ Credit Limits
Which Credit Card Offers the Highest Credit Limit?
How Do I Get a Large Credit Card Limit?
Does Having a High Credit Limit Affect Your Credit Score?
Excellent Credit is Required for a Large Credit Limit
To learn more about options not mentioned here, be sure to check out other popular reviews from our team of experts:
We also encourage you to check back at this URL regularly, as we update the offers listed in "11 Credit Cards with $10,000+ Limits (Sep. 2023)" and other guides on a daily basis.