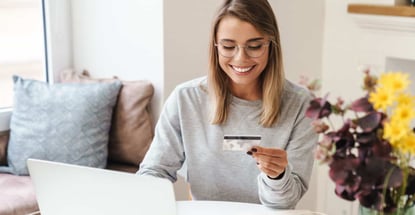 Online banks continue to flourish because of their convenience, flexibility, and excellent interest rates. Instant debit cards reinforce convenience by eliminating the wait for a physical card to arrive in the mail. 
You can request an instant debit card when you open an account at our reviewed online banks. Feel free to use these cards for online shopping, money transfers, and bill paying, and you can add one to your mobile wallet to make in-person purchases at participating merchants.
Online Banks Providing an Instant Debit Card
The following online banks provide instant debit cards. Accounts at these banks are easy to open because they do not check your credit or banking history. Some of these banks may offer additional options, including rewards checking and no monthly service charge.
All Current online checking accounts come with an instant Current Visa Debit you can use while you wait for the physical card to arrive — or even after. You can get an online checking account without a monthly service charge or another monthly fee.
Enter your PIN to activate your instant virtual debit card in the Current mobile app. The card is compatible with Apple Pay, Google Pay, and other mobile e-wallets.
Until your new Chime® Checking Account debit card arrives, you can make purchases and pay bills online with an instant virtual debit card. To activate, go to your Chime app, tap "Account Settings," and follow the "View temporary card" link. Chime does not impose a monthly service charge for its online checking accounts.
You can customize the number of allowable transactions with the virtual card, as well as how long you want the number to be valid. You can use the virtual card online just as you would your physical debit card.
You can use the virtual GO2bank debit card in the bank's app to make purchases without your physical card. You can use the virtual card until you activate your physical debit card or for 15 days after you open your account, whichever happens first.
To access the virtual card, log in to your account, go to "Manage cards," and tap the "Show card info" toggle to see your virtual card number, expiration date, and CVV code. The app will prompt you to set up a PIN for your debit card before you can see your virtual card information.
The Netspend® All-Access® Account is a full-featured checking account that pays cash back rewards. After you sign up for the account, you can generate a virtual card number to use for online purchases. This debit card also comes with Purchase Assurance that provides coverage on most items purchased with your All-Access Account card within 90 days.
You may request up to six active virtual accounts, which are all subject to the same fees, limits, terms and conditions as your bank account. See your account agreement for details.
What Is an Online Bank Account?
An online bank account is a digital account customers manage and access via the bank's website and mobile app. These banks seldom have brick-and-mortar branches. 
You can perform your banking activities online, including checking balances, transferring money, and paying bills from a checking or savings account. Online banks generally have lower overhead costs since they don't have physical branches to maintain. These savings help customers enjoy lower costs and better interest rates. 
Even though they lack physical branches, online banks still provide customer support through phone, email, live chat, or video conferencing. These financial institutions stress advanced features, including budgeting tools, instant transaction notifications, and innovative security measures such as biometric logins.
Many online banks provide access to a network of ATMs where customers can withdraw cash without fees. Some offer reimbursements for charges from out-of-network ATMs.
What Is an Instant Debit Card?
Online banks and other financial institutions may offer debit cards to customers immediately upon opening an account. Unlike traditional debit cards that customers receive by mail in five to 10 days, issuers provide virtual debit cards on the spot through a mobile app or online platform.
Some instant debit cards are designed for temporary use until the permanent card arrives in the mail or until an arbitrary date. Others are permanent cards that you can cancel at any time.

As with a virtual credit card, you can add a virtual debit card to digital wallets such as Apple Pay or Google Pay. Some institutions also offer physical instant debit cards at their branches. Whether virtual or physical, you can use instant debit cards for purchases, online shopping, and ATM withdrawals, similar to regular debit cards.
Virtual debit cards have the standard security features, including a card number, expiration date, and CVV. Some may offer dynamic CVVs for enhanced security.
Banks that provide temporary instant debit cards often use them as a bridge, ensuring customers have a payment method while waiting for their permanent card.
How Do I Open an Online Bank Account?
Opening an online bank account usually requires going through a digital application process. While this is often quick and convenient, it does require personal information and verification of the applicant's identity.
The steps for opening an online account are:
Research and choose the right bank: Before opening an account, research various online banks, such as the ones we reviewed above, to determine which suits your needs best. Consider fees, interest rates, features, customer reviews, and security measures.
Visit the bank's website or app: Once you choose an online bank, navigate to its official website or download its mobile app. Look for "Open an Account" or a similar option to begin.
Select the type of account: Depending on the bank, your options may include savings accounts, checking accounts, and certificates of deposit. Choose the ones that align with your financial requirements.
Provide personal information: This typically includes:

Full name
Date of birth
Social Security Number (or equivalent ID number in other countries)
Contact information (email, phone number, residential address)

Identity verification: The bank will require you to verify your identity for security reasons. Verification can involve uploading a photo of a government-issued ID (e.g., passport, driver's license), answering security questions, or more in-depth identity checks.
Set up an initial deposit: Some online banks require an initial deposit to open the account. You can do this by transferring money from another bank account, using a debit card, or other means the bank provides.
Create online access credentials: Set up your username and a strong, secure password for your online banking portal. Some banks may also ask you to set up additional security measures, such as two-factor authentication or biometric identification.
Review and agree to terms: Carefully review the bank's terms and conditions, fee structure, and other relevant agreements before signing off. Once you understand and agree, you can e-sign the bank's documents to open the account.
Confirmation: After you submit your signature, the bank will usually send a confirmation email or notification. This notice may require further actions or documents.
Access your account: Once it is open, you can access it via the bank's website or app. You can start setting up any additional features, including mobile alerts and a virtual debit card (if available).
The exact steps and requirements may vary slightly depending on the online bank. Ensure that you're using a secure internet connection throughout the process. Think twice before sharing personal information on unofficial platforms or responding to unsolicited requests.
Do I Have to Pay Upfront Money to Get an Online Bank Account? 
Some online banks require a minimum deposit to open an account. This deposit is not a fee, it is your money to use as you decide. Many online banks do not charge a minimum deposit.
Be aware of any monthly maintenance fees, which most online banks waive. Some accounts may waive monthly fees if you maintain a certain minimum balance or have regular monthly deposits, such as direct deposits from an employer. 
Even if there are no upfront fees, take note of other potential charges, including overdraft fees, ATM fees (if using an out-of-network ATM), or fees for paper statements. The type of account you open can also impact costs.
For example, savings accounts may have different requirements than checking accounts and may charge ATM fees.

Some online banks offer cash bonuses to new customers who open accounts and meet specific criteria. While not an upfront cost, some banks charge a fee if you close your account soon after opening it. Consider these costs if you're unsure about committing to a particular bank.
Can I Get an Online Bank Account Without a Credit Check?
You can get an online bank account without a credit check. Many online banks and fintech companies serve customers of every credit stripe.
A standard checking or savings account typically doesn't require a credit history at an online bank. But a credit check is more likely if you apply for credit products, such as a credit card or loan.
Most traditional banks use ChexSystems to review your banking history. This system checks whether a bank has closed any of your accounts due to unpaid fees, bounced checks, or other banking-related issues. Banks that use ChexSystems or related products may refuse your application for a new account if your banking history has negative marks.
Online banks and some traditional financial institutions offer second-chance checking accounts that don't review your banking history. These accounts may have monthly fees or other restrictions. Still, they offer customers an opportunity to rebuild a positive banking history.
If you're concerned about your banking or credit history, look for no-credit-check institutions or platforms that offer products to rebuild your financial standing.
What Should I Look For in an Online Bank?
Not all online banks are equally attractive to consumers. Consider these factors before choosing an institution:
Ease of account opening: Opening an account should be straightforward and quick, without credit checks or unnecessary hurdles.
FDIC insurance: Ensure the Federal Deposit Insurance Corporation (FDIC) insures the safety of your deposits up to a set limit, even if the bank fails.
Virtual debit cards: Many online banks offer virtual debit cards. Check the bank's offerings if you'd like to own a temporary or permanent virtual debit card.
Competitive interest rates: Online banks often have lower overhead costs than traditional banks, which can translate into higher interest rates for savings accounts, CDs, and other interest-bearing products.
Low fees: Evaluate the bank's fee structure. Online banks may offer low or no monthly maintenance fees, no minimum balance requirements, or reimbursements for ATM fees.
Easy access to funds: Check the bank's ATM network. Some online banks provide a vast network of fee-free ATMs or reimburse you for any ATM fee incurred out-of-network. Most online banks do not offer paper checks, so review a bank's offerings if you need to write checks.
User-friendly interface: Since you'll be banking remotely, the website and mobile app's user interfaces should be intuitive and easy to navigate. They should also provide essential functions, including funds transfer, bill payments, and mobile check deposits.
Security measures: Ensure the bank employs strong encryption and other security protocols to protect your data. Features such as two-factor authentication, biometric logins, and real-time transaction alerts can enhance security.
Customer support: Just because a bank is online doesn't mean you should tolerate poor customer service. Ensure the bank offers multiple channels for help, such as phone, email, chat, or even video calls.
Account types: Determine if the bank offers the types of accounts you're interested in, be it checking, savings, money market accounts, CDs, or even loan and credit products.
Additional features: Some online banks offer perks such as budgeting tools, financial insights, cash back on purchases, or rewards for certain behaviors, including saving money regularly.
Mobile features: If you use mobile banking frequently, look for features that include mobile check deposit, the ability to freeze and unfreeze your card, and compatibility with mobile wallets such as Apple Pay or Google Pay.
Reputation and reviews: You should research the bank's reputation. Customer reviews can provide insights into the quality of service, the reliability of the platform, and any potential issues.
The right online bank for one person might not be the best for another, so consider the above points to help you decide the best bank for your requirements. 
What Do I Do If I Get Denied For an Online Bank Account?
Your first response should be to understand the reason for the bank's denial. Banks usually distribute an Adverse Action Notice containing specific reasons for the denial decision and information on your right to dispute these reasons.
Review your ChexSystems Report If you applied to a bank that performs credit and banking checks. You're entitled to one free report from ChexSystems annually. Review the report for errors or negative marks because you can dispute incorrect information. ChexSystems must investigate and correct any errors.
You can avoid these complications by applying for a second-chance checking account. You won't be rejected for your banking history, but may not qualify for a second-chance account based on your age, residence, or identification problems.
Applying to another financial institution may improve your approval odds. Consider a credit union, as they often have more lenient requirements.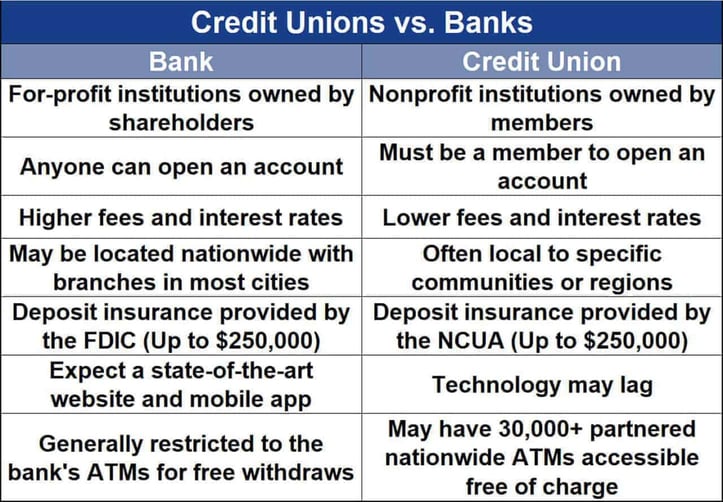 You may want to seek advice from a financial counselor if you frequently face account denials or other money-related challenges. These professionals provide guidance on managing your finances, improving your credit, and addressing any banking issues you may have.
How Is a Bank Account Debit Card Different From a Prepaid Debit Card?
Prepaid debit cards are similar to bank debit cards but without the bank. You deposit money into your card's account and use the funds for purchases, transfers, bill payments, and withdrawals. Unlike their bank counterparts, prepaid debit cards never charge interest or overdraft fees.
The following chart summarizes the differences between the two types of debit cards:
| FEATURE | DEBIT CARD | PREPAID CARD |
| --- | --- | --- |
| Source of Funds | Linked to a checking or savings account | Preloaded with a specific amount of money |
| Overdrafts | Possible, depending on bank terms | Typically not allowed; you spend only what's loaded |
| Fees | May have monthly account fees, ATM fees, or overdraft fees | Often has loading fees, monthly fees, and ATM fees. Some cards may offer fee waivers based on certain conditions. |
| Credit Checking | Usually not required for an account, but the bank may check your banking history | No credit check is required |
| Reload-ability | Funds added via deposits, transfers, or direct deposit | You can reload it via cash, bank transfers, or direct deposit |
| Interest-Earning | Possible, if linked to a savings account | Typically doesn't earn interest |
| Building Credit | Doesn't affect credit score | Doesn't affect credit score |
| Protection | Often offers fraud protection, and funds are FDIC-insured  | May offer fraud protection, but not all cards provide FDIC insurance. It varies by issuer. |
| Linking to Bank Accounts | The card directly links to a bank account | You can link the card to bank accounts for reloading, but not directly tied to a checking/savings account |
| Usage | You can use it wherever merchants accept debit cards, for ATM withdrawals, and online shopping. | Similar usage to debit cards, but the card issuer may set limitations. |
Bank debit cards generally have more utility than prepaid cards, but prepaid cards are better for temporary purposes.
Don't Waste Time: Get an Online Account Bank Account With an Instant Debit Card
Online banks offer consumers the convenience of brick-and-mortar banks, but are cheaper and faster. Several online banks provide instant debit cards upon request, a service unavailable at most bank branches. 
Virtual debit cards allow you to enjoy the benefits of a traditional debit card without waiting to receive the physical card. Our reviewed online banks offer virtual debit cards and many other features that consumers will find attractive.
Advertiser Disclosure
CardRates.com is a free online resource that offers valuable content and comparison services to users. To keep this resource 100% free, we receive compensation for referrals for many of the offers listed on the site. Along with key review factors, this compensation may impact how and where products appear across CardRates.com (including, for example, the order in which they appear). CardRates.com does not include the entire universe of available offers. Editorial opinions expressed on the site are strictly our own and are not provided, endorsed, or approved by advertisers.