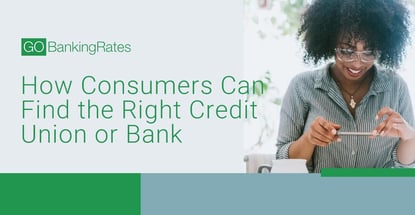 In a Nutshell: GoBankingRates began as a website focused on, well, banking rates. Over the years, it has expanded to encompass nearly any topic related to personal finance. We recently spoke with the company's lead researcher about its bank and credit union ratings, and how consumers shouldn't feel tied down to one particular financial institution simply because they are already a customer. GoBankingRates guides can help people find the right banks, credit unions, and credit cards that are the best fit for their unique financial needs.
Years ago, when I was trying to decide where I should open my first checking account, my decision ended up being largely based on the bank's location.
While that may seem unusual today, this was back in the day before direct deposit or online banking. The most high-tech banking feature I recall the institution having was a phone number you could call to check your account balance.
Anyway, this particular institution happened to be located conveniently between home and work. At the time, the decision was a no-brainer.

Today, consumers have a seemingly endless number of options when it comes to selecting a bank or credit union. Brick-and-mortar locations are abundant and the number of online banks are growing. Even selecting a brick-and-mortar financial institution is far less dependent on where the branches are located because nearly every modern bank or credit union offers plenty of online banking options.
GoBankingRates offers an in-depth look at all things related to finance, and can be particularly helpful when it comes to choosing the right bank or credit union.
As online banking programs became more robust and practical, I eventually switched from my old bank to the credit union I use today. Not only have I moved — several times — geography is no longer as important of a consideration as it once was. I left my old bank because it seemed to add new fees every few months. It was almost costing money just to keep an active account there.
I chose my current credit union largely because of its lack of fees, competitive rates, and personalized service.
GoBankingRates, with its extensive look at hundreds of financial institutions across the country, can help others who are unsatisfied with their current banks or credit unions find one that's right for them.
We recently spoke with GoBankingRates Lead Researcher Andrew Murray to learn more about the valuable website and how it can aid consumers in important financial decisions.
Exploring 3,300 Data Points to Identify Today's Best Financial Institutions
Murray describes GoBankingRates as a resource that publishes finance-related news stories, studies, and surveys. But it explains these sometimes tricky financial topics in a way that anybody can understand.
"It's not only easy to digest the information, but they can learn from these studies and surveys and establish a path forward on their financial journey," Murray said.
As the lead researcher, Murray focuses much of his efforts on GoBankingRates studies and surveys, compiling data and making it available to readers so they can make informed financial decisions.
While the website's content runs the gamut when it comes to areas of finance, we asked Murray about how it can help people identify the best banks and credit unions for them.
GoBankingRates published its lists of the Best Banks of 2021 and the Best Credit Unions of 2021 earlier this year.
"For our ninth annual Best Banks ranking, the experts at GOBankingRates analyzed over 4,300 data points across more than 120 banks," according to the company. "If yours isn't on the Best Banks 2021 list, we'll help you find a top-rated bank so you can earn from the best."
The company also used extensive research and analyzed thousands of data points for its credit unions as well.
"It's really all-encompassing," Murray said. "There are so many factors but accessibility was a big focus this year. And then, obviously, fees, APYs where they apply. And then what we call services offered. Do they do auto loans, mortgage loans, credit cards, investment services, insurance, etc?"
GoBankingRates also breaks down the data into a number of categories, including best bank accounts, best national banks, best online banks, best regional banks, and, of course, best credit unions.
"The rankings are a big thing every year, and we take great pride in that — it's just a boatload of data to pull from," Murray said.
Some institutions are reticent to offer up all their information about fees, terms, and services, Murray said. So the GoBankingRates team often has to really dig into the information they have access to make sense of it all.
How Changing Banks Can Be Beneficial
When I was with my old bank, the pricey fees and other unappealing features built up over a matter of years. I really should have switched to my current credit union years earlier. But people tend to simply get used to companies they do business with, even after the relationship is no longer beneficial.
But changing financial institutions doesn't have to be the daunting task that it may seem for some people.
"We asked 1,000 Americans aged 18 and older across the country a series of bank-related questions," Murray said. "One of them was, 'Have you considered changing banks within the past year?' We found that 89% said no."
So, why is there a lack of momentum when it comes to switching financial institutions?
"I think it's kind of the same thing people have with Congress and representatives in Congress," Murray said. "People tend to not like banks or financial institutions in general. But a lot of people say, 'But, I like my bank.' People often say they don't like Congress, but they say they like their representatives."
Murray said people also tend to view banks and credit unions as complicated institutions, and it just seems easier to stay where they already are, even if they aren't completely satisfied.
But banks these days are aware of these perceptions, and actually make changing financial institutions extremely easy in many cases, Murray said.
They do this by offering any number of promotions, depending on the financial institution.
"There are so many promotions, it may be a 6% interest rate on your saving account for the first year — just some almost outrageous offerings," Murray said. "They just want you to come in and join their bank."
Overall, switching to a new bank or credit union doesn't have to be some major life event. Murray said some people even think changing banks will cost them money.
Ultimately, in today's competitive market, plenty of great bank and credit union options exist, and people can peruse GoBankingRates rankings and decide which institution is best suited for their unique financial needs.
Credit Cards are a Major Consideration When It Comes to Personal Finance
Murray said credit cards are another important component of personal finance for many consumers. Credit card offerings are a factor in its bank and credit union ratings, but GoBankingRates takes a deep dive into the world of credit cards as well, outside of the bank rankings.
"We know how big credit cards are so we also have an annual best credit cards roundup," he said. I think the next one will be coming out this fall. We're going to begin our research on this project in the summer."
In the past, GoBankingRates has included considerations such as travel transfer balances, general transfer balances, and best overall card, Murray explained.
Watch on
The credit card report also includes promotions that may be time-limited, so it's important that the research is on point, he said.
"It's a little more tricky because we have to go through the weeds and make sure the effective dates we're presenting are accurate," he said.
"Choosing the right credit card can be a daunting task. There are seemingly endless options and, of course, the fear of being blindsided by a fee hiding in the small print," according to GoBankingRates in an earlier credit card report. "To help Americans find the best credit cards for their needs, GOBankingRates conducted a comprehensive evaluation to uncover the best options available today."
The next credit card report will approach the study with the same goal, to help readers find the best cards for them.
Murray said that, in the next best credit cards report, GoBankingRates plans to focus even more on points and other perks because these features are extremely important to consumers.
"It's what drives people to choose certain cards, so it's a big factor, and it's definitely on the horizon for our next report," he said.
When it comes to banks and credit unions in general, Murray said it's all about what works best for the consumer.
"There's such a plethora of options that you can have," he said. "I think GoBankingRates is a great resource to look through to see what fits your lifestyle and financial needs best."
Advertiser Disclosure
CardRates.com is a free online resource that offers valuable content and comparison services to users. To keep this resource 100% free, we receive compensation for referrals for many of the offers listed on the site. Along with key review factors, this compensation may impact how and where products appear across CardRates.com (including, for example, the order in which they appear). CardRates.com does not include the entire universe of available offers. Editorial opinions expressed on the site are strictly our own and are not provided, endorsed, or approved by advertisers.