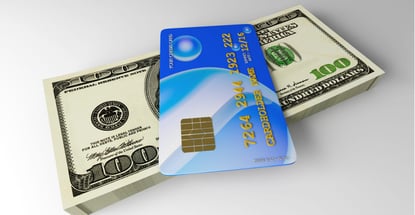 The 5% of the US population that uses prepaid cards at least monthly would have no problem answering "What is a prepaid card?" According to Pew Charitable Trusts, prepaid card users are more likely to be:
Renters
Unmarried
Earn less than $25,000
African American
Younger than 50 years of age
This article will help fill in the blanks for the other 95% who haven't yet tried prepaid cards. As you'll see, these cards solve several problems, but not without a few drawbacks.
A Prepaid Card Is a Payment Card With Preloaded Funds
A prepaid card allows you to purchase items in-store and online without cash, credit, or a bank account, and use the money you load in advance. They are similar to gift cards, except you can reload and reuse them. 
We judge the following prepaid cards to be the best:
How Does a Prepaid Card Work?
A prepaid debit card looks similar to an unsecured or secured credit card except for the word "Debit" appearing on its face. Sometimes incorrectly called a prepaid credit card, you can buy one online for free or at retail locations by depositing cash and paying a fee. 
You must register the card to activate it, which requires you to submit identification, including your Social Security number. Once activated, you can use it to:
Make purchases online, in-store, and in-app
Pay bills through online banking
Withdraw money at ATMs and checkout lines
Transfer funds to other accounts
Accept direct deposits
Earn rewards on select cards
Prepaid cards allow you to spend only the amount you preload, although some offer $10 purchase cushions to cover small overdrafts (without an overdraft fee or interest). You can load more money onto your prepaid debit card through direct deposits, mobile check deposits, transfers from a linked account, or cash deposits at designated retail locations. 
Most prepaid cards work with accompanying apps that provide mobile card management and alerts.
You can use your prepaid card to shop online by entering the card's account number. If you want to make an in-store purchase, you can insert, swipe, or tap the card at the checkout card reader and choose between two types of transactions:
PIN transaction: If you choose a debit transaction, you'll enter a four-digit PIN on the reader to authorize the purchase. PIN transactions are more secure because they require secret information.
Signature transaction: By choosing credit, you're selecting to verify your purchase with your signature. This transaction type is vulnerable to forgery.
Don't be confused by the credit option — it is genuinely a debit transaction and doesn't involve any credit. Whichever choice you make, the merchant communicates electronically with the card issuer to verify the account has sufficient funds. 
The issuer sends back an authorization code and updates the card balance if the transaction is valid. But the issuer will reject the transaction if it cannot verify your account number, PIN (or signature), or if you have insufficient funds. 
The card issuer will send you a monthly statement containing your balance and all account activity information. You can use the card's mobile app or website to get the same information at any time.
How Is a Prepaid Card Different From a Debit Card?
A prepaid card is a debit card, but it differs from bank debit cards. As with a regular debit card from a bank, a prepaid debit card uses money on deposit to pay for purchases.
Prepaid cards use funds you've loaded onto the card, whereas a bank's regular debit card taps the funds in your checking account. This distinction makes prepaid cards ideal for unbanked consumers.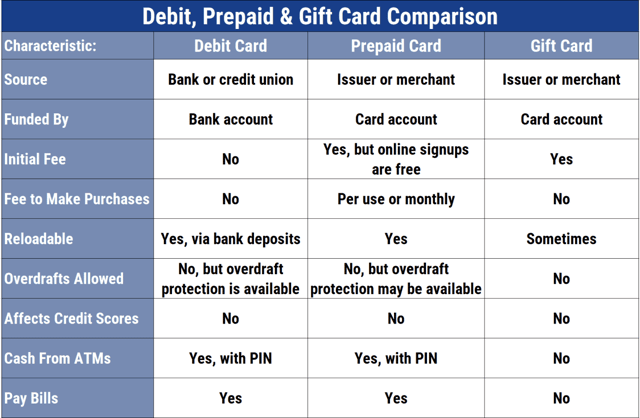 Banks and prepaid card issuers charge fees for their services. Banks may offer free checking but then require you to maintain a minimum balance. But banks don't charge fees when you deposit cash to your account, whereas most preloaded cards do.
Neither card type permits overdrafts (notwithstanding spending cushions or special options that require an overdraft fee). Prepaid cards generally have a much wider variety of fees, as we detail below.
A gift card is another type of debit card, but it is disposable once you spend the initial balance. You may not be able to reload it with additional funds. Also, gift cards do not need to be registered before you can use them. 
What Are the Advantages of Prepaid Cards?
Prepaid cards have several advantages over bank debit cards, the best credit cards, and cash. 
They are widely accepted: Prepaid debit cards carry the payment network logo (i.e., an American Express, Mastercard International Incorporated, or Visa prepaid card), and merchants accept them worldwide. You can use them to make purchases online and avoid carrying cash when shopping at stores.
No bank account required: Many folks don't like banks. For them, prepaid cards provide the advantage of not dealing with banks and bank fees. Yet, prepaid cards give you ATM access, bill pay, and direct deposit without a bank account. And as with a bank debit card, you can manage a prepaid debit card via online banking and through an app. 
No credit required: Unlike a credit card, reloadable debit cards do not issue credit, create debt, charge interest, or impose fees for late payments or overdrafts. You don't have to undergo a credit check to get a reloadable card, which means your credit history and score won't suffer from a hard pull when you apply for one.
Cash back: Some retailers, typically grocers, will let you withdraw funds from your reloadable prepaid card account by entering a transaction amount greater than the cost of a purchase. This courtesy cash back is free and saves you a trip to the ATM. 
Secure method of payment: Prepaid cards offer additional protection over credit and bank debit cards because they do not carry personally identifiable information. Even if someone makes an unauthorized transaction using your preloaded card, the most they can access is your balance, which is often smaller than checking account funds or unsecured or secured credit card lines. Registered preloaded cards are safer than cash, making them especially useful for travelers. 
Less risk of overspending: Compared with even the best credit cards and charge cards, preloaded cards are a much safer bet to avoid overspending. Preloaded debit cards do not issue credit, so you can't spend more than your card balance. Credit cards can put you in serious debt if you don't exercise discipline.
No commitment: You can quickly close your preloaded card account, perhaps with a token fee. You can also terminate a bank account, but it's usually a bigger hassle when replacing it with another one. Changing banks usually means new paperwork, destroying old checkbooks, ordering new checks, transferring balances, etc.
The advantages of prepaid cards far outweigh the disadvantages, which we'll cover next.
What Are the Disadvantages of Prepaid Cards?
Nothing in life is perfect, and preloaded cards have a couple of disadvantages.
Prepaid cards don't build credit: The flip side of not requiring credit is not building credit. The issuer reports your payments to the three major credit bureaus when you use a credit card. Credit cards and charge cards let you build or rebuild credit by paying on time and keeping your balances relatively low. Debit cards don't issue credit and can't help you raise your credit score. They also can't harm your credit history.
Prepaid cards charge fees: As chronicled by the Consumer Financial Protection Bureau, prepaid cards can have a bewildering array of fees, including:

Program fee: This is a charge for owning the card. It can be a fixed monthly fee or a pay-as-you-go (PAYG) transaction fee. You pay the same monthly fee whether you use the card zero or 100 times. In contrast, PAYG charges climb with the frequency of card usage.
Activation fee: A one-time fee when you buy the card. A few prepaid cards waive this fee.
ATM withdrawal fee: A charge that varies depending on whether the ATM is in or out of network. Some networks are free, while others allow the operator to charge fees.
Balance inquiry fee: The card may charge you when you check your balance through an ATM or phone call to customer service. You can avoid the fee by checking your balance online or via a mobile app.
Cash reload fee: Prepaid cards usually charge you when you add cash to your account. You can generally avoid this fee through direct deposits and mobile check load.
Other charges include an inactivity fee, bill payment fee, card-to-card transfer fee, card cancellation fee, foreign transaction fee, and additional card fee.
You would do well to carefully compare fees before choosing a prepaid card, as some charge less than others.
Why Would Someone Use a Prepaid Card?
A primary reason to use a reloadable prepaid card is that you have bad, limited, or no credit, which would make getting a credit card a challenge. Another prominent reason for owning a prepaid card is not having a checking account or bank credit card. 
Prepaid cards also offer a measure of anonymity that helps prevent identity theft.
Are Prepaid Debit Cards Safe?
Prepaid cards branded with a major payment network include $0 liability protection, absolving you from the cost of an unauthorized transaction.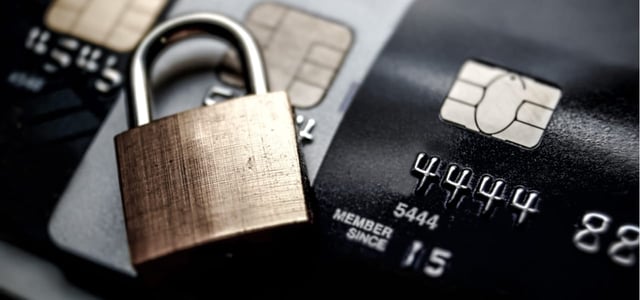 And according to the Consumer Financial Protection Bureau, some banks or credit unions pool prepaid card funds that may qualify for FDIC or NCUA insurance. A prepaid card issuer must tell you whether your funds are insured, so make sure you read the cardholder agreement. With cash, you're on your own.
Prepaid Cards Are Suitable Alternatives to a Bank Account 
We've endeavored to answer your question, "What is a prepaid card?" by describing their workings and cost/benefit tradeoffs. If you would like to learn more about a preloaded card or apply for one, click on the "APPLY NOW" link in the offer tables. 
Make sure you read the cardholder agreement before proceeding with an application. 
Advertiser Disclosure
CardRates.com is a free online resource that offers valuable content and comparison services to users. To keep this resource 100% free, we receive compensation for referrals for many of the offers listed on the site. Along with key review factors, this compensation may impact how and where products appear across CardRates.com (including, for example, the order in which they appear). CardRates.com does not include the entire universe of available offers. Editorial opinions expressed on the site are strictly our own and are not provided, endorsed, or approved by advertisers.