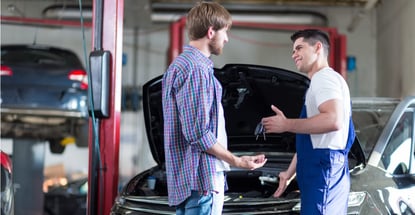 Car repair credit cards aren't limited to the cards and credit lines offered by your local mechanic or body shop. Any reputable mechanic accepts credit card payments, which means that you can use just about any card to pay for your vehicle's repairs or maintenance.
By skipping your mechanic's branded card and opting for a card with cash or point rewards — or one with a 0% interest promotional offer — you can pay for your repairs over time and get cash back and interest-free financing along the way.
The best cards, including those listed below, will give you both of these perks with no annual fee — which may be the only good news that comes from a trip to the mechanic.
Cards With 0% Financing For Car Repairs
A 0% interest card offers you a promotional financing deal for your first six to 18 months or so with your card. The length of your purchase APR deal will vary depending on which card you choose. You'll still be obligated to make your minimum monthly payment during this time, but your promo balance will not incur interest until the deal expires.
+ See More Cards With 0% Financing
Although you won't incur interest charges on your promotional balance with these cards, you may be charged a fee if you conduct a balance transfer or cash advance. The promotional APR typically only works for new cardholders and doesn't offer existing cardholders interest rate deals.
4 Reasons to Be Wary of Credit Cards Offered at the Repair Shop
Few mechanics offer their own financing. Instead, these independent businesses partner with outside banks or credit card issuers to offer auto repair financing.
That's why you have to apply for an auto repair loan or line of credit with the mechanic. The mechanic will submit your application for an auto repair credit card to its partner bank, which will instantly accept or decline your application.
While this may seem convenient, this car repair financing option has several pitfalls, including:
1. Short Promotional Terms: Most credit card issuers that partner with auto mechanics offer very short interest-free periods for your promotional purchase. In many cases, you'll have only six months to repay your debt before your interest rate kicks in. 
2. Deferred Interest: If your lender forces you into a deferred interest deal, you may find that your car repairs cost way more than you planned. With deferred interest, your debt will continue to accrue interest during your promotional purchase time frame. If you repay the debt before your deal expires, you don't have to worry about the financing charges. But if you don't, the bank will pile all of that accrued interest onto your balance when the promotional period expires.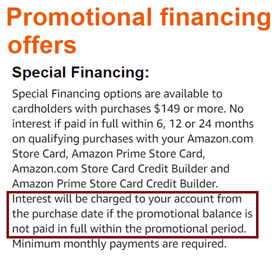 3. High APRs After the Promotional Terms: Car repair credit cards often have very relaxed credit approval standards. You may receive credit approval if you have a bad credit score or no credit at all. While this is convenient, you'll also find that most of these credit cards have sky-high interest rates after your promotional purchase period ends. 
4. Limited Use: While an auto repair credit card may get you out of a jam at the auto repair shop, they won't do you much good anywhere else. In many cases, you can only use this financing option for vehicle repairs. You usually can't use this card at the grocery store or local home improvement warehouse. But you can use a regular credit card at all of these locations and many more.
While an auto repair loan or credit card may sound like a good deal at the register, they often turn out to be more expensive options once you get back on the road. Your promo purchase period won't last long, and your regular purchase APR will quickly get expensive if you can't repay your debt on time.
And any repairs you make at a later date are considered non-promotional purchases — which means they're subject to your regular account terms and won't qualify for any promo purchase discounts.
Is There a Credit Card For Auto Repairs?
Just about every auto repair shop offers a co-branded credit card or car repair loan that's funded through a partner bank. These options have fairly forgiving credit approval standards and will consider you even if you have a bad credit score.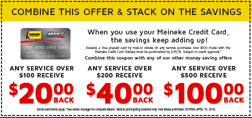 Your local auto repair shop may tell you that this financing is a great way to save money and finance your repair work, but that's rarely the case.
While the mechanic may offer discounts if you finance your repair work — or the bank may offer interest-free financing for a short period on your purchase balance — these promotions often pale in comparison to those offered by standard credit cards.
For example, credit issuer Synchrony partners with car repair shops including Meineke, Midas, CarCareOne, Pep Boys, and Tire Pros to offer a co-branded card that typically only offers six months of interest-free financing. 
Once your promo balance period ends, you may be subject to deferred interest if you've only been making the minimum monthly payment due. That's a very expensive way to finance your vehicle repairs.
Even larger banks, including CitiBank U.S.A., the issuer of the Goodyear Credit Card, limit how you can use your card. You can use it to shop tires at Goodyear locations or for gas station purchases at Exxon™ and Mobil™ stations —  that's it.
You can use the cards listed above at any car repair shop and at millions of other retail and service locations that accept credit cards. Even better, you'll receive a longer interest-free period on your purchase balance and possibly even earn cash back rewards without an annual fee.
Can You Pay an Auto Mechanic With a Credit Card?
Most reputable mechanics will accept credit card payments for completed work. If a mechanic offers a co-branded credit card or a car repair loan option, the business will also accept credit cards from other issuers.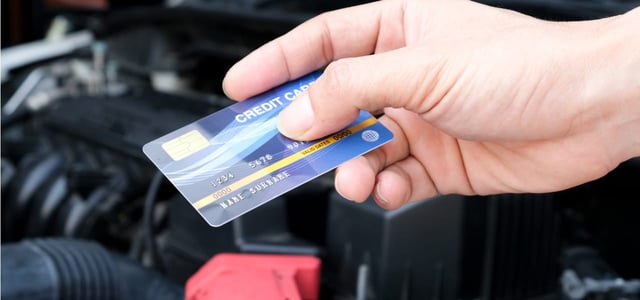 Using a credit card to pay for your mechanic bill may come with other perks you may not be aware of. In addition to potential interest-free financing and cash back or bonus points, your purchase may be eligible for an extended warranty on the parts used, depending on the card you use.
Your purchase may also qualify for promotional financing that may include bonus rewards or other benefits.
Which Credit Card Is Best For Paying a Body Shop?
We always recommend financing any large purchase with a 0% interest promotional credit card. If you're a new cardholder (existing cardholders may not qualify), your single receipt qualifying purchases will receive interest-free financing for the duration of the promotion.
The length of the promo will depend on the card you apply for. In most cases, these offers range from six to as many as 21 months.
These cards allow you to cover your car repair costs with no financing charges — which can keep your emergency fund intact and take the stress out of seeing your check engine light glow on your dashboard.
What If I Can't Afford to Fix My Car?
Visiting the auto mechanic is a stressful trip. Not only may you feel helpless without a working vehicle, but the uncertainty of the cost of repairs can drive you crazy. This is especially true if you don't have an emergency fund or other way to pay for your repairs.
But you have options if you can't afford your car repairs right now, including:
Negotiate with your mechanic: A local, independent mechanic may agree to a payment plan for your repairs. This may require some upfront money in good faith, but you won't have to pay the entire bill at once.

Opt for used parts: Although a mechanic's labor charges are quite expensive, parts are a large portion of your bill. If you go with used parts instead of new ones, you can significantly lower your bill.

Do it yourself: This may not be an option for everyone, but if you — or someone you know — is handy with a wrench, you may be able to complete your repairs without taking your car to a mechanic.

Consider a personal loan or title loan: If you can't qualify for a credit card or car repair loan, you may be able to find a personal loan or title loan lender that's willing to front you the money for your repairs. With this option, you can repay the debt over time through a series of monthly payments.
Just remember that you have options for getting your vehicle repaired, even if you can't afford the total cost right now. With a payment plan or modified services, you can lower your bill and give yourself time to repay your debt.
Find the Best Car Repair Credit Cards Online
If your car is stuck at the mechanic and your wallet is running on empty, don't settle for just any auto repair financing option. Instead of jumping on the mechanic's branded financing offers, consider an everyday use credit card with a 0% financing offer. Unlike dedicated car repair credit cards, you can use these cards anywhere credit cards are accepted.
You may also qualify for cash back or point rewards and other perks that you won't receive with a card or loan from a repair shop. So, whether you need some tires, an alternator, or a new timing belt, go with a credit card that will keep your financial motor humming all year long — not just while your car is under the weather.
Advertiser Disclosure
CardRates.com is a free online resource that offers valuable content and comparison services to users. To keep this resource 100% free, we receive compensation for referrals for many of the offers listed on the site. Along with key review factors, this compensation may impact how and where products appear across CardRates.com (including, for example, the order in which they appear). CardRates.com does not include the entire universe of available offers. Editorial opinions expressed on the site are strictly our own and are not provided, endorsed, or approved by advertisers.