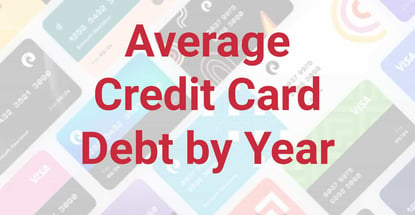 Consumers love credit. Whether it's in the form of credit cards, loans, lines of credit, or buy now, pay later contracts, credit enables people to buy things now and pay for them later. That gives them the flexibility to time their payments whenever they're most convenient.
Given that convenience, it's no surprise that overall consumer credit has climbed steadily for decades — with the occasional short-term ups and downs. The pattern is so clear it shows up in Federal Reserve data for the last 80 years. 
In 1943, overall consumer debt was about $6.6 billion.1 In 2023, without adjusting for inflation, that same figure totals $4.85 trillion.
This category includes most types of credit extended to individual consumers. One type of credit that's not included is real estate loans for personal residences or vacation homes.
Americans Collectively Owe Almost $1 Trillion in Credit Card Debt in 2023
The Fed divides overall consumer credit into two categories: revolving and nonrevolving. The nonrevolving category includes auto loans, student loans, and loans for boats, trailers, and mobile homes. Credit cards are included in the revolving category.
Not all of the $4.85 trillion in consumer debt involves credit cards, but a significant portion — about $1 trillion — is made up of credit card accounts. With all the zeroes, the specific figure is about $986,000,000,000 (or $986 billion).
Total US Consumer Credit Card Debt From 2004 to 2023
This chart shows the Fed data for consumer credit card debt for the 20-year period from 2004 to the first quarter of 2023. Totals prior to 2023 are from the fourth quarter of each year.2 
A third decimal point was added to these figures (in trillions) in 2020.
| Year | Card Debt (Billions) | Year | Card Debt (Billions) |
| --- | --- | --- | --- |
| 2004 | $720B | 2014 | $700B |
| 2005 | $740B | 2015 | $730B |
| 2006 | $770B | 2016 | $780B |
| 2007 | $840B | 2017 | $830B |
| 2008 | $870B | 2018 | $870B |
| 2009 | $800B | 2019 | $930B |
| 2010 | $730B | 2020 | $819B |
| 2011 | $700B | 2021 | $856B |
| 2012 | $680B | 2022 | $986B |
| 2013 | $680B | 2023 | $986B |
Source: Federal Reserve
Average Individual Credit Card Debt From 2017 to 2022
Credit card debt has had a history of ups and downs in recent years due to dramatic changes in the US economy.
From the fourth quarter of 2017 to the fourth quarter of 2021, average card debt decreased by 10.7%. At the end of 2021, the average US consumer had $5,589 in credit card debt.3
In 2022, sharply higher prices tied to a rising rate of inflation forced consumers to pay more for a myriad of everyday products and services. By the third quarter of 2022, average card debt rose to $910 billion, up $125 billion compared with the prior year. 
The average US consumer's card debt hit $5,910, more than $300 higher than the year-end 2021 total.
This chart shows Experian data for average national credit card balances for the six-year period from 2017 to 2022. Figures for 2017-2021 are from the fourth quarter of each year.3 The 2022 figure is from the third quarter.4
| Year | Average National Card Debt Balance |
| --- | --- |
| 2017 | $6,220 |
| 2018 | $6,353 |
| 2019 | $6,480 |
| 2020 | $5,460 |
| 2021 | $5,589 |
| 2022 | $5,910 |
Source: Experian
How Card Debt Correlates to Credit Scores Over Time
The FICO credit score is the best-known credit scoring model in the US. Most FICO scores,  which range from 300 to 850, are based on data from individual consumer credit reports.
The average FICO score for US consumers remained unchanged at 716 from April 2021 to April 2022.5,6 While this two-year trend was flat, that 716 average score was significantly higher than the averages for prior years. 
In fact, the average US consumer FICO score has ticked up steadily, although slowly, since at least 2005.
During the COVID-19 pandemic, consumers with relatively low FICO scores achieved greater improvements in their scores, on average, than consumers whose scores were in the 750-799 range.5 
These improvements were likely due to fewer late payments and a shift from seeking additional credit to prioritizing savings. Free weekly credit reports from the major credit bureaus and increased consumer awareness of credit scores and how they work may have also contributed.
While these improvements were broad based, millions of other consumers saw their credit scores drop during this period. Income disruptions may have forced some consumers to rely more heavily on personal loans and credit cards for basic necessities.
Upticks in the US average FICO score in 2020 and 2021 may have been due, in part, to strong housing and investment markets and flexible payment terms consumers were allowed during the pandemic. The leveling off of the average FICO score in 2022 may have resulted from a small increase in late payments, increases in consumer debt levels, and efforts to obtain new credit, including credit cards.
Average FICO 8 Scores for US Consumers From 2005 – 2022
This chart shows the average FICO scores for US consumers from 2005 to 2022. Scores shown are as of October for each year from 2005 to 2021 and as of April for 2021 and 2022.
| Year | Average FICO 8 Score | Year | Average FICO 8 Score |
| --- | --- | --- | --- |
| 2005 | 688 | 2014 | 694 |
| 2006 | 690 | 2015 | 696 |
| 2007 | 689 | 2016 | 699 |
| 2008 | 689 | 2017 | 701 |
| 2009 | 686 | 2018 | 705 |
| 2010 | 687 | 2019 | 706 |
| 2011 | 689 | 2020 | 713 |
| 2012 | 689 | 2021 | 716 |
| 2013 | 690 | 2022 | 716 |
Source: FICO
How Balance Transfer Cards Can Help
Balance transfer cards are an option for consumers who want to pay off some or all of their card debt. As the name implies, these cards allow you to transfer an existing balance from one card to another. 
The goal is to pay off debt at a lower cost since the new card should have a lower annual percentage rate (APR) than the current card.
In fact, some balance transfer cards have an initial APR as low as 0%. A low or 0% APR creates an attractive opportunity — and a powerful incentive — to pay off debt before that rate expires. The more debt that's paid off at the lower or 0% rate, the bigger the savings compared with the same pace of debt repayment on the current card with the higher rate.
Some balance transfer cards offer a low initial rate for as long as 21 months on new purchases as well as balances transferred from one or more other cards. Balance transfer cards may also offer a rewards program to earn airline miles, points, cash back, or other bonuses.
Before considering a balance transfer card, ask yourself these questions to determine whether this type of card is a good idea for you:
What are the APRs on my existing cards compared with the new balance transfer card?
When will the new card's promotional APR expire?
Will I be charged interest retroactively for any portion of my transferred balance that I haven't paid before the promotional rate ends?
How much of my existing balance can I transfer to my new card?
How much would I save in interest with my new balance transfer card?
Does the new balance transfer card have an annual fee?
How much is the balance transfer fee? (Fees typically range from 2% to 5% of the transferred balance.)
Does the promotional rate on my balance transfer card include purchases as well as my transferred balance?
Does my new balance transfer card offer a rewards program with the rewards that I want?
Will a new balance transfer card help my credit score over time?
How likely am I to be approved for a new balance transfer card?
Am I ready to shop for a new balance transfer card?
In Conclusion
Many consumers accept credit card debt as a fact of life. Total US credit card debt and the average credit card balance for individual consumers have gradually increased as the price of staples has grown due to inflation. Balance transfer cards can present an opportunity to pay off all or part of an existing card balance with a new card that usually has a low or 0% initial rate for the transferred balance.
More Relevant Statistics:
Data Sources:
1 https://www.federalreserve.gov/releases/g19/hist/cc_hist_sa_levels.html 
2 Fed Excel spreadsheet HHD_C_2023Q1 Page 3 Data
3 https://www.experian.com/blogs/ask-experian/how-credit-card-debt-has-changed-over-last-5-years/
4 https://www.experian.com/blogs/ask-experian/state-of-credit-cards/
5 https://www.fico.com/blogs/average-us-ficor-score-716-indicating-improvement-consumer-credit-behaviors-despite-pandemic
6 https://www.fico.com/blogs/depth-look-distribution-average-us-ficor-scores-2022
Advertiser Disclosure
CardRates.com is a free online resource that offers valuable content and comparison services to users. To keep this resource 100% free, we receive compensation for referrals for many of the offers listed on the site. Along with key review factors, this compensation may impact how and where products appear across CardRates.com (including, for example, the order in which they appear). CardRates.com does not include the entire universe of available offers. Editorial opinions expressed on the site are strictly our own and are not provided, endorsed, or approved by advertisers.