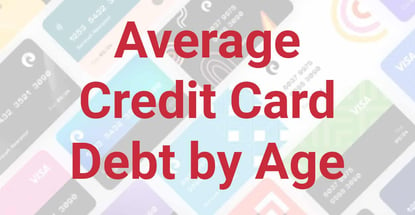 In 2022, US consumers of all ages dramatically increased how much debt they owe. Americans collectively added more than $1 trillion of new debt in just one year. 
Major credit bureau Experian described it as "an extraordinary increase not seen in over a decade."
Total debt levels rose to almost $16.4 trillion, up 7% from $15.3 trillion a year earlier. Of that total, $910 billion was attributable to a reliance on credit cards.
Multiple factors contributed to this explosion of debt, including rising inflation and interest rates, and consumer demand. Together, these factors put pressure on consumers' ability to pay for goods and services. 
Credit cards, personal loans, and point-of-sale buy-now, pay-later (BNPL) loans, among other forms of consumer credit, closed the gap.
The Average Credit Card Balance in America is $5,910
The average credit card balance rose to $5,910 in 20221, a 13.2% increase over the year prior. Here's how that average varies across generations:
| Generation | 2020 | 2021 | 2022 | % Change 2021-22 |
| --- | --- | --- | --- | --- |
| Silent Generation | $3,277 | $3,177 | $3,316 | +4.4% |
| Baby Boomers | $6,089 | $5,804 | $6,245 | +7.6% |
| Gen X | $7,185 | $7,000 | $8,134 | +15% |
| Millennials | $4,350 | $4,576 | $5,649 | +23.4% |
| Gen Z | $2,044 | $2,282 | $2,854 | +25.1% |
| All groups | $5,315 | $5,221 | $5,910 | +13.2% |
Source: Experian 2022 Q3 data
Gen Z, people born between 1997 and 2013, raised their average total card debt more than any other age group, with a 25.1% increase in total card debt in 2022.
Millennials, born between 1982 and 1994, increased their credit card debt by 23.4%, while Gen X, those born between 1965 and 1980, raised their total credit card debt by 15%.
Baby boomers, who are people born between 1946 and 1964, also added to their total credit card debt by 7.6%. The Silent Generation, born between 1928 and 1945, increased their credit card debt the least with a 4.4% bump.
Gen X Has the Highest Average Card Debt: $8,134
Every generation experienced an increase in average credit card balances in 2022. But the highest average card debt – $8,134 – belongs to Gen X. This group has a history of having higher card debt than other generations judging by the 2020-2022 data.
Gen Z Has the Lowest Average Card Debt: $2,854
Despite having the highest average card debt among the generations, Gen X didn't have the largest growth in card debt in 2022. That data point belongs to Gen Z, which boosted its average card debt by 25.1% in 2022. Though this increase was large on a percentage basis, Gen Z still had the lowest average card debt of just $2,854.
Millennials: $5,649
Millennials, the generation between Gen X and Gen Z, also posted a big increase of 23.4% in average card debt in 2022. This increase boosts Millennials' average card debt to $5,649, the third-highest among the generational groups.
The Silent Generation: $3,316
The Silent Generation's average card debt dropped slightly in 2021, only to rebound to a higher level in 2022. With a 4.4% increase, the smallest increase of any generation for that year, the oldest generation in this data set ended up with average card debt of $3,316 for 2022.
Total Credit Card Debt By Age Group
Most people's total average debt peaks when they're middle-aged. That's because they're typically earning more and spending more at this time in their life than they did when they were younger or will when they're older.
This pattern is evident in the total credit card balances by age, reported by the New York Federal Reserve in its latest Quarterly Report on Household Debt and Credit2.
The following figures represent total credit card debt for US consumers by age group:
| Age Group | Total Debt (Billions) |
| --- | --- |
| 18-29 | $80B |
| 30-39 | $190B |
| 40-49 | $220B |
| 50-59 | $220B |
| 60-69 | $170B |
| 70+ | $120B |
Source: 2022 New York Federal Reserve Household Debt and Credit Report
How Credit Card Debt Correlates to Credit Scores By Age
Though credit card debt is on the rise, so, too, are consumer credit scores.
In 2022, average FICO credit scores rose through the generations from 679 for Gen Z to 687 for Millennials. Gen X saw average FICO credit scores increase to 706, while average credit scores for Baby Boomers reached 742, and average scores for the Silent Generation grew to 760.3
| Generation | 2021 | 2022 |
| --- | --- | --- |
| Silent Generation | 760 | 760 |
| Baby Boomers | 740 | 742 |
| Gen X | 705 | 706 |
| Millennials | 686 | 687 |
| Gen Z | 679 | 679 |
Source: Experian 2022 Q3 data
Why do credit scores tend to rise with age? The reasons may include older generations' longer credit histories and their additional years of experience using credit and learning about how credit scores are calculated.
Card Delinquencies Rose For All Age Groups in 2022
The 2022 spike in consumer debt came with a dark side. Consumers didn't just use more credit, they also struggled to make their card payments due to higher balances and interest rates.
From early 2020 to early 2022, credit card holders in all age groups achieved significant reductions in serious delinquencies (90 or more days late) for card payments, but in mid-2022, this trend reversed.
Here's how much serious delinquency rates rose for each age group as of the fourth quarter of 2022: 
| Age Group | Delinquency Rates |
| --- | --- |
| 18-29 | +7.6% |
| 30-39 | +5.69 |
| 40-49 | +3.81 |
| 50-59 | +2.98 |
| 60-69 | +2.81 |
| 70+ | +3.49 |
Source: 2022 New York Federal Reserve Household Debt and Credit Report
Gen Z had the highest uptick in delinquency rates; perhaps due to inexperience managing credit coupled with economic factors.
How Balance Transfer Cards Can Help
Many people have more card debt than they want. If you're looking for a way to pay off some of yours faster and at a lower cost to you, a balance transfer card may be a smart idea to consider.
Balance transfers let you move all or part of your existing card balances to one or more other cards. These transfers can lower your annual percentage rates (APRs) so you can pay off your balances sooner.
Balance transfer cards can also be used to consolidate multiple smaller card balances into one larger card balance with a single APR and monthly payment. Balance transfer fees are usually 3% or 5% of the amount you choose to transfer.
Many balance transfer cards offer attractive benefits, such as no annual fee, a rewards program, or an introductory 0% APR offer for purchases.
Before you apply for a balance transfer card, you may want to consider:
How much you could save with a lower or 0% APR.
How much time you'll have to pay off all or part of your transferred balance before your introductory APR expires.
Whether you'll be charged interest retroactively for debt you don't pay off before that date.
How much you'll be charged in fees for your balance transfer.
How a new balance transfer card could affect your credit score.
If a balance transfer makes sense for you, your next steps may be to shop for a card you like, apply, and if approved, initiate your transfer. Be sure to find out when your introductory rate will end because your rate after that date will almost certainly be significantly higher.
In Conclusion
Age is no barrier to credit card debt, or, indeed, any other type of debt. And while debt levels tend to vary by age bracket and generation, your debt and how well you manage it may not be determined by your age or your generation. In fact, many people of all ages don't have any credit card debt at all.
If paying off your card debt is one of your financial goals, a balance transfer card may help you achieve that goal faster and at a lower overall cost. To find balance transfer cards that may be a good fit for you, shop around, compare card offers, and read the disclosures for each offer before you apply.
More Relevant Statistics:
Data Sources:
1 https://www.experian.com/blogs/ask-experian/research/consumer-debt-study/
2 https://www.newyorkfed.org/medialibrary/Interactives/householdcredit/data/pdf/HHDC_2022Q4.pdf
3 https://www.experian.com/blogs/ask-experian/what-is-the-average-credit-score-in-the-u-s/
Advertiser Disclosure
CardRates.com is a free online resource that offers valuable content and comparison services to users. To keep this resource 100% free, we receive compensation for referrals for many of the offers listed on the site. Along with key review factors, this compensation may impact how and where products appear across CardRates.com (including, for example, the order in which they appear). CardRates.com does not include the entire universe of available offers. Editorial opinions expressed on the site are strictly our own and are not provided, endorsed, or approved by advertisers.