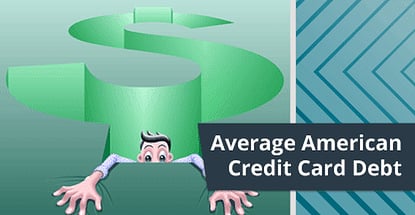 No matter what you received under the tree, the average American adult started the new year with the gift that keeps on giving: credit card debt. In fact, more than two-thirds of shoppers used credit cards to finance their holiday purchases in 2017, which means many of us started 2018 with more than $1,000 in extra credit card debt. And that's hardly all the credit card debt Americans dealt with in 2018.
Collectively, the total revolving debt in the U.S. has topped $1.011 trillion, a height last reached during the financial crisis at the end of the 2000s. While the bright side is that it could be far, far worse — U.S. consumers have more than $4 trillion worth of available credit card credit line — that 13-digit dollar amount still means there's significant credit card debt to go around.
So, what is the average credit card debt in American households? We'll answer that question and offer other valuable information below as we look at several ways to pay off credit card debt, including balance transfer offers and personal loans.
Average Debt | Ways to Pay Off Debt
Average American Household Has $8,000+ in Revolving Debt
Although the exact makeup may have changed over the last century, the U.S. population has been consistent in one regard: it keeps on growing. More than 126.2 million American households rang in 2018 — and they carried that $1.011 trillion in revolving debt along with them, which works out to an average of around $8,011 in revolving debt per household.
That being said, not all Americans are burdened by a portion of that debt; only around 38% of all households (approximately 48 million) have some sort of credit card debt they carry from month to month. But with fewer hands to carry the load, each household is carrying a much larger portion of that $1 trillion debt — an average of $21,063 per indebted household, in fact.
And that number isn't likely to decrease anytime soon. According to the Consumer Financial Protection Bureau (CFPB) report, average credit card debt numbers have increased 9% over the last two years, with subprime consumers in the worst shape of all, with these high-risk consumers seeing a 26% increase in average credit card debt over the last 24 months.
And it's not only the amount of credit card debt that's growing; the CFPB report showed the number of new credit cards issued to U.S. consumers has steadily risen over the last few years — and increased by more than 50% since 2010. At the same time, with just over 169 million U.S. consumers owning at least one credit card, that number is still below pre-recession highs.
How to Pay Off Credit Card Debt
While the results of a little extra holiday spending can take a few months to wipe from your ledger, the five-figure average credit card debt carried by indebted households isn't a simple three-month fix — particularly if you're dealing with high interest rates that make your balance much more costly to pay off.
Despite the challenge it presents, however, it's vital to pay down that credit card debt as quickly as possible, and not just for your bottom line. High credit card balances can cause your utilization rate to climb — and your credit score to fall. Plus, the more debt you're stuck trying to repay, the more difficult it can be to keep paying those debts on time, and few things kill a credit score like late or missed payments.
Your options for getting a handle on your current credit card debt will depend primarily on the shape of your credit score. Those with at least a "Good" credit score (a FICO score of 670 or above) will have the most options, including access to quality balance transfer offers, but a poor credit score won't necessarily disqualify you from making it a little easier to pay off your credit card debt.
Use a Balance Transfer Offer
Given the high credit limits offered to well-qualified consumers, you may be carrying a large amount of credit card debt but still maintain a good to excellent credit score. In this case, one of the best ways to make credit card debt more manageable is to take advantage of a balance transfer credit card offer to reduce or even eliminate your interest fees.
The best balance transfer offers are typically introductory 0% APR offers that allow you to transfer your credit card balance(s) to a new card and enjoy 0% APR on that transferred balance for the duration of the introductory period. While most promotional terms last at least 12 months, some of our top offers provide 0% on balance transfers for up to 18 months, plus you'll pay no annual fee.
+See The Best Balance Transfer Cards
Although many great balance transfer credit cards won't charge you an annual fee, they aren't entirely fee-free, either. In particular, the majority of credit cards will charge a balance transfer fee when you transfer a balance to the card. These fees tend to range from 3% to 5% of the total amount transferred and will reduce the amount you can successfully transfer.
If your credit score is in the fair to average range, you'll be unlikely to qualify for the best balance transfer offers, but you may still have a few options. Some credit cards provide balance transfer offers for fair credit applicants, or you can try a card that charges a lower ongoing APR than you're currently being charged.
Consolidate with a Personal Loan
In some cases, a credit card balance transfer simply doesn't cut it. Depending on the amount of credit card debt you need to repay, for example, you may not be able to find a balance transfer credit card with a large enough credit line available for transfers, regardless of your credit score. When a balance transfer isn't an effective or efficient option, a credit card consolidation loan may be the best bet.
Essentially, credit card consolidation involves taking out a personal installment loan and using those funds to pay off your credit card balance(s). Ideally, the loan you use will have a much lower APR than charged by any of your current credit cards, making your debt more affordable to repay. These days, you can easily compare quotes from multiple lenders through online lending networks, like our expert picks below.
Loan amounts range from $1,000 to $35,000
All credit types welcome to apply
Lending partners in all 50 states
Loans can be used for any purpose
Fast online approval
Funding in as few as 24 hours
Loan amounts range from $500 to $10,000
Compare quotes from a network of lenders
Flexible credit requirements
Easy online application & 5-minute approval
Funding in as few as 24 hours
Loan amounts range from $1,000 to $35,000
Flexible credit requirements
Loans can be used for anything
Five minute application
Funding possible in as few as 24 hours
Large lending network with multiple partners
When exploring your options for consolidation loans, be sure to investigate all aspects of the loan rather than simply focusing on the size of your monthly payment. The total length of your loan, for instance, can have a big impact on both your monthly payment and the total cost of your loan because the longer your loan extends, the more interest fees you'll end up paying over the life of that loan.
This means personal installment loans that extend up to the maximum 72 months will be significantly more expensive than loans of shorter duration. The best consolidation loans should balance an affordable monthly payment with a reasonable amount of interest fees.
Avoid Being a Statistic By Paying Off Your Debt
For millions of American households, credit card debt is already a constant concern — and that concern will likely only increase as time marches on. Indeed, with an average of more than $8,000 in credit card debt carried by U.S. households, it's safe to say that many of us have debt on our mind from the moment that first holiday-purchase-laden credit card bill of the year hits our inboxes.
The steady increase in credit card originations will likely only add fuel the growing U.S. revolving debt number — a number that is already working its way toward record-breaking heights. If these numbers continue to rise, more American households than ever may be on the front line of the fight against credit card debt in the near future.
But it's not all bad news. While credit card debt levels may be inching ever higher, credit scores have also risen, and the average FICO credit score hit an all-time high of 700 (out of a possible 850). Not only does this mean the typical U.S. consumer has a "Good" credit score, it also indicates that carrying credit card debt alone won't necessarily disqualify you from having a healthy credit profile.
If you're one of the millions of Americans dealing with credit card debt, the most important thing to remember is to keep making at least the minimum required payment for each card to minimize the potential credit impacts of that debt. Making payments on time is one of the most important factors in maintaining a healthy credit score. Other ways to ensure your score stays in top shape while paying down card debt include limiting hard credit inquiries, avoid closing old accounts in good standing, and keeping low balances on your other accounts.
Advertiser Disclosure
CardRates.com is a free online resource that offers valuable content and comparison services to users. To keep this resource 100% free, we receive compensation for referrals for many of the offers listed on the site. Along with key review factors, this compensation may impact how and where products appear across CardRates.com (including, for example, the order in which they appear). CardRates.com does not include the entire universe of available offers. Editorial opinions expressed on the site are strictly our own and are not provided, endorsed, or approved by advertisers.