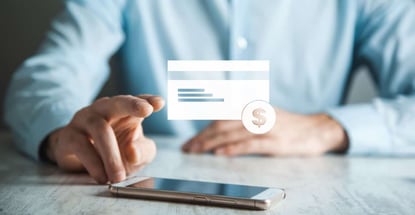 Reality isn't all it's cracked up to be, at least regarding debit and credit card security. The Federal Trade Commission received 2.8 million reports of fraud in 2021, many stemming from stolen cards and hacked financial accounts. 
Fortunately, the virtual world offers significant protection from the harsh reality of card fraud. Virtual accounts for credit and debit cards limit your exposure to card-related theft and help protect your identity. 
This article reviews the best prepaid debit cards that offer virtual accounts. These cards give you an extra measure of protection that will help keep your money more secure.
Best Virtual Prepaid Debit Cards
In addition to offering virtual accounts, these cards also provide all of the advantages of prepaid cards, including freedom from bank accounts and credit checks. Several belong to the Netspend group of prepaid cards and share the same virtual account features. 
As a Netspend partner, the Brink's Armored™ Account allows cardmembers to request up to six active virtual accounts with a one-year expiration date. You must register the card before requesting a virtual account number. You can choose between the regular monthly program fee or pay-as-you-go, which is a small fee per transaction. You also get Payback Points rewards, a small purchase cushion to protect from overdrafts, and access to a high-yield savings account.
The PayPal Prepaid Mastercard® is another Netspend partner offering virtual card accounts. The card is an obvious choice if you have a PayPal account, as you can transfer funds back and forth between the two. The card speeds up access to direct deposits by up to two days, and the optional Payback Rewards program provides cash back via statement credits for purchases at select merchants. 
This NetSpend® Visa® Prepaid Card also offers virtual account numbers for online and phone transactions. You can add cash to this Visa debit card at Netspend Reload centers nationwide or fund your account through mobile check load, among other options. You will receive Netspend Payback Rewards and the ability to add authorized users.
The Bluebird® American Express® Prepaid Debit Account offers a temporary virtual card account that you can access upon successful registration and email verification. This feature allows you to use your Bluebird card account immediately to make online purchases while you wait for your personalized Bluebird debit card to arrive in the mail. This card emphasizes low costs by charging no monthly or ATM fees.
It's no surprise that the virtual debit card policy of the Serve® American Express® Prepaid Debit Account is identical to that for the Amex Bluebird card. This card waives monthly fees for cardholders who meet direct deposit requirements. You can pay US individuals and merchants after you activate the card and verify your email address. American Express Serve cardholders can authorize recurring payments and schedule bill reminders.
If you prefer a cash back reward to $0 monthly fees, check out this version of the Serve® American Express® Prepaid Debit Account. You can spend your rewards as soon as the merchant settles the purchase transaction with Amex. Your virtual debit card will provide the same fraud protection, purchase protection, and emergency assistance. American Express Serve card offers FDIC insurance to registered accounts.
If the card issuer approves it, you can get a virtual Greenlight – Debit Card For Kids instead of or in addition to the plastic prepaid card. You can access the virtual Mastercard in the Greenlight app after you verify your identity, activate the card, and fund your account. You can only use the virtual card for card-not-present transactions, such as online or phone purchases. You will not receive a PIN for your virtual card, and you can't use it for ATM transactions. 
What Is a Virtual Prepaid Card?
A virtual prepaid card does not have a physical form. It consists of a 16-digit account number, a three-digit security code, and an expiration date. The virtual account number substitutes for the real card number when you use a virtual card. 
Unlike Mastercard and Visa debit cards, virtual Amex debit cards are temporary and expire when you receive the permanent version. Other virtual prepaid cards remain active for a set period or until you cancel them.
You must first activate and register your virtual account before using it. Some issuers provide just one, while others offer multiple virtual accounts. 
How Do I Use a Virtual Prepaid Card?
You can use a virtual card to purchase or lease goods or services or make payments by telephone, in-app, or online without needing to provide a physical card. When you use a virtual account to make an online payment, the legal effect is the same as using a physical debit card. You can also load a virtual card onto a mobile wallet for purchases wherever merchants accept this form of payment.
A virtual prepaid card provides a few unique functions:
It allows you to make a phone or online purchase before your physical card arrives
You can assign different account numbers to various merchants to help you track and control your spending
A virtual card number limits the damage from theft and fraud, as you can cancel it anytime without changing your account number. 
Some issuers may let you create one-use virtual prepaid cards that are good for a single transaction, making them worthless to thieves and scammers. 
Prepaid debit cards are inherently less dangerous than credit and bank debit cards (for both branch and internet banking) because only the loaded cash balance is at risk. Most online payment card issuers offer complimentary fraud protection that limits your exposure to account theft.
Can I Buy a Virtual Prepaid Card Online?
Yes, all the reviewed prepaid cards welcome online applications and most waive the initial fee when you apply online. Issuers may let you choose a physical card, a virtual one, or both. 
The trio of Amex cards provide a temporary virtual card number you can use immediately until the physical card arrives.
Netspend cards offer up to six virtual accounts at any one time after you've registered the account. You can cancel an account whenever you want, but all Netspend virtual cards expire after one year. 
Are Virtual Prepaid Cards Widely Accepted?
You can use a virtual prepaid card number on most websites and over the phone – anywhere card-not-present transactions occur. You can use your virtual prepaid card in person by adding your card account to your digital wallet and using it where digital payments are available. 
Digital wallets turn your real account numbers into virtual card numbers for maximum security – there's no need to request a separate virtual card number for your phone's digital wallet.
What Are the Typical Fees for Virtual Prepaid Cards?
Virtual account numbers are free. But you'll have to pay for the card account itself in the form of various fees. These fees may include:
An initial purchase charge (waived if you obtain the card online)
A monthly or pay-as-you-go program fee
A fee for loading cash onto the card
ATM withdrawal charges
A new or replacement card fee (not applicable to virtual cards)
Transfer fees
Inactive account fees
Some cards have additional fees, and others waive several of the usual fees. American Express prepaid cards are popular due to their restrained fee structure.
Choose a Virtual Prepaid Card For Additional Security
Folks often turn to prepaid debit cards out of a dislike for banks and credit cards. If you are going to stick one in your wallet, you can save space and use a virtual one instead. They provide extra security that's welcome in our uncertain times. 
Always check the cardmember agreement for the issuer's virtual card policies. Remember, the issuer can change the cardmember agreement without notice, so it's best to look at the most current information before getting a virtual debit card.
Final Notes on "7 Virtual Prepaid Card Options (Sep. 2023)"
We hope this guide "7 Virtual Prepaid Card Options (Sep. 2023)" has been a helpful resource for you in learning more about your financial options. In this guide, we've covered:
Best Virtual Prepaid Debit Cards
What Is a Virtual Prepaid Card?
How Do I Use a Virtual Prepaid Card?
Can I Buy a Virtual Prepaid Card Online?
Are Virtual Prepaid Cards Widely Accepted?
What Are the Typical Fees for Virtual Prepaid Cards?
Choose a Virtual Prepaid Card For Additional Security
To learn more about options not mentioned here, be sure to check out other popular reviews from our team of experts:
We also encourage you to check back at this URL regularly, as we update the offers listed in "7 Virtual Prepaid Card Options (Sep. 2023)" and other guides on a daily basis.
Advertiser Disclosure
CardRates.com is a free online resource that offers valuable content and comparison services to users. To keep this resource 100% free, we receive compensation for referrals for many of the offers listed on the site. Along with key review factors, this compensation may impact how and where products appear across CardRates.com (including, for example, the order in which they appear). CardRates.com does not include the entire universe of available offers. Editorial opinions expressed on the site are strictly our own and are not provided, endorsed, or approved by advertisers.