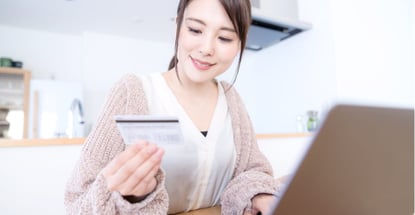 Free prepaid credit cards can make shopping online and anywhere else that accepts credit cards a lot easier, especially if you have a low or no credit score and don't qualify for a credit card.
You load a prepaid card with cash, essentially making it a debit card. But you can use it on whichever credit card network the card issuer uses — Visa, Mastercard, or American Express — just as you would a regular credit card.
Prepaid Cards You Can Get For Free Online
Not every prepaid card is the same. While all of the cards that we review below are free to get, some charge a monthly fee or per-transaction fees, along with many other types of fees.
A card issuer may charge so many fees because it doesn't make money as it does on a regular credit card — by charging interest on credit card charges that aren't paid in full each month by a cardholder.
Here are eight of the best free prepaid cards:
at Republic Bank & Trust Company'ssecure website
Brink's gives you the peace of mind you deserve. Securing cash and valuables since 1859.
With Brink's Direct Deposit, you can get paid faster* than a paper check.
No late fees or interest charges because this is not a credit card.
Use the Brink's Money Prepaid Mobile App to manage your account on the go and get text message or email alerts (Message & data rates may apply.)
*Card issued by Republic Bank & Trust Company, Member FDIC. Card may be used everywhere Mastercard Debit cards are accepted. "Apply Now" for full details.
See additional Brink's Prepaid Mastercard® Details.
The Brinks Prepaid Mastercard has the same two plans as the NetSpend® Visa® Prepaid Card, listed No. 2 in our recommendations. It charges a flat-rate monthly fee with no transaction fees per purchase or a $0 plan fee in exchange for paying a small fee per transaction. The monthly plan fee is reduced if you set up direct deposit to the account.
This prepaid debit card is free to get online but can cost up to $3 when bought at a retail location.
at The Bancorp Bank'ssecure website
Move money from your PayPal account to fund your prepaid card account.
Earn cash back and personalized offers, just for using your card.
With Direct Deposit, you can get paid faster than a paper check.
Card issued by The Bancorp Bank, Member FDIC. Card may be used everywhere Debit Mastercard is accepted.
Click PayPal Prepaid Mastercard® for additional features & program details, and to request a Card.
The PayPal Prepaid Mastercard® allows consumers to easily access money available in their PayPal account through a quick online transfer. If you prefer reloading the card with cash, PayPal uses more than 130,000 reload locations nationwide, where fees may be charged. Direct deposit can also be used, which can get the money from your paycheck to you up to two days faster than normal.
You can request a card online for free, but it charges a flat monthly fee. This Mastercard debit card also offers Payback Rewards on qualifying purchases that you can redeem in your online account center.
The NetSpend® Visa® Prepaid Card has two types of plans for its Visa debit card. Its pay-as-you-go plan doesn't charge a plan fee but charges per purchase. The other plan is a monthly plan that charges $9.95 per month, but it doesn't charge per purchase. If you make seven or more purchases per month, the monthly plan is cheaper.
The monthly plan fee is reduced if you fund the card with a direct deposit of your payroll check or government benefits. Like other cards, this prepaid card charges other fees, no matter which payment plan you choose. You'll incur a fee for ATM withdrawals, cash reloads, and making an ATM balance inquiry, among other fees. Applying for the card online is free, but it can cost up to $9.95 at select retailers.
The NetSpend® Visa® Prepaid Card offers a pay-as-you-go plan that doesn't charge a plan fee but charges per purchase. Or you can opt for the monthly plan that charges a flat rate each month.
The card account pays cash back for purchases, though it's an optional program that users can opt out of at any time. This prepaid Visa card can be personalized with a family photo or other unique image.
A great benefit of the Serve® American Express® Prepaid Debit Account card is that it offers 1% cash back on all purchases made at stores or online.
The card is free to buy online, though it can cost up to $3.95 in retail locations. This card doesn't charge a monthly fee with a qualifying direct deposit each month. It has fewer fees than other prepaid cards, with free ATM withdrawals at any MoneyPass ATM.
The Bluebird® American Express® Prepaid Debit Account has online and app tools to help users manage their money. Users can track up to four cards and categorize and set spending limits. This debit card has the fewest fees of any of the cards we've reviewed. It doesn't charge an activation fee or a fee to buy it online, and it also doesn't charge a monthly fee or a pay-as-you-go fee.
Money can be added to this prepaid debit card for free from several sources, including cash or a debit card transfer at a Walmart store, or a mobile check deposit or direct deposit.
The Mango Prepaid Mastercard® offers a rare service in the world of prepaid cards: paying interest on the unused card balance. A Mango savings account can be opened with as little as $25 and pays up to 6% annual percentage yield if signature purchases of $1,500 or more per month are made.
This card can be used wherever debit Mastercard is accepted. The monthly fee to use the card is $5, which is waived if you make qualifying direct deposits. Money can be added at GreenDot locations, such as the register at Walgreens, Safeway, CVS Pharmacy, and other retailers.
The Walmart MoneyCard® pays cash back rewards on Walmart purchases, including Walmart fuel stations. Cash back rewards are limited to $75 per year, but that's not bad for a card that's completely free to sign up for.
This card also offers overdraft protection, early direct deposit, pays interest on savings, and waives the monthly fee with qualifying direct deposits.
What is a Free Prepaid Credit Card?
The name may sound misleading or at least confusing because a prepaid credit card is not a credit card. A credit card is supposed to do just what the name implies: provide credit to buy something now that you repay later.
But with a prepaid card, you combine the two. It kind of works like a debit card, in that it's loaded with money you already have. And it's also a kind of credit card that's accepted wherever credit cards are accepted, such as online, though it doesn't give you credit to buy something and then pay it back in a month or so.
It's also a sort of secured card. But instead of putting down cash as a refundable security deposit on a credit card, the card is secured by the cash you deposit in it. The money is withdrawn each time you use the card, just like a debit card tied to a bank account.
If you've never had a credit card account because of a poor credit history, a prepaid card can be an easy way to get a card that can be used where Visa, Mastercard, American Express, and other credit card brands are used.
Can I Get a Prepaid Card For Free?
Yes, you can get a prepaid card for free by requesting a card online. But buying a card at a retail store often comes with a fee. You may have to immediately load the card with a minimum amount of cash when you first sign up.
After finding the card you want, go to the issuer's website and review the list of fees and read the cardholder agreement. Review where you can use the card, where you can do a cash reload and whether there's a reload fee, and which payment plan makes sense for the number of purchases you plan to make.
All prepaid cards must be registered before you can use some features, such as using the card online or reloading money on it. The personal information is used to verify your identity and may include your:
Full name
Street address (no P.O. boxes)
Date of birth
Email
Phone number
Social Security number, taxpayer identification number, or other if you're not a U.S. citizen
This information is required by law under the 2001 Patriot Act.
How Do I Use a Prepaid Credit Card?
Prepaid cards are easy to use because they can be used almost anywhere. They're a type of debit card, so retailers that don't accept credit cards may accept prepaid cards because the funds are withdrawn immediately and don't include all of the fees that traditional credit cards do.
You can use the card's chip or magnetic stripe at a retailer's payment terminal just as you would a regular credit card or debit card. You'll enter your PIN for a debit transaction or sign your name for a credit transaction. The amount is immediately subtracted from your card balance.

If you don't have enough money on the card, the transaction will be declined. Some cards have overdraft protection, and thus overdraft fees, that allow a transaction to be processed if there isn't enough money on the card.
When shopping online, the card's number is entered, just as it would be for a debit or credit card purchase. A security code on the prepaid card makes it work as traditional credit cards do.
How Does a Prepaid Card Differ From a Debit Card?
The main difference is that a debit card must be connected to a bank account, while a prepaid card isn't tied to a bank account, but is preloaded with cash through another service.
Don't let the name fool you. A prepaid card isn't a credit card, mainly because it doesn't offer a line of credit. A prepaid card is essentially a debit card or a prepaid debit card that you load money onto.
Some prepaid cards provide a Purchase Cushion, similar to overdraft protection on a debit card, that allows you to make a purchase for more money than what is available on the card. The difference is that Purchase Cushion is usually only authorized for a small amount, usually $10, and if you don't replenish the funds within 24 hours, you'll incur a fee.
Overdraft protection on a debit card usually withdraws funds from your savings account to cover the insufficient funds in your checking account.
Don't confuse a prepaid card with a secured card, which we mentioned earlier. A secured credit card requires a refundable deposit, but it doesn't extend your credit up to the amount of the deposit. Nor does your deposit act as payment when the bill comes due.
What Fees Do Prepaid Cards Charge?
Prepaid cards are usually free if you sign up online. And since it's a type of card that doesn't charge interest like a credit card, prepaid card companies make money by charging fees for their services.
We found 29 fees that prepaid cards charge, though some have a lot fewer.
One such fee is a card activation fee. Then there may be a flat monthly fee or a fee for every transaction in a pay-as-you-go plan. The cost of the monthly plan can usually be eliminated or reduced by setting up direct deposit to the card.
Do some simple math based on how many purchases you expect to make each month with the card, and you can figure out which plan is the cheapest.
Using a prepaid debit card to withdraw cash from an ATM is sometimes free, but only if you use the card's ATM network. Some prepaid cards, such as the Brinks Prepaid Mastercard, charge a fee at any ATM and warn that an ATM withdrawal fee may also be charged by the ATM operator.
Using the card to withdraw cash from an ATM internationally is free, oddly enough, though a foreign transaction surcharge applies.
Other fees prepaid cards may charge include:
ATM balance inquiry fee
Over-the-counter withdrawal fee at a bank
Cash reload fee
A fee for transferring funds via ACH to a bank account at another financial institution
Foreign transaction surcharge
ATM transaction decline fee
Replacement card fee
Custom card fee
Inactivity fee
Whatever fees you're charged, they'll be subtracted directly from your account balance.
Can I Use a Prepaid Card to Withdraw Cash at an ATM?
Yes, though you may not find a free ATM as easily as you want to, and you may have to pay an ATM fee.
As we mentioned earlier, be sure to look at the cardholder agreement and fee schedule for cards you're considering. Some limit free ATM cash withdrawals to a network of ATMs.
The American Express cards we recommend allow free ATM withdrawals at any MoneyPass ATM. Using an out-of-network ATM costs $2.50 from American Express Serve, for example, and an ATM operator fee may also be charged.
There are easier ways to get cash than with a prepaid card. Yes, prepaid cards are essentially debit cards, but if you have a bank account, then you should get a free debit card from your bank.
If you're among the 5.4% of unbanked U.S. households, don't expect a prepaid card to solve your problems accessing your cash. You're better off opening a free bank account somewhere if you can, according to the FDIC.
How Do I Add Money to a Prepaid Card?
You'd think this would be the easy part since you can't use your prepaid card without cash on it. And with money loaded on a card, you can then buy things and pay some of the many fees the cards often charge.
The NetSpend® Visa® Prepaid Card charges for a cash reload, though the company says it can be lower depending on how and where the card is used. With direct deposit, also called an ACH deposit, there is no fee for adding money to your card account.
As with other cards, NetSpend allows you to add cash to the card at certain retail locations. NetSpend has more than 130,000 such locations nationwide, with up to $7,500 in daily cash loading allowed, up to a $15,000 limit.
Some cards work with specific merchants to provide free reloading. The Bluebird® American Express® Prepaid Debit Account, for example, allows money to be added for free at Walmart registers. Other retailers may charge a fee.
Prepaid cards don't require you to have a checking account. If you do, your bank debit card can be used to transfer money to prepaid cards online or at retailers. You may also be able to link a prepaid card to your checking account and transfer funds electronically.
If your bank issues prepaid cards, you may be able to walk up to the bank teller and perform a cash reload, including with a check.
Making a direct deposit of your paycheck or government benefits into a prepaid card account is often free, and can lower the monthly cost of having a card.
How Safe is a Prepaid Card?
Protections for prepaid cards came from the Consumer Financial Protection Bureau, or CFPB, in 2019. They include limiting a cardholder's liability to $50 if an unauthorized transaction or fraudulent charges are made on the card, provided the cardholder reports the problem within two days of discovery.
Fee disclosures must be transparent, which we found on most of the websites for the cards we reviewed. Some made it a little difficult to find what the fees are.
Not all cards are insured by the Federal Deposit Insurance Corporation or FDIC. Card issuers must disclose whether their card balances are insured by the FDIC, according to the CFPB. The NetSpend® Visa® Prepaid Card, for instance, is insured up to the current coverage limit.

Most cards don't offer overdraft protection, but provide a small Purchase Cushion to cover transactions processed for an amount a little over the available balance. If the card offers this protection, the federal government caps overdraft fees in the first year at 25% of the credit limit. After that, there's no cap on how high the fees can go.
If you're planning on loading a lot of cash on a prepaid card, the government will want to know about it. Money laundering regulations require cash money transfers or deposits of $10,000 or more to be reported to the federal government.
Other types of transfers, including direct deposit, mobile check deposit, and bank transfers, may have different limits.
Your Best Options For Free Prepaid Credit Cards
The best free prepaid credit cards are those that have few fees and allow you to reduce or eliminate the monthly fee by setting up direct deposit. The fees can add up, so be sure to check the fees of each card you're considering. They should be easy to find on each card's website.
Using a prepaid card often can lead to paying higher fees, which are deducted straight from your prepaid card. To lower this cost, plan on using the card less and opt for the pay-as-you-go fee per transaction.
Or if you're going to use it more than seven times a month, then the monthly fee is cheaper. Direct deposit often lowers the monthly fee, so using the card four or more times a month is cheaper with the monthly fee plan.
Do your research and you can save hundreds of dollars on such fees, while still having the convenience of using a credit card network when you need it.
Advertiser Disclosure
CardRates.com is a free online resource that offers valuable content and comparison services to users. To keep this resource 100% free, we receive compensation for referrals for many of the offers listed on the site. Along with key review factors, this compensation may impact how and where products appear across CardRates.com (including, for example, the order in which they appear). CardRates.com does not include the entire universe of available offers. Editorial opinions expressed on the site are strictly our own and are not provided, endorsed, or approved by advertisers.