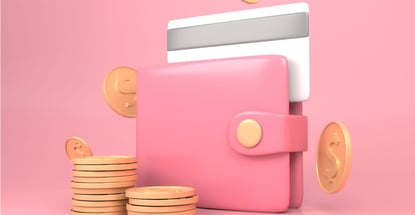 When you take advantage of prepaid debit cards with free reload options, you can save more of your money for the things that matter most to you.
Instead of letting fees and charges chip away at your earnings, you can deposit, store, and spend your money without paying for the privilege.
Just remember that every prepaid card has a different fee structure. What's free on one card may incur a charge on another. Plus, some cards allow you to reload your card account for free using specific methods — but there may be a charge if you use a third-party service to add money to your card.
Prepaid Cards With Free Reload Options
Prepaid debit cards are a great way to save and budget your money without the need for a bank account. The most common prepaid cards are Visa card and debit Mastercard offerings, but you'll see below that American Express and other issuers all offer solid products.
With a reloadable prepaid card, you can only spend the money you have deposited into your card account. You won't encounter an overdraft fee using these cards because they don't allow you to spend beyond your available balance.
Brinks is a leader in security and is trusted by banks and other financial institutions to protect and move money around the world. You can rest assured that your deposits are safe when you work with Brinks. Free reload methods for the Brinks Prepaid Mastercard include: 
Direct deposit
Mobile check load
Online transfers from a linked bank account
Note that cash reloads at a Netspend reload network location and expedited mobile deposits will be assessed a small fee. This fee is charged by the merchant accepting your money and not by the card issuer.
The PayPal Prepaid Mastercard® works on the Netspend Network, which means you'll find similar fees to other cards on this list. One positive is that you can instantly move money to and from your card account and PayPal account at any time with just a few clicks.
Free deposit methods for the Paypal prepaid card include:
Paypal money transfers
Direct deposit
Mobile check load
Online transfers from a linked bank account
As with other Netspend cards on this list, you will encounter a third-party cash reload fee if you choose to add money to your account at a Netspend Reload Center. The fee varies based on the location. This reloadable card and other Netspend cards also offer Payback Rewards tailored to your debit card purchases.
Netspend has a fairly consistent fee structure that stretches across its vast portfolio of prepaid cards — and the NetSpend® Visa® Prepaid Card is no exception. This industry-standard card provides handy budgeting options, including the ability to enjoy free reloads via:
Direct deposit
Mobile check load
Online transfers from a linked bank account
You can also reduce or eliminate your monthly fee for account maintenance if you receive regular direct deposits into your card account.
As you may notice, Netspend and its family of cards is a stalwart not only on this list — but just about any list of the best prepaid debit card options. With the NetSpend® Visa® Prepaid Card, you can add money to your account at no extra charge via:
Direct deposit
Mobile check load
Online transfers from a linked bank account
Netspend maintains thousands of cash reload centers throughout the country where you can add money to your account by bringing cash to an in-person location. All of these independent businesses charge a small fee for this service. The amount of the fee varies by location.
The Bluebird® American Express® Prepaid Debit Account is known for its lack of fees — including no monthly fee, foreign transaction fee, card transaction fee, overdraft fee, or inactivity fee. You can also access free online bill pay, enjoy free in-network ATM withdrawals, and pay nothing for reloads when you:
Add money to your account at any Walmart location
Mobile check load
Direct deposit
Online transfers from a linked bank account
You can deposit checks for free using this account, but it will take up to 10 days to access that money. If that doesn't work for you, there's an option to pay a small expedited processing fee to access your money within minutes.
The Mango Prepaid Mastercard® operates on the Green Dot Bank network, which maintains more than 100,000 locations throughout the US for quick and easy reloads. Although Green Dot Bank does not charge for this service, some third-party locations may deduct a convenience fee from your deposit amount.
You can also add funds to your account via direct deposit from a payroll or government benefits account. The Mango Card does not accept mobile check deposits or transfers from a linked checking account.
The Serve® American Express® Prepaid Debit Account offers several ways to add money to your account without incurring any fees. Thanks to partnerships with CVS®, Dollar General®, Family Dollar®, Rite Aid®, Walmart® and participating 7-ELEVEN® locations, you can enjoy free reloads at more than 45,000 locations. Other free reload methods include:
In-network reloads (See locations listed above. Some third-party fees may apply)
Direct deposit
Mobile Check Capture by Ingo®
Add money from a linked checking or savings account
Transfer money from a linked American Express charge account (cash advance fees may apply)
Just as with its Bluebird Prepaid sibling, this American Express prepaid card allows you to deposit checks for free — if you can wait up to 10 days to receive your money. If you want your cash instantly, you'll have to pay a fee.
The Greenlight – Debit Card For Kids charges a monthly plan fee for its account that's designed to help kids learn how to save, spend, and invest their money. The monthly plan includes financial education tools and reduced fees.
You can access free reloads with this debit Mastercard via:
Load via linked debit card
ACH check loads 
Direct deposit
Transfer from a Greenlight Invest Account
This card gives parents complete control over how the card is used and where their child can shop. They can set limits, restrict certain purchase types, and even add allowance or other recurring (and free) deposits.
You'd expect the Walmart MoneyCard® to offer free reloads at Walmart locations. After all, the Bluebird card by American Express has a similar offering. But that isn't the case with this card. Not only will you pay a fee for cash reloads at Walmart locations, but you'll also encounter check cashing fees charged by the store when you deposit checks in person.
The only free way to add money to your Walmart MoneyCard® is to transfer funds from a linked checking account via the Walmart mobile app.
The ACE Elite™ Visa® Prepaid Debit Card has a vast network of ACE Credit Express locations throughout the US that accept free cash reloads. You can also enjoy free reloads by:
Direct deposit 
Mobile check load 
Since this card runs on the Netspend network, you can also add cash to your account at any of the thousands of reload locations offered by Netspend, but third-party fees may apply.
The Travelex Money Card is designed to help travelers secure their money while on the road without using traveler's checks. 
This card, issued by Mastercard International Incorporated, makes it easy to add cash to your account online, over the phone, or via the Travelex Mobile App. You can link an account or conduct mobile check deposits for free, or you can purchase other currencies over the phone with a surcharge added to the transaction.
The FamZoo Prepaid Mastercard is a family-oriented card account that allows multiple people in the same household to have personalized cards that attach to the same account. Main account holders can manage access and set limits for each card and control other cardholder spending habits. Free reload methods include:
Direct deposit 
Mobile deposit 
Money Move — Famzoo card to Famzoo card
Cash reloads at a physical location will be assessed a fee that varies by the location and method you use to add money to your account.
What Is a Prepaid Debit Card?
A prepaid debit card is a financial product that allows you to deposit your money into a secured account and use your card to make purchases using those funds. You can use your card number to make purchases online or in person, and the purchase amount will automatically be deducted from your account balance.
Prepaid cards are similar to a debit card issued by a traditional bank or credit union. It won't allow you to spend more than the amount of money you have deposited into your account, though some cards provide a small purchase cushion.
You can find prepaid cards that work on credit card networks maintained by Mastercard, Visa, or American Express.
How Do I Apply For a Prepaid Card?
You can easily apply for a prepaid debit card of your choice by using the links above. The application is fast and easy and won't require a check of your credit history.
In most cases, the prepaid card's issuing bank will only require information that proves your identity — including your name, address, phone number, and Social Security number.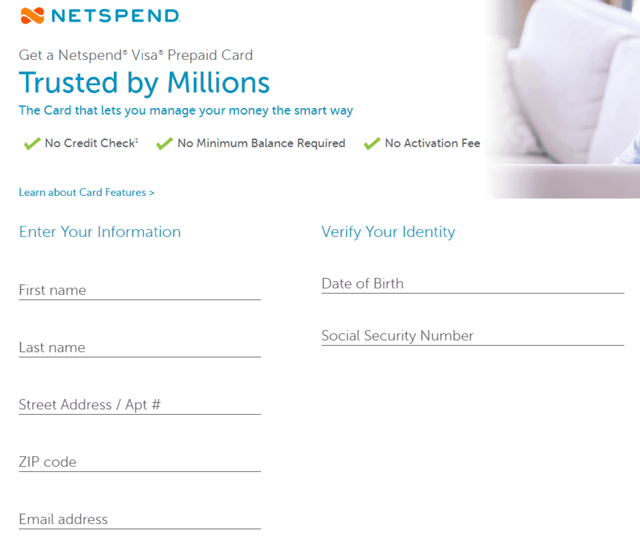 You can choose to wire funds electronically to your account at the time of application or wait until your card arrives to deposit cash into your card account. Your card will arrive within seven to 10 business days, and you can use it as soon as you have money loaded into your account.
How Can I Add Money To My Prepaid Card Without Paying Fees?
The best prepaid debit card offerings on the market provide several hassle-free ways to deposit money into your account. The very best of the best don't charge for a majority of these methods.
Popular prepaid card issuers, including Netspend and Green Dot Bank, have partnerships with businesses around the country that accept cash reloads at the register. These can include convenience stores, grocery stores, and check-cashing centers.
While the card issuer may not charge for this service, you'll likely encounter a third-party processing fee from the business that accepts your cash.
If you want to avoid this fee, most prepaid cards allow you to add cash to your account without a fee via direct deposits of checks (either payroll or government benefits), mobile check deposits, or online transfers from a linked bank account.
These methods aren't free for every card. Check your cardholder agreement in your online account center for a breakdown of your card's fees and other charges.
What's the Difference Between a Prepaid Debit Card and a Credit Card?
With a prepaid card, you're spending your own money. With a credit card, you spend the bank's money and repay the balance over time. A credit card may offer you rewards for your purchases. 
A prepaid card allows you to deposit money into a savings account. You can then spend the money by using your card — just as you would a debit card that's assigned to a checking or savings account at a traditional bank or credit union.
The card will allow you to spend up to your deposited amount. There's no line of credit attached to this type of card.
A credit card comes with an approved spending limit, which is essentially the amount of money the bank decides to loan to you. Every time you use your credit card to make a purchase or pay a bill, the bank forwards the money to the merchant for you. This is a loan that you'll repay over time and with interest if you don't repay the bank within the interest-free grace period.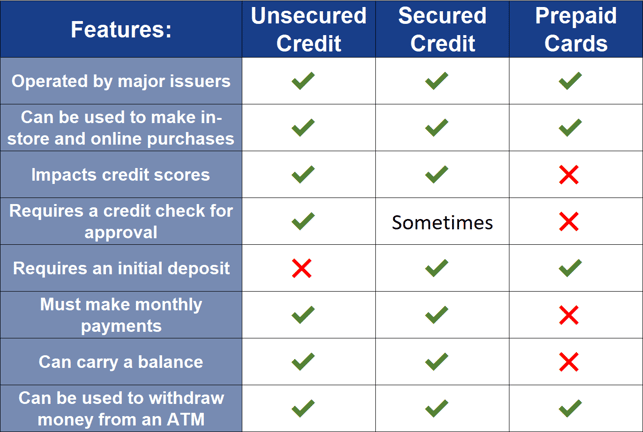 A prepaid card is sort of like a secured credit card that requires an upfront cash deposit. But that deposit cannot be spent as it can with a prepaid card. Secured cards help consumers with poor credit rebuild their credit history with on-time payments, which leads us to our next question.
Can I Improve My Credit Score With a Prepaid Card?
A prepaid debit card does not affect your credit score because the account has no associated line of credit. Banks and lenders only report accounts to the credit bureaus that require regular repayment, including loans and credit cards. 
Your credit score is a number that represents how well you manage debt and recurring bills, i.e, whether your accounts are paid on time and how large your outstanding balances are. 
Since a prepaid card doesn't incur debt, you won't see any mention of it on your credit history.
Can I Have More Than One Prepaid Debit Card In My Name?
There's no rule that limits how many prepaid debit cards you can have in your name. Just remember that each card may charge a monthly fee, an inactivity fee, or various transaction fees, which can become expensive if you have more than one card.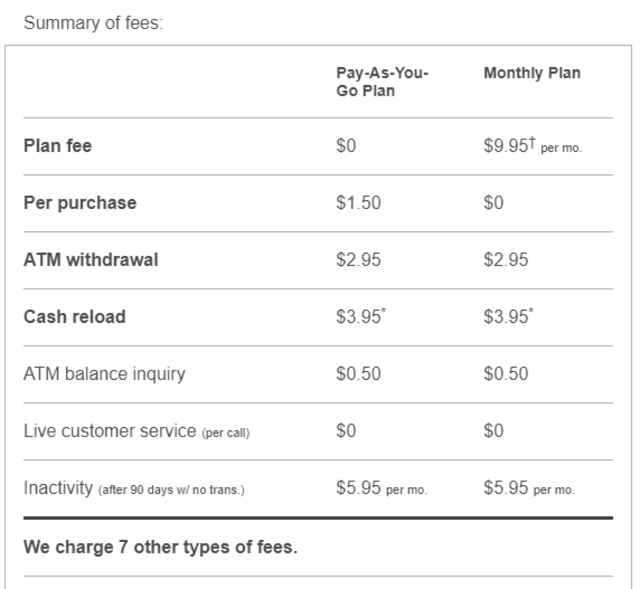 Also, by maintaining more than one prepaid card account, you're forced to spread your money around in multiple accounts. If you ever need a large portion of your money for a single purchase or bill, you'd have to find a Moneypass ATM or other location to withdraw money from some accounts and then load that cash into your primary card account. 
All of those transactions would likely come with transaction fees that eat away at your savings. Read your cardholder agreement, often found in your online account center, to understand all of the fees your card will charge.
Compare Prepaid Debit Cards With Free Reload Online
Prepaid debit cards are no longer relegated to the gift card rack at your local convenience store. Today, you can add a Mastercard, American Express, or Visa debit card to your wallet and use it as a tool to replace a traditional bank account.
And with prepaid debit cards with free reload options, you can keep more of your money for yourself.
Advertiser Disclosure
CardRates.com is a free online resource that offers valuable content and comparison services to users. To keep this resource 100% free, we receive compensation for referrals for many of the offers listed on the site. Along with key review factors, this compensation may impact how and where products appear across CardRates.com (including, for example, the order in which they appear). CardRates.com does not include the entire universe of available offers. Editorial opinions expressed on the site are strictly our own and are not provided, endorsed, or approved by advertisers.