A 700 credit score (or higher) puts you in a great place to get some of the best loans and credit card offers. There are several credit cards for a 700 credit score whether you're looking for travel rewards, cash back, or other discounts and perks. 
A higher credit score can help you get the lowest possible interest rate. As a result, you get to maximize your rewards without added fees or high APRs. Here are some of the best credit cards for a 700 score, including the best cards for businesses, travel, and cash back.
Best Card For Everyday Spending
The Citi Double Cash® Card is the best Mastercard to use for everyday spending if you're looking to rack up rewards effortlessly.
Why We Chose This Card 
We chose this card because you will earn a flat-rate of cash back for every purchase, regardless of what you buy. There are no spending categories to keep up with so you're not pressured to spend in certain categories that you wouldn't naturally use. The Citi Double Cash® Card also encourages cardholders to pay off their credit card bill since you earn additional cash back when you pay off your purchase. 
This card is also a great balance transfer card if you want to enjoy an extended 0% APR while you pay off your credit card balances. From there, you can continue to use it for everyday spending to earn cash back since there is no annual fee and no caps on the amount of cash back you can earn.
Honorable Mention 
The Citi Custom Cash® Card is another option if you're looking to earn a higher cash back rate by spending in select categories without paying an annual fee.
Best Card For Cash Back
The Chase Freedom Unlimited® is the best option if you're looking to maximize your cash back earnings.
Why We Chose This Card 
The Chase Freedom Unlimited® gives you unlimited cash back at a fixed rate per dollar on all your purchases. You can earn a higher cash back rate for spending in specific categories such as restaurants and travel. 
Cashback rewards don't expire and there's no annual fee, making it easier to hold onto this card long-term. There's a signup bonus for new cardholders to help them earn more cash back rewards during the first few months. 
Honorable Mention
The Blue Cash Preferred® Card by American Express is another cash back credit card to consider if you have a 700 credit score or higher. You earn a fixed rate of cash back on all your purchases and higher cash back amounts for spending in categories like streaming services, gas, and transit.
Best Card For Travel Benefits
The Chase Sapphire Preferred® Card is the best card for travel benefits because it offers several ways to maximize your points, an annual hotel credit, and top-notch travel insurance, among other benefits.
Why We Chose This Card
We chose the Chase Sapphire Preferred® Card for its breadth of travel benefits. If you're interested in travel hacking or simply scoring a free flight or discounted hotel stay, this card offers a generous signup bonus. 
Using the Chase Sapphire Preferred® Card also gives you access to the Chase Ultimate Rewards platform, where you can redeem your points for travel and combine rewards with other Chase cards. Even though this card comes with an annual fee, you'll get anniversary bonus points each year to help offset the cost.
Honorable Mention
The Capital One Venture Rewards Credit Card also allows you to maximize your travel rewards by awarding 2X miles per purchase and 5X miles for hotel and rental cars booked through Capital One Travel. You can also gain access to Capital One airport lounges and transfer your miles to several loyalty rewards programs. 
Best Card For 0% Interest
The Chase Slate Edge℠ is the best credit card for an extended 0% interest period so you can save money while paying on your purchases.
Why We Chose This Card
We chose the Chase Slate Edge℠ because it has one of the longest 0% APR promotional periods. If you need to make a larger purchase that you wish to pay off over time, this card is a great option since it will help you save on interest. This card also comes with My Chase Plan, which helps you pay off balances over time at 0% interest even after the promotional period.
The Chase Slate Edge℠ also has no annual fee, and card users can possibly receive an interest rate reduction each year. Chase will evaluate your spending and payment history to determine whether you qualify for an interest rate reduction.
Honorable Mentions
The Citi Simplicity® Card and U.S. Bank Visa® Platinum Card are more solid options to consider if you're looking for an extended 0% intro APR promotional period and no annual fee. 
Best Card For Small Businesses
The Ink Business Unlimited® Credit Card is the best option for small business owners looking for rewards and protections for their business spending.
Why We Chose This Card
We chose the Ink Business Unlimited® Credit Card because it offers some of the best benefits for small business owners. When you use this business credit card to pay for operating expenses and other costs, you'll earn unlimited cash back rewards to redeem for a statement credit, gift cards, or travel. 
It's easy to set up employee cards as well with your Ink Business Unlimited® Credit Card for no additional cost. Chase also makes it easy to monitor and protect your card spending with Purchase Protection, Fraud Protection, and personalized credit account alerts.
Honorable Mentions
The Ink Business Preferred® Credit Card is another popular option for businesses that spend a lot of money on their cards. You can earn a generous signup bonus and more points per dollar on all your purchases. 
Capital One Spark Cash Select for Excellent Credit is another business credit card that offers unlimited cash back rewards on your purchases and no annual fee. Rewards don't expire as long as your account is open and active. 
What Types of Credit Cards Are Available For a 700 Credit Score?
If your credit score is 700 or higher, you have plenty of options for quality credit cards with most major credit card issuers. This includes banks like Chase, Citi, Capital One, Discover, Bank of America, and Wells Fargo.
The credit cards that offer the best rewards and most competitive interest rates are typically reserved for borrowers with a good credit score above 700.
These credit cards will offer cash back, points, or miles for your everyday purchases. You'll have access to balance transfer, rewards, and 0% intro APR credit cards. Some of the cards will also have no annual fee or waive the fee for the first year. 
You also shouldn't have to worry about paying any monthly maintenance fees, which are more common with subprime credit cards for people with a poor credit history. 
Is 700 a Good Credit Score?
Credit scores typically range from 300 to 850, and the higher the number, the better your score. A good credit score depends on the credit scoring model used, and the most common types are FICO and VantageScore. Both are similar but have slight differences.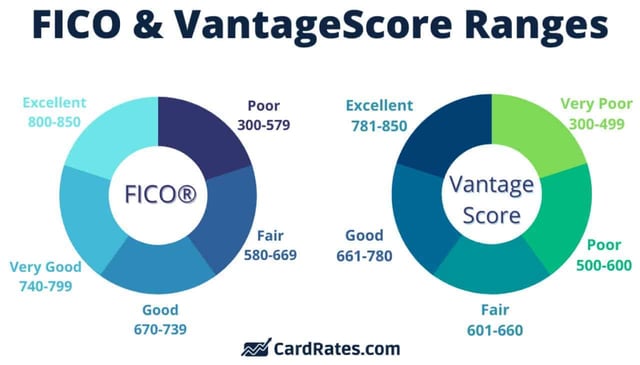 As you can see in the graphic above, if your FICO score is at or around 700, you're in a good place, but there's still room to grow. But with a 700 score, you'll still qualify for a great credit card or a personal loan with excellent terms. 
What APR and Credit Limit Can I Expect?
If you have a good credit score and are looking to open a cash rewards credit card, the APR and credit limit you get will vary. Most credit card issuers use a variable interest rate based on the current market rate. 
However, there's still plenty of room to lock in a lower interest rate if you have excellent credit. For example, with a higher credit score, you may be able to get an interest rate of 15% to 17%, but with bad credit, your rate could be 29% or higher. 
Your credit limit will depend on your credit score and the amount the issuer is willing to offer. Card issuers use your payment history, existing credit card debt, credit score range, and income to determine your credit card limit. 
While plenty of cards offer 0% APRs, realize that these are just temporary promotions that last anywhere from six to 18 months. Once the promotional period ends, any unpaid balance will be subject to the regular purchase APR, which is determined by your credit history. 
Is it Worth Paying an Annual Fee?
You may wonder whether it's worth paying an annual credit card fee. This depends on how you use the card and whether the benefits outweigh the annual fee. 
For example, if you have the Chase Sapphire Preferred® Card that increases the value of points you redeem through Chase Ultimate Rewards, you may find this benefit worth the annual fee. 
Or, you could consider switching to another Chase rewards card, such as the Chase Freedom Unlimited®, that doesn't have an annual fee. Think about how often you plan to spend with the card and how you earn and redeem rewards. If the card provides bonus rewards each year or a free night stay at a hotel of your choice, this could be another reason to keep the annual fee.
Decide early on if you can afford the annual fee. If it doesn't make sense financially, know that plenty of great rewards credit cards don't have an annual fee.
How Do I Use the Card to Improve My Credit Score?
A credit card can be an excellent tool to improve your credit score. Whether you have an average credit score, bad credit, or limited credit history, using a credit card and paying it on time each month can help you build credit over time. 
Credit card companies report your account history to each credit bureau (Equifax, TransUnion, and Experian). Each credit bureau uses its own credit scoring model to calculate your credit score based on your credit report data, but they all measure similar factors.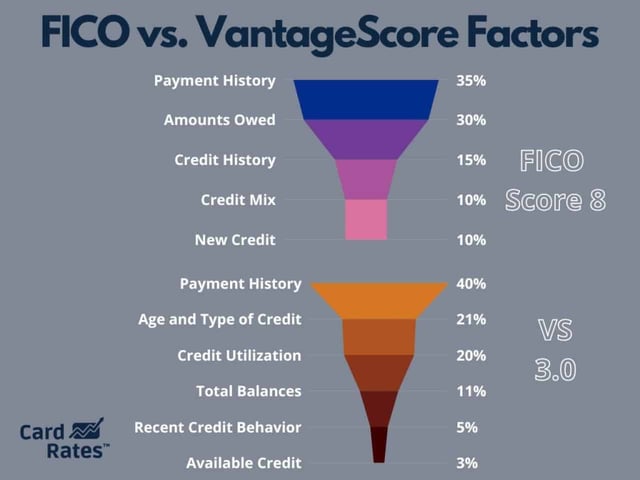 In addition to paying your bill on time, it's also important to keep credit card balances low to avoid credit card debt and maintain a good credit utilization rate. A good rule of thumb is to keep your total credit utilization (for all your cards) at or below 30%. This means if you have a $5,000 credit limit, your unpaid card balance should never exceed $1,500, which is 30% of that limit. 
Using your credit card strategically to improve your score will help you access better rates and terms for a personal loan, consolidation loan, car loan, or even a mortgage. Most credit card issuers provide free credit scores so you can track your credit progress over time.
What Happens If I'm Declined for a Credit Card?
If you're denied a credit card, the company will let you know and mail you an Adverse Action Notice explaining why you were denied. This resource will tell you which credit bureau report and score it reviewed and which factors influenced its decision.
You may have too much outstanding debt that needs to be paid down, or too many recent requests for new credit. Be sure to check your credit reports to confirm there are no negative accounts dragging your score down. You may need to dispute the accounts if they have errors or aren't yours. 
In the meantime, you can consider another type of credit card that accepts a lower credit score. 
How to Compare Card Offers For Good Credit
It's best to compare credit card offers for good credit before choosing a card. Using a site like CardRates can help you learn more about your top credit card options depending on your score and preferences. 
If you're looking for a rewards credit card, some credit card companies even compare their options side-by-side so you can review the features. But the key things to look out for are the:
Purchase APR
Rewards and whether they're capped at a certain amount
Annual fees
And niche things applicable to your lifestyle, like whether the card charges a foreign transaction fee if you travel abroad often 
Take your time to explore all the options available to you before applying for a new credit card so you don't get too many hard inquiries from multiple card applications.
Good Credit Gives You More Options
Having at least a 700 credit score can unlock several options for quality credit cards that offer rewards and other perks. Narrowing down the best credit card for a 700 credit score can be challenging, but it all depends on which features and benefits you value. 
Ask yourself whether you're looking for more cash back, travel rewards, low or no interest, no annual fee, or all of the above. This guide will help you narrow down the best options when considering your next card.  
Also, remember that if you're not quite at a 700 credit score, you can start taking steps today to improve your credit score and qualify for excellent cards in the near future. 
Advertiser Disclosure
CardRates.com is a free online resource that offers valuable content and comparison services to users. To keep this resource 100% free, we receive compensation for referrals for many of the offers listed on the site. Along with key review factors, this compensation may impact how and where products appear across CardRates.com (including, for example, the order in which they appear). CardRates.com does not include the entire universe of available offers. Editorial opinions expressed on the site are strictly our own and are not provided, endorsed, or approved by advertisers.