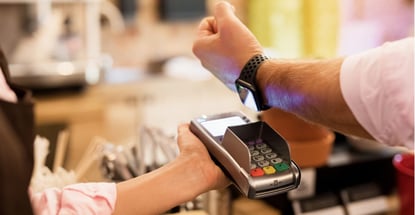 If you love all things Apple, you will want to read our review of eight prepaid cards that work with Apple Pay. Prepaid reloadable cards are a good alternative to bank-linked credit and debit cards, and the Apple Pay mobile digital wallet app works with most of them. 
When you combine the convenience of Apple Pay with the simplicity of prepaid cards, you get a worry-free way to pay your bills without overdrafts or late fees.
The Best Prepaid Cards That Work With Apple Pay
Prepaid cards aren't just for consumers with bad credit. It turns out that many folks are not big fans of fee-laden bank accounts, where one overdraft can cost $50 or more. If you don't want to mess with bank accounts, consider these eight prepaid cards that are compatible with the Apple Pay mobile wallet.
The Walmart MoneyCard® is issued by Green Dot Bank, an Apple Pay-compatible bank. The card offers cash back rewards on Walmart purchases, capped at $75 per year. Rewards are credited to your card balance at the end of the reward year.
And, if you choose to direct deposit at least $500 per month to your card account, your monthly fee is waived. You can order up to four free additional cards for approved members ages 13 or older in the mobile app.
The Serve® American Express® Prepaid Debit Account works with Apple Pay, whereas the Bluebird Prepaid American Express Card does not. This version of the account favors accounts that receive direct deposits, which provides faster access to the account holder's paychecks and charges no monthly fees. 
Transferring money to another account holder is easy, and you can invite recipients who are not account holders to register for a Serve Account. 
This version of the Serve® American Express® Prepaid Debit Account is designed for account holders seeking rewards. The account provides FDIC insurance once you register your new prepaid American Express card. 
You also get a Pay Bills Guarantee that your payment to a registered payee from a registered payment card will arrive on time if entered six days prior to the due date.
Adults and kids 13 years and older can use the Greenlight – Debit Card For Kids with Apple Pay. The card offers plans with cash back on purchases and a relatively high interest rate on an average daily savings passbook balance of up to $5,000 per family.
This card works wherever Mastercard is accepted in 150+ countries and doesn't charge a foreign transaction fee.
The FamZoo Prepaid Mastercard is another kid-friendly prepaid debit card issued by Four Corners Community Bank, an Apple Pay participating bank. To get the card, you must be 13 years or older.
The card's maximum balance is $5,000, and when used as a cash card, the maximum ATM withdrawal is $510 per day. The monthly subscription fee is low, but the card doesn't offer a pay-as-you-go plan.
What Is a Prepaid Card?
A prepaid card is a type of debit card. It differs from bank debit cards in that you fund them by depositing money into the card's account rather than a bank checking account or savings account (CD or passbook). 
You can get a prepaid debit card branded with the Visa, Mastercard, or American Express logo, and use it wherever the brand is accepted.
A reloadable prepaid card is sometimes mistakenly referred to as a prepaid credit card. It is not a prepaid credit card or any other type of credit card — it is a debit card. 
The most important feature of prepaid cards is that you can get them without having a bank checking account, savings account, or good credit — all it takes is a cash deposit. With a prepaid card in hand or registered on your mobile banking app, you can shop online and in stores just as you would with a standard debit or credit card.
For in-store use, you swipe, tap (for contactless payment), or insert your prepaid card into the payment card terminal, just as you would a debit or credit card. You then choose between a debit or a (confusingly labeled) credit transaction:
Debit transaction: You choose a debit transaction in combination with the card's PIN. You can set up the PIN when you sign up for the card. 
Credit transaction: This transaction does not involve the use of credit. Rather, it indicates a signature debit transaction, where you sign the terminal or sales slip. 
Debit transactions are more secure because PINs are secret, whereas your signature can be faked (or the cashier may fail to recognize a discrepancy). Signature transactions require some contact, even with a contactless payment card.
You can load money onto your prepaid card account in various ways, including with cash, money order, direct deposit, a transfer from another account, or mobile check deposit. 
You can withdraw money from the cash card account via an ATM or an over-the-counter (OTC) transaction at designated retail locations and financial institutions. Many prepaid cards also allow you to transfer cash from your card to another account (e.g., a bank account, credit union account, or PayPal account).
How Do I Get a Prepaid Card?
We humbly suggest you start by reading CardRates.com reviews of prepaid cards to select the best card for you. You can click on the links in the summary tables to visit a card's website and research the terms and conditions. 
If you decide to sign up for a prepaid card, you can usually do so for free online or for a fee at a retail location or over the phone. You'll have to deposit an initial amount at the time of purchase, which may be subject to minimums. 
To get the full use and protections offered by the card, you'll have to register your new card by providing some personal data, including:
Full name
Date of birth
Email address
Residential address
Phone number
Social Security number
If you sign up for a prepaid card online, you may be issued a virtual card number that you can use for card-not-present transactions (e.g., purchases made online, through a smartphone cash app, or over the phone) until you receive your physical card. 
Registration is important because certain features, including reloading money, receiving direct deposits and tax refunds, or online purchasing, may be restricted until registration is complete. 
Moreover, you need to register your prepaid cards so you'll be protected against loss or theft. You also may need to register to become eligible for deposit insurance on cards that offer it.
How Do I Add a Prepaid Card to Apple Pay?
Apple Pay is a leading example of a mobile wallet that allows you to use your debit and credit accounts at participating merchants via your cellphone without the physical card. Apple Pay works on various devices, even on the Apple Watch app.
Mobile wallets are an important evolutionary step in personal finance and provide a number of significant advantages over plastic cards. According to FinTech guru Andrew Wu:
"When you sign up for Apple Pay or a similar service, your card information is transferred one time to the bank, and the bank generates a randomized number that gets stored on your phone. Nobody in the transaction flow can see what your real number is, and because the randomized number changes every time you use it, it's useless if it's captured."
All the cards in this review work with Apple Pay. To load a prepaid card onto Apple Pay, follow these steps:
Open your Apple Pay wallet. If you use Touch ID, affix your finger to the screen. Touch ID is a biometric fingerprint identity sensor offered on Apple products.
Click on the plus (+) icon.
Read the information displayed and click on Continue.
Select card type (Credit or Debit Cards).
Add your name and the prepaid card's account number, then click Next.
Enter the card's expiration date and PIN, then click Next.
The cardholder agreement pops up, containing all the relevant terms and conditions. Read the entire cardholder agreement and then click on the Agree link.
Apple Pay will tell you that the card was added. Indicate whether you want to make it the default card in the wallet.
The app will confirm that the card is ready for use.
Note that other leading mobile wallets, including Google Pay and Samsung Pay, use similar procedures to accept a new card. 
Interestingly, Apple Pay accounted for 92% of U.S. mobile wallet debit transactions in 2020.
You can also transfer money from a prepaid card to your Apple Cash account in the Apple Pay wallet. Apple Cash is the funding account for Apple Pay transactions.
Do not confuse Apple Cash with the Apple Card. The Apple Card is a credit card optimized for financing purchases made in Apple stores.
Can You Load a Prepaid Card With Apple Cash?
Your available Apple Cash balance can only be deposited to an eligible debit card or bank account. Because a prepaid card is not tied to a bank account, you cannot deposit the funds to a prepaid card account.
But if you have a bank account and a prepaid card, you can initiate a deposit to your bank account and then transfer the money to your prepaid card.
According to Apple Support, you can transfer your Apple Cash balance to your bank account by following these steps:
Go to your card info:
– On iPhone: Open the Wallet app, tap your Apple Cash card, then tap the more button. 
– On iPad: Open the Settings app, tap Wallet & Apple Pay, then tap your Apple Cash card.
Tap Transfer to Bank.
Enter an amount and tap Next.
Tap 1-3 Business Days. If you don't have a bank account set up, follow the instructions on your screen to add one.
Confirm with Face ID, Touch ID, or passcode. 
The money will appear in your bank account within one to three business days.
Do Prepaid Cards Charge Fees?
All prepaid cards charge fees. Usually, you can choose between a monthly maintenance charge and a pay-as-you-go fee. How frequently you use the card will determine which option costs less. 
Some cards charge a reduced monthly fee if you make a direct deposit of a set amount of money within a calendar month. You usually only have to meet the direct deposit requirements once, not every month.
There can also be a slew of other fees, including fees to purchase or activate the card, add funds, transfer money, make purchases, and withdraw cash. There may also be fees to check your card balance at an ATM, use your card at a foreign location, replace your card, or fail to use your card within a set period.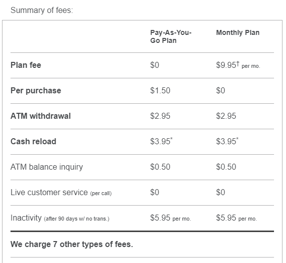 One charge you won't pay is an overdraft fee since you can only spend the card account balance and no more. However, some cards offer a courtesy overdraft protection feature that allows you to exceed your card balance by a token amount (typically $10) rather than have the transaction rejected outright. 
There may be a fee attached to this service if you don't replenish your card balance right away.
Compare Prepaid Debit Cards That Work With Apple Pay
Our review of prepaid cards that work with Apple Pay suggests the growing popularity of prepaid cards, mobile wallets, and Apple Pay. Use our card summaries and ratings to help guide your choice of prepaid cards.
Since most prepaid cards provide similar functionality, fees and convenience will probably be your basis for comparison. All things being equal, you'd like to pay the fewest and smallest fees while receiving the services you want. 
For example, if ATM withdrawals are important to you, your card choice may center on the proximity of a participating no-fee or low-fee ATM.
Advertiser Disclosure
CardRates.com is a free online resource that offers valuable content and comparison services to users. To keep this resource 100% free, we receive compensation for referrals for many of the offers listed on the site. Along with key review factors, this compensation may impact how and where products appear across CardRates.com (including, for example, the order in which they appear). CardRates.com does not include the entire universe of available offers. Editorial opinions expressed on the site are strictly our own and are not provided, endorsed, or approved by advertisers.