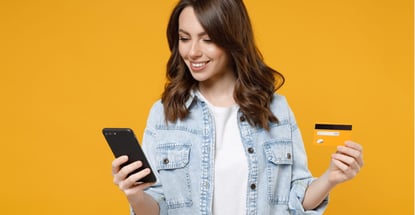 If you're a fan of online person-to-person payment apps, you may wonder, "Do prepaid cards work on Venmo?" They do, and therein lies an interesting story that we'll address in this article, along with a review of the best prepaid cards to use.
A reloadable prepaid card account is a valuable financial alternative to a credit card and to a debit card or cash card tied to your bank account. Prepaid cards provide a cash substitute for purchases without creating debt, interest payments, or the need for a bank account. One thing prepaid cards don't help with is building your credit score since no credit is involved when you use a prepaid card account.
Venmo competes with other payment apps, including Square Cash, Cash App, Zelle, Apple Pay, and Google Pay.
Yes, Prepaid Cards Work on Venmo
We looked at the universe of prepaid cards and selected the following three cards as our top choices. These cards are secure and easy to obtain. In fact, you can use them wherever Mastercard and Visa are accepted.
Cashback – Earn 1% cash back on up to $3,000 in debit card purchases each month
No. Fees. Period. That means you won't be charged an account fee on our Cashback Debit account.
Early Pay – Get your paycheck up to two days early with no charge
No Credit Impact - You can apply without affecting your credit score.
Fraud Protection - You're never responsible for unauthorized debit card purchases. If you suspect someone else has used your debit card without your permission, let us know.
Member FDIC
Fee-free overdraft protection
No minimum opening deposit and no minimum balance
Add cash into your account at Walmart stores nationwide
Cash access at over 60,000 no-fee ATMs nationwide
100% US-based customer service available 24/7
Your Chime Checking Account comes with a Chime Visa® debit card, no monthly fees or maintenance fees.
Avoid out-of-network ATM fees and access to 60,000+ fee-free ATMs¹ — more than the top 3 national banks combined!
Direct deposits arrive up to 2 days early.²
Disclosures: Chime is a financial technology company, not a bank. Banking services and debit card provided by The Bancorp Bank, N.A. or Stride Bank, N.A.; Members FDIC, pursuant to a license from Visa U.S.A. Inc. and may be used everywhere Visa debit cards are accepted.

¹

Out-of-network ATM withdrawal fees may apply except at MoneyPass ATMs in a 7-Eleven, or any Allpoint or Visa Plus Alliance ATM.
²Early access to direct deposit funds depends on the timing of the submission of the payment file from the payer. We generally make these funds available on the day the payment file is received, which may be up to 2 days earlier than the scheduled payment date.
Overdraft protection up to $200 with opt-in and eligible direct deposit*
No monthly fees with eligible direct deposit, otherwise $5 per month
Earn up to 7% cash back when you buy eGift Cards in the app
Get your pay up to 2 days early - Get your government benefits up to 4 days early.*
High-yield savings account, 4.50% APY paid quarterly on savings up to $5,000.*
| | | | | |
| --- | --- | --- | --- | --- |
| | | | | All Credit Types Considered |
You can also link a gift card to Venmo, such as a Vanilla Visa gift card or a Mastercard gift card.
Armed with a prepaid card and a Venmo account, you can send and receive money without first opening a bank account. If you look at a bank branch and see hassles, bureaucracy, and fees, then a Venmo/prepaid card combo should afford you a welcome sense of refuge.
How Does Venmo Work?
Venmo is a payments platform that allows you to instantly exchange funds with other Venmo users. Venmo's job is to act as the intermediary for the transfer of funds.

But Venmo is more than just a P2P payment cash app — it has a social side. Specifically, you can decorate your Venmo payment with messages and emojis to add a personal touch to Venmo transactions.
In practice, Venmo is simple to set up and use. You can quickly create an account and then send and receive money from other Venmo account holders.
To its credit, this contactless payment app strives to minimize or eliminate Venmo fees. For example, a basic transfer of funds from your Venmo account, prepaid debit card, or bank account costs nothing (although your prepaid card may charge a fee).
There are no fees for online purchases, account setup, or monthly maintenance. However, there is a flat fee for sending money to people using credit card payments.
When you fund your payments with a prepaid card, you avoid any Venmo fees charged for adding money to your account. Transferring money from your account is free except when you perform an Instant Transfer electronic withdrawal, in which case a small fee applies.
Furthermore, there are no fees for customer service with a live agent, real-time alerts, accounts statements, or transaction declines due to insufficient funds.
Which Prepaid Cards Does Venmo Accept?
Venmo accepts most prepaid cards, as long as they're from Visa, American Express, Mastercard, or Discover — and registered in your name.
The company does make this qualifying statement:
"Cards may be declined by the card issuer or Venmo for funds availability or fraud prevention reasons. Also, some payment cards may require a ZIP code to be linked to your account."
If you have trouble linking a prepaid card to Venmo, there is probably a good explanation. You can contact a customer service agent at 1 (855) 812-4430 if the problem persists.
Note that Venmo does not allow you to link your PayPal account or PayPal cash card but does not rule out future availability.
How Do I Add a Prepaid Card to Venmo?
Adding a prepaid card is a piece of cake:
Open the Venmo cash app on your device.
Click on the main menu button, represented by three horizontal lines at the screen's top-left corner.
Select the "Settings" option.
Under "Preferences," click on the "Payment Methods" menu item.
Click on the "Add bank or card…" item.
A menu will pop up — click on the "Card" option.
Fill out the data fields for your prepaid card, or click on the camera icon to take a picture of your card so the app can automatically populate the required information. Be sure to enter your ZIP code.
Click "Add."
That's it! Your new Venmo payment method is added to your account. Once set up, most money transfers take three to five business days to complete.
You may see a line on your prepaid card's statement for a small amount, between $0 and $1, a temporary charge to confirm your card details are correct. Venmo automatically cancels the charge — you'll pay nothing for this verification step.
Are There Alternatives to Using Prepaid Cards on Venmo?
Venmo supports bank accounts, credit cards, debit cards, ATM cards, gift card offerings, and eligible prepaid cards. You can send payments to another Venmo user using a linked funding source, even if you have no money in your Venmo account balance.
If you asked for and obtained a Venmo Debit Card, you can directly supplement your Venmo balance from a verified bank checking account or savings account. The procedure is:
Open the Venmo app and click on the "Manage balance" item.
Enter the amount to transfer to your Venmo account and click "Done."
Select/confirm the checking account or savings account and click "Next" to initiate a bank transfer.
Review the summary information, including the estimated arrival date, and then click on "Add Money." The bank transfer will now go through, and you will not be able to cancel it.
The app also features its Cash a Check service for any Venmo user who has confirmed their identity by setting up a Venmo card or arranging a Direct Deposit wire transfer. Cash a Check lets you deposit a check to your account by entering the amount and taking pictures of the check front and back.
Venmo can take anywhere from a few seconds to 1.5 hours to approve the check. You will be notified of approval, at which time you write VOID on the front of your check, take another picture, and submit it to Venmo.
You have two options for how quickly your check will be deposited to your Venmo account:
In minutes: Venmo will expedite the deposit, usually in just a few minutes. Fees apply.
In 10 days: If you are in no particular rush, you can bypass the fee by requesting this option and your check doesn't bounce.
You can deposit checks in amounts from $5 to $5,000 per day and up to $15,000 per month.
You could also sign up for the Venmo Credit Card, a Visa card that can be managed in the Venmo app. According to Venmo, "The Venmo Credit Card lets you make contactless payments, split your credit card purchases in the Venmo app, request a new virtual card number, earn cash back rewards on your purchases, and more…" The rewards you earn are automatically credited to your Venmo account every month.
However, we advise against using a credit card to send money on Venmo because your card issuer will process the transaction as a cash advance. A cash advance will incur a higher APR and a cash advance fee.
Is It Safe to Use a Prepaid Card on Venmo?
Venmo, a member of the PayPal family, is committed to safety. It uses PayPal's trusted encryption and monitoring technology to protect the integrity of your Venmo transactions.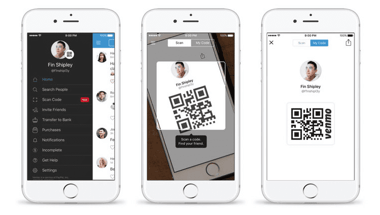 The app protects against sending money to the wrong person through the use of personal QR codes. Just center your phone's camera over the "Venmo Me" QR code you want to scan — you'll be automatically transferred to the recipient's profile page where you can add them as a friend as well as request or send money.
You can share your own QR code with friends via text messages or email.
You Can Use a Prepaid Card to Send and Receive Money on Venmo
Do prepaid cards work on Venmo? As we've explained, prepaid cards branded with any of the four major payment networks are welcome on Venmo, although you cannot include the PayPal account prepaid Visa debit card or PayPal cash card as of yet.
The combination of Venmo and prepaid cards is an elegant solution for millennials and others who have chosen to go unbanked. Yet it works just fine if you do choose to keep an account at your bank or credit union.
As with any financial product, please read and understand all the disclosures provided by the prepaid card before signing up.
Advertiser Disclosure
CardRates.com is a free online resource that offers valuable content and comparison services to users. To keep this resource 100% free, we receive compensation for referrals for many of the offers listed on the site. Along with key review factors, this compensation may impact how and where products appear across CardRates.com (including, for example, the order in which they appear). CardRates.com does not include the entire universe of available offers. Editorial opinions expressed on the site are strictly our own and are not provided, endorsed, or approved by advertisers.