So many consumers use prepaid cards to pay bills and make purchases that they've become a staple financial product in some American households. 
Whether you choose a Visa debit card or a debit Mastercard, you can use the prepaid cards below to pay bills, make a purchase online or in-store, get cash from an ATM, and even accept a direct deposit of your payroll or government benefits checks.
Best Prepaid Cards to Pay Your Bills With
Each reloadable prepaid card listed below gives you the option to safely and securely store your money and use your card to pay bills and make purchases. You don't have to worry about overdraft fees with these cards, as they only allow you to spend up to the amount of money you've deposited.
As long as your card is adorned with the Visa, Mastercard, or American Express logo, you can use it to pay bills online, in person, or over the phone.
Brinks is known for its long history of securely storing and transporting cash — and the Brink's Armored™ Account puts just as much emphasis on your card account as it does for the banks and large institutions it works with.
You can access your cardholder account at any time using the Brink's Armored™ Account mobile app. This allows you to track spending, review purchases, check your balance, and find a location to conduct a free ATM cash withdrawal.
You can link your Playcard Prepaid Mastercard directly to your new or existing PayPal account to instantly move money to and from your prepaid card account. You can also receive a direct deposit of funds into your card account to potentially lower your monthly fee.
This reloadable prepaid card also gives members a chance to earn cash back on eligible purchases while enjoying no liability for unauthorized transactions.
Netspend is a long-time staple in the prepaid card industry and the NetSpend® Visa® Prepaid Card is possibly its best product. Along with low prepaid card fees, this card won't check your credit score, as it isn't a credit card and doesn't require a credit check.
You'll also have no problem with cash reloads using this card, as Netspend has thousands of locations throughout the U.S. where you can add money to your prepaid account. You can also make debit card payments — including paying bills — at any location that accepts Visa.
You'll get extra value with your NetSpend® Visa® Prepaid Card when you use the Netspend Mobile App. Aside from monitoring your account for unauthorized transactions, you can add identity verification protection that ensures no one else has access to your money.
The prepaid card fees attached to your account vary based on your account balance and whether you accept direct deposit payments. These factors can affect your transaction fee, cost of ATM withdrawals, monthly fee, and possibly your reload fee.
The Bluebird® American Express® Prepaid Debit Account is a great tool for getting your foot in the door with one of America's most prestigious credit card issuers. Along the way, you'll enjoy free ATM withdrawals at thousands of locations as well as other cardholder perks that include roadside assistance and around-the-clock customer service. 
American Express also offers lower prepaid card fees when compared with other prepaid issuing banks. You don't have a monthly fee or foreign transaction fee with this account, and you may qualify for an account with a discounted transaction fee and/or reload fee discounts.
The Mango Prepaid Mastercard® can turn your prepaid debit card into a full-fledged savings account with a tremendous interest rate on your deposited money. That means you can use your card account to make money — not just spend it.
And when it comes time to use the money you've earned, you can access cash through an ATM withdrawal or by swiping or inserting your card with any merchant or service provider that accepts Mastercard payments.
This version of the Serve® American Express® Prepaid Debit Account has an online Bill Pay feature that makes this card ideal for paying recurring bills. Simply log in to your account, go to Money Out, and select Bill Pay to add your payee. Payments take two to five business days to complete.
You can also use your card account to make purchases at any location that accepts American Express cards.
The Walmart MoneyCard® features online bill pay that allows you to make one-time digital payments or set up recurring payments for regular monthly bills, such as rent, phone, insurance, or utility payments.
This feature is accessible through the MoneyCard app. You'll also receive the added perk of cash back on Walmart purchases.
Unlike its sibling card listed above, this iteration of the Serve® American Express® Prepaid Debit Account allows every cardholder to earn cash back on all eligible purchases. Cardholders also receive purchase protection, fraud protection, emergency assistance, and exclusive Amex Offers. 
Can I Pay Bills Using a Prepaid Card?
You can use your prepaid card to pay bills or make purchases at any location that accepts your card's payment network (Visa, Mastercard, American Express).
You can find your card network by looking for the logo on the front or back of the card. For example, a Visa debit card will work with any merchant that accepts Visa credit cards. The same goes for Mastercard or American Express.
Some specialty cards, such as the Walmart MoneyCard® or cards issued by Apple Inc. or other non-banking institutions, still use the major payment networks to process transactions. You can also use those cards to pay bills or make online, over-the-phone, or in-store purchases — just like a debit card attached to a bank account.
The Netspend cards above all allow you to use your Netspend account number and routing number — found in your online account center — to pay bills online, while the Amex cards all have an online Bill Pay feature that allows you to add payees to send money to. Payments usually take a few days to process, so it's best to schedule payments at least a week before they're due.
What Is a Prepaid Card?
A prepaid card is a financial tool that allows you to deposit (or load) money into a secured account and later spend it using your card.
This is almost identical to a debit card issued by a traditional bank linked to a checking account. The main difference is that you don't need a bank account to qualify for a prepaid card.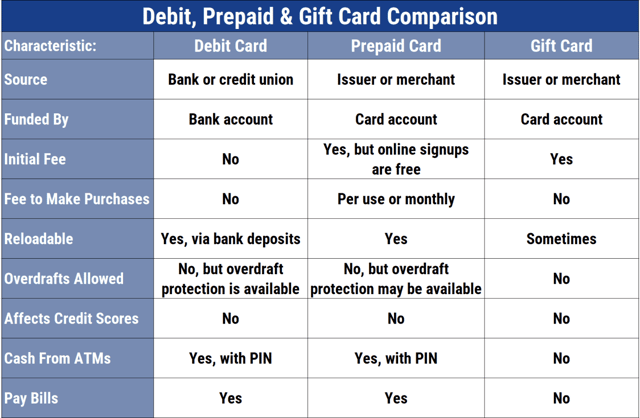 In fact, many consumers use prepaid cards in place of bank accounts. After all, these accounts safely store your money and still allow you to receive direct deposits of your payroll or government benefits checks. Some card accounts also offer an optional savings account that provides a competitive interest rate return on your deposited money.
Your prepaid card acts as a key to your account. It allows you to spend your money at the register, over the phone, or online. You can also get your money through ATM withdrawals and deposit more money at reload locations throughout the U.S. or via online bank transfers.
Netspend, for example, maintains partnerships with convenience stores and grocery stores throughout the country that allow cardholders to bring in cash and add the funds instantly to their prepaid card accounts.
How Do I Get a Prepaid Card?
You can apply for a prepaid card online by following the links to each card listed above. The online application takes less than five minutes to complete and doesn't require a credit check or access to your credit score.
Once you provide your basic identifying information, the card's issuing bank will print a card with your name on it and send it to you within seven to 10 business days.
You can load money onto your card account before it arrives or once you have it in hand. After you've added money to your card account, you can immediately use it to make purchases or pay bills.
Can You Build Credit With a Prepaid Card?
You will not build credit with a prepaid card because your account has no associated line of credit.
Your credit score changes based on information lenders report to the three major credit bureaus — TransUnion, Equifax, and Experian. This information includes your payment history and account balance.

Credit scores examine how you handle debt. A prepaid card has no line of credit and therefore creates no debt. As a result, your card issuer won't report your account history to a credit bureau, and you won't impact your credit score with your activity.
Suppose you need to improve or work on your credit score. In that case, you can consider a secured credit card that offers many similar benefits as a prepaid card but includes a line of credit that can help you improve your credit score with responsible behavior.
Compare the Best Prepaid Cards For Paying Bills 
A prepaid card is no longer fodder for gift card racks or as impulse buys by the register. These handy financial tools can be found in the wallets of millions of Americans to help them maintain a budget, make purchases without carrying cash, and pay bills every month.
And when you use prepaid cards to pay bills, you can do away with money orders, stamps, or trips to bill-paying locations.
Advertiser Disclosure
CardRates.com is a free online resource that offers valuable content and comparison services to users. To keep this resource 100% free, we receive compensation for referrals for many of the offers listed on the site. Along with key review factors, this compensation may impact how and where products appear across CardRates.com (including, for example, the order in which they appear). CardRates.com does not include the entire universe of available offers. Editorial opinions expressed on the site are strictly our own and are not provided, endorsed, or approved by advertisers.